Hotel automation: benefits & tools to improve operations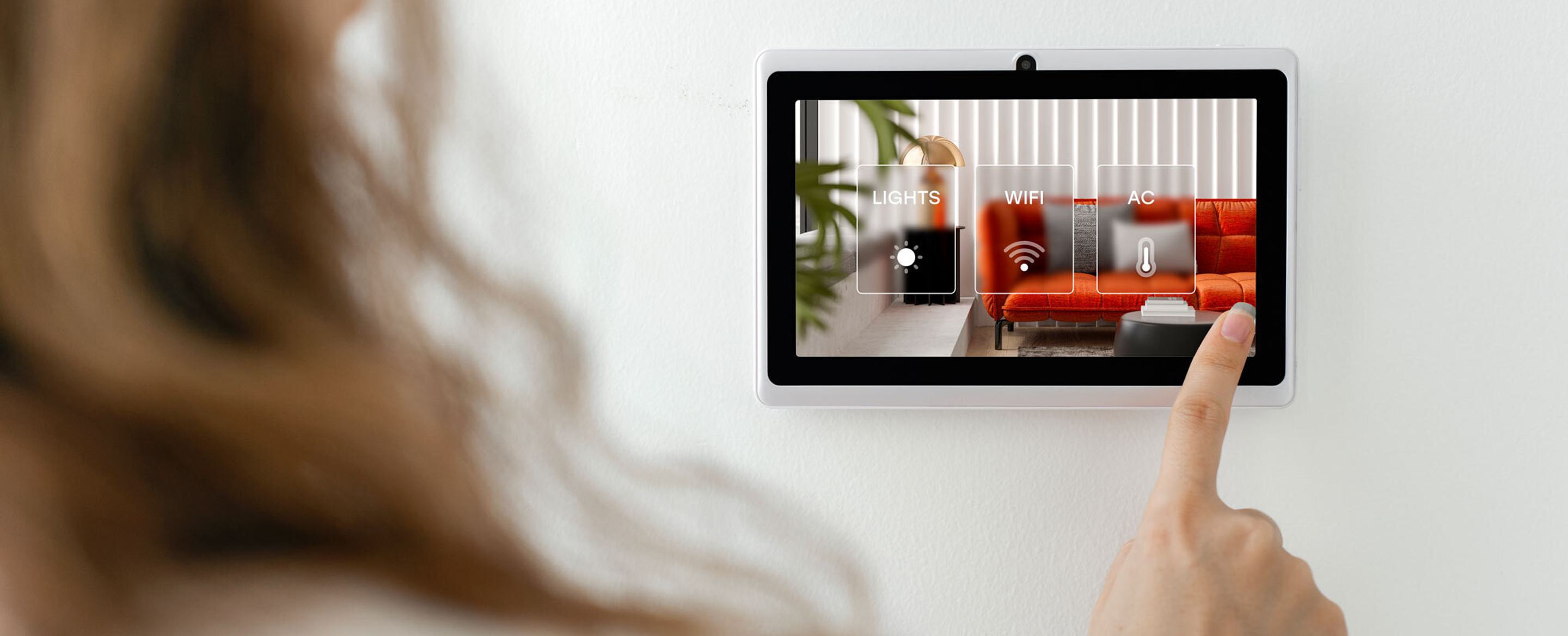 In the ever-evolving landscape of the hospitality industry, hotel automation has emerged as a key player in helping hotels stay competitive and efficient. From streamlining operations to enhancing the guest experience, automation has proven to be a valuable asset for hotels of all sizes.
It's good to mention though that automation in the hospitality industry is not about replacing human employees. It's rather about augmenting their efforts and working towards the common goals of making daunting hotel operations more efficient, saving time and costs and increasing guest satisfaction.
If you consider using automation but aren't confident it's worth the investment, discover the benefits hotel automation technologies can bring to your hotel. On top of that, we'll discuss what hotel operations are worth automating in the first place and how to select the tool best suited for your business's needs.

What is automation in the hospitality industry?
Hotel automation is a process of turning manual and time-consuming tasks into ones that are performed with little to no human involvement. The goal of using automation is to save time and costs, reduce human error and enhance operational efficiency and ROI.
What are examples of hotel automation?
Hotel channel managers that allow you to sell and manage your hotel inventory on multiple platforms (OTAs) simultaneously.

Hotel property management systems that enable you to manage all hotel reservations and admin tasks from one central point.

Chatbots to answer frequently asked queries on your hotel's website

Hotel upsell software to automate your upselling management across the entire guest journey.

Revenue management software to maximise the hotel's profitability by applying a dynamic pricing strategy.
What are the benefits of implementing automation for your hotel?
However, eliminating routine operations is not the only benefit you can expect when you give hotel automation tools a go. Let's take a closer look at how automation can make your operations more efficient, take the workload off your staff's shoulders and increase guest satisfaction.
1. Increase efficiency of routine operations
Hotel automation software comes in handy to optimise a whole host of routine time-consuming operations. These include manual updates of your hotel inventory across all the platforms your hotel is listed, task assignments, payments, guest communication and more.
Since you can apply automation to take care of these operations, your team gets more time to focus on other important tasks such as delighting guests, solving guest complaints and handling special guest requests.

2. Streamline your team efforts and eliminate human error
When you streamline daily tasks, every employee knows what is expected from them and can complete those tasks without wasting time.
In bigger hotels, employees can lose track of completed and pending tasks. For example, housekeeping staff may lose time figuring out which hotel rooms to clean next.
With a hotel automation system, you can stay on top of tasks your team needs to handle and distribute workload evenly among your team members. This way, your staff can stay updated on what's required of them and ensure the best use of their time.

3. Do more with fewer resources
With automated services, you don't need large teams. You can have fewer staff members to take care of your guests and reduce staffing costs.
Automated tools and management systems can help you handle repetitive and administrative tasks. These can be data entry of customer records and relaying messages to the relevant teams.

4. Elevate customer service and guest communication
Smooth and frustration-free communication is key to increasing guest satisfaction. Most hotels still use traditional methods of communication, which appear to be inefficient in a number of cases.
If staff who pick up the phone don't have answers, they have to pass on the guest's request to others who are responsible. As a result, the message could get lost or redirected on the way. Those who handle the phone also waste time answering repetitive questions.
These outdated methods of communication could get a facelift with AI chatbots. Discover the list of questions your guests usually seek answers to by downloading our concise guide:


Chatbots give automated responses to customers' frequently asked questions. You can use the chatbot or an app to collect routine requests resulting in clear action items. For example, when guests ask for extra blankets or room cleaning, they can make a request with a few clicks while your hotel can swiftly respond to their needs.
Housekeeping is an area of operations that can particularly benefit from such features. Housekeeping activities for guests' rooms can be updated on an app. This provides an automated task list for housekeeping staff who can use the checklist to ensure attention to detail.
5. Reduce carbon footprint
You can equip your guest rooms with automatic sensors that turn lights, fans, and air conditioning on and off in response to guest movement detected. This allows lights and air conditioning to shut off automatically when a guest leaves the room instead of staying on for hours. Installing smart sensors in guest rooms helps you monitor and control energy consumption, make your hotel more energy efficient and reduce your carbon footprint.
Explore more eco-friendly ideas that will enhance your sustainability efforts while enabling your guests to join you on your green journey.
6. Increase your revenue

Automated revenue management tools can help save time in analysing an endless number of pricing-influential factors to set up the best pricing for your inventory.
It can also help you with making dynamic pricing decisions on room upgrades. Dynamic pricing takes into account various factors and changes prices in real time based on smart algorithms. It collects data and insights from the past months and presents the room upgrade price for guests before arrival.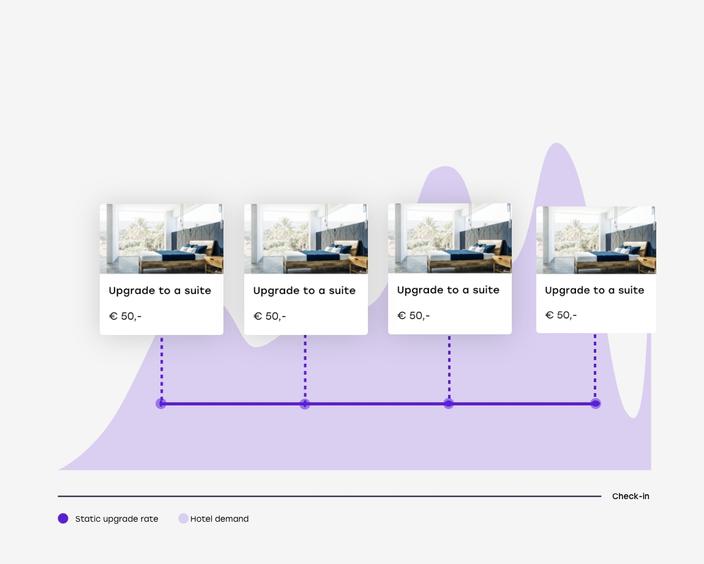 Static room upgrades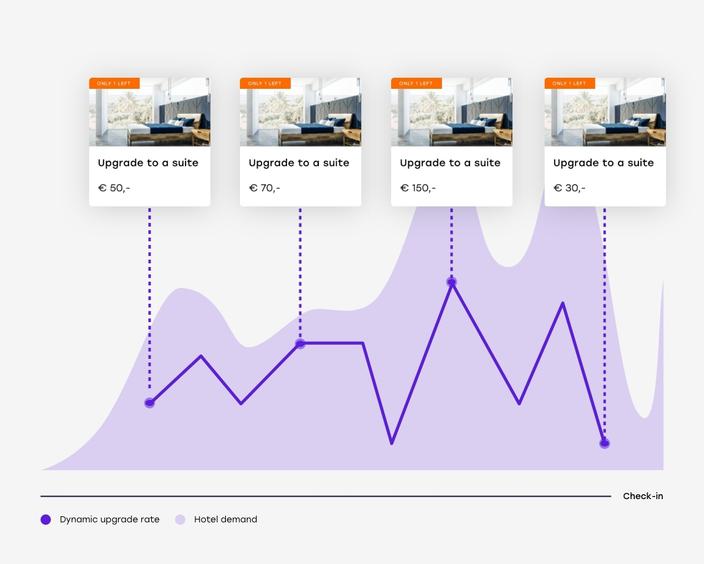 Dynamic room upgrades
Another positive effect of using automation is improved customer experiences. The more impressed your guests are, the more inclined they will be to recommend your hotel to others. This will bring you more business and contribute to building your brand awareness.
What operational tasks are worth automating?
While drawing up staffing schedules and check-in and check-out of guests can be automated, not every task in hotel management can be. For example, creating personalised hampers for VIP guests needs a human touch. While cognitive tasks like staff scheduling can be automated, manual tasks like changing the sheets cannot.

So which operations can be and are worth automating at your hotel?
1. Hotel inventory management
The first and most crucial task that you might want to automate is your hotel inventory management across all distribution channels and OTAs your hotel is listed on. Manual updates of all systems, especially if you're listed across numerous channels, usually take up significant time and are prone to human error, such as double bookings.
Employing a channel manager is a great solution to automate your room availability in real-time on all the channels you use rather than accessing each channel individually.

2. Hotel task management
There are multiple tasks that your hotel staff need to tackle daily. From reservation management to housekeeping and collecting information about your guests, it's easy to miss something important which might result in guest complaints.
Hotel automation such as property management systems can come to the rescue. Property management systems (PMS) can help streamline numerous hotel operations (reservations, room assignment, guest management and revenue management, etc.) so you don't have to deal with a load of guest complaints and overwork your staff.

2. Check-in
Setting up a self-check-in process (contactless check-in) is a win-win for both sides - your guests as well as your hotel staff. Self-check-in means giving your guests the convenience to access their rooms without interacting with a front-desk agent.
To automate your check-ins, you, as a hotelier, can consider several options, such as using software solutions, and mobile apps or installing self-service kiosks. One such solution that can come in handy to streamline your check-in process is Mews self-service kiosk.
A self-check-in kiosk is a computer terminal that can be installed in the lobby of your hotel. For instance, with the Mews self-service kiosk, you will be able to provide smooth self-check-in and check-out processes, scan documents, and enable guests to make payments and sign registration cards.
Installing a self-service kiosk doesn't mean that you have to scrap the good old check-in process completely. There might be guests who would prefer a traditional way of checking in. However, for a number of guests, having the opportunity to check in without the need to stand in line to get their keys will make a big difference.
In addition to decreasing waiting times for your guests, self-service kiosks will make your hotel staff happier and less stressed. It will take the pressure and workload off your hotel staff's shoulders and allow them to focus on what really matters - your guest experience.
3. Guest room automation
Smart sensors to detect customer movement and turn light systems and air conditioning on and off help your hotel conserve energy. This investment will go a long way towards reducing energy costs in the long run.
4. Guest messaging
As a hotel owner, you may have observed that most guest communication involves answering similar questions. You can use automated chatbots to answer repetitive questions. These technologies can respond to guests within seconds.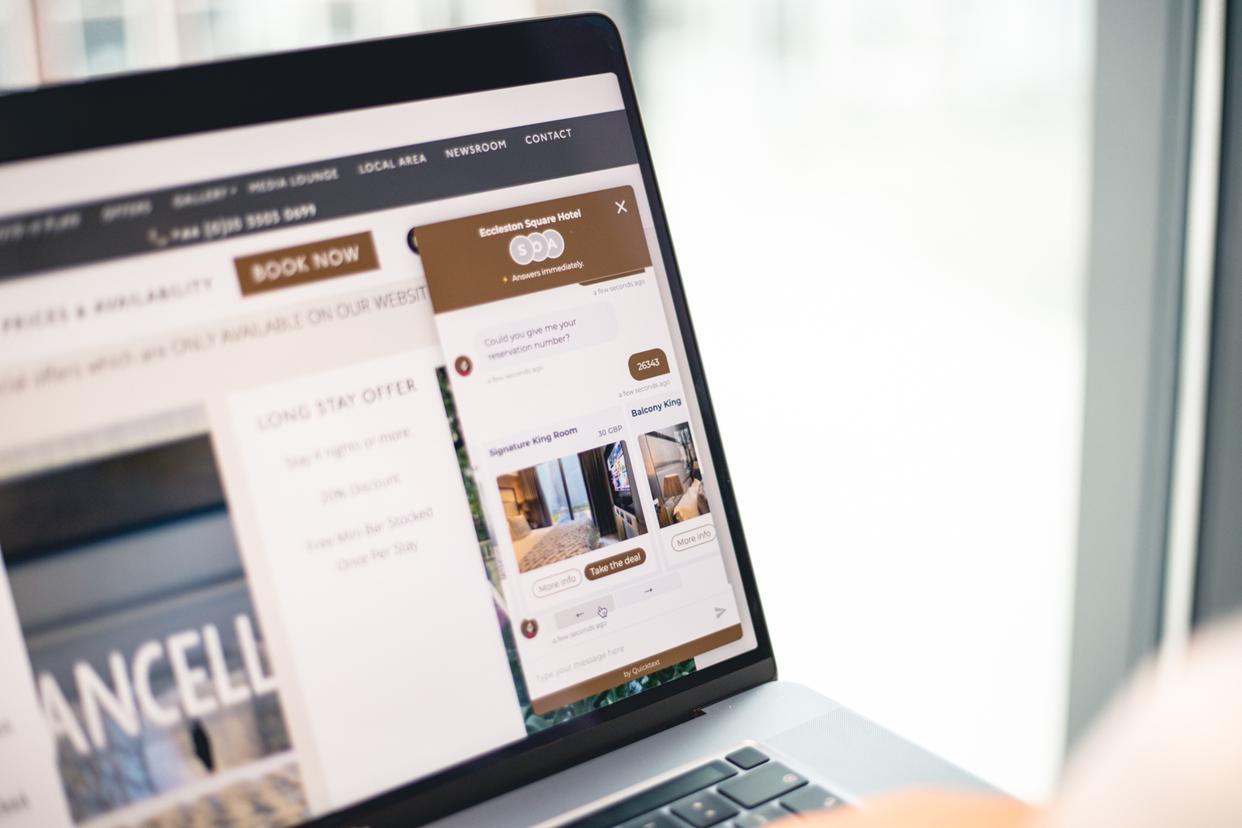 This lets your staff focus on more important tasks that need a human touch. Your team can get involved in addressing more complicated queries that are beyond the programmed abilities of the chatbot.
5. Upselling
Building a sales culture at your hotel and
understanding the importance of upselling
are essential to driving revenue. Traditional upselling involves training hotel staff to ask guests about opting for paid services. Success with this method is dependent on different employees' communication styles.

Using automated upselling software like Oaky has delivered outstanding results and demonstrated an increase in hotel revenue compared to traditional upselling. Download our hospitality market report to dive deeper into the upselling results of our customers:

Michele Di Cesare, Cluster Revenue Manager at Radisson Blu es Hotel, Rome, noted this difference:
When offering these guests a chance to book their breakfast pre-arrival with our old tool, we got a conversion rate of around 0.5%. With Oaky, this has risen to 5%, which has impacted our breakfast revenue.
Automated upselling through software increases incremental revenue. You can also personalise upselling outreaches by using data to match guests with relevant offers they are likely to buy.

6. Service quality assurance
You can also automate room maintenance checklists and reminders. For example, housekeeping staff can update hygiene procedures completed for each room on the app. This helps their supervisor with quality control.
Management can also enter reminders for room maintenance upgrades into the software. This way, you can rest assured that your rooms always look fresh and up to date.
7. Revenue management
Today, hotels don't need to hire full-time revenue managers because advanced revenue management software can do the job. For example, Duetto automates various laborious and administrative revenue management tasks. This software helps you set up optimal hotel room pricing by segment, room type, and distribution channel.
7. Essential automation solutions to introduce at your hotel
The fact that hotel technology has been booming over the past several years illustrates the clear need for automation solutions. As automation has become part of nearly every industry and business and keeps on being adopted in daily life, the hospitality industry has to keep up with the tendency.
The need for technology in the hotel space accelerated even more after the pandemic. Guests now expect a prompter and better service that requires hotels to provide automation options and contactless features.
As a hotelier, you must be also looking at automation tools as a way to do more with fewer resources, as staff shortage has been a persisting issue since the beginning of the pandemic.
Let's explore software solutions and tools to add to your arsenal to improve your operations and meet the needs of your guests.
1. Channel manager
A channel manager is a must-have software solution that lets you avoid overbooking and keep your calendar up to date on all the booking channels you use. It automatically refreshes your availability and keeps it in sync across all the channels once you get a new reservation or a guest cancels their stay.

2. Hotel property management system
Hardly there's any hotel that doesn't need a property management system. A property management system provides a central location for managing and automating various tasks related to hotel operations. This solution allows you to manage tasks like housekeeping and invoicing, communications, updating inventory and managing guest details from one place. It ensures error-free task and team management keeping your departments on the same page.
3. Online booking engine
Setting up an online booking engine for your hotel's website is the first step to generating direct bookings. Without this system in place, you will not be able to accept bookings directly. Having your own website with an engine to capture and process bookings will allow you to save on fees charged by OTAs.
4. Contactless check-in options
Contactless check-in became a real hit during the pandemic. There is a myriad of software solutions and apps to set up a contactless/self-check-in process. From mobile apps to self-check-in kiosks, consider implementing at least one of the available options on the market as an alternative to traditional front desk check-in.

5. Hotel room automation
Investing in hotel room automation goes a long way in enhancing your guest experience and making your hotel more sustainable. The hotel room automation system will allow you to automate:
Lights

A/C or Fans

Blinds/window coverings, etc.

Other electronics.
Not only does it add a delight factor to your guests' stays but it also helps you save on energy bills. If you are keen to take guest room automation a go, discover the best vendors here.
6. Hotel upsell software
Upselling software also plays a significant role in boosting the guest experience while helping your TRevPAR grow. Upselling software like Oaky makes it possible to personalise upselling deals, segment your guests and send out only relevant deals to your guests at pre-set dates and times automatically. The extensive Deal library of pre-defined deals makes it simple to kick off with upselling and roll out upsells across all your hotels in the chain.

7. Dynamic pricing tools (revenue management tools)

Revenue management tools take out the guesswork from your pricing management. They monitor demand, room availability and other price-influential factors to optimise your rates in real-time. If you want to be sure you are not leaving money on the table, consider using one of these hotel revenue management tools.
How to select the best hotel automation tool to suit your needs?
1. Keep your target guest in mind
It's essential to understand your target customers to ensure they are comfortable using automation. For example, when introducing chatbots, also provide alternative options if you have an older audience.
2. List out tasks you struggle with the most
For example, if your hotel struggles with revenue management or upselling, those tasks should be automated first. You can use Oaky and Duetto to help you achieve both.
3. Consider costs and potential ROI
Before investing in automation software, calculate how it would impact your revenue and profit. Estimate if the return on this investment is worth it for your hotel business.
4. Check user reviews
You should conduct comprehensive market research about your automation options. It is also a good idea to check user reviews of these products. Reviews will give you insight into how others in your position have benefitted from automation.

Check out user reviews on credible platforms such as:
Final thoughts
Seamlessly integrated into your hotel management, automation is an excellent tool to help you scale your business. It can boost revenue and ease off the workload for you and your teams, leading to happier, more productive hotel staff. On top of that, with automation, you will have more time to focus on your guest experiences, taking them from good to great.