8 Smart hotel ancillary revenue ideas for every hotelier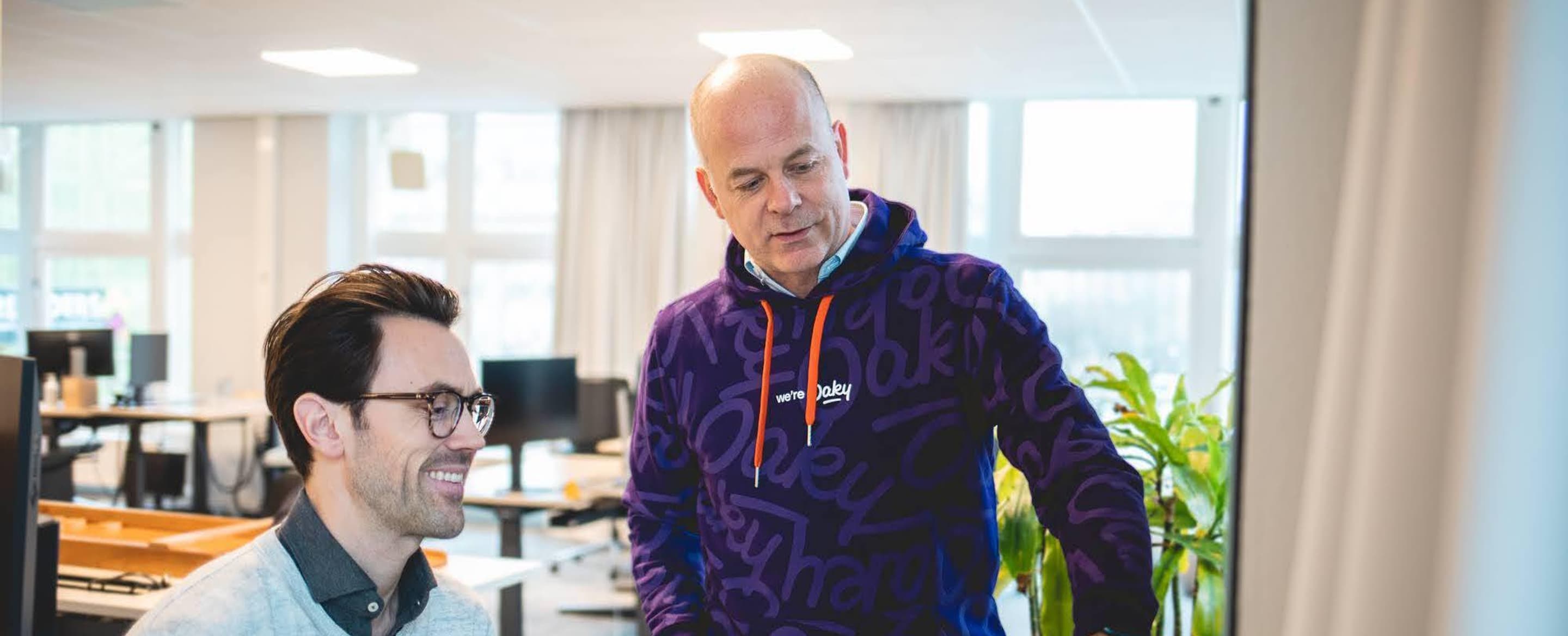 While lodging and boarding might make hoteliers the most money, it is far from being the only revenue stream for them. In fact, implementing hotel ancillary revenue tactics has become crucial for many hotels during the pandemic time.
In times of low room demand, a well-thought-out ancillary revenue strategy can help you maintain your bottom line. By leveraging ancillary revenue opportunities and ensuring profitability, you can rest assured that your business will recover faster than those companies that rely on one revenue stream.
Having said that, even in less challenging times, ancillary revenue strategies are an excellent way to earn additional income via upselling and cross-selling hotel products and services.

Wondering which are the top ancillary revenue tactics that can add to your hotel pricing strategy and transform your hotel's revenue-generating potential? Read on to find out.
What is Hotel Ancillary Revenue?
Hotel ancillary revenue includes all the revenue generated through selling additional products and services, such as buffet breakfast, spa services, early check-in or late check-out, etc. It excludes the revenue you get by selling primary inventory — your hotel rooms.

Why Do You Need an Ancillary Revenue Strategy?
Why would we not utilize the full revenue potential of a hotel? Not going after ancillary revenue is like as if it was raining cash and you wouldn't get wet.
What Are the Benefits of a Successful Ancillary Revenue Strategy?
It creates a new source of income for you alongside the main revenue generation strategy, which is selling hotel rooms.

It allows you to better cater to different hotel guest types, as each guest can find something to their liking from a variety of add-on services you offer.

It gives more room for creativity for your marketing team and strengthens your value proposition.

It makes your hotel business more resilient to economic setbacks and external market shocks, such as COVID. For example, you could have allowed local businesses to use your banquet halls during COVID for employee get-togethers.

It helps you stand out from the competition as you can provide out-of-the-box services as part of your ancillary services.
9 Tactics to Generate Ancillary Revenue at Your Hotel
But how exactly should you go about crafting an effective ancillary revenue strategy? It is important to identify what your hotel already does well and tap into this USP by expanding current offerings. At the same time, you need to recognise areas where you are currently lagging your competitors and seek to make up for the shortfall. Some of our recommendations include:
1. Transform your free room upgrades into paid upsells
Rather than offering free room upgrades that don't contribute to your revenue, you can offer upgrades at a discounted rate. Here are a few pointers to help you set up your room upgrade strategy for success:
Use data to analyse your occupancy levels, and guest preferences to get a better understanding of which room types are most in demand and which guests are most likely to upgrade.

Offer room upgrades pre-arrival. This way you have a higher chance to sell more room upgrades to the guests who are at the anticipation stage of the guest journey and ready to splurge on more personalised and exclusive experiences if rates are reasonable.

Resell your regular rooms through your direct booking website or OTAs to new guests.
2. Kick off upselling and cross-selling
Create packages that leverage the power of upselling and cross-selling to encourage your guests to spend more than what they intended.
Start with the best-selling upselling deals such as breakfast, parking, early check-in and later check-out. Check out the top 5 most popular upselling deals among guests based on Oaky's data.

Incorporate creative deals in your deal selection especially if you cater to Millenialls. Get inspired by the Oaky Awards Most Creative Upselling award winners.

Ensure access to your supplementary service throughout the whole guest journey including the pre-arrival and in-stay stages.
Keep in mind that the upselling strategy relies on knowing the wants and needs of your target guests. Suggesting generic deals to your guests is unlikely to bring any desirable results. It's also essential to upsell your guests at the right time. Pre-arrival upselling has proven to be the most effective as this is when guests tend to pay extra to make sure their stay will be a memorable one.

3. Create packages tailored to each guest segment
Segmentation involves categorising your hotel's customer base into various segments. Grouping your guests into segments ensures your offerings cater to a number of different travellers with different budgets, behaviours, and needs.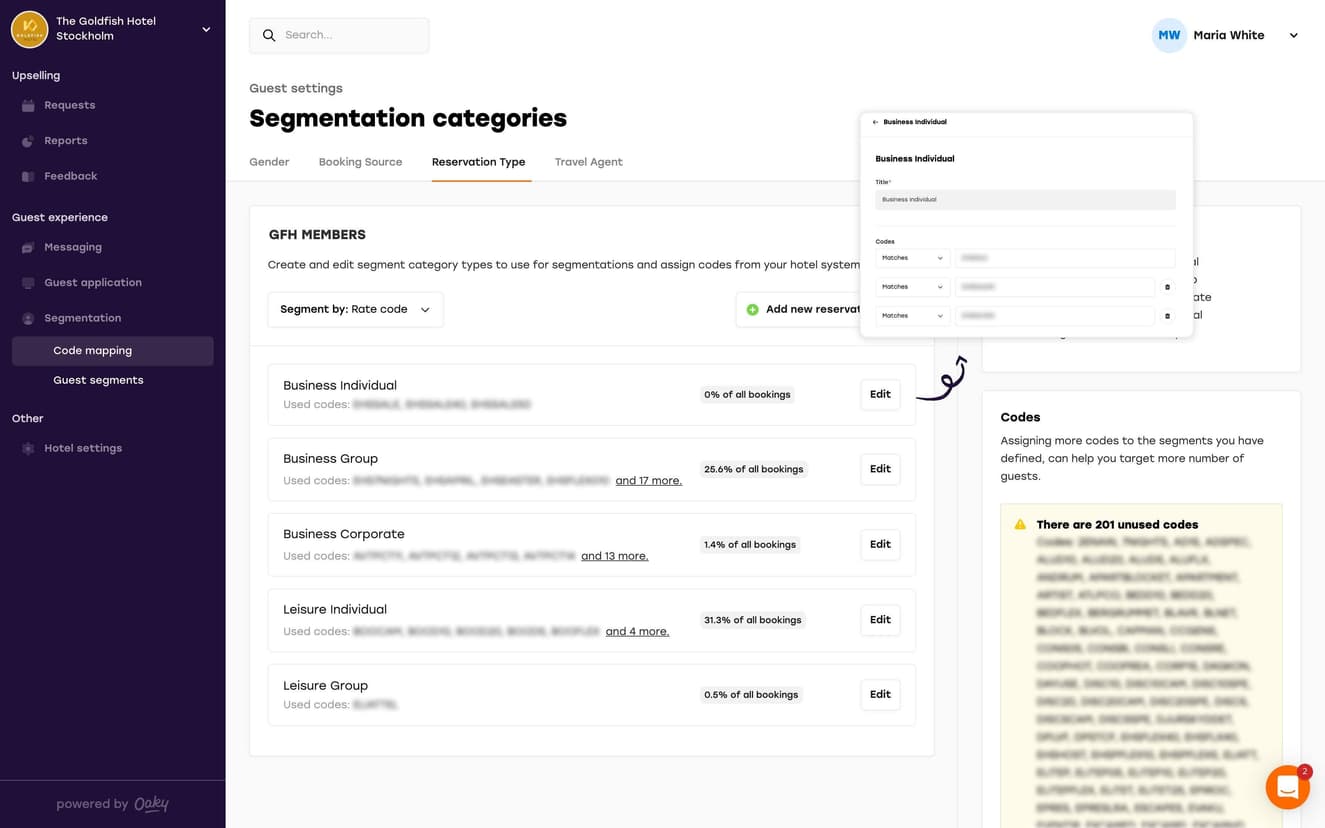 Oaky's segmentation feature helps you do this at the drop of a hat. Once you have identified the characteristics (e.g., length of stay, single guests vs couples, country of origin, travelling with/without children), you can tailor your packages to suit the needs of each guest segment.
Here're a few ideas that you can implement at your hotel:
Use data to analyse your most frequent guests as well as their preferences.

Identify your most lucrative segment and brainstorm on the deals and packages that would be appealing to them. For example, if you discover that there are many business travellers frequenting your hotel, you could include conference rooms as a part of your package. Or, if you find that most of your guests are couples, you could offer various couple's activities (romantic dinner, wine tasting, etc).

Find local vendors and businesses to expand your package selection. This way, you will be able to offer sightseeing tours, cruises and other adventurous activities.
4. Partner up with local businesses
By partnering with local businesses, you expand your range of services, creating various upselling opportunities. This is a win-win situation for everyone because guests can benefit from a wider variety of offerings. You can increase your revenue through commissions from local businesses, and the local businesses benefit from an influx of customers.
5. Host events and conferences
You should consider all your common areas, outdoor spaces, and event halls as revenue-generating possibilities. It lets you attract guests who may not want to stay the night but simply attend a conference or event. This tends to increase your brand awareness and creates additional cross-selling opportunities. For example, customers of the comedy show might be interested in having dinner or drinks before or after.
Here're a few ideas to contemplate:
You can host corporate events for business clients and concerts/comedy shows for a younger audience.

You can also rent out rooms for photoshoots, provide working spaces, or let your customers rent desks for a day.

Your parking space can be turned into a revenue-driving opportunity. By renting out spaces during low occupancy periods to nearby businesses in high-traffic areas, such as art centres, bars and restaurants, your hotel can capitalize on its prime location and generate additional income.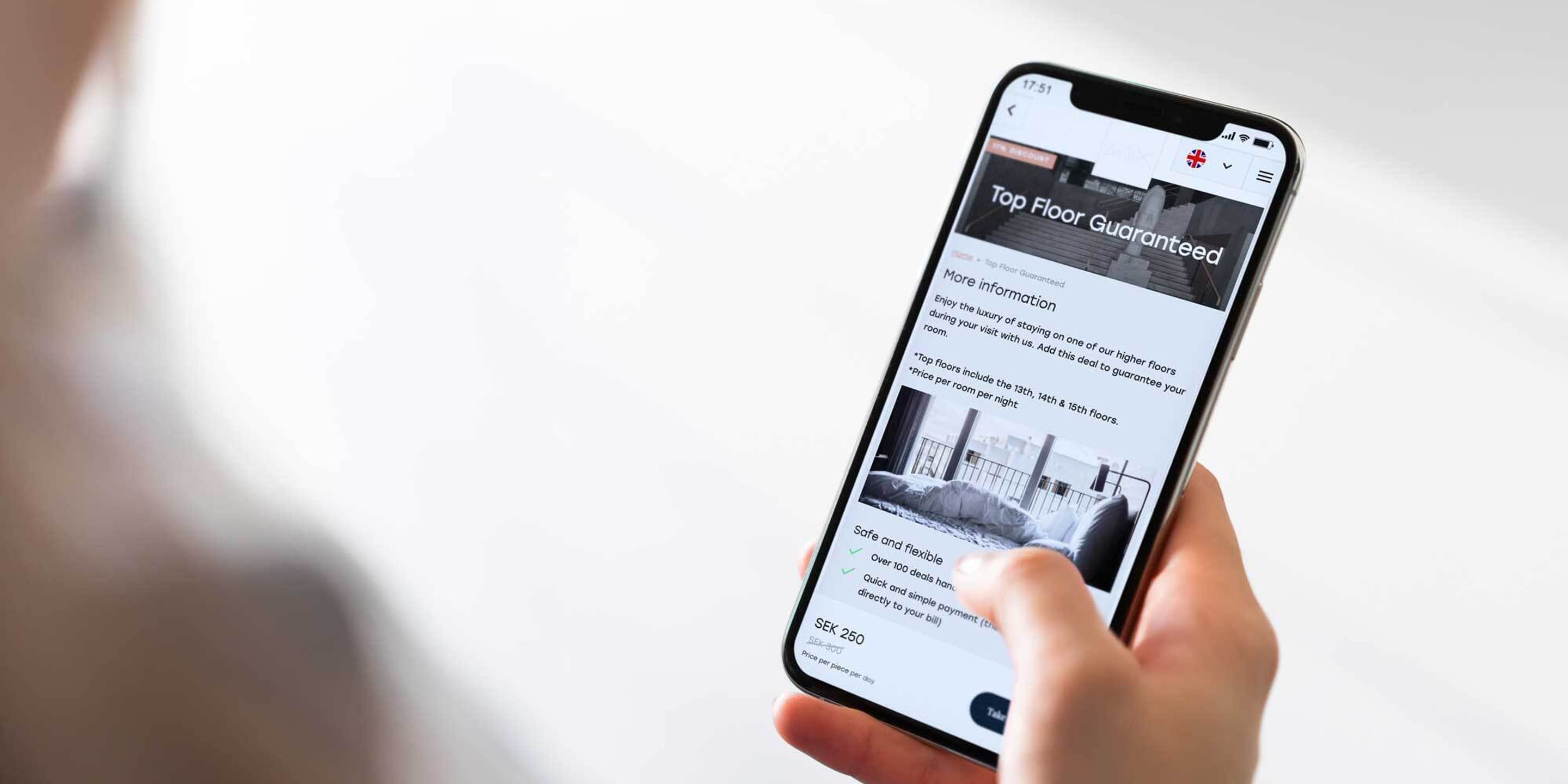 6. Set up a gift shop
Your guests will be eager to take home souvenirs and mementoes that remind them of their holiday experience. Use this to your advantage by setting up a gift shop that sells touristy products.
These products might include clothing, unique local products (food, drinks, souvenirs), or work by local artists. The extent to which you build on this depends on your specific requirements. You could go so far as to set up a mini-gallery or launch an online version of your gift shop to take advantage of e-commerce opportunities.
7. Keep refining your upselling deals and packages
One easy way to identify underutilised ancillary revenue opportunities is to look at your existing offerings and identify the packages that bring the most conversions. By doing so, you can expand your best-performing deals and profit by offering guests more of what they want.
It also lets you identify successful aspects of packages that can be adapted across other deals.
To give you some inspiration on deals that can help you generate the most conversion, we've analysed the best-performing upsell offers of our customers and compiled our findings in this report. For instance, breakfast throughout the stay was the most popular upsell option in the UK, followed by late check-outs. A City Hotel in London managed to generate the highest total approved revenue of £350K by selling add-ons and room upgrades via Oaky.
8. Implement hotel upselling software to maximise ROI
At first, setting up an ancillary revenue strategy and introducing upselling might seem time-consuming. However, there are ways for you to upsell and generate additional revenue without putting in the extra effort.
Hotel upselling software such as Oaky is helpful for hoteliers who want to build a stream of additional income. Oaky automates the process of upselling and ensures that each guest receives a selection of pre-arrival deals and add-ons tailored to their preferences and needs. This leads to increased conversions and revenue for hotels and enables guests to enjoy the hotel's facilities to the fullest.

Using an upselling tool makes it even possible to automatically sell upgrades at the right price by leveraging dynamic pricing. This will allow you to respond to market fluctuations more effectively and maximise your earnings.

If this sounds interesting, we'd love to tell you a bit more about Oaky and show you some other features.
Find out how Oaky can help you