How to increase hotel revenue in 2023 [15 Clever ways]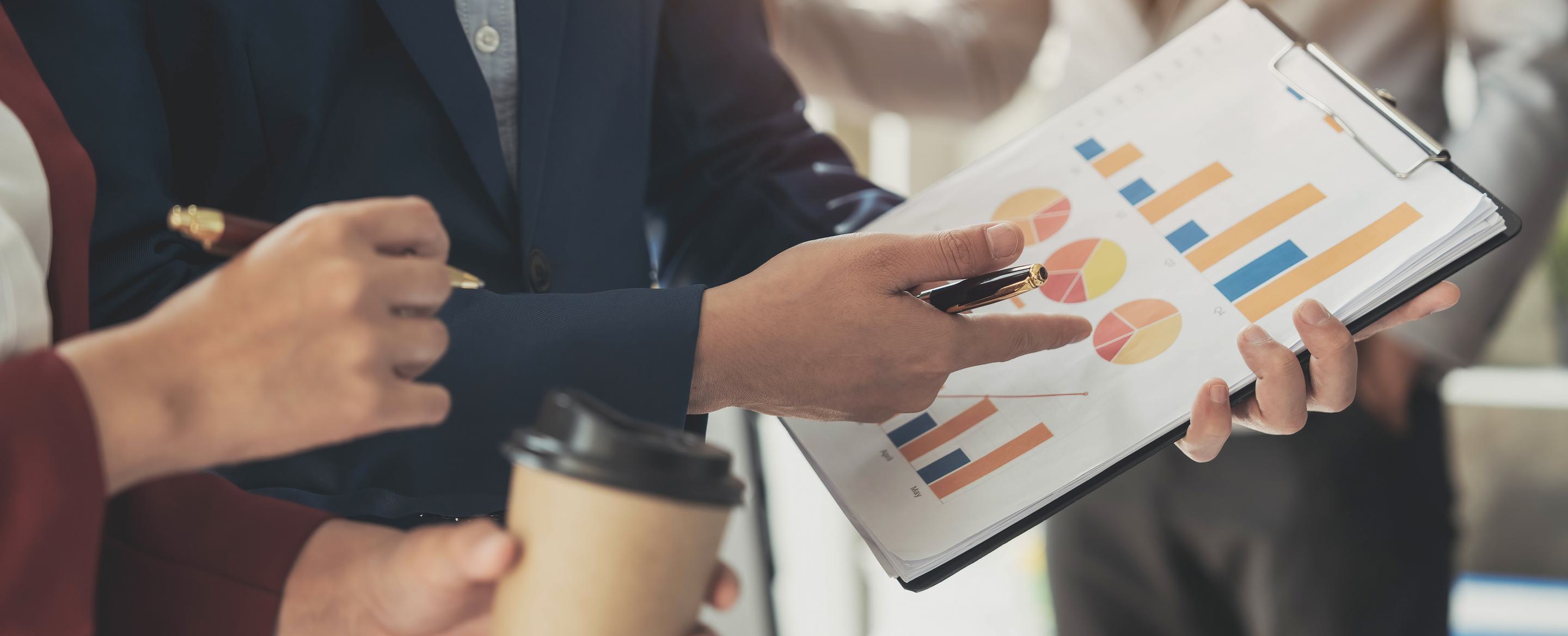 No matter the season, the question "How to increase hotel revenue" stays on top of every hotelier's mind.
You may think you need to overhaul your entire operation to generate more income. But in reality, it doesn't have to be that complicated. A few tweaks to your revenue strategy can make a big difference to your topline.
We've put together a list of ideas you can implement to boost your hotel revenue from the get-go.
1. Offer room upgrades pre-arrival
Offering guests to upgrade their basic room to a higher category is one of the common ways to get additional revenue in the hospitality industry. It's usually done by front desk agents during check-in.
However, you can also use the anticipation stage of the guest journey and present your room upgrades pre-arrival.
This brings many advantages:
It gives travellers a chance to think about your offerings and book them at their convenience.

When guests pay for an upgrade in advance, you can resell your lower-category rooms and boost occupancy. This strategy is extremely beneficial when demand exceeds supply. By selling high-category rooms, you won't have to give away free upgrades to prevent overbooking. This generates more revenue from your fancier hotel rooms.
2. Provide early check-in and late check-out options
Offering early check-in and late check-out doesn't require extra investment from a hotel and can be a win-win for you and your guests. Despite being one of the most frequently requested services by guests, an impressive number of hotels overlook it.
Guests are happy to pay extra for the flexibility while you get to boost your revenue.
What's more, you might also be able to increase your occupancy rate by accommodating guests who want to arrive earlier or stay later than the typical check-in and check-out times. On top of that, offering early check-in and late check-out will improve your guest experience, resulting in better online reviews and customer loyalty.
3. Get savvy with upselling and cross-selling
Becoming proficient in upselling and cross-selling can open up new revenue streams for you.
Selling additional (or ancillary services) can significantly increase hotel revenue.
There must be plenty of them that you currently offer for free, like buffet breakfast or the occasional early check-in or late check-out. By turning them into paid ones, you can unlock additional revenue opportunities.

By turning them into paid ones, you can unlock additional revenue opportunities. On top of that, you can promote classic paid services such as room service, spa treatments, breakfast-in-bed deals, and the like.

All you need to do is inform your guests about upsells and special packages you offer. Doing it pre-arrival or during guests' stay can help you reach your revenue targets and bump up your overall revenue.
Another advantage is enhanced guest satisfaction. Guests will appreciate the opportunity to discover offerings that they wouldn't know about otherwise and customise their stay to their liking.
💡PRO Tip: Take a course on upselling to master your knowledge and skills.
For example, Oaky's Fundamentals of Upselling Course outlines the basics you need to know to start off on the right foot. In the follow-up course, Upselling in Depth, you'll discover how to master upselling and take your results to the next level.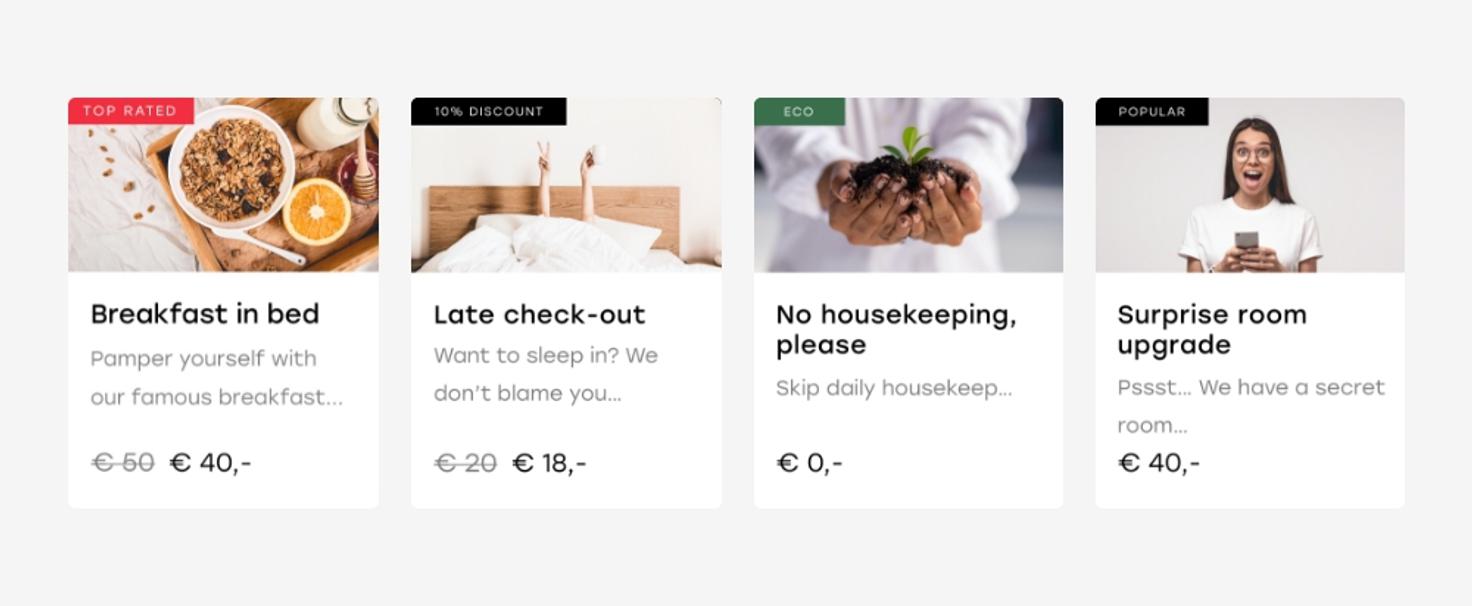 4. Use automation to streamline your efforts
At a time when most hotels are struggling with staff shortages, automation is a new best friend for many hotel managers. Helping your existing team do more with less is one of the best ways to keep providing a top-notch guest experience, all while looking to fill your vacancies.
Check-ins and check-outs, answering FAQs or asking departing travellers for reviews are among your team's daily repetitive yet necessary duties. Luckily, technology for the hotel industry has come a long way. Today, innovative solutions can help streamline operations and scale many manual tasks.
The same goes for upselling. A platform like Oaky lets you automatically reach out to all your guests with a personalised selection of offers. Once someone selects an offer, the information flows into your property management system, and your team receives a notification. This lets you get your offers in front of more people and maximise your ancillary revenue.
See Oaky's upselling automation in action
5. Apply dynamic pricing to your room rates and room upgrades
Dynamic pricing is one of the most effective revenue-generating strategies. It ensures your guests get the best value for money while you scale your revenue.
The theory behind dynamic pricing software is simple. You adjust your room rates according to market demand shifts, competitor pricing and your on-the-books business.
When demand increases, and you have limited room availability, you increase rates to boost profitability. During times of lower demand, you offer a better deal and more value to win over hotel guests.
That sounds straightforward on paper. But manually monitoring the market in real-time to spot and take advantage of all revenue opportunities is nearly impossible. Even the best revenue managers will admit that.
Again, automation comes to the rescue. A revenue management solution like Duetto can do the heavy lifting for you. It continuously optimises your rates based on market shifts and pushes them to your booking engine and channel manager.
Another benefit of using a revenue management solution is that it can improve your hotel's occupancy rate. During low season, you can rest assured that you offer reasonable pricing that will result in more hotel sales.
💡PRO Tip: What works for room rates is also possible for upsells.
You can dynamically price your upgrade supplements and ensure they're always in line with your overall pricing strategy. That makes your upsells even more attractive to travellers and helps you maximise your incremental revenue. And thanks to Oaky's integration with Duetto, all this happens automatically behind the scenes.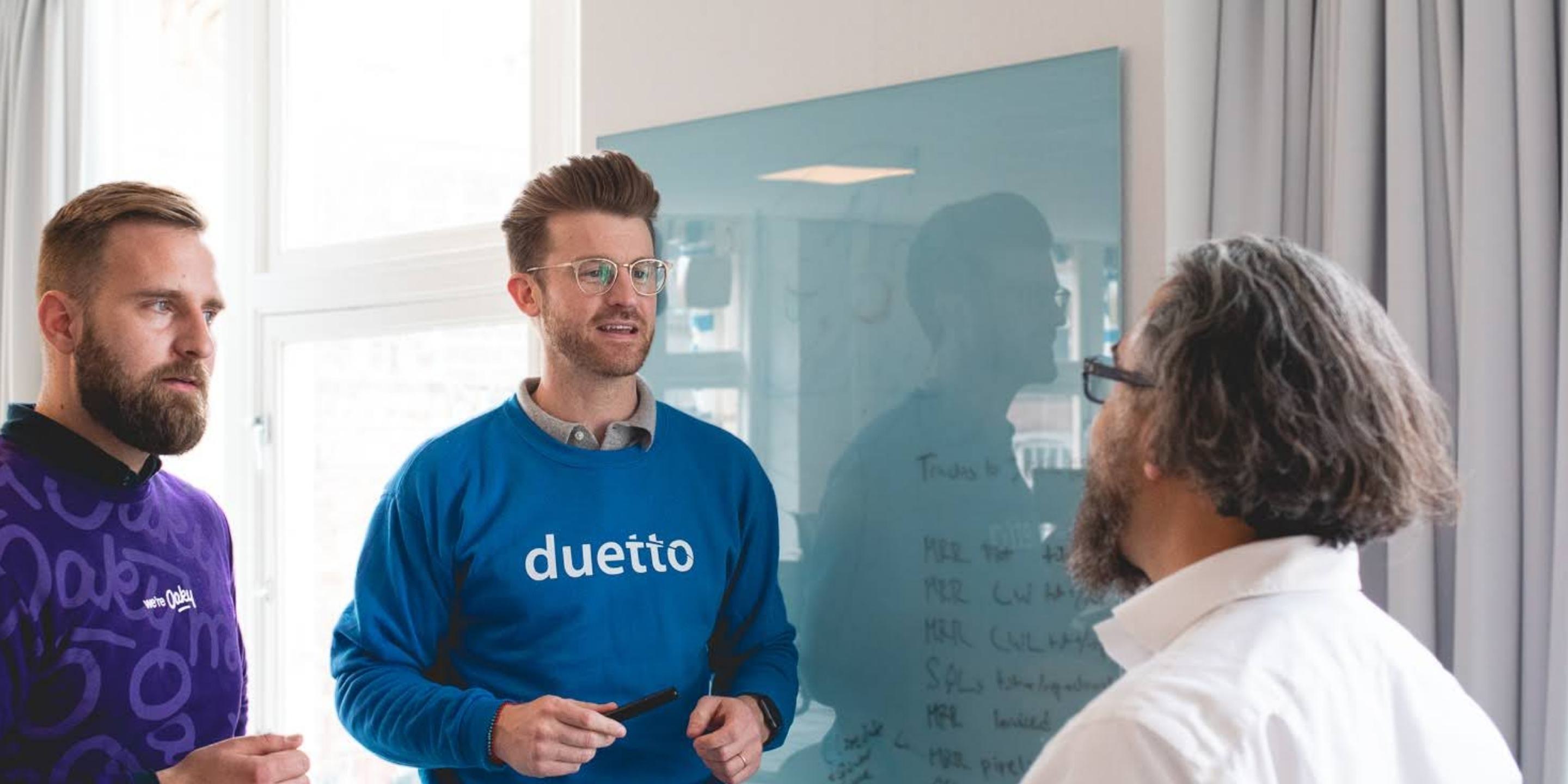 6. Make your food and beverage deals pop
The F&B department has a lot of potential when it comes to generating incremental revenue through upselling. You can quickly get started with simple offers like deals for set menus in your restaurant or a breakfast add-on.
The results can be impressive. Upselling their breakfast offer via Oaky has boosted sales by up to 70% at some Radisson Blu Hotels.
As F&B trends and consumer behaviour are constantly changing, you need to stay up to date and test new offers regularly. If you need more inspiration, download our ready-to-use deal templates for enticing F&B deals:
💡PRO Tip: Increase your chances of selling your F&B offers by promoting them at various stages throughout the guest journey
For example, include them in your pre-arrival emails and mention them during check-in.
You can also link to them via QR codes in prominent places throughout the hotel. A popular option is linking a breakfast add-on via a QR code on the nightstand.
7. Upsell or rent out your parking spots
Do you have spacious parking in front of your hotel? Then you might be sitting on a goldmine of underutilised revenue opportunities.
By including a parking option in the list of your upsells, you can generate additional revenue, as many guests who travel by car will be looking for a secure space to park their vehicle and wouldn't mind paying extra to take advantage of this option.
Alternatively, you can rent out unused parking space to office buildings, restaurants, bars or performing art centres nearby.
Audit your parking lot capacity at different times to see how many spaces you can safely rent out without affecting the experience of your guests.
Once you have a sense of how many spaces you have available, you can reach out to the property managers of these nearby sites to let them know about your parking availability throughout the year.
8. Partner up with local vendors and businesses
Working with local businesses can help you provide a more well-rounded guest experience. For example, negotiate a commission with nearby restaurants for every table you book for guests. Or work with local tour operators to offer unforgettable outings and adventures. Not only will this help you generate revenue, but it'll also make your property a vital part of the local community.
💡PRO Tip: Partner up with regional suppliers to get organic, seasonal produce and other locally made products
You can also work on co-promotion marketing campaigns with local businesses or artists who provide goods and services your guests enjoy. The possibilities are endless, so do your research and find partners to collaborate with.
9. Encourage guests to share feedback and post online reviews
Good ratings on Google, TripAdvisor and OTAs will boost your position on the platform and bring more bookings your way. TrustYou's research found that travellers are 3.6 times more likely to choose the higher-rated hotel from a set of similarly priced properties.
The same study showed that a strong online reputation also increases your guests' willingness to pay. That allows you to charge higher rates and generate more revenue, positively impacting your occupancy rate and also KPIs like your average daily rate and revenue per available room.
Direct and online feedback is also a good way to learn what you can improve. If travellers repeatedly mention the same issue, address it as soon as possible to improve your future guests' experience.
💡PRO Tip: Reply to every negative review on platforms your hotel is listed
Be polite, thank a user for the feedback and explain the steps that have been taken or will be taken to resolve the issue your guests complained about. This will show your potential guests that you take your guests' reviews seriously and strive to improve your services.
10. Use segmentation to step up your personalisation game
Guests who are satisfied with cookie-cutter stays are a thing of the past. Today, travellers want a personalised experience that perfectly matches their individual needs and expectations. Upselling and cross-selling can help you offer that by letting people customise their trip with the add-ons they value most.
But if you want to offer your guests a personalised and relevant deal selection, you need to get to know them first. Your PMS data holds valuable information about your guests.
Are they leisure or business travellers?

Are they staying solo, with a friend, family or spouse?

Where are they from, and how old are they?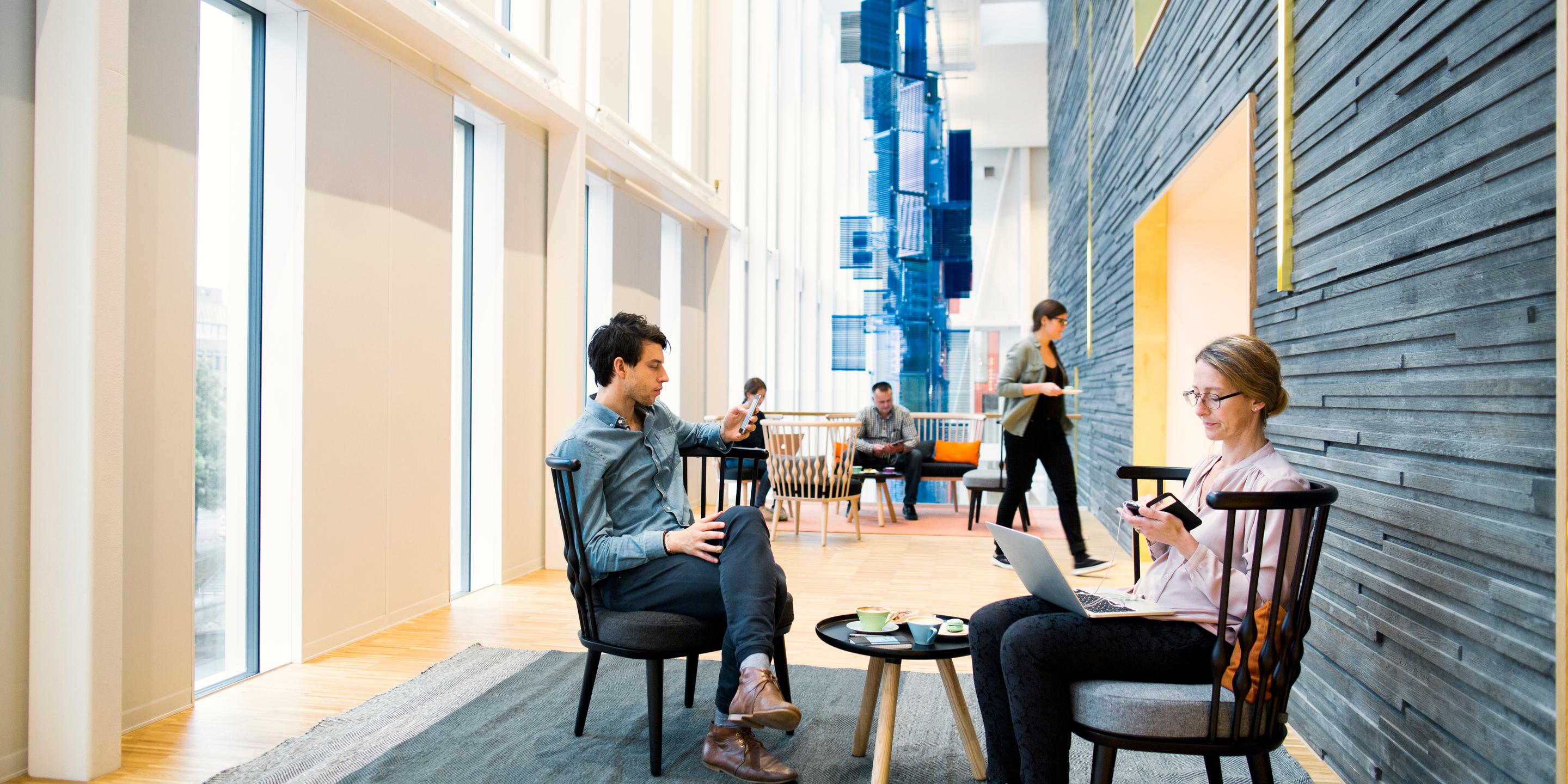 Knowing these and other details helps you determine which segment guests belong to and which add-ons could be most interesting to them. Next, create targeted offers for each segment to increase the chance that people find a deal they can't resist.
💡PRO Tip: Explore your PMS data further to understand which segments you serve primarily
Analyse their spending habits and their profitability to identify which segments yield the highest ROI. Then use your upcoming marketing and promotional campaigns to attract more guests from your most lucrative segments to boost your hotel's overall profitability.

11. Analyse and optimise your distribution and shift focus to direct bookings
How and where you sell your rooms has a huge impact on your profit margin. To make the most of your property, analyse your distribution channels and understand how well they're performing.
This way, you'll get a grip on rate parity issues and eliminate undercutting, non-contracted third parties. It'll also help you identify top-performing partners so you can nurture your relationship with them and cut ties with channels that cause more trouble than they're worth.
While OTAs and third parties are important partners, don't forget to work on your direct booking strategy. Direct bookings are commission-free and can help you increase your hotel's overall profitability.
Make sure your hotel website and booking engine are both desktop- and mobile-friendly.
💡PRO Tip: Consider a direct booking bonus
This can be an F&B voucher or free parking. Ensuring you always offer the best rate on your website, not on OTAs will result in more direct sales.

12. Get your whole team on board to create and promote upsell offers
Reward programmes for guest-facing staff are a great way to motivate your team to offer upsells to your guests. Such initiatives work well at reception, in restaurants and at the spa.
Start with a one-week trial and if that's a success, you can implement it permanently. You could also launch a 'Beat the System' challenge where your staff work together to beat the hotel's upselling tool. If they achieve that, they win a prize.
But your team can help you with more than that. They can offer new ideas for upselling and cross-selling deals. Host an upselling meeting to gather suggestions and pick the brains of staff from housekeeping to reservations. You'll be surprised how creative they can be! Not sure how to plan and run an upselling meeting? Use our sample agenda as a guideline.

13. Make the most out of low-demand days
Slower days are a blessing in disguise if you know how to make the most of them. Do some research to understand which guest segment to target during slow periods and create tempting deals for them. To make this work and outshine your competition, focus on offering value rather than just another discount.
Make some tweaks to your digital marketing strategy (for example, rethink your paid ads) to capture your target market's attention. Promote your seasonal offers on social media platforms and through email campaigns.

14. Attract group business
Make your hotel more appealing to bookers who look for a place to stay as a large group.
Here's what you can do to encourage group guests to choose your hotel over others:
- Keep an eye on upcoming events in your location
Stay on top of upcoming concerts, conferences, festivals or other events in your area.
Use this knowledge to shape special offers targeted at group guests and market them on your website and the platforms where your hotel is listed. Reach out to event organisers to build relationships and develop possible collaboration opportunities that can be beneficial to both sides.
- Don't focus only on large groups
The good news is that you don't have to have large spaces to accommodate only big groups. You can also consider hosting smaller groups, for example, cosy weddings, small corporate events, family or friends gatherings, etc. Set up special rates and prepare discounted packages to attract this type of guest.
- Make your value proposition clear to potential bookers
Your hotel marketing is a perfect tool to get your offers in front of your target guests. Whether you target groups of business travellers or families, highlight your unique selling proposition across all marketing channels, including your direct booking website.
Take appealing pictures of the spaces (e.g. your restaurant, meeting rooms, etc.) where you intend to host events. Add pictures of previous events so potential bookers can get a feel of your hotel's vibe.
15. Optimise your website for mobile
Attract direct bookings and stand out from the competition by optimising your website for mobile.
With 63% of travellers using their smartphones to research and book trips, a seamless user experience and streamlined booking process are crucial. Not only will a mobile-friendly website provide a better experience for your guests, but it will also boost your search rankings and increase brand awareness.
Don't miss out on the opportunity to capture direct bookings and save on OTA's fees — make sure your website is optimised for mobile in 2023 and beyond.

Final thoughts on how to increase hotel revenue
While all the points discussed above can help you increase revenue at your hotel, you don't need to apply them all at once.
Start with the steps that are easiest for you to implement. Perhaps that means optimising your current upselling program or gaining a better understanding of your target segments.
Once you have the basics down, you can get into fine-tuning. This can include testing new offers and diving deeper into segmentation and personalisation.