10 Hotel digital marketing strategies to be ahead of the curve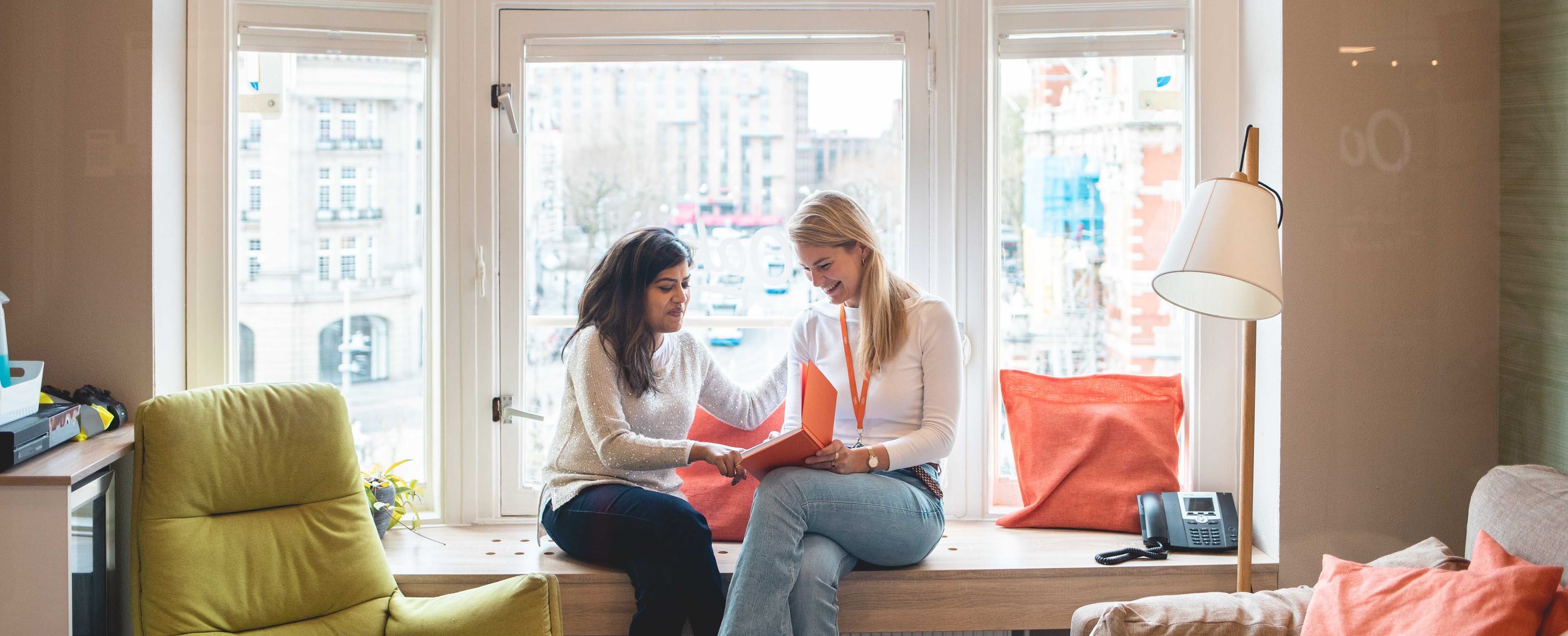 It's hard to overestimate the importance of having a robust hotel digital marketing strategy if you're looking to expand your business.
Digital marketing can help you go global and reach guests from all over the world. But which marketing strategies and tactics are worth implementing in the first place to win the hearts and minds of travellers?
Here at Oaky, we work closely with top-notch hotels and have a solid understanding of how they harness online marketing to create a stable influx of bookings (and capitalise on spikes in demand, too!). Marieke Wisse, our Head of Marketing, will take you behind the scenes and share the most effective hotel marketing strategies.
What is hotel digital marketing?
Hotel digital marketing involves reaching out to potential guests through online channels and digital communication methods. The end goal of all your efforts is to establish a solid online presence and generate hotel bookings. Travellers should be able to discover your hotel before they even know that it exists out there.
Why is digital marketing important for hotels?
Embracing digital marketing in the modern world is a proven way of getting more customers on board. Hardly you can find any brand that doesn't take advantage of digital marketing.
When you look at the number of people using the Internet every day, investing in marketing at your hotel becomes a no-brainer. According to Statista, there are 4.6 billion active Internet users worldwide, which is 59.5% of the global population, and this number keeps growing.
As marketing has always been about reaching the right audience at the right time in the right place, the digital space is the perfect place to get your hotel in front of different types of audiences.

1. Strengthen your direct booking website visibility with SEO
Having a direct booking website doesn't guarantee that it will become the main source of bookings for you. It's hard to compete with the major OTAs such as Booking.com, Expedia and the like.
To make your hotel's website visible in the search results, there is some groundwork to be done.
This is where SEO (search engine optimisation) comes into play.
Don't forget the three pillars of SEO
Optimising your website for Google won't be a brisk walk, as it's a time-consuming process. But given how competitive the hotel industry is, it's better to start working on it sooner than later. What's more, OTAs' fees are unlikely to go down any time soon, so pumping up your SEO should be high on your agenda.
1. On-page SEO
On-page SEO can also be referred to as content marketing. Your hotel's website will benefit from having a blog filled with engaging content. Make sure to cover the topics that your target audience might be searching for. For instance, these can be blog posts about to-dos in the area your hotel is located, the most attractive sights to check out, or Instagrammable spots to visit.
Before you write on any of these topics, run keyword research. You need to make sure that the topics you have in mind have search volume on Google. Tools such as Ahrefs, Semrush or Google Keyword Planner can help you in this regard.
Sprinkle your website content with hotel news and updates so potential guests can find out about the latest developments and enhancements.

2. Off-page SEO (Linkbuilding and referring domains)
Off-page SEO refers to building your website's domain authority and improving its reputation and trustworthiness. It includes multiple tactics such as link building, PR, Influencer marketing, events, reviews, etc.
Off-page SEO works hand in hand with on-page SEO. The more times external resources link back to your website or blog, the higher the chance your website authority will improve. This will lead to higher rankings and more website traffic (and, of course, bookings!).
Make it a priority to get mentioned on trendsetting travel blogs. Blog articles featuring "the best places to stay", "the top hotels in 2022", and the like draw tons of traffic and travellers who need reassurance from reputable publications before they press the "Book now" button. However, building connections with popular resources might take lots of time and effort, so you might want to consider partnering with a digital marketing agency to help you reach the right contacts and earn mentions in renowned travel resources.
3. Technical SEO
Google also looks at how well your website is structured. The better your website's structure and interlinking are, the faster Google can crawl it. So optimising a technical aspect of your website can go a long way in achieving better results.

Optimise your website for mobile
However, optimising your website for the web is not enough to get an edge in the search results.
According to the latest data from GSMA Intelligence, there are 5.31 billion unique mobile phone users in the world today. This is why you have to trim your website's loading times to perform well on mobile.
Mobile optimisation is also one of the key ranking factors on Google. This is why you shouldn't skip this step on your quest for higher visibility.
Having your website optimised for mobile devices will also contribute to a smoother booking process, resulting in more delighted users and more reservations.
2. Master email marketing
One of the most popular misconceptions that many people fall for is that email marketing is dead and no one reads emails. That said, users do want to engage with emails, and 49% of people reported that they even want to receive communication from their favourite brands. But you have to make your email communication relevant to your guests.
A few ideas that you can consider including in your email marketing communication are:

Sending monthly newsletters

Reaching out to your guests to promote special offers and add-ons

Sending discounts or other perks to your loyalty program guests, encouraging them to book weekend stays

Sharing news and updates about your hotel (for instance, new services and refreshed facilities).
When it comes to promoting your special offers to guests who have already made a reservation with you, pre-arrival communication has proven to be the most effective.
We've analysed that the best timing for sending upselling offers is 12 days prior to check-in. In this case, you can expect the highest conversion rate of 11%. As our insights have shown, the time of day also can make a big difference in conversions.
Oaky has found that messages sent between midday and 2 PM have CTRs as high as 44% to 53%, respectively (with 2 PM achieving the highest). Evenings do well, too, with emails sent at 6 PM, achieving a CTR of up to 53%.
The best part is that Oaky's upselling software triggers email send-outs automatically, so you or your team doesn't have to worry about missing out on the best timing.
Get more details about the best timing for upselling in this ebook:
3. Create listings on the most popular OTAs
While having your direct booking website is a must, listing your hotel on the key OTAs can tremendously boost your visibility. Given that OTAs attract loads of monthly visitors, creating a listing showcasing your hotel can be another marketing tool not to exclude from your marketing plan.
An impressive number of international travellers (74%) use OTAs to research and attract at least one aspect of their journey, be it accommodation, car rentals, flights or something else.

To attract a global audience, create listings on the most popular OTAs such as Expedia, Booking.com, Hotels.com, etc. But be mindful of their market coverage as some of them might be prevalent in certain locations over others.
4. Elevate your brand
A strong brand goes way beyond a well-designed logo. Building a brand comes down to creating a powerful value proposition and narrative that differentiates your hotel from the others and makes it possible to connect with your ideal guest, prompting them to choose you over the competition.
And you shouldn't expect people to know your value proposition if it's solely listed on our website. The story of your hotel should come back at every touchpoint with the guest.
But how do you build an effective brand strategy? Here are a few steps to follow:
Create a strong value proposition - think about how your hotel stands out from the rest. Who is your ideal guest, and which unique features of your hotel you can leverage to attract them?

Align the tone of voice, visuals, font and the look and feel of your website with your story.

Distribute your story via all possible channels where your target audience is (showcase this on OTAs, your website, social media, etc.).
A strong value proposition is a beacon for building your brand as it shows you the right direction to move in. Moreover, having a clear value proposition is a win-win for you and your customers.
While it helps you land bookings from the target guest segment, it also helps travellers understand why your hotel is the perfect match for them. It helps avoid misunderstandings and creating false expectations, contributing to your positive reviews and better reputation. Other benefits include:

A well-thought-out narrative will help guests to choose your hotel over others.

A strong brand helps your guests and employees become advocates and ambassadors.

A solid brand image goes a long way in building trust and loyalty.
It also attracts talent who believe in your value proposition and are eager to take on the same mission as your brand is pursuing.
5. Don't overlook the power of word of mouth
Who would you trust more when choosing a place to stay for your vacation: a YouTube commercial or a hotel review written by a real person?
According to Nielsen's research, 84% of consumers say they "completely or somewhat trust product recommendations from those around them like friends, family, and coworkers". While another research from TripAdvisor reaffirmed the power of social proof in hotel marketing. As the data revealed, 81% of people frequently or always read reviews before booking a hotel.
Enhancing the guest experience might seem like an obvious strategy to boost your word-of-mouth reputation. Upselling can be an excellent way to maximise your guest experience and grow the number of positive online reviews. And if you're determined to make your upselling a success, consider automating your efforts as:
Automated upselling allows you to personalise your offers. Through segmentation, you can match different offers with varied guest segments and be sure that the right deals will reach the right guests.

Guests get the opportunity to customise their stays pre-arrival. They will have plenty of time to figure out their expectations and opt for the corresponding deals.

Dynamic pricing will ensure optimal rates and will decrease the rejection rate by 34%.
Automate your upselling efforts & grow your revenue
Another strategy that you can use to strengthen your word-of-mouth marketing is collaborating with influencers. Influencer marketing campaigns appear to be especially effective when it comes to creating a buzz among a younger audience.
While you might be thinking that working with Instagram influencers with a larger follower base will land you more bookings, micro-influencers can boast higher engagement rates and have stronger relations with their followers. Hence, you will be able to reach a more enticed audience that is more inclined to trust the influencer's recommendations.

6. Connect with your guests via social media
Influencer marketing is not the only way to engage with your potential guests in the digital space. You can do it directly and almost free of charge by creating accounts for your brand on social media.
If you struggle with the question of what kind of content is worth sharing, here are a few ideas to spice up your news feed:

In addition to hotel news and updates, don't be afraid to let social media users take a peek behind the scenes. People love brands with a human face. This is what our strategy is all about here at Oaky.
We involve our colleagues in content creation to show that being our customer means dealing with real people. So almost all our visuals and videos feature our colleagues, and this content always gets the most traction.

Track the progress of your social media efforts to see what types of posts perform the best. Over time it will help you create a social media marketing strategy based on your audience's preferences and polish it further.
7. Utilise Facebook ads

Using PPC (pay-per-click) ads in your social media marketing doesn't require any special skills, so you can easily kick off your ad campaigns. All you need to do is allocate a certain budget, prepare captivating visuals (or short videos if you're up for launching your campaign on Instagram) and brainstorm on the most convincing messaging for your landing pages.
Facebook and Instagram ads are one of the cheapest and arguably easiest ways to attract more guests. However, you need to be precise with your targeting when running ad campaigns. Keep in mind your ideal guest profile (age, gender, location and interests) to get bookings from the desired segments.
Give a go to retargeting to save costs and amplify conversions. Retargeted ads are the ads that are shown to users who have already visited your website, and this type of ads is usually cheaper. They will help you stay at the top of the mind of your potential bookers and convince them to finally book with you.
8. Uncover the power of Google Hotel Ads
Yes, you've heard it right - we encourage you to add Google Hotel Ads to your marketing arsenal. The main difference from old good Google Ads is that Google Hotel Ads do not require any keywords or ad copy.
Google Ads and Google Hotel Ads are also designed to be implemented in different stages of the customer journey. While Google Ads are indispensable for building brand awareness and can help you access top-of-the-funnel users, Google Hotel Ads are designed for bottom-of-the-funnel users who have a clear intent of booking a hotel for their upcoming trip.
The user will see your Google Hotel Ad only when your property matches the user's query and when you have the inventory to accommodate the guest. This means you don't have to throw money away on clicks that don't stand any chance of turning into bookings.
To start using Google Hotel Ads, you need to work with a connectivity provider to set up and manage your Google Hotel Ads marketing campaign.

9. Integrate video into your marketing efforts
Video content has already won the hearts of many people across the world. For instance, Youtube attracts 122 million active users daily, and 1 billion hours of content is watched across the world every day.
Video can make a great asset for any online marketing channel you're utilising (social media, emails, ads, blog posts, etc.).
Make sure your videos are professionally made
Using videos on your website will grow your chances of getting reservations. Make sure to have them professionally filmed to reveal the aesthetics and functionality of your hotel. It is also a good idea to shoot a 360 virtual tour to give proper attention to not only your interior but also your hotel's facilities and staff, building anticipation.
You might also want to start a YouTube channel and gain even more publicity. On top of the videos revealing the beauty and cosiness of your hotel, you can go the extra mile and create informative clips about your hotel's surroundings and local attractions.
You can also involve your guests and ask them to share their feedback on camera for a discount or another perk.
Put a spotlight on your employees
Share stories of your hotel staff and their experiences of working at your hotel. Let them tell about their journey in the hospitality industry. Highlighting your employees will help you build credibility and trust in your brand but also will keep your staff more motivated.

10. Set up an effective loyalty program
A loyalty program is a widely used marketing strategy that you can introduce to retain guests by offering discounts and other perks. As data has revealed, nurturing existing customers has proven to be 5 times more cost-effective than acquiring new ones. Hence, a loyalty program is a low-hanging-fruit strategy that doesn't require substantial investment.
The best practice is to set up a tiered loyalty program and classify your guests into tiers by assigning points. Based on the points, you can give away different perks and calibrate your discount amounts. For instance, your most frequent visitors can be eligible for the 'golden rewards', while less frequent guests can benefit from more humble discounts.
Final thoughts
In a digitised world where we all live in, leveraging hotel digital marketing strategies should be high on the list of your priorities. It's no secret that travellers have grown tech-savvy and head to the Internet when planning a vacation or looking for inspiration for the next weekend trip.
The key to successful digital marketing lies in researching and putting together a detailed guest profile (their interests, preferences, habits, and expectations) and creating your unique selling proposition to appeal to your guests and move your brand forward.
With the target guest in mind, you will be able to select the most suitable channels and define the type of content you need to craft in order to transform your marketing into a hotel-sales machine.


Boost your guest experience with upselling