Personalisation in the hospitality industry: 5 steps to stay relevant and delight your guests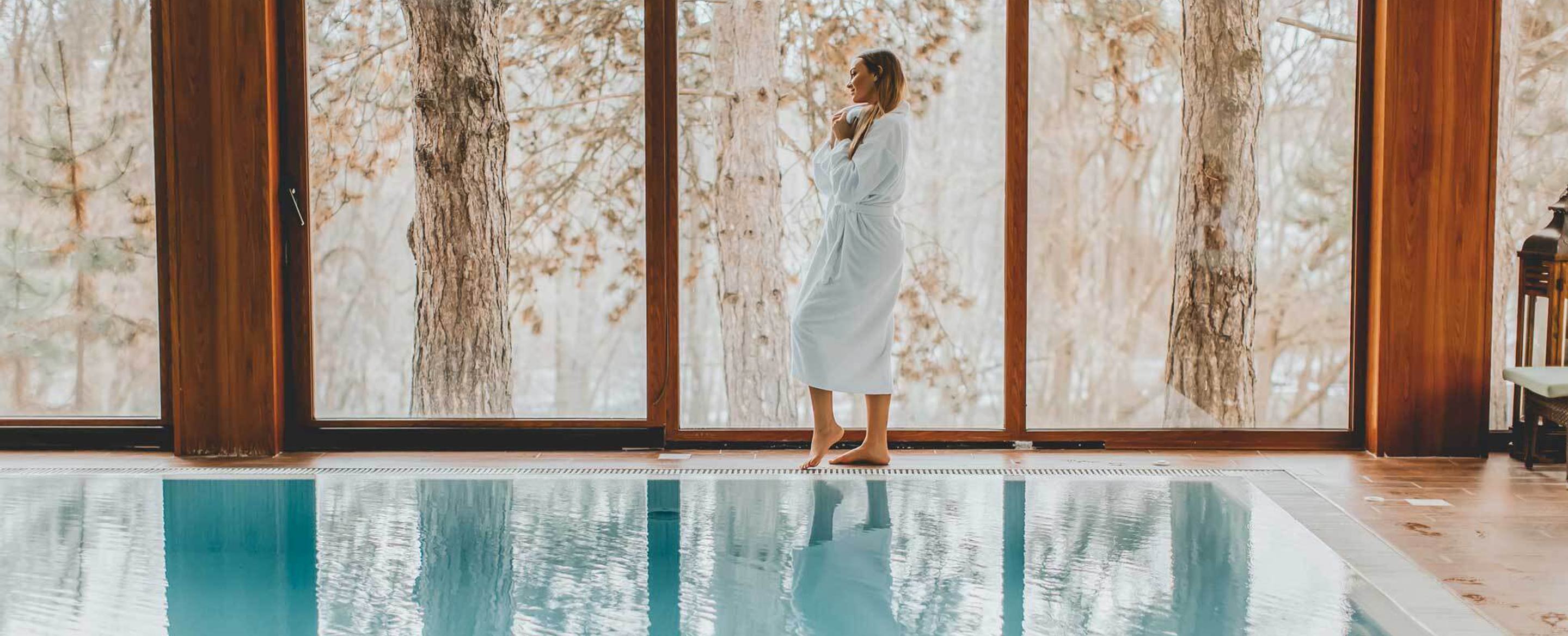 Personalisation in the hospitality industry is way more than a snazzy trend for hipster lifestyle brands.
Websites and social media platforms leverage user data to display relevant content, offers, or ads to maximise engagement or sales. This creates a unique experience for every user and ensures they quickly find what they're interested in.
Today, consumers have come to expect this tailored experience. In fact, bland, generic service doesn't cut it anymore and may even give them a negative impression of your hotel. Research by Accenture proves that 91% of people are more likely to choose "brands who recognize, remember, and provide them with relevant offers and recommendations."

Personalisation is your key to offering guests the individualised travel experience they crave and the value for money they expect. Run-of-the-mill stays no longer cut it if you want loyal guests and rave reviews. Instead, it's time to take personalisation to the next level.
Read on to discover five actionable steps to get started and what you can gain from tailoring your guests' experience.

What is personalisation in the hospitality industry?
Before diving deeper into the hows and whys of personalisation in the hospitality industry, let's clarify this term.
Personalising a hotel stay means using what you know about your guest to adapt your service to their preferences. However, be careful not to confuse personalisation with customisation. While both concepts follow the same goal of offering a tailored experience, customisation empowers guests to do this on their own. Guests choose their preferred service option from a selection you provide them.
Knowing this distinction shows that customisation works well for both new and returning guests. Personalisation on the other hand is easier if you already know travellers and their preferences.
Here's an example: imagine that Mr Smith is staying at your hotel for the first time. You offer him a choice between chocolates and fruit as a welcome amenity, and he goes for the fruit. That's customisation in action.
Next time Mr Smith returns, you directly offer the fruit platter based on the preference he expressed during his previous trip — that's personalisation.
In both cases, Mr Smith is happy about his fruit platter, but you used two different approaches to achieve this result.

How to personalise your guest experiences in 5 steps
Now that you know the difference between personalisation and customisation, let's talk about implementation.
Follow the five steps below to create the personalised and memorable travel experience your hotel guests expect.
1. Know your target guest

Knowing what makes your guests tick is good for more than building a tailored stay. It's also a way to create interest and win a guest's booking in the first place. If you show that you have what they want, you increase your chance of winning them over with relevant offers.
Once they've picked your hotel, find out as much as you can about each guest. Your staff as well as innovative tech solutions play a key role here.
- Train your employees to collect customer data
Basic traveller details such as stay dates and party size flow into your PMS whenever someone makes a booking. When your guest arrives, your team collects more personal information such as their address, nationality and birthdate via registration cards. While this already creates some opportunities for personalisation, you should still go deeper.
- Encourage your team to record and act on preferences the guest expresses.
That could be their favourite food or drink, names of family members or a note about their pet. Also, pay attention to positive and negative feedback or solutions to a problem travellers encountered for future reference.
Everything that can help you personalise your service is relevant and should be added to their profile. As a result, your team will get to know your guests better and will be able to give more relevant recommendations.
- Use automation to leverage customer data effectively
Filling guest profiles with as much data as possible reveals more about who your guests are and what they expect. This lets you effectively group them into several segments based on their travel dates, needs and wishes. Once you've done this, map out relevant offers for each segment.
An automated platform like Oaky uses this segmentation information to send guests tailored suggestions for add-ons or upgrades. This personalised upselling and cross-selling experience empower travellers to customise their stay. You'll also see better conversion rates than if you send out bland, generic deal recommendations.
The results of using segmentation speak for themselves. Oaky's segmentation applied to add-ons and room upgrades suggestions has been proven to generate the following results:

- A 6% increase in the overall approval rate (room upgrades + services)
- An 8% increase in the approval rate for services
- Service deals are requested 84% more often than non-segmented deals
- Room upgrades are requested 72% more often than non-segmented ones.
Personalise guest experiences with Oaky
2. Tailor your online presence with the target guest in mind

Today, online travel agencies and metasearch sites provide personalised offers and search results based on past behaviour. That creates a smooth user experience and makes it easier to find the right hotel. Provide your distribution partners with information your ideal guests want to see. This increases your chances of showing up in the search results and winning over customers.
The same applies to your website and social media channels. The more you tailor your online presence to your target audience, the higher the chance that they'll book directly. Create relevant offers for your different guest segments and highlight the unique experiences only you provide.
For an extra boost, make your website available in your main target markets' languages and currencies. Finally, prompt guests to supply extra personal information and preferences, so you can better meet their expectations.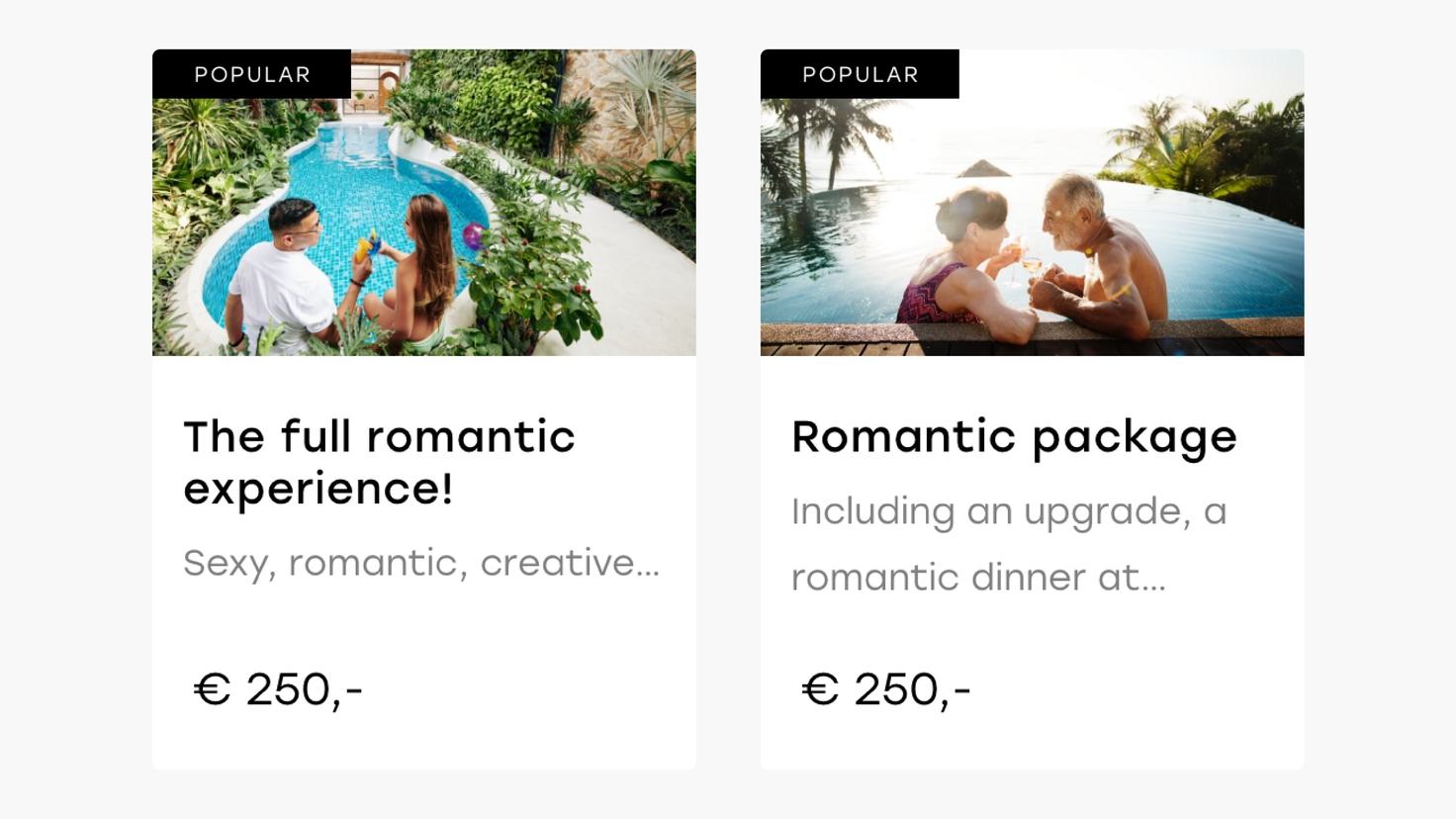 3. Let your guests customise their stays
Create relevant offers for your different guest segments and highlight the unique experiences they can book at your hotel. Use insights you have gathered during your first step to anticipate guest needs and shape experiences that will excite them. From suggesting relevant room upgrades to providing guests with a selection of tailor-made upselling/cross-selling deals, let's take a look at how you can take your personalisation efforts to the next level:
Getting started with room upgrades
Get only relevant room upgrades in front of your guests' eyes. Thus, you will increase the chance of convincing your guests to go for an upgrade and show that you are mindful of their needs.
Do you know that your guests are a couple on a honeymoon? Suggest them upgrade to a room with a cosy balcony and a sunset view! Or is your guest a business traveller staying at your hotel during weekdays? Suggest a quieter room at the back of the premise or on the higher floor if your hotel is on a busy street.
Adding special add-ons/services and deals in the mix
To fascinate your guests with a genuine personalisation approach, create upselling/cross-selling deals that will be appealing to each guest segment you cater to. For example, suggest a romantic package for couples and fun activities for solo travellers. Airport transfer and grab-and-go breakfast upsells can pique the interest of business travellers, while families with kids will appreciate the opportunity to opt for child-friendly meals.
Use the pre-stay time to share what your hotel has on offer in a pre-arrival email to your guest. This way, your team will learn about your guests' expectations in advance and will have plenty of time to prepare before your guests arrive.
4. Harness the power of communication at every stage of your guest journey
Many hoteliers still underestimate the importance of communicating and sharing relevant information throughout the guest journey. While marketing campaigns and a solid online presence get people through the door, they're only a small part of the puzzle.
Stay in touch with your guests at every stage of the guest journey. Each of these phases offers chances for meaningful, personalised interactions and service. The pre-stay stage is especially important. During this time travellers finalise their plans and are open to suggestions for extras that will add value to their experience.
Use this timeframe to offer deals on paid upgrades and service add-ons that match your guest's profile. This gives your guests enough time to browse your selection of extras and pick the ones they like.
As a result, you'll see better results from upselling and your guests will get the ideal stay they dreamed of. Hotel technology comes in handy to streamline your upselling efforts. It also ensures that your guests receive personalised emails along with relevant upsell suggestions.
5. Get your whole team aligned on personalisation

Personalising every guest's experience is a team effort that should stretch across all departments. For example, your front office, F&B and housekeeping teams can all collect data about travellers' preferences regarding different services. Of course, the same goes for applying these findings when interacting with guests.
Suggestions for creative deals and new ways to personalise the customer experience can also come from any department. So get your whole team on board and start brainstorming how you can offer a unique stay to every traveller.

What are the benefits of introducing personalisation at your hotel?
Yes, tailoring your service to every guest takes extra time and effort. But genuine, personalised hospitality brings numerous advantages for both your guest and your hotel. Let's take a closer look at the benefits personalised experiences can bring in terms of guest feedback and revenue.
1. Delight your guests with a unique travel experience
Run-of-the-mill hotel stays are as easy to find as sweets along the supermarket check-out line. Both are widely available, and neither will have people raving about them.
A personalised guest experience, on the other hand, surprises and impresses travellers. They remember the fruit basket full of their favourite treats or that you supplied their preferred type of pillow.
People also appreciate it when you suggest add-ons that make sense for their trip. That could include connecting rooms for families, a dog bed and treats, or a birthday cake in the room. These details make the difference between average and outstanding customer service and create the memorable stay guests were looking for.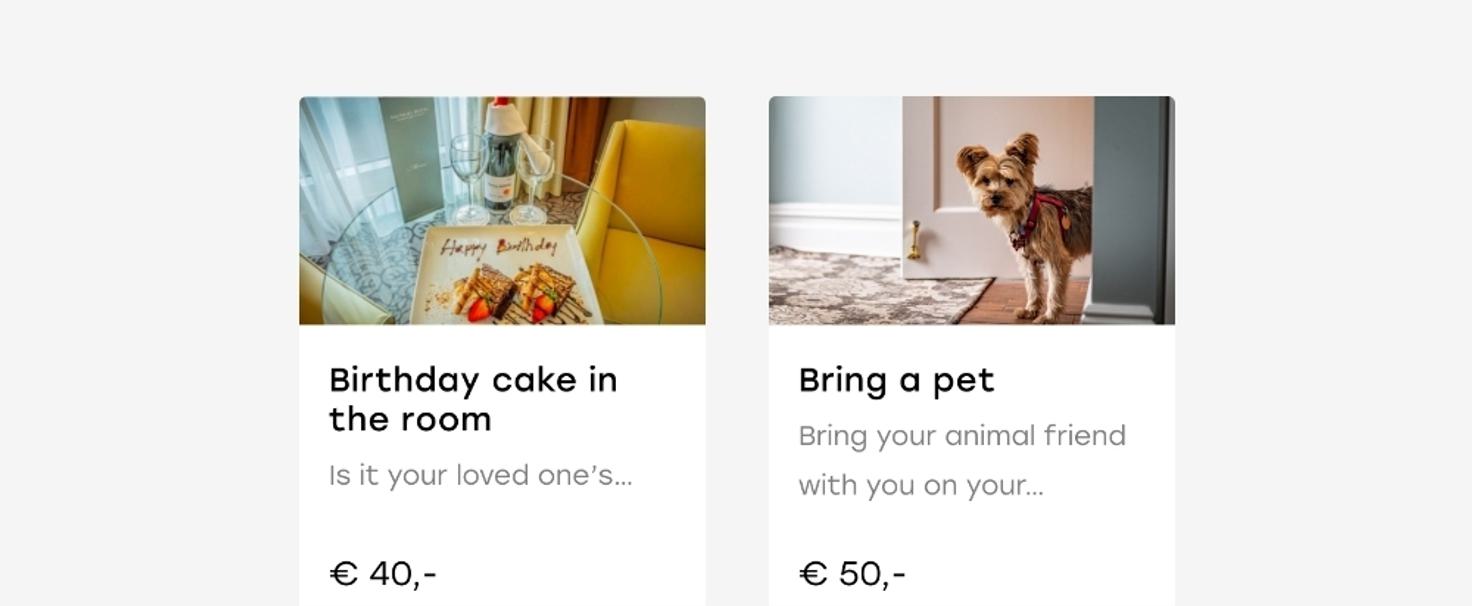 2. Improve guest feedback and hotel reputation in the digital space
As you can imagine, travellers happily share such wonderful experiences with friends, family, and their online community.
Especially positive online reviews are beneficial since they boost your hotel's reputation in a credible way. They convince other travellers that your property is ideal for them and that it will live up to their expectations. Consequently, guests will have a higher willingness to pay because they're convinced of the value you offer.
Harness the full power of reviews for your hotel with the help of a customer relationship management (CRM) tool. It allows you to stay in touch with guests and send personalised post-stay messages. Use this chance to encourage travellers to leave feedback on their preferred platform such as an OTA, Google, or TripAdvisor.

3. Attract your ideal guest
It can feel challenging to attract your ideal guest in a crowded hotel market. So how do today's most successful hotel brands stand out? They offer a personalised experience on their online channels, relevant packages as well as tailored service.
Adopt this approach, and word will spread about your unique style, drawing in guests who want exactly what you offer. These travellers show greater appreciation for your services and will be most likely to have a pleasant experience at your hotel. They're also the most eager to share reviews, post on social media, and thus help further cement your strong reputation.
4. Maximise ancillary revenue
Personalising the add-ons and upsells you offer to your guests gives them a more relevant selection to browse. An upselling solution that uses data to segment travellers' picks and sends the most suitable options automatically.
This makes it more fun and engaging for travellers to look through your deals because they match their needs. It also increases the chances that they'll find and book extras to customise their stay. As a result, you'll see both ancillary revenue and guest satisfaction rise.

5. Turn first-time guests into lifetime regulars

Tailored service and creating the ideal stay experience are key ingredients to increasing repeat business. This, in turn, allows you to further personalise the service you offer to your regular guests. Every time they visit, you'll learn a little more about them and find new ways to delight them.
That'll keep them coming back because they enjoy their stay and know you appreciate their business. Benefits for your property include reduced distribution costs, higher profitability, and ongoing positive word of mouth from your loyal fans.
As you see, personalisation plays a crucial role in the hotel industry. It makes the difference between a so-so stay and the trip of a lifetime.

A final note on personalisation
Giving your guests the opportunity to customise their stays can take their experiences from good to great. In a modern world, where consumers expect brands to know and be thoughtful about their interests and preferences, the hospitality industry needs to put data and insights to good use to give guests what they are craving. Adopt upselling practices to steer your personalisation efforts but be careful not to overwhelm your guests.
Incorporate only relevant deals in your pre-arrival communication. According to our research, a total of 15-20 deals split into 3-5 upgrade options and 8-12 service offers work best. Otherwise, too much choice might cause analysis paralysis, and a guest might end up selecting nothing.
Digital upselling lets you craft highly targeted deals and nail your pre-arrival upselling conversions.
Elevate personalisation efforts