Hotel front office: tasks, duties and responsibilities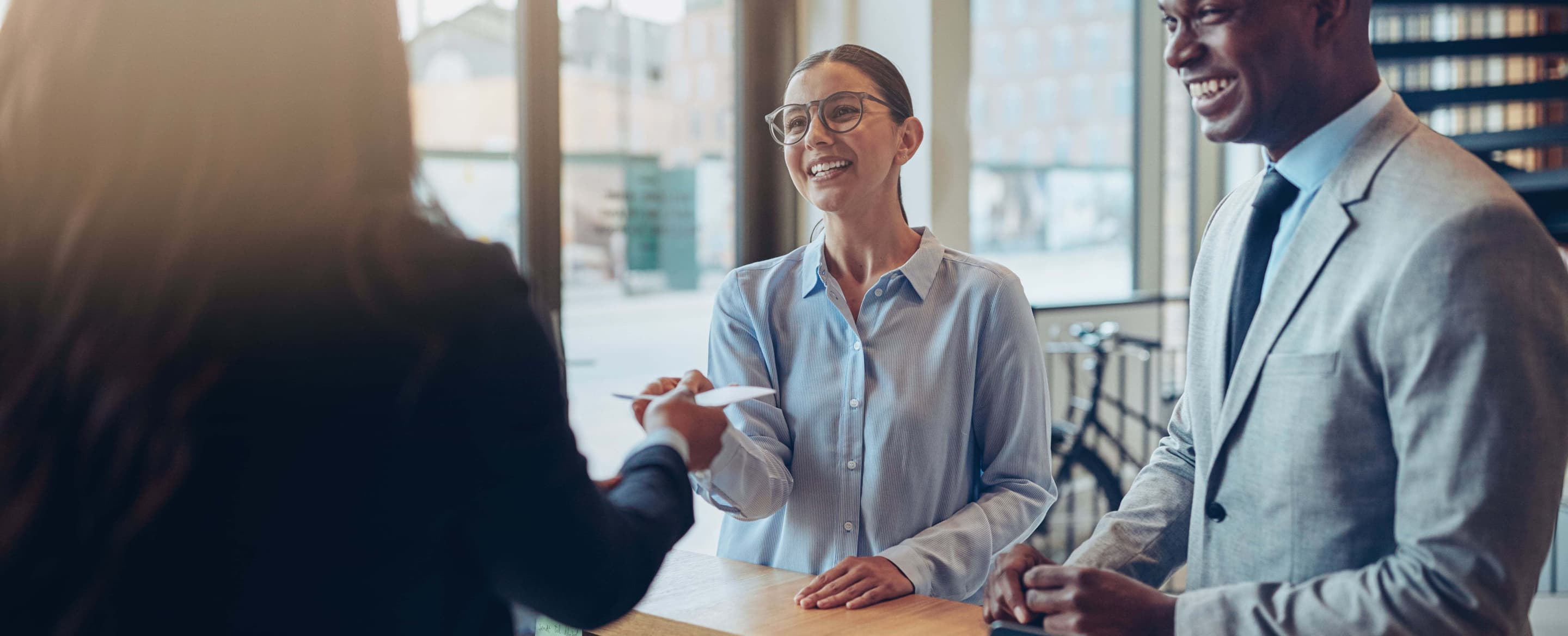 The hotel front office employees play a critical role in helping the hotel to run smoothly. Plus, as they're one of the few departments that have direct contact with guests, they're also perfectly positioned to ensure a first-class customer experience.
From checking guests into accounting, the hotel front desk staff need to wear many hats. Continue reading to find out more about what exactly the front office does, how the team is typically structured and which operations they handle.
What's more, we'll also share tips to help your front office team manage the different operations more effectively.
What is the front office of the hotel?
The hotel front office (hotel front desk) is one of the first touchpoints your guests have with your hotel. The primary focus of the hotel front office is handling check-ins and check-outs and assigning proper guest rooms.
However, the responsibilities of the front desk teams usually include more than welcoming and registering guests. The hotel front office usually handles a whole host of other front office operations from taking care of guest requests and complaints to selling add-ons and services at the best rates to help increase hotel revenue.
Front desk employees, especially in smaller properties, sometimes complete secretarial duties too.
You'll typically find the front office in the foyer or lobby of the hotel. As such, it's also guests' go-to place for anything related to their stay.
What are the main sections under the front office department?
The front office usually consists of a few sections that usually have their designated duties and responsibilities. Let's take a look at a typical front office department structure as well as each section's responsibilities and essential functions.
- Reservation department
Registering room reservations

Filing reservation records

Ensuring the room is ready at check-in time.
- Reception (front desk itself)
Completing check-ins and check-outs

Explaining the available payment methods to the guest

Welcoming guests upon arrival

Responding to complaints
- Telephone operator
Answering internal and external phone calls

Making wake-up calls, when requested.
- Information
Answering guest enquiries.
- Bell desk
Handling and delivering guest's luggage

Escorting guests to their rooms

Delivering newspapers

Collecting room keys.
- Concierge
Welcoming guests upon arrival

Arranging excursions upon request

Making reservations on behalf of guests

Recommending places to visit and popular activities

Arranging errands like laundry.
What are the primary responsibilities and activities of the front desk employees?
As mentioned earlier, the front desk staff handle more than just check-ins and check-outs. On top of it, they perform a whole host of equally important activities:
Ensuring a smooth guest experience
The front office team plays a key role in planning the guest experience to help ensure that the hotel showcases all its best offerings effectively. As they regularly interact with the guests throughout their stay, they receive valuable feedback to help them with this key task. From suggesting things to do and local attractions to see to highlighting some of the hotel's own onsite activities, front desk employees' knowledge can improve the overall guest experience.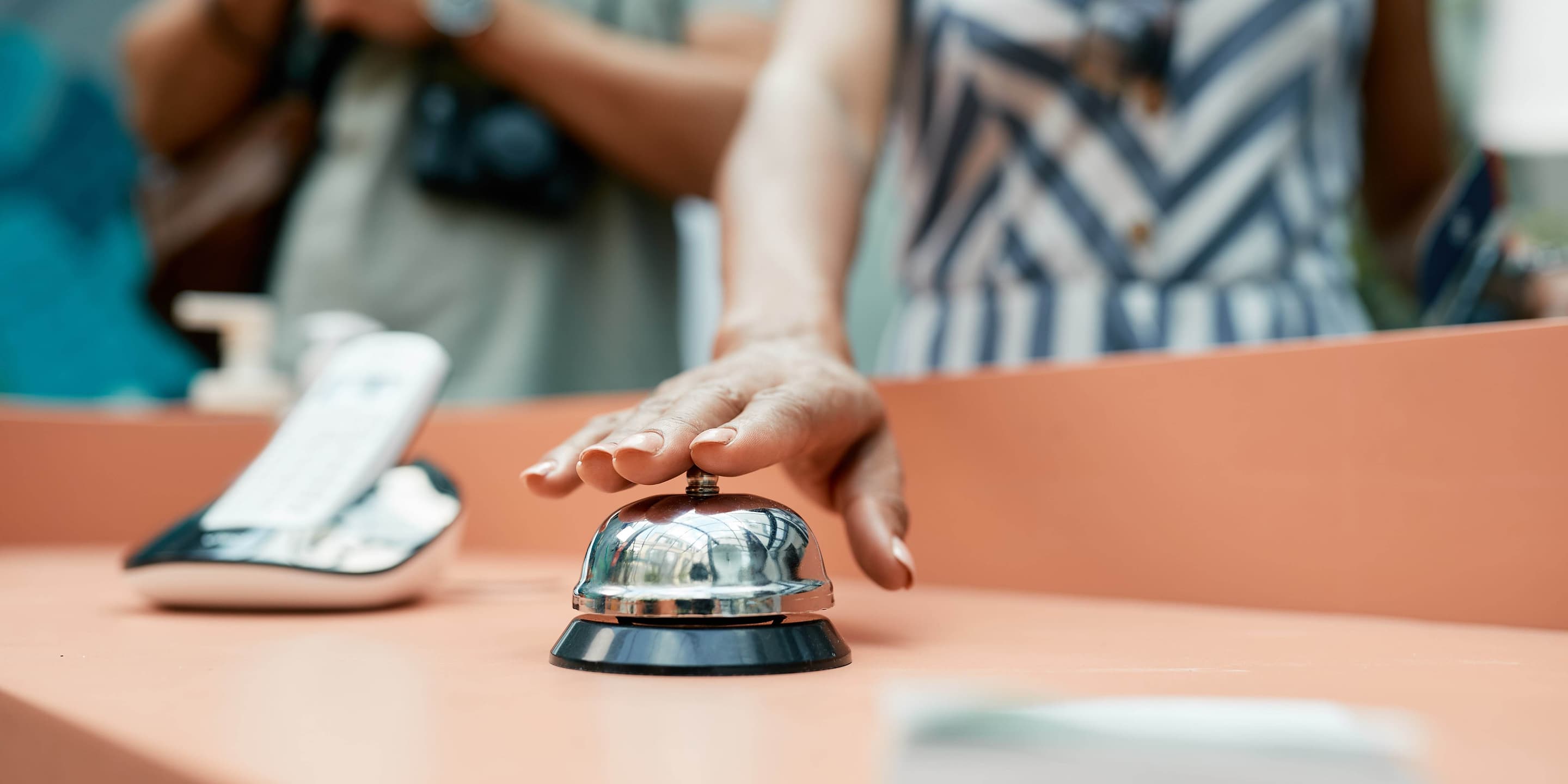 Making guests feel welcome and safe at the hotel
It's every single hotel employee's job to ensure that guests feel welcome and safe. However, the front office staff are the guests' first point of contact and help to set the tone for the rest of the stay. If they don't make a concerted effort to ensure the guests feel right at home as soon as they step through the front door, it could be difficult to change guests' perceptions later.

Responsible for upselling at check-in
Upselling is one of the major sources of revenue for the hotel industry. Upon checking in (or even sooner during the pre-arrival stage), hotel front desk staff can suggest extra services, like spa treatments, and room upgrades. In addition to boosting upsell revenue and strengthening TRevPAR growth, it also increases guest satisfaction.
Handling guest complaints and questions
If guests have specific requests, the front office is typically the first in line to attend. They can also help with more basic issues like how to operate an appliance or access a service.
Needless to say, they'll also have to deal with less pleasant conversations involving guest complaints. For example, if an appliance is faulty or a service was mediocre, the front desk will typically be made aware first.
Handling administrative tasks
To ensure that the hotel operates like a well-oiled machine, a front office employee can also take care of admin-related tasks like guest check-ins, check-outs, and payments (both for rooms and other extra services). They might also need to help hotel management. These could include tasks like creating spreadsheets, writing letters, and managing calendars.
How does the front office team usually look?
Each hotel has an organisation chart. Depending on the hotel's size, the functions of each of the front office operational roles might look like this.
Director of rooms (or rooms division manager)
A director of rooms or rooms division manager is one of the key positions at the hotel. Since they are usually in charge of the Front Desk, Guest Services and Housekeeping departments, they are usually the ones behind the operational team's motivation and level of guest service.
Working closely with the Reservations department, rooms division managers are also responsible for providing necessary forecasts to help maximise occupancy rate and improve revenue.
A front office manager (or a front desk manager) supervises all the other employees stationed at the front desk. They are responsible for daily schedules and front desk staffing during the day. In addition to overseeing the work of front desk agents, other duties may include working out shifts, hiring new employees, training newly appointed staff, and ensuring that the area is clean. It is also their duty to ensure a top-notch experience for every hotel guest.
A hotel front desk agent is responsible for managing guest check-ins and check-outs and making sure that each customer has a positive and memorable stay. Their key duties include:
- Distributing room keys
- Confirming guests' hotel registration information
- Calculating room payments and other charges incurred during the stay.
The reservation manager takes care of reservations. This also includes taking care of cancellations, changes to existing reservations, and training front desk staff to answer booking-related questions.
The reception manager mostly answers phone calls and guest questions. As they're typically the first interaction that guests have with the hotel, they also need to ensure that guests feel welcome and comfortable for the duration of their stay.
The night auditor's role is to oversee auditing processes in the evenings. Tasks include checking all the cash received during the day and completing reconciliations. If there's an amount unaccounted for, they will need to investigate further.
While the concierge is tasked with the all-important task of running the front desk, their interactions aren't restricted to only this area. To see to it that the needs of the guests are taken care of, the concierge will also work with several of the other hotel departments like housekeeping. You can think of them as a type of personal assistant. From restaurant suggestions to event bookings, they help guests during their stay to enhance their experience.
Bell captain (porters or valets)
Bell captains can also be called porters or valets. They tend mostly to exist in huge US hotels or very luxury hotels nowadays. Their main duties include handling luggage, opening and closing doors for guests, and parking or collecting guests' vehicles.
As their title suggests, duty managers' main responsibility is to create a duty roster and check that shifts are completed efficiently. This includes relaying key instructions to the night auditor and other front desk employees assigned to the night shift.
The guest experience manager is usually in charge of handling VIPs as well as guest complaints. In the modern world of the experience economy, having this person onboard is a must for every hotel that strives to get a competitive edge. They'll work with any department that can impact the experience of the guest. Some of their key duties include evaluating and responding to guest feedback, managing guest loyalty programs, and offering operational support.
How to ensure smooth front office management?
1. Let hotel front office technology give you a hand
Automating operations at the front desk is crucial for ensuring that it functions smoothly and efficiently. As reported by many hoteliers, recent years' persistent challenges like a high staff turnover, staff shortage, and lack of time to train staff lead to inconsistency in front desk operations.
This has financial impacts too. As a result, the hospitality industry experiences low incremental revenue and even lost revenue (due to free upgrades, underutilised inventory and unsatisfied guests).
While using a property management software solution (PMS) can help you relieve some of the challenges, it doesn't automate the full scope of essential functions that the front desk department is in charge of.

One such area is upselling. Despite its revenue-generating potential, upselling often gets overlooked due to the lack of time and staff or special skills. A software solution such as Oaky and its upcoming front desk upselling automation functionality can transform the way the front desk department operates.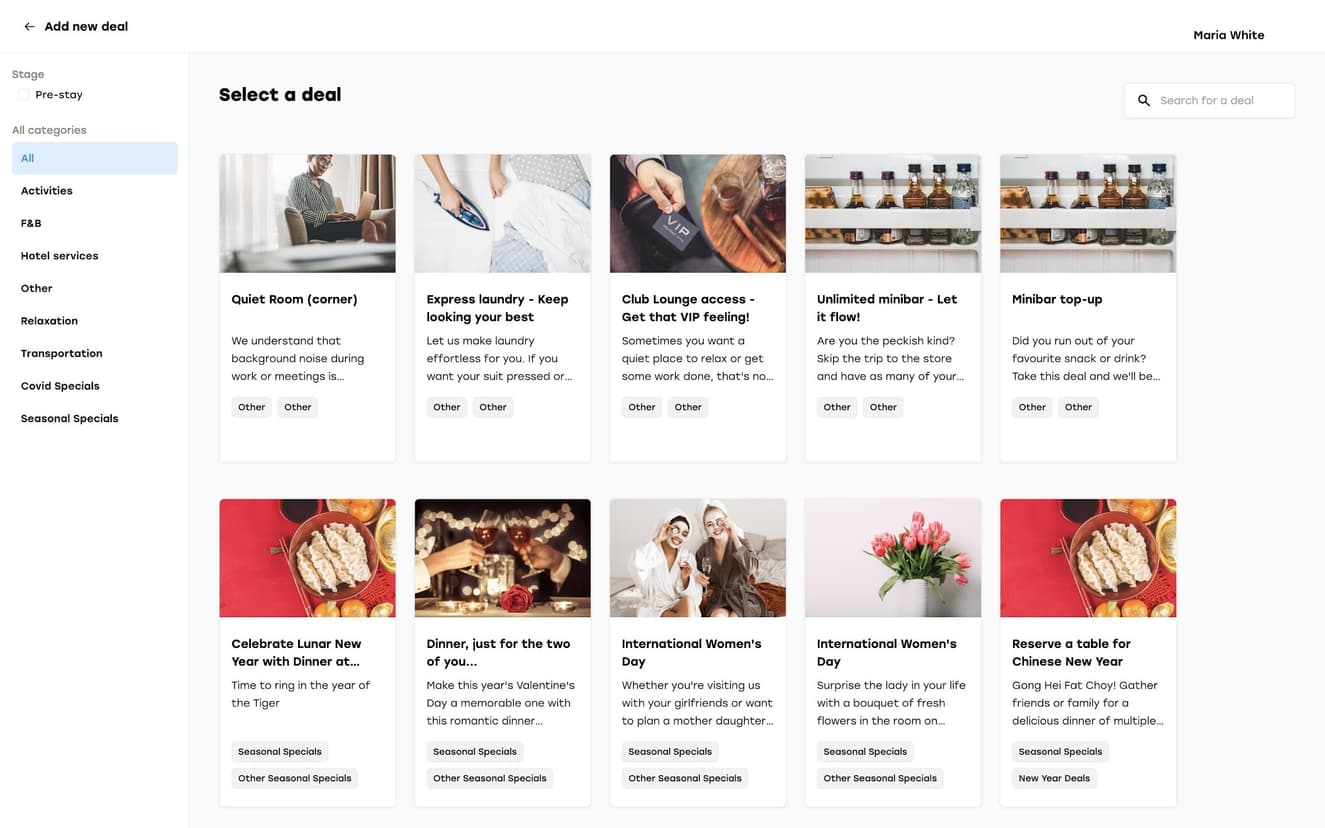 From agents having instant access to the dashboard with available room upgrades and services, including their prices, to getting suggestions on what to upsell depending on the guest reservation data, Oaky will streamline the upsell process. At the same time, it can help to boost incremental revenue for the hotel. On top of that, front desk managers will be able to track the progress of their team and provide better training.

Discover what Oaky can do for you
2. Motivate and train your staff
Front desk staff need to boast several key traits and skills. These include a friendly, positive attitude, willingness to help, and communication skills. They also need to know how to work and remain calm in stressful situations, develop the stamina and patience needed for long shifts, etc. While the jury is still out on whether multitasking is good, in the hospitality industry, it's for sure a requirement.
To help your staff develop these skills, you'll need to be willing to offer extra training. Plus, as the hours are long and the job (and guests) can be demanding, you'll need to remember to motivate them regularly.
3. Collect guest feedback and put it into action
By taking the time to gather guest feedback, you can accurately respond to their needs and incorporate personalisation into your marketing. After all, if you don't know what your guests truly want, how else will you improve guest services?
Not only can this step help to improve the overall guest service and experiences, but it can also help you to build deeper relationships with your most loyal guests. You can, for example, make a note of which room they prefer and which extra services they typically request.
4. Have checklists for the daily activities
After reading what's expected of the front office hotel staff, you'll agree that there are many processes involved. To help your staff keep track of their duties and ensure a smooth handover between the day shift and night shift, using checklists are key. This is another aspect with which software can help. By using an electronic checklist, staff can see real-time changes. Plus, you'll never misplace that all-important checklist.
Final thoughts
The front office plays a critical part during all the stages of the guest journey. Even before guests arrive right till departure, these employees can make valuable contributions. It's the first place where guests will go when they check in or need help with a service or amenity during their stay.
If you invest in this area, whether that's by getting a software tool or offering more training, know that it will have a profound ripple effect. Hotel management will get the support they need, the standard of guest service will improve, and, ultimately you'll have happier guests who can't wait to return.