A Map to navigating the hotel guest journey every step of the way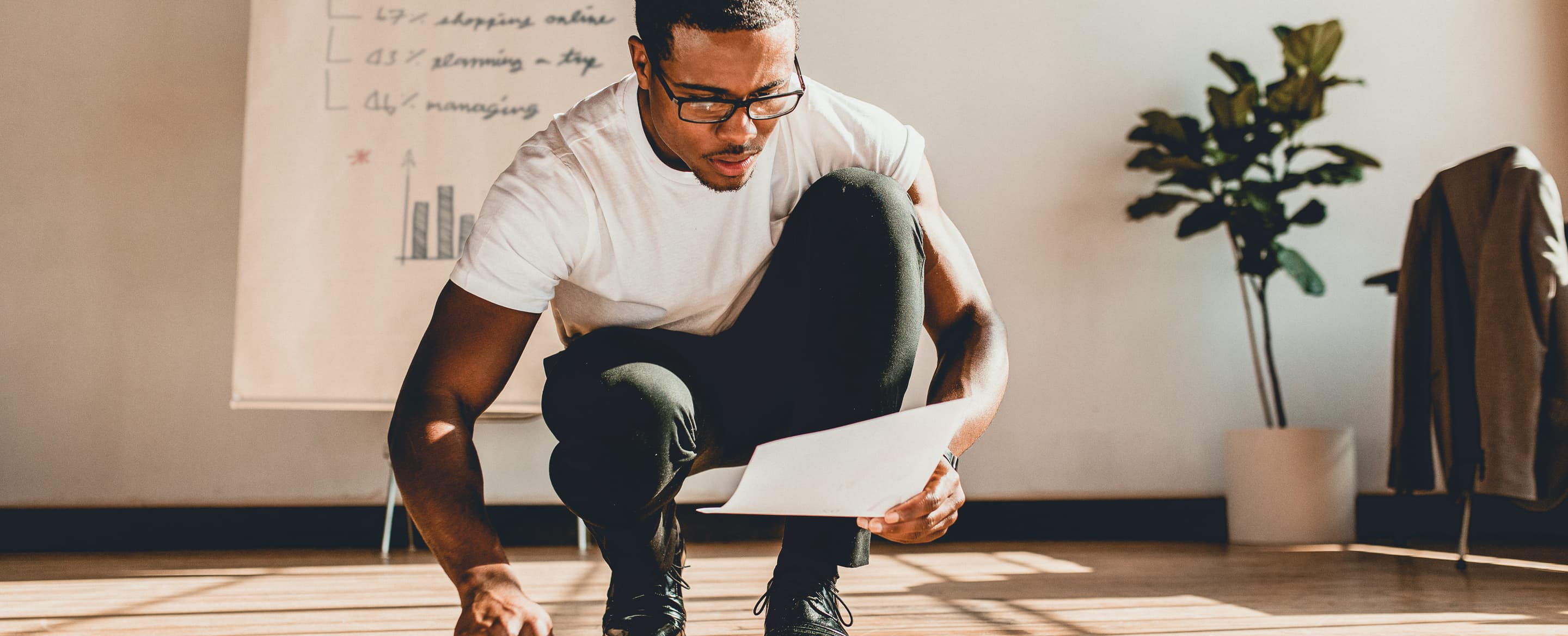 How travellers go about booking a vacation (aka the hotel guest journey) has changed over the years. Where postcards sent via snail mail would've encouraged others to visit the same destination, online reviews shared in real time now paint a more accurate picture.
There might be a couple of differences, but the key stages that travellers complete each time they book hotel accommodation have essentially stayed the same. By understanding the guest journey and its basic elements, as a hotelier, you can meet your guests' needs and expectations better. What's more, you can uncover various revenue-generating opportunities that the newer guest journey offers.
Continue reading and discover the main steps guests take in their journey and learn how to build a journey map for visualising it.
What is the hotel guest journey?
The hotel guest journey includes all the different points of contact that guests have with your hotel. From researching to writing a review, there are various unique stages that all play a part in shaping their overall guest experience.
The hotel guest journey is not linear
Previously, the hotel guest journey took a linear approach. In other words, there was a clear starting point, and travellers completed the steps that followed in a specific order.
However, the modern hotel customer journey is best described as scattered or dispersed. The stages of the journey can no longer be organised chronologically.
Instead, travellers typically jump back and forth between the different steps. For example, travellers can now post on social media about destinations and hotels that they would like to visit before they've actually visited these places in person.
The major benefit of the non-linear guest journey is that it opens up opportunities to engage more with the guest, which wasn't possible before. Hoteliers can utilise the moments between scattered stages to their advantage. For instance, they can use upselling even before guests have checked in at the hotel (at the pre-arrival stage), thanks to the possibilities of hotel tech.

Hotel guest journey template
One of the main goals at Oaky is to empower hotels to boost their bottom line by offering an enriched guest experience. To help hoteliers work smarter, we've created this hotel guest journey template to guide them through all the key stages.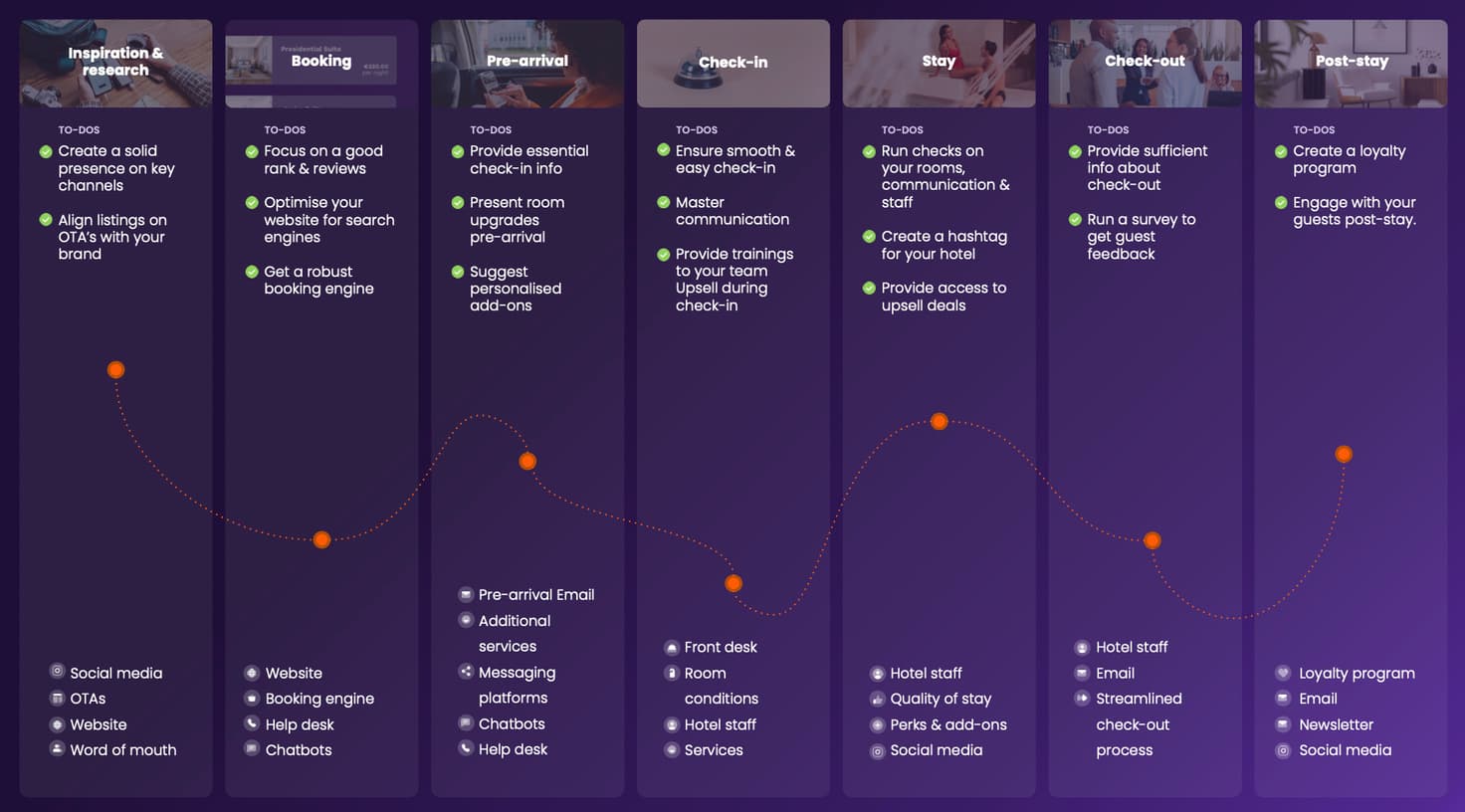 6 stages of the hotel guest journey + essential touchpoints

Even though the guest journey is non-linear, for convenience, it's usually broken down into the following stages:
1. Travel inspiration and research stage
During this stage, prospective guests research your hotel. They compare it to competitors and become inspired to stay. Their desire to travel is what guides them during this stage of the guest journey.

Touchpoints that influence guests to embark on a journey:
Social media

Online travel agencies (OTAs)

The hotel's website

Word-of-mouth recommendations (both traditional from social circles and electronic in the form of online hotel reviews and forum discussions).
How to drive guest engagement at the research stage
In today's digital age, social media has a huge impact on travellers' decisions. Therefore, you need to create a solid online presence on key channels, like Instagram and TripAdvisor.
Make sure to share high-quality photos and attention-grabbing videos. Keep in mind that your hotel branding needs to be aligned across all the different channels. In addition to visuals, you should also remember to use tags and comments to your advantage. Encourage guests to share content about your hotel on their social media accounts and create a hashtag for them so that they can tag you.
When it comes to OTAs, focus on your rank and the number of reviews. To help facilitate guest reviews, remind guests to leave feedback by means of your post-departure communication.
In addition to OTAs, also keep your Google Business Profile in check. Ensure the contact information, location, and details about amenities are up to date. These guest reviews are very effective at encouraging travellers to research your hotel further and book a stay.
While social media plays a massive role in the hospitality industry, it's no replacement for a business website. To help your website show up higher in the search results, pay attention to search engine optimisation (SEO), page speed, design, and layout. In short, your website should be traveller-friendly. In other words, it should be easy for website visitors to find the information that they need.
In addition to making it easier for guests to use word of mouth, also invest in digital advertising. Paid search campaigns can help to advertise packages via search and social.
Download the hotel marketing checklist to incorporate the best hotel marketing practices in your strategy.
2. Booking
This is the stage when consumers make a decision to book a place at your property. It's undertaken with more seriousness than the research stage, and price becomes a determining factor. To help travellers identify the most suitable hotel, they will typically complete a price comparison. In short, the goal is to identify the hotel that will offer the best value.
Touchpoints that influence guests to reserve a place at your hotel:
OTAs

An optimised booking software

A help desk or chat option on your business website.
How to improve the customer experience at the booking stage
At this stage, OTAs are the most important factor. Diversify your distribution channels by ensuring that you have a strong profile on platforms like Booking.com and Expedia. Then, to help you keep a good rank, take the time to reply to negative reviews and comments. It can boost your chances of booking.
An optimised booking software that's able to handle all the bookings on your company's website smoothly, error-free and fast is key. Ideally, invest in a booking engine and channel manager that offer direct rate comparison. It helps to make the whole process more transparent, something that guests will appreciate.
As you'll most likely receive several pre-booking questions, include a chat option on your website to interact with guests. This tool can help to decrease the abandonment rate too.
A reliable channel manager is another tool that you should add to your tech stack. Set up your channel manager so that you can sync your bookings across the different OTAs.
Apply dynamic pricing to your room rates. This way, you can sell your rooms at optimal rates that are beneficial for you as a hotelier. Not only can this pricing strategy help you to maximise earnings, but also increase occupancy in the slower seasons.
A sufficient tech stack is important, but it's no replacement for an optimised website. To improve your ranking on Google, ensure that your web pages are mobile-friendly and focus on visuals. People scan text quickly and pay more attention to pictures and videos.
3. Pre-arrival
This stage begins when guests book your hotel and finishes when they arrive. Guests will pack their luggage and purchase excursions and activities at the destination during pre-arrival preparation. This phase is critical when planning your guest journey because many emotions are involved.
You can also utilise this stage by beginning to offer upselling deals. In fact, extra information about your hotel's offering can help guests to navigate this stage.
What do your guests expect before arriving at your hotel:
Booking confirmation

Additional information and deals in a pre-arrival email

Notifications about important updates via email, text message, messaging platforms, etc.

A follow-up email before check-in

A help service/desk

Check-in information.
How to improve your customer experience at the pre-arrival stage
An automated pre-stay email that allows guests to customise their stay further by taking advantage of popular upselling deals can make a world of difference. A software solution like Oaky can help hotels add that personal touch, one of the major guest expectations, to guest stays.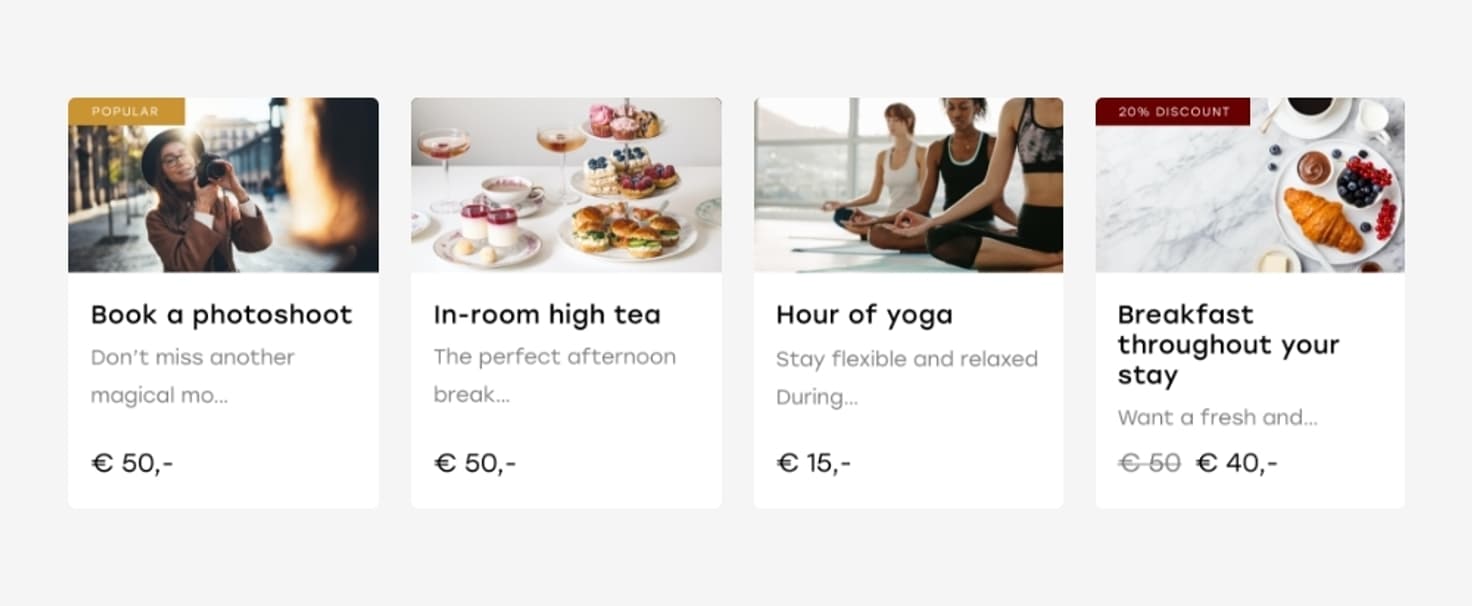 Upselling deals
In addition to promoting upselling deals, also remember to share the more basic details like things to pack, maps, etc. You can, for example, create checklists and to-do lists that you include in a pre-arrival email.
To help you answer questions that guests might still have after reading your emails, use guest messaging tools. This type of tool will make it much easier to provide all the necessary information to your guests.
4. Check-in
This is the stage when your guest steps into your hotel, either for the very first time or as a returning guest. In the scattered customer journey, though, the check-in process might take place before your guest enters the hotel, in case a contactless check-in option is available online.

Depending on your capabilities and guest preferences, you might choose to stick to the traditional check-in route with some front-desk upselling opportunities.
While all the stages are important, a negative experience during the check-in phase of their trip can have a lasting effect. For this reason, it's crucial that management train staff on how to make guests feel welcome the moment they step through the door.
What do your guests expect at the check-in stage:
A secure and stress-free arrival

A point of contact to reach out to in case of any issues during arrival pop up

A quick and easy check-in

Front-desk personnel who go above and beyond.
How to improve your customer experience at the check-in stage
Train your staff on how to greet and welcome guests. Not only will a personal greeting let your guests feel right at home, but you can also gain valuable information about the purpose of their stay that you can use to personalise upselling later on.
Invest in front desk upselling software to help you offer the right deals at the right time. Oaky's upcoming front desk upselling automation functionality will streamline the upselling process at this crucial step of the journey map.
In addition to sharing clear check-in guidelines, also take the time to create guidelines regarding public transportation and other relevant services that your guests might need.
5. Stay
This stage starts as soon as the guest checks in and ends upon checking out. Now is the ideal time to impress your visitors with facilities and services.
During their stay, they might also start to post about their experience on social media. For this reason, you need to make a concerted effort to follow up with them during their stay. This way, if there are any problems, you can address these before they turn into something much bigger like a bad review.
What are the guests expecting while staying at your hotel:
A comfortable room

Excellent and prompt customer service

Well-maintained facilities (spa, pool, parking, etc.).
How to elevate the guest experience during the stay:
Communication tools, like a guest messaging app, can once again help you during this stage of the hotel guest journey. Use your communication tool for a quick, mid-stay follow-up message.
Use In-stay upselling to offer guests opportunities to book special services, like a spa treatment and other deals during their stay. Oaky users can, for example, refer to its Deal Library for inspiration and proven ideas.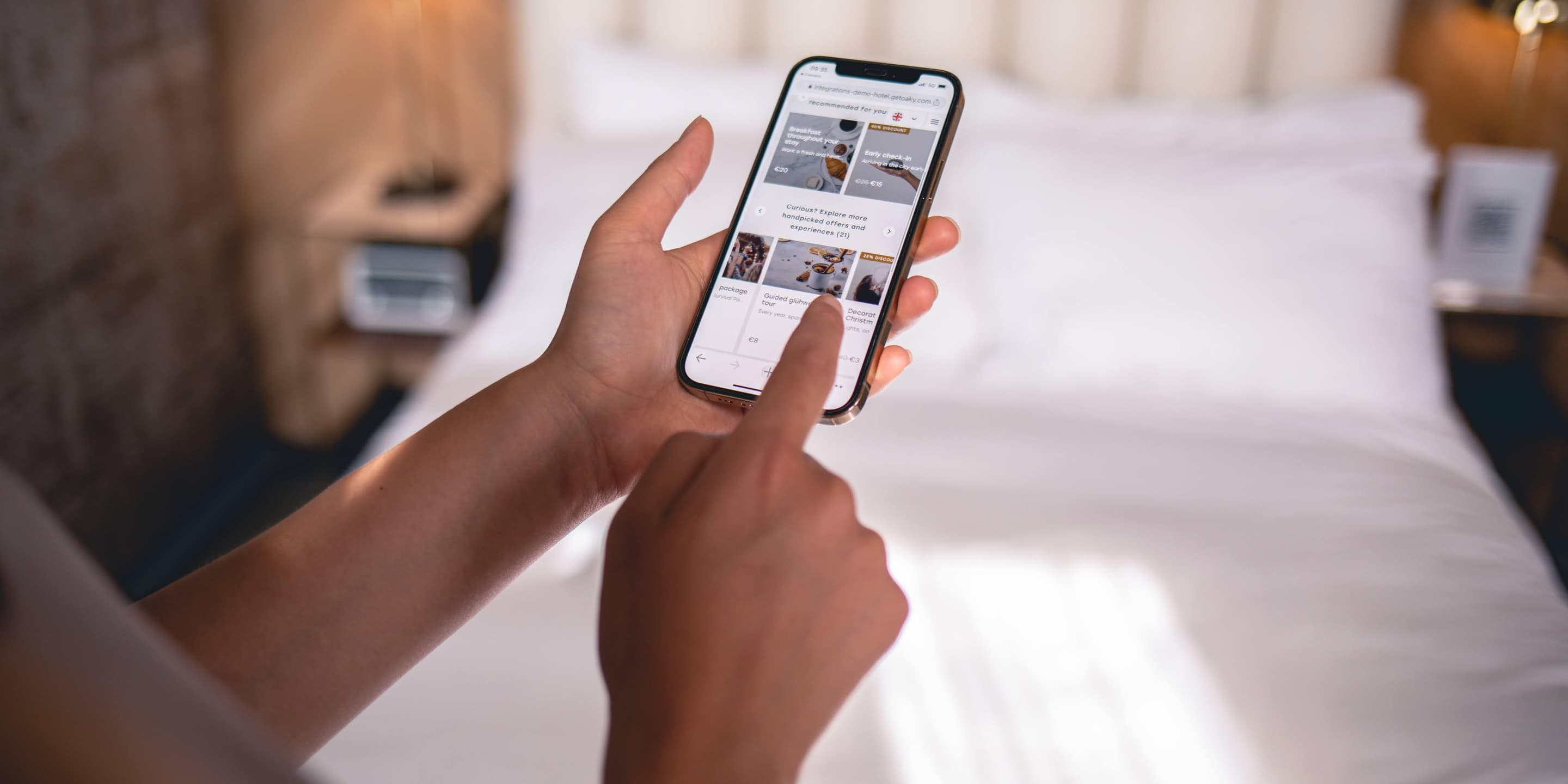 Oaky In-stay upselling
6. Check-out and post-stay
This is the final part of the hotel guest trip when your guest will wish you farewell. A smooth check-out can have a huge impact on whether they decide to return to your hotel.
Guests might have posted about their experience during their stay already, but now they'll review your hotel and its offerings officially. As reviews are valuable social proof, make it as easy for your guests to leave a review.
Touchpoints that influence guests at the end of their stay:
A streamlined checkout process

A late checkout option

Helpful and friendly staff.
How to encourage guests to leave a review after their stay:
Once again, messaging tools can be used for this step of the process. You can, for example, let guests provide you with direct feedback via a channel of their choice, such as email or WhatsApp.
QR codes can also be used effectively to collect more reviews. Instead of using a printed review card, let them scan a QR code which will redirect them to an online survey. Not only is this more convenient, but also kinder to the environment.
Send a reminder email to guests a couple of days after checking out. In addition to asking about their stay, you can also use this follow-up email to encourage them to write a formal review.
If guests have taken the time to leave you a review on Google and/or other platforms, return the gesture and engage with them by thanking them for their feedback.
For guests who opted to receive future communication from you, you can use post-stay targeted marketing. You can, for example, offer a discount for their next stay to help you increase customer loyalty
6 benefits of mapping out your guest journey
The introduction of Big Data has changed the importance of journey mapping. By clearly identifying the steps discussed, hotel guests' journeys can be improved significantly.
Other advantages of knowing the path your guest takes include:
- Personalise guest experience at every touchpoint
By getting a more thorough understanding of guest experience, you can perform better at your touchpoints and provide a better quality service.
- Drive a greater return on investment
You can increase the precision of your marketing by targeting the right guest with the most effective strategies. This will also help to increase your brand exposure and fulfilling your guest needs better which will ultimately boost your ROI.
- Get more bookings
You can generate more bookings by posting frequently on social media and ensuring that what you post aligns with your branding. Combine these efforts with an SEO-optimised website. This will create a solid online presence that will market your property around the clock.
- Generate more upsell and cross-sell revenue
By knowing the needs of your guests at every step, you'll be better positioned to leverage upselling. Now you'll know which deals to push when and possibly even identify new opportunities that you've ignored in the past.
- Get more positive reviews and social media mentions
By improving your overall customer journey and providing a great hotel guest experience at every touchpoint, you can organically generate more positive reviews and social media mentions.

- Align your strategy and operation across teams
Your guests won't be the only ones to benefit. Your hotel staff will also become aware of the critical role they have to play and the actions they need to take at every stage. What's more, it improve collaboration by distributing the areas of responsibility more efficiently and fairly.
Final thoughts
The Internet has had a major impact on the hotel guest journey. What used to be a linear journey with a clear starting point has turned into a scattered approach.
From social media to official business websites to OTAs to traditional word-of-mouth suggestions, travellers hop from one source to the next when booking a trip. What's more, thanks to the advances in tech, they no longer need to wait until they check out before they can start reviewing the accommodation and its amenities. They can take a photo on the spot and with a click of a button it can be shared on multiple channels online.
Both the internet and the global pandemic have changed how travellers approach booking a hotel room. Face-to-face interactions at the check-in and checkout stages can be replaced with contactless services. Plus, during the stay, guests are more comfortable using software to book facilities and services.
Considering that travellers have grown familiar with various digital tools and that these tools can help hotels basically throughout the guest journey, it's a worthy investment. Whether that's upgrading your email provider or signing up for an upselling software, ask yourself in which area you need the most help and start working smarter.

Upsell across the entire guest journey