Your 9-step hotel email marketing guide [+ campaign ideas]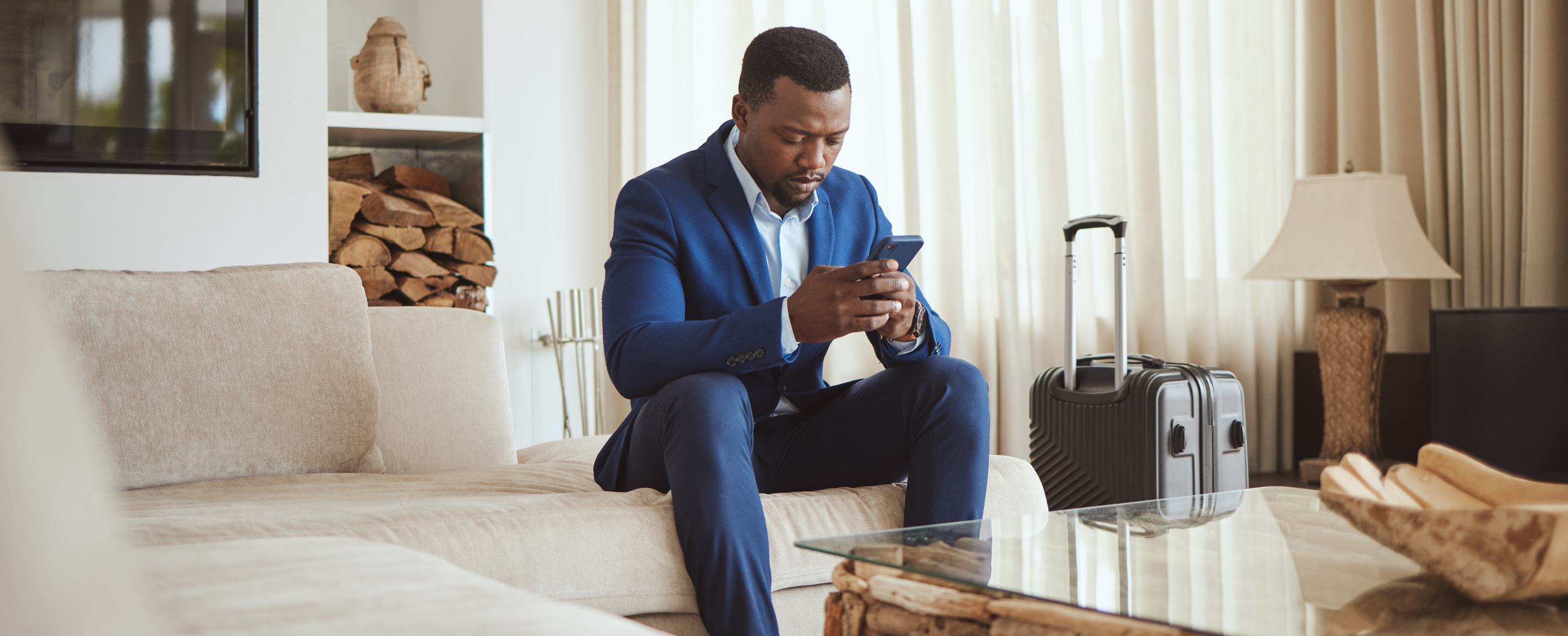 If you want to reach a wider audience and generate continuous business, hotel email marketing is the way to go. With a global audience predicted to surpass 4.7 trillion in the next three years, integrating email marketing campaigns into your hotel marketing strategy sounds like a no-brainer.
What's more, being the oldest form of digital marketing, email marketing remains a very cost-effective marketing channel for every industry, and the hospitality industry is no exception.
To help you boost your hotel email marketing results, we've put together nine best practices and six campaign ideas for inspiration.
Key takeaways
A hotel email marketing strategy is an indispensable tool to engage with your current and past guests and generate returning ones.

It's one of the most effective and cost-efficient methods to do marketing, spotlight your brand and build brand awareness.

Email marketing is a way to increase your ancillary revenue by selling room upgrades and other extra services pre-arrival.

Segmentation and personalisation are a must if you look to resonate with your target guests and increase email conversions.

An email marketing software can streamline your email communication while allowing you to establish consistency and regularity and track your success.
How to do email marketing at a hotel? [9 best practices]
1. Create an email signup form on your website
Before you can start seeing the results of your email marketing campaigns, you first need an audience willing to receive your email communication. To encourage people to give their consent to be added to your mailing list, make sure to set up a signup form on your direct booking website.
The "Subscribe to our hotel newsletter" lead capture form on your hotel website is prime real estate. It's one of the most reliable ways to grow the audience that you can reach. To make this crucial website element effective, consider the following:

Let it appear above the fold (in other words, website visitors should be able to see it before they start scrolling down your home page). You can also add it to other prominent places like the footer area or sidebar.
The call-to-action button should be visually pleasing so that it can grab the attention. In addition to using text, you can also add a visual that matches your branding to enhance the overall look and feel. That said, keep it simple. If you add too many fields or elements, website visitors will feel overwhelmed.
A visually pleasing CTA button might not be enough, though. To encourage users to sign up, you can offer incentives (aka lead magnets). Examples of popular incentives include an early check-in, a free welcome drink, or simply a discount.
Advertise your newsletter to every person that books online. However, keep in mind the General Data Protection Regulation (GDPR) and first gain their permission that you may send them emails before you add them to your email subscriber list.
To streamline this process, consider investing in email marketing software (automation tools), like Mailchimp or Drip, to set up email automations and lead capture forms.
2. Segment your audience to improve personalisation efforts
By segmenting your audience, you can tailor your emails to address specific interests and needs that will resonate with that specific group of your subscriber list. This will help you to avoid generic communication, which in return will have a positive effect on your engagement rate, conversions, and hotel revenue. In fact, research by Accenture has found that more than 90% of people are more likely to select brands that "recognise, remember, and provide them with relevant offers and recommendations".
To help you with this crucial step of the email marketing process, you can check out Oaky's segmentation feature. This feature allows hotels to create deals tailored to each guest segment and then map these deals to specific guest segments. This way, each type of guest receives emails and upsell/room upgrade suggestions based on their needs, which increases upselling conversions and upsell revenue.
Here are a few examples of deals that different segments might see:

Travellers with kids could see child-friendly meals.

Loyalty program guests might see special offers and discounted deals.

Honeymooners or couples could be presented with a romantic package or spa treatments.

Business travellers could be sent hassle-free airport transfers or extra fast Wi-Fi deals.
As per our findings, segmented emails drastically outperform regular, non-segmented emails.
A targeted pre-arrival email that is sent 12 days before guests' check-in results in:
A 12% increase in room upgrade booking conversion rate

A 2% increase in overall pre-arrival upsell conversion rate (room upgrades + special services bookings)

An 8 % increase in login rate to the Oaky system, meaning that guests are willing to click through more often when they see offerings that are tailored to their segment.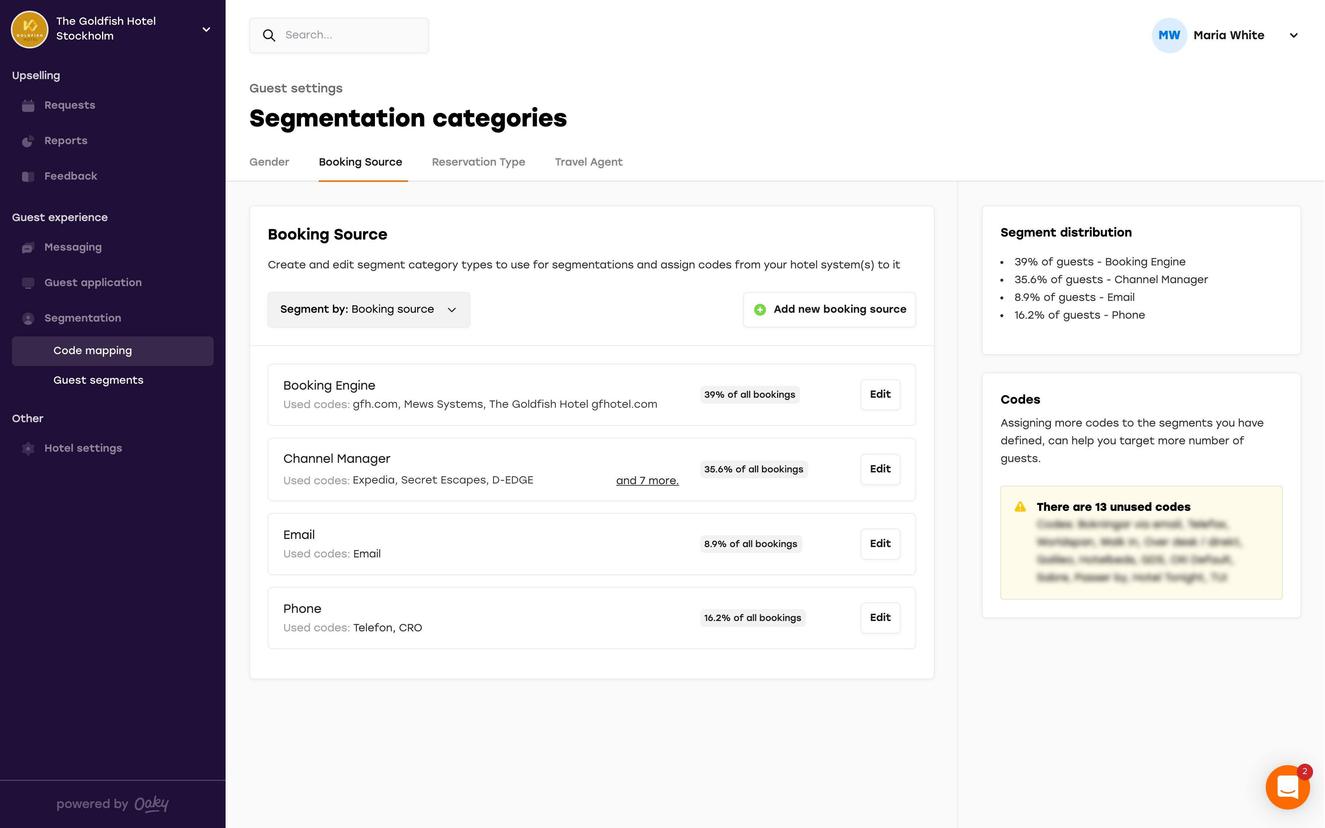 3. Nail the timing

To maximise conversion rates, consider when you send your hotel marketing emails. According to our data, pre-arrival emails should be sent 12 days before the hotel guests are scheduled to check in for the best click-through rates (CTR). When you follow this approach, you can enjoy a CTR of as high as 48% and a conversion rate of 10.6%. This is almost double what other days generate.
Then, schedule a follow-up email 9 or 10 days before checking in. This will serve as a friendly reminder to check out your deals without overwhelming your guests.
Not only does the day play a huge role, but also the time. Oaky has found that the best time to send marketing emails is between 12 p.m. and 2 p.m. If you missed this time slot, you could try again at 6 p.m. Emails sent at these times generate conversion rates of between 44% and 53%.
4. Focus on deliverability and engagement
While it's important to measure CTR and set goals, it's key to get the basics right too. After all, if your emails end up in the spam folders, there will be no emails that they can open and links to click on.
To ensure that most of your emails reach the recipients' inboxes, ensure that your email health score remains up to par. You can do this by:

- Taking special care of your email subject line by:
Making them short and sweet

Making them actionable (e.g. "Confirm your stay")

Applying scarcity (e.g. "Only 2 rooms left at this price")

Applying urgency (e.g. "Your special offer expires in 2 days")

Incorporating personalisation by using your recipient's name in the subject line

Avoiding spammy words like "free" and "risk-free"

A/B testing your subject lines to see what can help improve your open rate
- Authenticating your domain
SPF isn't only important for preventing sunburn. When you're running hotel email marketing campaigns, SPF can also help prevent your reputation from getting burnt. Before you reach for your sunscreen, in email terms, it refers to enabling the Sender Policy Framework. It's an email authentication protocol that can help prevent others from taking control of your email domain.
You'll also need to enable the DomainKeys Identified Mail (DKIM). It's another email authentication method that helps to identify fake sender addresses.
- Craft content that will resonate with your target audience
After you've ensured that your promotion emails indeed get delivered, pay attention to your open rate. To encourage guests to open your emails, ensure that your subject lines appeal to them.
You can do this by speaking their language. You can possibly reach out to them in their native language if you're able to collect this information. In addition to language and tone, also pay attention to the actual content by offering relevant upsells and deals. This is why segmentation is so critical.
5. Communicate your brand
It's important that your email subscribers get to know your brand better after they've read your marketing email. In addition to helping with brand awareness, it also helps to create trust. This is especially important when you're reaching out to future guests who booked via OTAs instead of a direct booking engine.
For example, when sending pre-arrival emails via Oaky, you can adjust emails to your brand, which allows you to accomplish both — build awareness about your brand and encourage your guests to book enticing upsells included in your customised emails.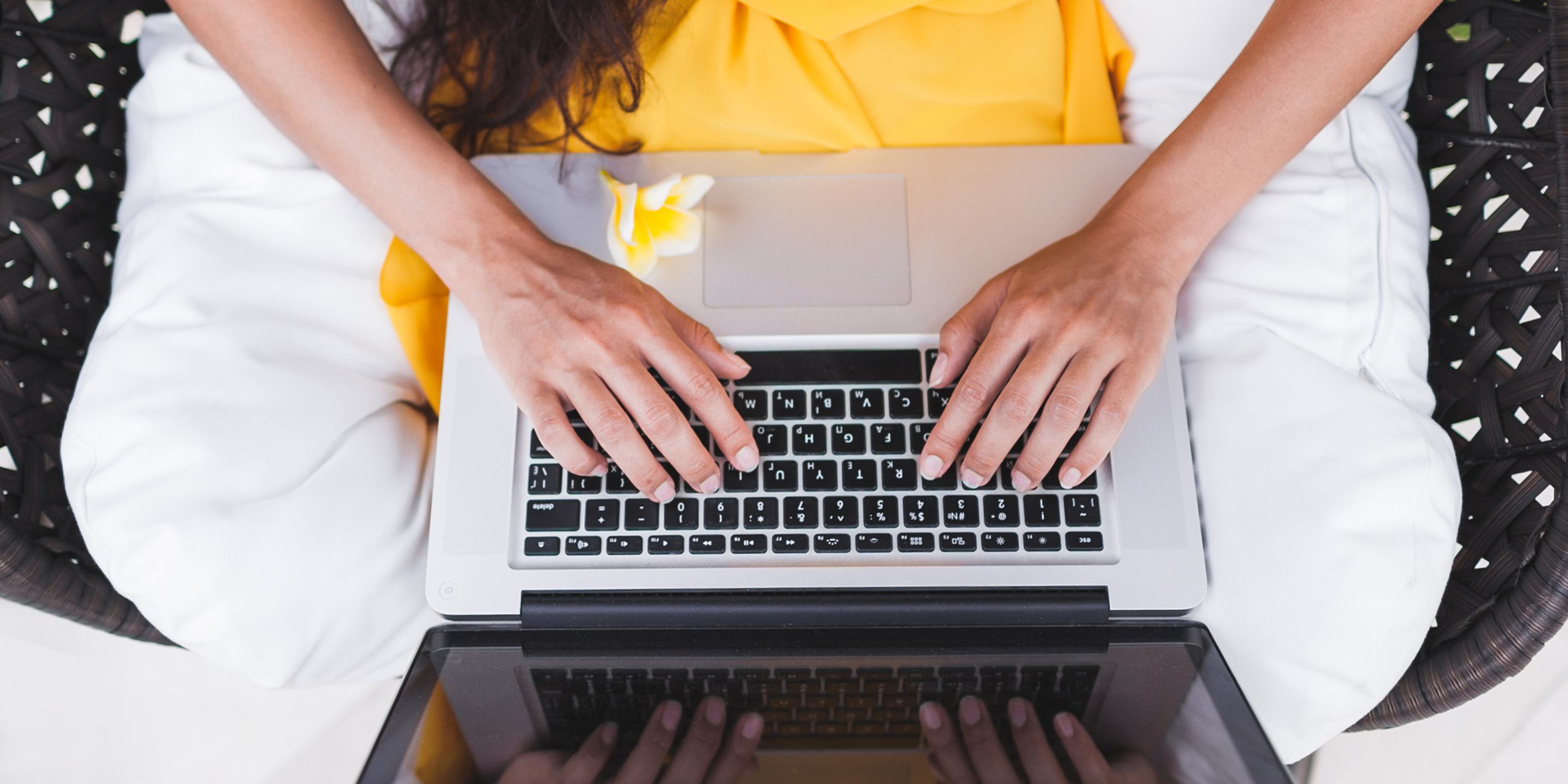 Chat with an upselling expert
6. Catch an eye with nice-looking designs (nail the visual part)
It's not only the signup button that should fit the visual part but also the look and feel of your emails. Whether you're sending welcome emails or promotional emails, make sure that you include stunning images while keeping the layout clean. In addition to contributing to your guests' engagement and overall email health, it will also leave a positive impression of your brand.
7. Have a clear and "obvious" call to action
Each marketing email should pursue a clear goal. To help you achieve that goal, double-check that your call-to-action buttons encourage readers to take the desired actions.
According to our data, for the best results, the wording for your call to action should be clear, concise, and obvious. For example, the call-to-action text like "Click here to upgrade" generates a 1.6% higher click rate than vague CTAs like "Explore more".
8. A/B test your emails
A/B testing (aka split testing) segments your email subscribers. Each group is then sent a slightly different email. This strategy allows you to test different versions of the same email with one variable per email. For example, a subject line might include an emoji, while the other one is purely text. The key is always to test one element at a time to ensure your test results are not skewed by other changes you've made to your email.
The goal of this exercise is to measure which version drives the best results. Armed with this insight into what works better, you can tailor future email campaigns to incorporate these winning elements.
9. Automate your emails
If you're ready to bail on creating hotel email marketing campaigns because it sounds like too much work, there's an answer — hotel automation. Automation is the secret sauce to successful email campaigns.
There're plenty of email marketing platforms to help you set up triggered emails and email campaigns. This way, guests will receive an email automatically once they've completed a certain action, like enquiring about room upgrades or the top local attractions.
What are the most common types of emails sent by hotels?
There are various types of emails that hotels can send. If you don't know where to start, here are the three types of emails that you need to set up first.
1. Booking confirmation emails
After a guest has booked a hotel room, they expect to receive a confirmation email. This email should be sent immediately and include details like:

Check-in date

Check-out date

Type of room

Special requests.
2. Pre-arrival emails
Pre-arrival emails can help to get guests excited about their upcoming booking. You can use this to your advantage by including upselling offers. Next to it, make sure that you once again summarise the main details about their stay that you've included in the booking confirmation.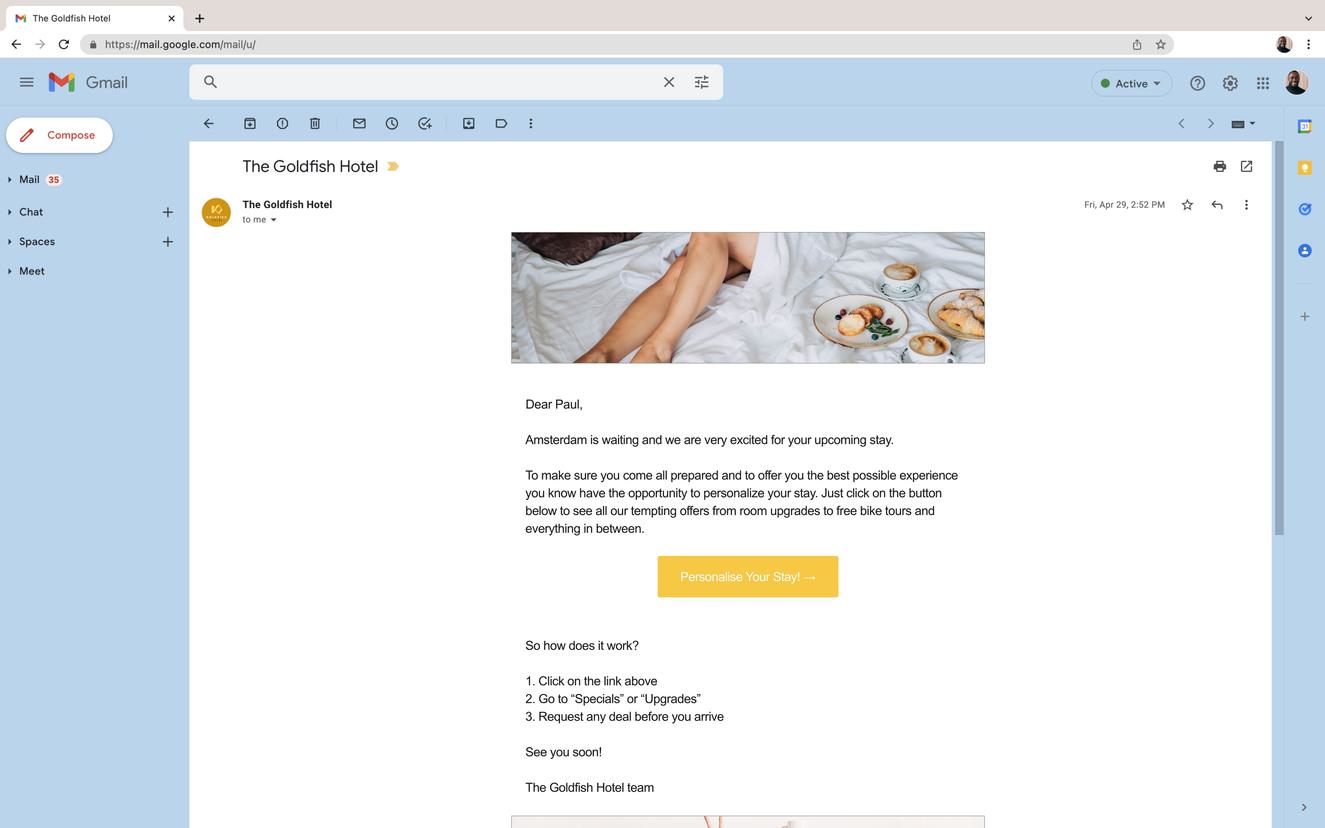 3. Post-stay emails

Post-stay emails help you to build upon the relationship that you've established. It's a key part of effective customer relationship management and can be a valuable tool to expand your loyalty programme. In addition to finding out more about their stay, you can also use post-stay emails to inform them about special seasonal promotions.
6 email marketing campaigns to add to your arsenal
At the very least, you should send a booking confirmation, pre-arrival, and post-stay email. However, don't let your hotel email marketing strategy stop there. Here are six email campaigns that you can also include:
1. Seasonal offers
If you're running a special promotion, you can send your subscribers a direct mail with more details. This will make it feel more exclusive.
Also, considering that seasonal offers are time-sensitive, using email over social media can be more effective. Most people check their email inboxes at least once per day, increasing the chance that they'll see it on time.
2. Event promotion emails
From formal conferences to informal happy hours, keep your subscribers informed about what's happening at your hotel. In addition to describing your own planned events, why not cast the net wider and include upcoming events hosted by local attractions? Either way, by inviting guests to attend local events, you can boost bookings.
3. Loyalty program emails
It's more cost-effective to keep past guests returning than to get new customers to book. To help encourage previous guests to return to your hotel, you can create an email series around your loyalty program. The key is to make the guests feel special by, for example, offering them early access to upcoming events or simply offering them exclusive deals.
4. Hotel award nominations
You're allowed to boast from time to time. If you've been nominated for an award, use this opportunity to share the joy with your past guests and newsletter subscribers. It will help to build your credibility, especially among new guests.
5. Asking for feedback emails
Email is one of the best ways to encourage guests to leave an online review. In addition to helping you gather more social proof, the information shared will also help you to increase guest satisfaction moving forward. Even if you don't learn anything new, these types of post-stays emails show to guests that they matter and you care about their experience

6. Abandoned booking emails
It's quite common for travellers not to complete a booking transaction. Just like an eCommerce business will send follow-up emails reminding customers about the products left behind in their cart, a hotel business can do the same. Instead of simply sending a friendly reminder, you can consider including a discount or freebie to sweeten the deal.

7. Upselling offers
As mentioned before, emails sent prior to guests' check-in are a great opportunity to showcase your room upgrades and introduce your guest to a range of special offers tailored to their needs and preferences. Letting your guests know what your hotel has on offer leads to upselling conversion rates of 12-13% and boosts your ancillary revenue while providing guests with the experiences they crave.
Let Oaky's upselling engine streamline this process for you. Talk to an upselling expert to see how Oaky can help your hotel integrate upselling into your email marketing.