How to increase hotel direct bookings with an optimised mobile strategy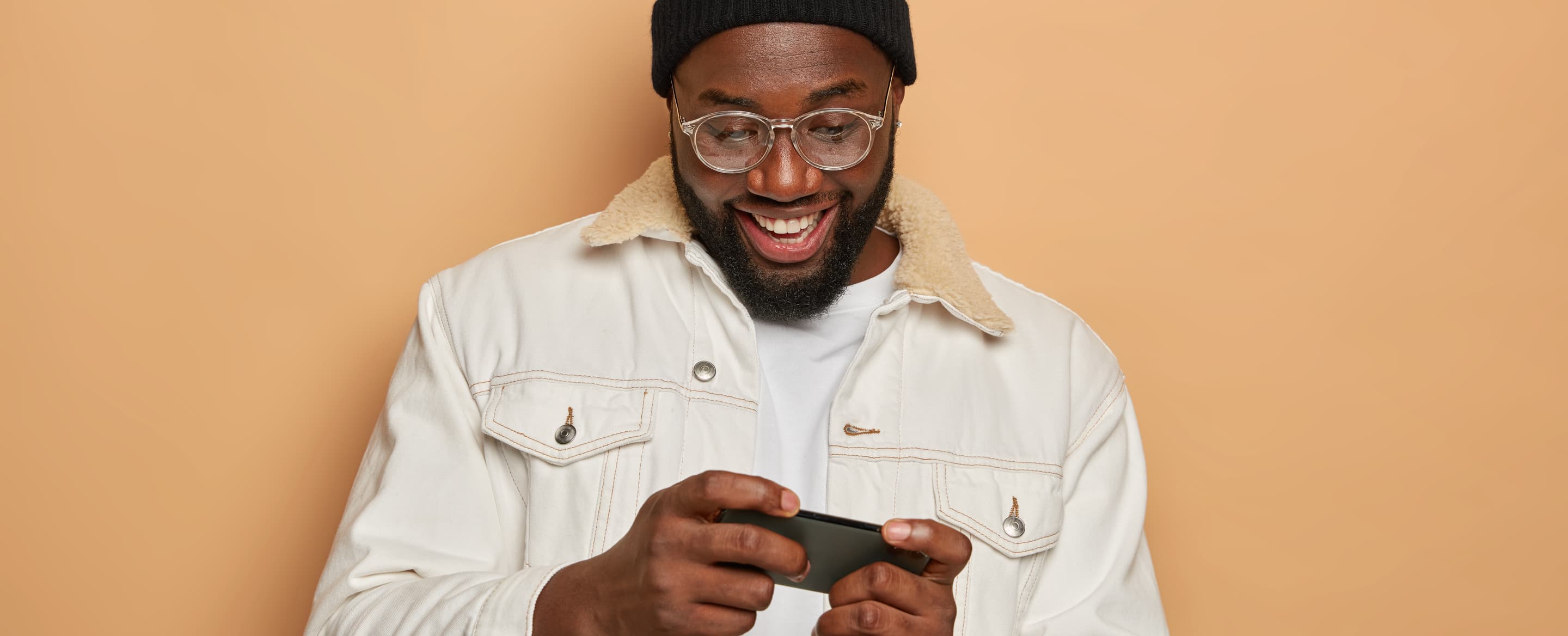 How often do you look at your smartphone every day? Data shows that on average people check their phones 96 times a day. This shows the world is not going mobile anymore. It already is mobile. That's good news for hoteliers. You can tap into this behavioural pattern to increase your visibility, connect with your guests, drive direct bookings and boost your ancillary revenue.
In a recent webinar, six industry experts shared how to do that. Read on to find a summary of their main points and important action items.
Increase your hotel's online visibility – get your offering in front of more people
Start at the top of the funnel. Tap into new channels to expand your sales horizon
1. Leverage metasearch sites
"75% of travellers use metasearch at some point during the planning process. That makes this channel crucial for driving direct bookings," says Roger Miro from Sojern.

As the first step, complete and optimise your profile on all relevant platforms such as TripAdvisor, trivago and the like. Include all details about your amenities and services to help potential guests find your property. Christoph Peppers from H-Hotels suggests working with a channel manager to automatically push inventory and rates. This reduces manual work and ensures your offering is always up to date on all channels.
For the best results, especially on mobile, Lea Vernet from D-EDGE Hospitality Solutions recommends bidding for higher placement. That way guests see your brand.com listing immediately, without having to scroll. As a result, your click-through rate and website traffic will increase.
2. Optimise your Google My Business listing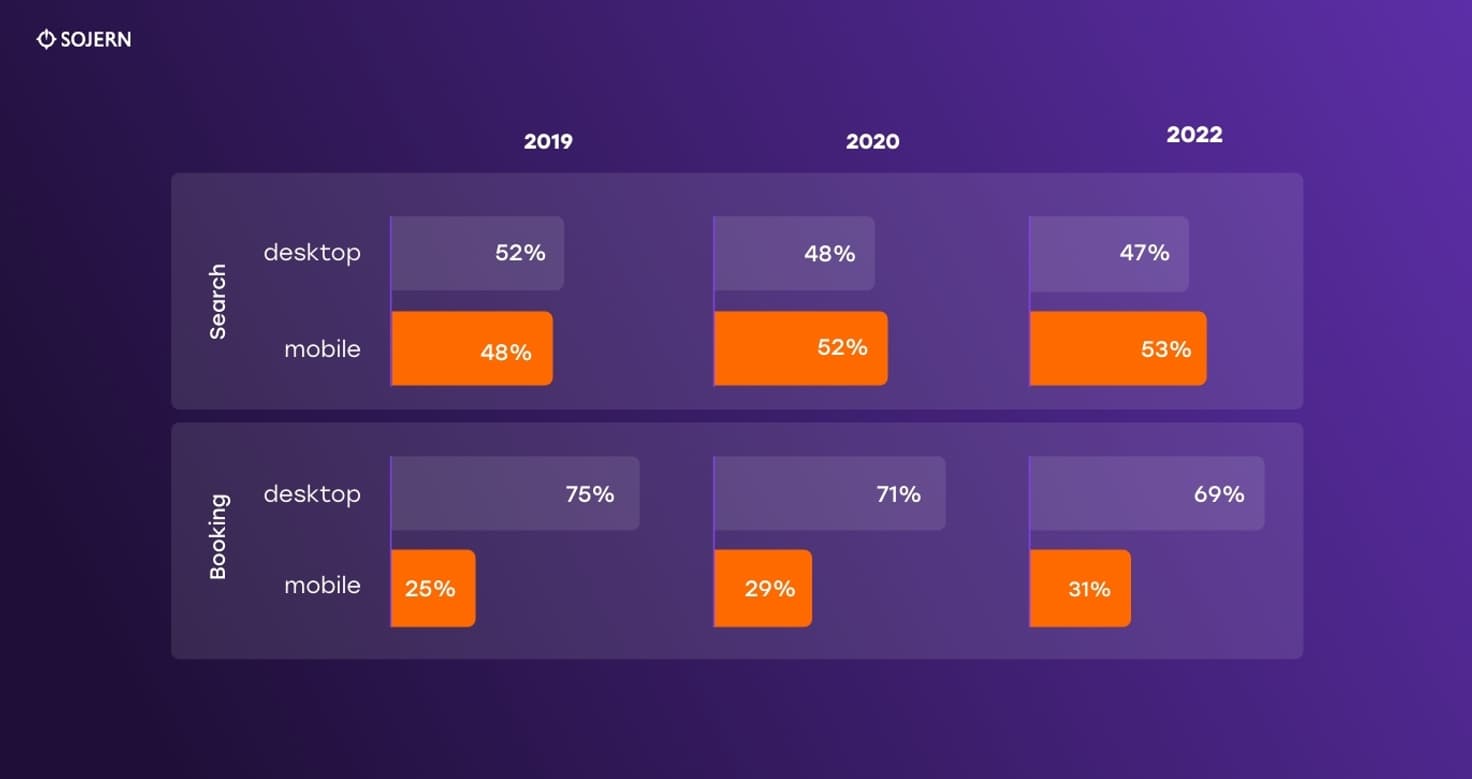 'Webinar: E-commerce via mobile', Sojern, 2022
'Domestic, Regional or International Search vs Booking on Mobile and Desktop', Hotel e-commerce strategy webinar 2022, Sojern
Maps are also gaining traction as a search engine for hotels. They make it easy to find properties in a specific area, check rates and availability or directly click through to the hotel's website or OTA. A strong Google My Business (GMB) listing is crucial to boost your visibility. The best thing about it is that it's free to set up and use, so take advantage of it!
Claim or create your profile now and complete it with all relevant information about your hotel. Respond to questions and reviews quickly for extra engagement and to show potential guests you're there for them.
"Travellers spend five times more time on Facebook and Instagram than any other travel-related touch-point," Roger Miro from Sojern highlights. That makes social media one of the most crucial places to meet, engage and win over your potential guests.
Social media has gained a reputation of being important mainly during the dreaming/inspiration stage of travel planning. But Lea explains how it can also work at the bottom of the funnel and give guests the final push they need to choose your hotel. That's why it's critical to create content that works to both — inspire and move travellers to book. To help guests take the final step, follow Lea's advice: "In your bio, include a direct link to your website or booking engine."
Connect and interact with potential guests
In our fast-paced world, it's crucial to respond quickly to potential guests' questions. New tech solutions allow you to do that both on mobile and desktop so you can provide an optimal guest experience.
1. Direct chat and AI-powered bots for quick responses
"Today, people no longer want to lose time searching and scrolling for answers. They prefer immediate access to the information they need," Benjamin Devisme from Quicktext outlines. Chatbots can provide exactly that, both on mobile and desktop.
But today's solutions go beyond simply answering questions about parking or breakfast timings. They can create a guided research and booking process. In this case, the AI-powered bot first provides the information a guest asks for. Then it suggests further topics travellers may be interested in.
Even reservations are possible via the chatbot window if it's integrated with your booking engine. Here, the bot can guide travellers through the entire process step by step, creating a smooth and personalised experience.

2. Drive business through email
"In Germany, 25% of direct bookings come via email. That makes email one of your hotel's most important direct sales channels," stresses Brendan May from HERA Reservation Bot.
To make the most of this often overlooked channel, he first suggests responding as promptly as possible: "Our data shows that your conversion rate drops by 50% if you take more than two hours to reply." Images also can make a big difference: "One of our clients saw their acceptance rate has increased by 17% when they started using photos."
Since over 50% of emails are opened on mobile devices, it's also crucial that emails display well on various screen sizes. 70% of people delete emails that don't look right which can mean a lot of lost chances if you're not optimising for mobile.
Finally, don't burden your guests with PDFs. They're especially hard to access on mobile devices and cause guests to ignore your email. Instead, provide relevant information in the email body and link out to the booking engine. There, guests can find more information or book right away.
If you want to take it even further, follow up on abandoned bookings or inquiries. A solution like HERA can help you automate this process to maximise your results of winning direct business.

Boost hotel direct bookings on mobile
Now that you've gotten your ideal guest's attention and have connected with them, it's time to get them to book directly via their mobile device. Two things are especially important to make that happen.
1. A solid user experience
"When it comes to mobile optimisation, it's not about making your website smaller. It's about making it easy to navigate," Benjamin emphasises. In short, your key information must be easy to find for site visitors. Bundle such details by creating an FAQ section.
"FAQs use space efficiently, especially on small screens. They're also a great way to help you show up in search results for specific queries about your hotel. Topics such as check-in time or parking availability are two popular examples," Christoph explains.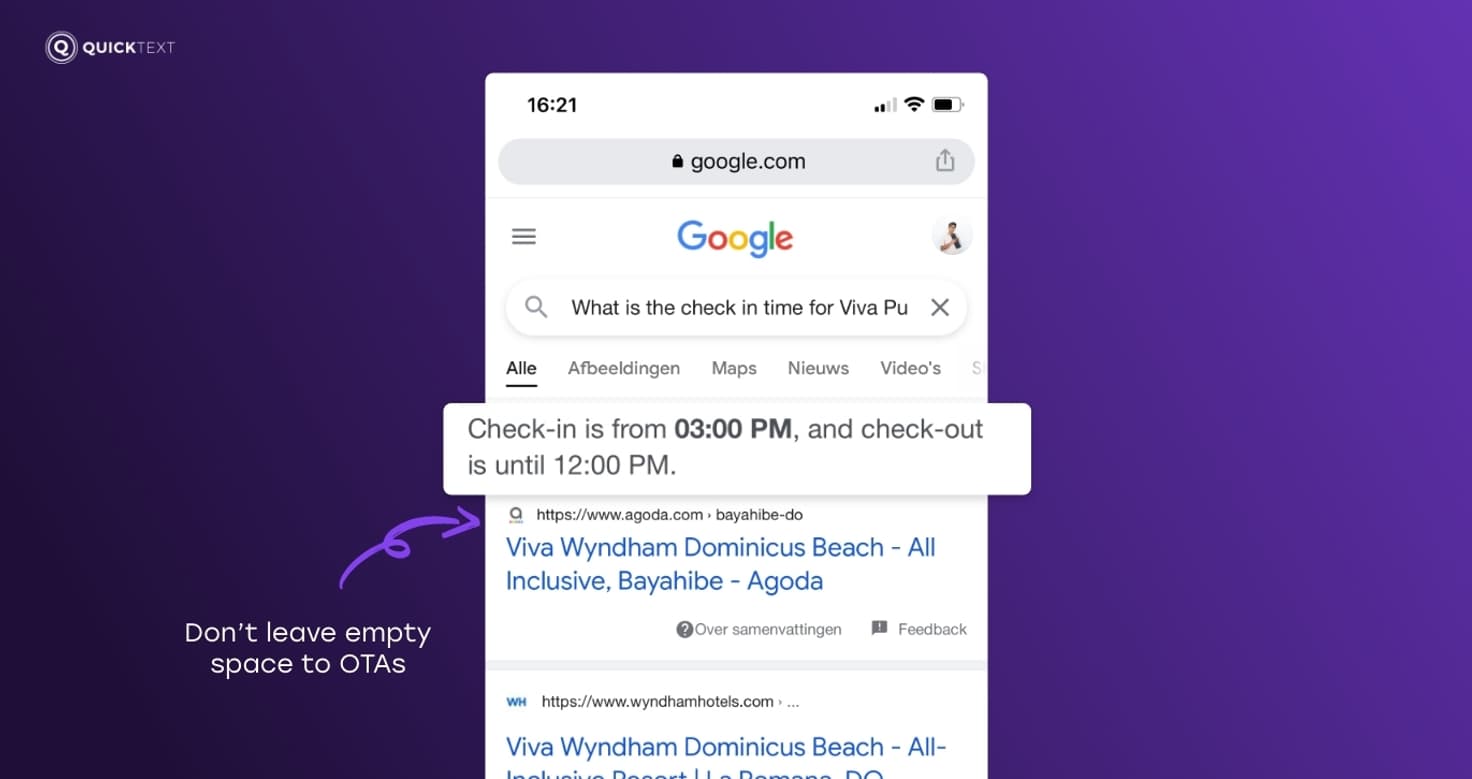 'Don't leave empty space to OTAs', Hotel e-commerce strategy webinar 2022, Quicktext
Of course, the booking process itself must also be quick and easy to ensure maximum conversions. A modern booking engine can be a game-changer for that. Your payment provider should support common cards and new options like Google Pay or Apple Pay. Finally, the whole process must be compliant with the latest security standards PCI DSS and PSD2.
Google's data shows that 53% of site visits are abandoned if a page takes three seconds or longer to load. Luckily, a few simple steps can speed things up. "First, remove old, obsolete content because it slows down your website," Christoph suggests. That can include outdated descriptions, pages with expired promotions or old photos.
Speaking of images, optimise new visuals before uploading them. That ensures they display properly all while reducing their size to keep your website fast.

Maximise revenue with upselling
After they've booked, offer your guests the chance to select custom add-ons. This can enhance their stay and generate extra revenue for your hotel. Again, the mobile experience is critical.
"On average, 65% of upsell bookings happen on mobile devices. 65% of that comes via iPhones," reveals Erik Tengen from Oaky. "That means you must absolutely optimise your upselling interface for mobile, and more specifically for iPhones."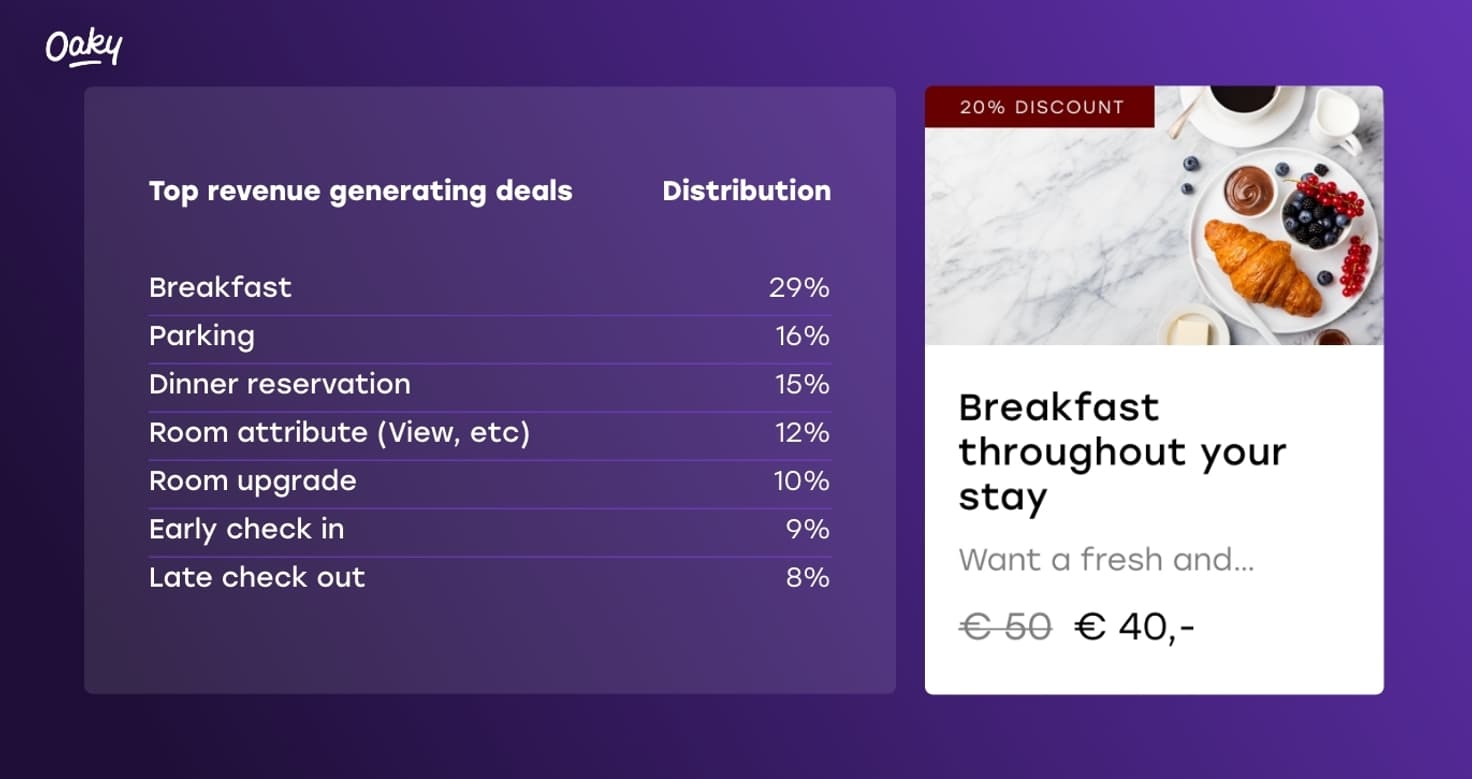 'Top revenue generating deals', Hotel e-commerce strategy webinar 2022, Oaky
Once you've checked that off, Erik suggests optimising the seven core deals that bring 80% of upselling revenue. Evocative photos and engaging copy will make your offers more attractive.
Understand your target market's psychology and buying behaviour to further improve results. What's most important to them? How do they perceive value for money? Create different guest segments to target them with customised deals they're most likely to be interested in. Lastly, leverage behavioural science to refine your approach and apply dynamic deal pricing to maximise ancillary revenue.

As you can see, mobile devices have become the pivotal element that ties everything together in the booking process.
Guests do everything on their devices today. That creates a lot of opportunities for your hotel to generate more direct bookings, drive revenue and create more personalised experiences.
Follow the advice our expert guests shared in the hotel e-commerce webinar and you'll be well on your way towards these improved results.
Want to get started? Download our step-by-step checklist to help you nail your hotel guest experiences and maximise your direct bookings via mobile now!