Top 5 hotel best-selling upsell deals to generate profit all year round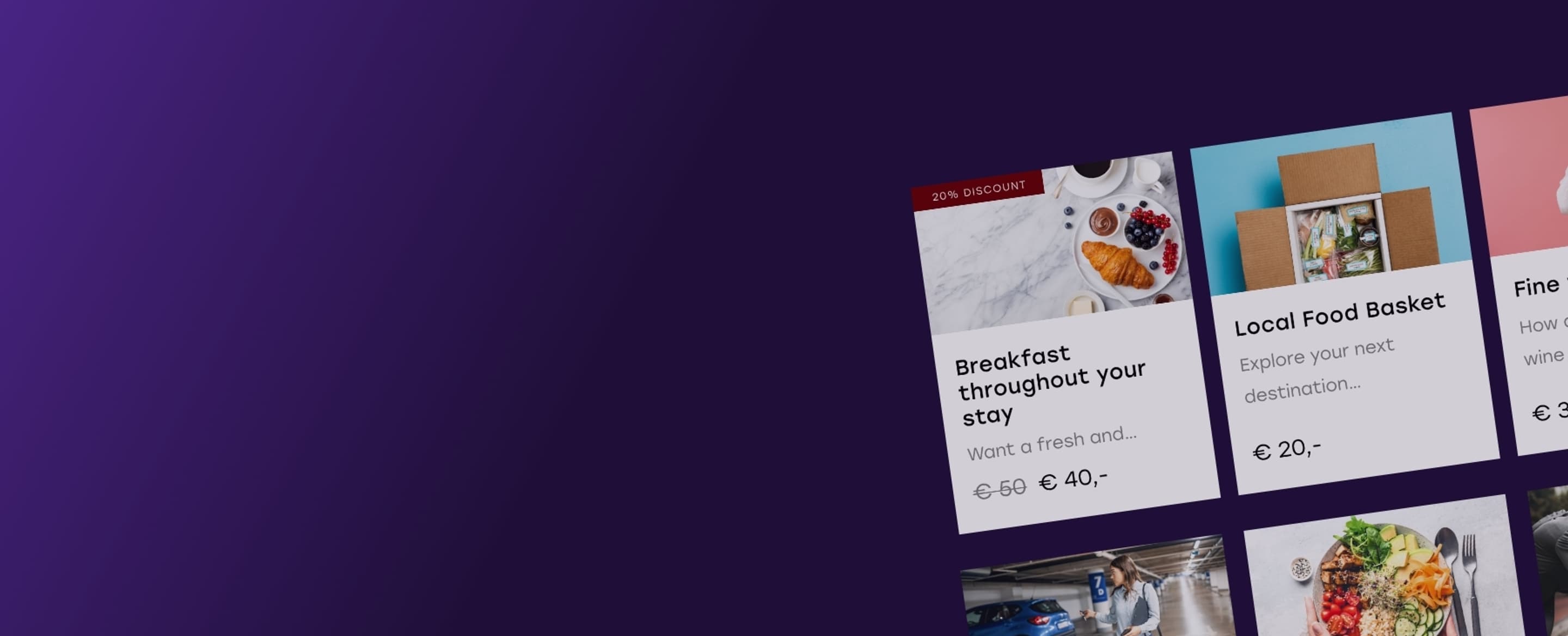 They say that genius is in simplicity. This conventional wisdom has been proven true many times. However, you might be surprised to discover that it also holds true when it comes to upselling.
At Oaky, we have been helping hoteliers throughout the world to seamlessly integrate upselling into their guest journeys while making it a fully-fledged source of ancillary revenue. From our experience, we have learned that for many hoteliers starting with upselling doesn't seem easy and is viewed as something that requires a lot of time and effort.
To help you get your "upselling" ball rolling, we sat together with our Customer Success Manager Mohamed Elfetyani and identified ancillary services and add-ons that generate 80% of revenue for our customers and are easy to set up. The best part — they can be easily rolled out across all your hotels, even across chains, through Oaky's upselling engine and get delivered straight to your guest's inbox at the right moment of their customer journey.
Let's dive in and see which upsells can help you achieve higher revenue targets and should be set up in the first place.
1. Breakfast
As for most people having breakfast is the usual way to kick off the day, it is no wonder that this upselling deal is accountable for 29% of total ancillary revenue generated by our customers.
Tapping into your guests' expectations and preferences is key to making this deal successful.
For this, you have to research your target guest segments and be well aware of the type of food they will appreciate for breakfast.
Catering to business travellers? Provide healthy breakfast options, as business travellers might want to balance out the food they eat at airports or in meetings with clients. Is your hotel popular with families with kids? Then kid-friendly meals are a must.
As modern travellers are concerned about sustainability, establish connections with local vendors and give preference to locally grown ingredients. Working with local suppliers will decrease the shipping timing and costs and help reduce the carbon footprint. Make sure to add vegetarian and vegan options — this will not only help you highlight your thoughtful approach but will be beneficial for the environment as well.
Your guests will also be delighted to find breakfast deals with a pinch of creativity. Make sure to include a breakfast-in-bed deal or a unique breakfast experience (for example, floating breakfast in the pool) to help guests celebrate special occasions or just spoil themselves.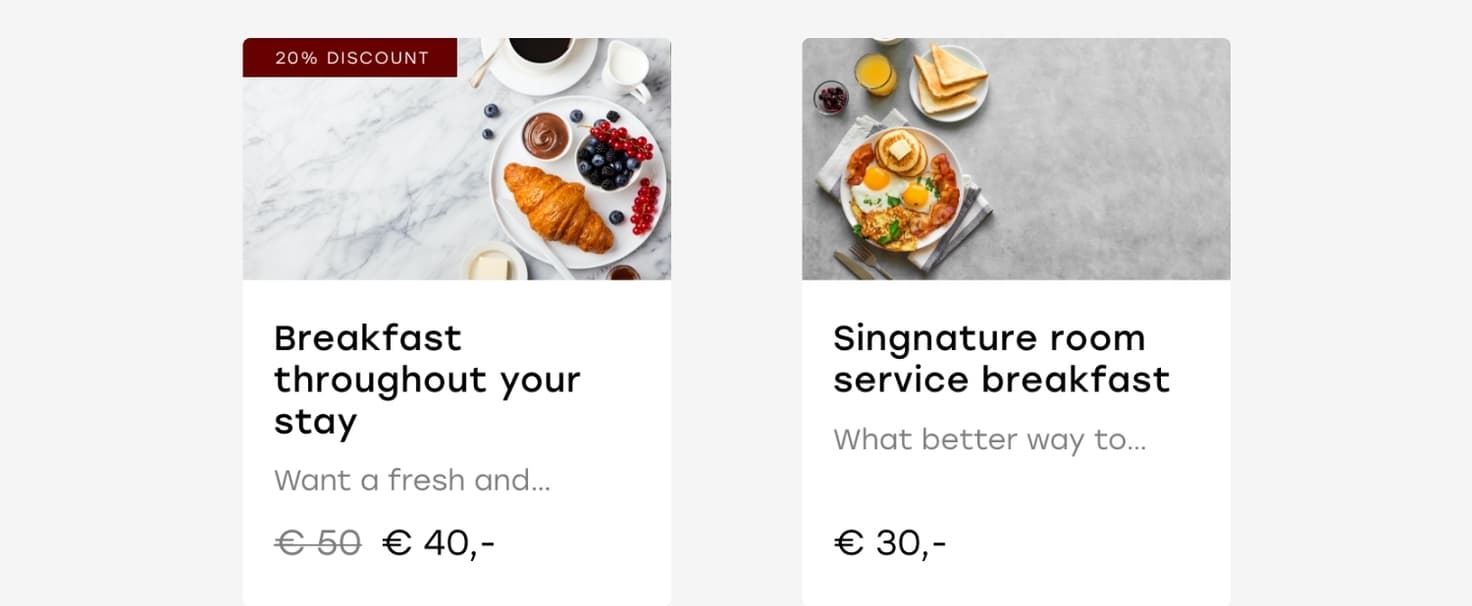 2. Parking

Travelling by car is still one of the most popular ways to explore the world. However, looking for an available parking space, especially in a new place, might turn into a headache for your guests.
If you manage or own a parking space or can make an arrangement with local parking nearby your hotel, you can include this deal as an ancillary service to your upselling deal selection. The opportunity to use a parking lot nearby will give guests peace of mind, as they won't have to stress about finding a secure place to leave their car.
Parking upselling deals are accountable for 16% of total ancillary revenue earned by our customers. So don't miss out on your chance to ramp up your revenue by offering this sought-after service.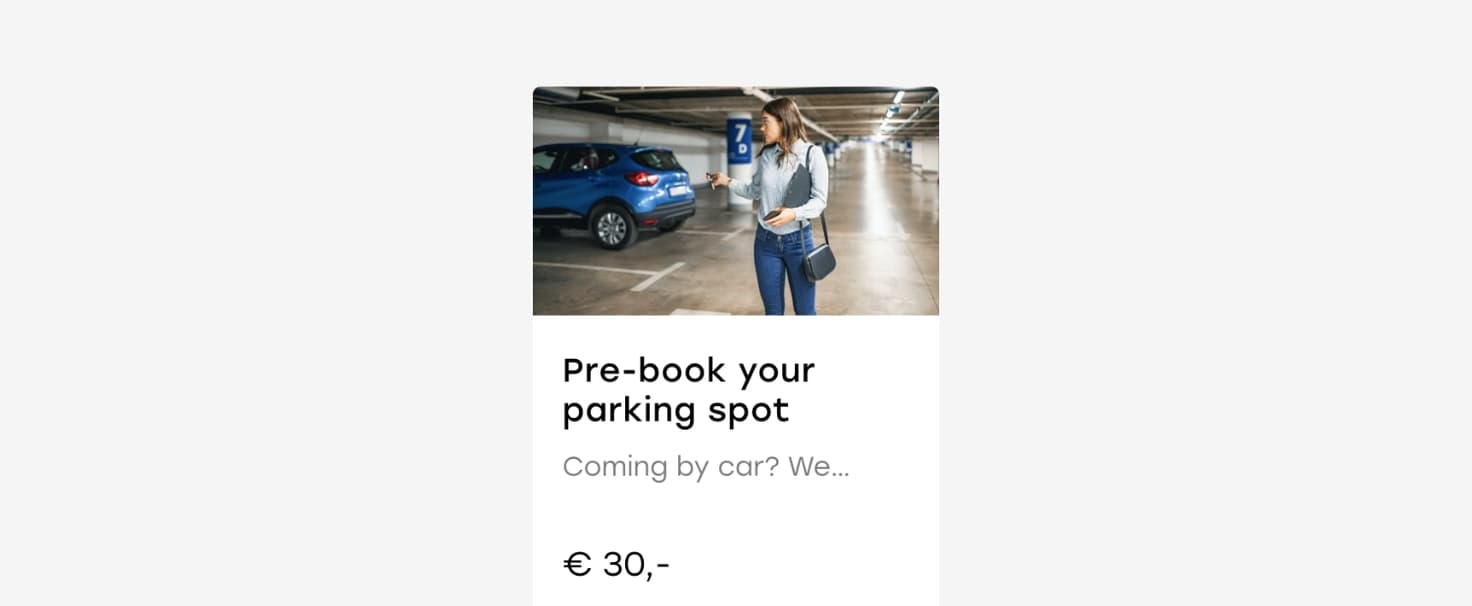 3. Rooms attributes
Have you heard about attribute-based selling?
Attribute-based selling is an approach in hospitality that allows guests to take a "pick and mix" path and select rooms by characteristics and experiences they provide rather than categories. Guests can take better control of their stay and opt for room features, amenities and facilities they actually need to feel more comfortable and enjoy their stay even more.
As a hotelier, you can capitalise on giving guests this freedom of choice. For example, a guest might want to customise their stay by including a king-sized bed in the room for €20 extra and add a late check-out option in the package for another €7. Or they might opt for a room with a sea view on the top floor for €50.
Break down all the features and amenities that you can potentially offer to your guests to take advantage of (a room with a jacuzzi, balcony, terrace view, work station, etc.).
Make sure to use segmentation to deliver the most suitable deals to the right guests to increase the chance they will book extras. For example, suggest a room with a workstation to business guests, while a room with a jacuzzi can be offered to honeymooners.
With attribute-based selling, you can break the vicious circle of giving away free upgrades. Being unable to pick attributes and extras, guests end up booking the lowest room category, which leads to overbooking and lost revenue. Letting your guests choose, on the other hand, will allow you to maximise revenue and make your guests happier.
4. Food and beverage deals
Food and beverage deals are one of the most effective ways to drive revenue and harness your F&B potential. They help you increase an average spend per guest but also make your guests' stays more delightful.
In addition to a breakfast deal, there is a whole host of other F&B upselling ideas that you can leverage.
Get inspired by our selection of upselling deal templates.

For instance, a dinner reservation deal accounts for 15% of Oaky's customers' ancillary revenue. By including it in your pre-arrival upselling deal selection, you can attract more guests to your restaurant and showcase your great menu. As per our research, many hotels are struggling to fill up their restaurants, as guests prefer eating outside, which means less profit for your hotel.
Give guests the opportunity to book dining and culinary experiences in advance and go the extra mile to make a positive impression so that your hotel restaurant can break through the competition of local restaurants.
Other F&B deals that can make a big difference for your revenue and guest satisfaction include:
A bottle of champagne in the room

A fruit platter

Vegan options

Wine tasting

A locally grown food box (local brews and wines).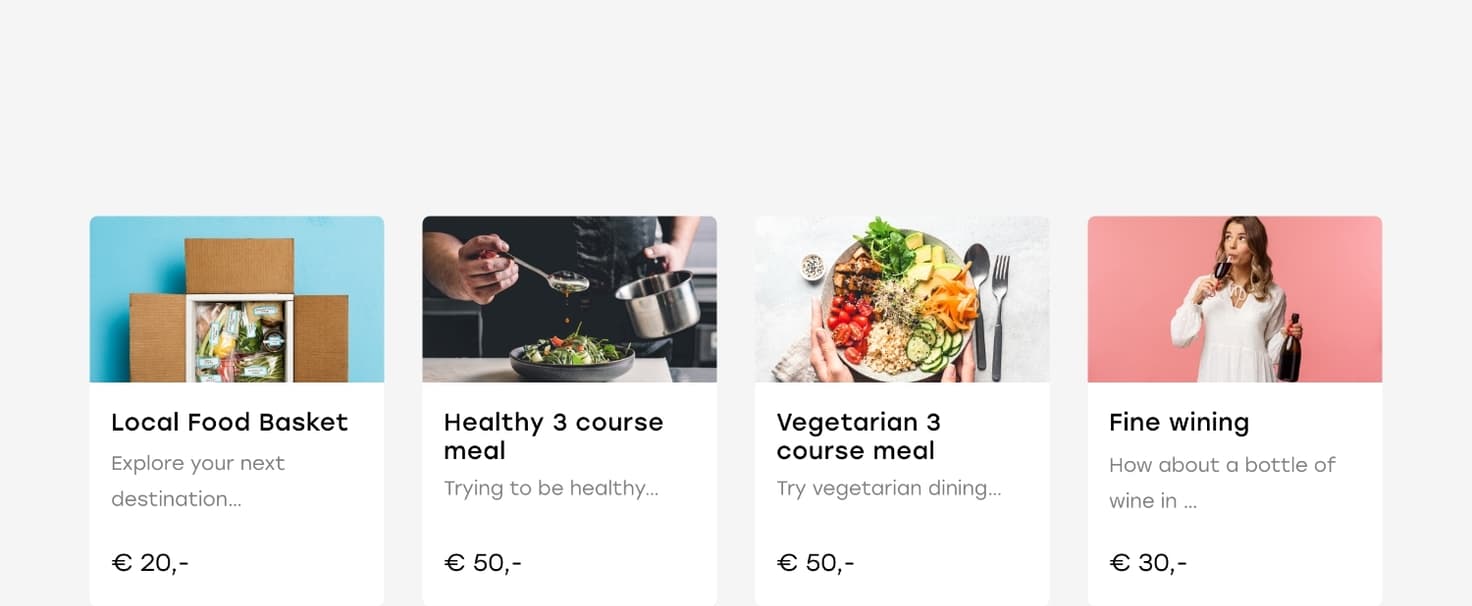 5. Transportation
While transportation is not the key service for a hotel, still it is among the most requested ones. You want your guests' stay to start smoothly, and a hassle-free shuttle service from the airport to your hotel will contribute to the positive, long-lasting impression you are trying to produce.
You can offer either one-way or round-trip rides and have shuttle services for solo travellers/families or big groups to help them stay together. To kick off with these deals, having your own fleet is not necessary. As an idea, you can make an agreement with a local shuttle service company to share profit and referrals.
How to make the most out of the best-selling upselling deals
Now you've learned which deals will help you drive more revenue, it is time to put your learnings into action.
According to our customers, automated pre-arrival upselling has become a game-changer for their upselling strategies. Since during check-in, guests are usually tired after a long journey, they are reluctant to buy any extras. Implementing automated pre-arrival upselling allows travellers to browse deals for as long as they want and gives plenty of time for your team to get packages your guests have booked ready by the time they arrive.
You can easily set up the discussed deals via Oaky's Deal Library. The Deal Library is a compilation of pre-defined upselling deals translated into 25+ languages with imagery and text that you can adjust to your liking keeping in mind your target guest. You can decide on pricing and choose the guest segments your deals will be presented to in automated pre-arrival communication.

Download this handy guide to set up your upselling offers for success:

If you are not an Oaky customer yet, let's connect! Chat with one of our upselling experts to learn how Oaky can help you take your upselling strategy to the next level.