Sustainability in the hospitality industry: 9 ideas to adopt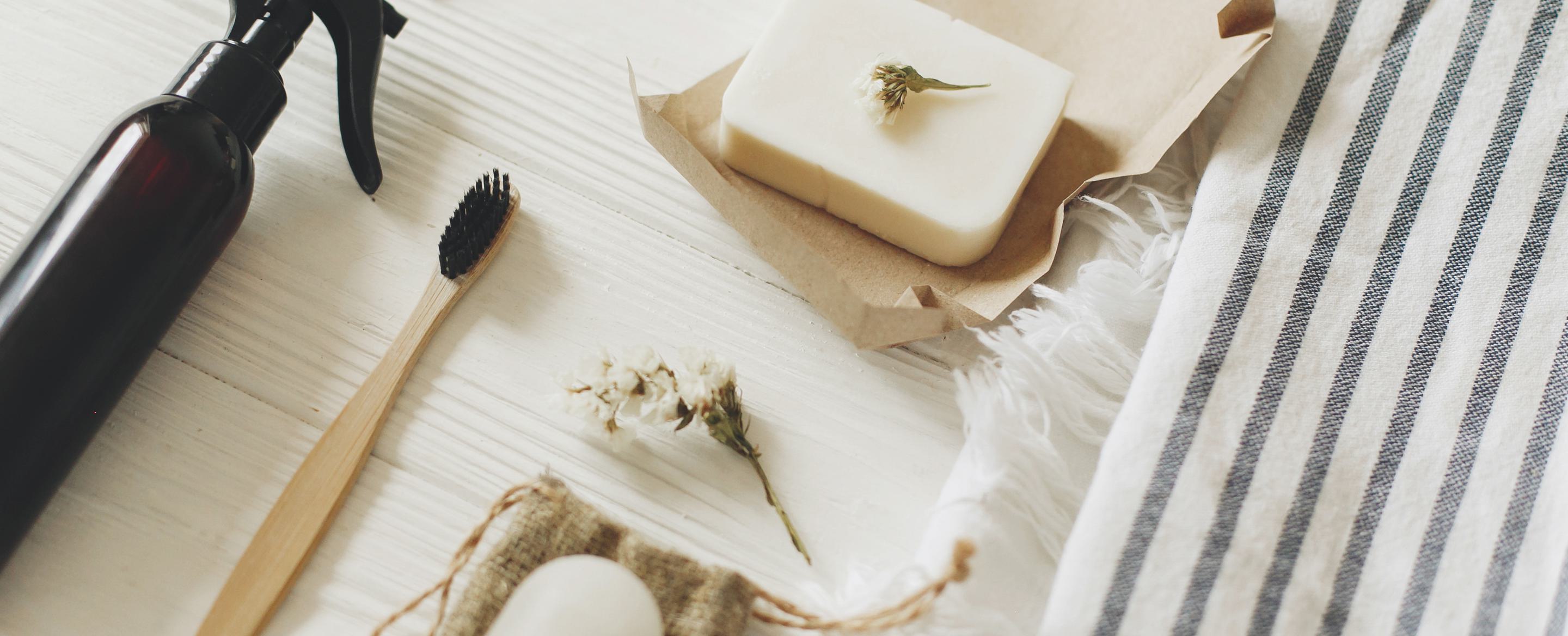 As travellers' concerns around environmental issues are growing every year, the role of sustainability in the hospitality industry has become a big topic. The hotel industry is now responsible for around 1% of global carbon emissions, and this number isn't slowing down.
Research shows that the hospitality industry must reduce more than 90% of its carbon emissions per room by 2050. This is necessary to ensure the growth forecasts do not lead to a corresponding increase in carbon emissions.
To prevent the worst effects of climate change, hotels will have to go much farther to help limit warming to 1.5°C. In fact, some of the biggest hotel chains have already adopted sustainable strategies to control their environmental impact.
For example, IHG and Marriott have removed single-use toiletries from their hotels. This initiative saved IHG about 200 million small bottles per year, while Marriott saved over $14 million.
Would you like to also alleviate the carbon footprint your hotel is producing and join other leading hotels on the sustainability journey?
Read on to find out why sustainability is more than a just buzzword and what sustainable initiatives you can introduce today to make your hotel greener.
What makes a hotel sustainable?
Sustainable or green hotels are those that work towards reducing their carbon footprint. They have implemented eco-friendly practices across their products and services, maintenance and supply chains.
In a nutshell, a sustainable hotel ticks the following boxes:
It works on reducing energy consumption

It minimises food and plastic waste

It has introduced practices to decrease water consumption

It digitises the customer experience through automation and other software.
Note: You need to avoid greenwashing and be honest about your eco-friendly initiatives.
It can be challenging for your hotel to become a completely sustainable property over a short period. Don't exaggerate your efforts for the sake of attracting more eco-conscious guests
It is better to start small and work your way up by adopting green practices step by step.

6 ways to make your hotel more sustainable?

Completely transforming your hotel into an eco-friendly one might take time and require thoughtful planning. Feel free to use the ideas listed below to enter sustainable tourism without heavy investments.
1. Embrace automation
You might be surprised to know that hotel tech and smart devices contribute to not only optimising your hotel operations but also play an important part in taking your hotel's sustainability to a new level.
Automate check-in/check-out
Automation uses technology to bypass the conventional check-in procedure. This allows visitors to enter their hotel rooms without having to use a physical key and dealing with a traditional check-in desk.
Setting up a digital check-in process will enable you to cut down on plastic cards and paper usage. Instead of a key or plastic card, you can send a passcode and check-in instructions via email or an app. Your guests will also appreciate the advantage of not having to wait in line and can go straight to their room after arrival.
Energy and motion tracking, installing smart thermostats in rooms, and using energy-efficient LED light bulbs are some of the best energy conservation methods.
Installing a one-switch system for your hotel's lighting can prevent guests from leaving lights on. You could also install solar panels to generate hot water (but this will require a considerable budget).
Another long-term solution is to plant trees all around your hotel to create more shade. This reduces the need for guests to use their room's air conditioners and keeps the area around your hotel cool.
Digitise the guest experience
Digitising your guest experience will make their stay more convenient. It also allows you to reduce your hotel's carbon footprint. Paper receipts, bills, invoices, and other documentation are being replaced by apps, emails and QR codes. Guests can misplace paperwork after they've paid the bill.
You can also use software solutions like Oaky to digitise your upselling process. Oaky allows your customers to pre-select services and add-ons before they arrive. This eliminates the need for printouts, brochures, flyers, and other paperwork.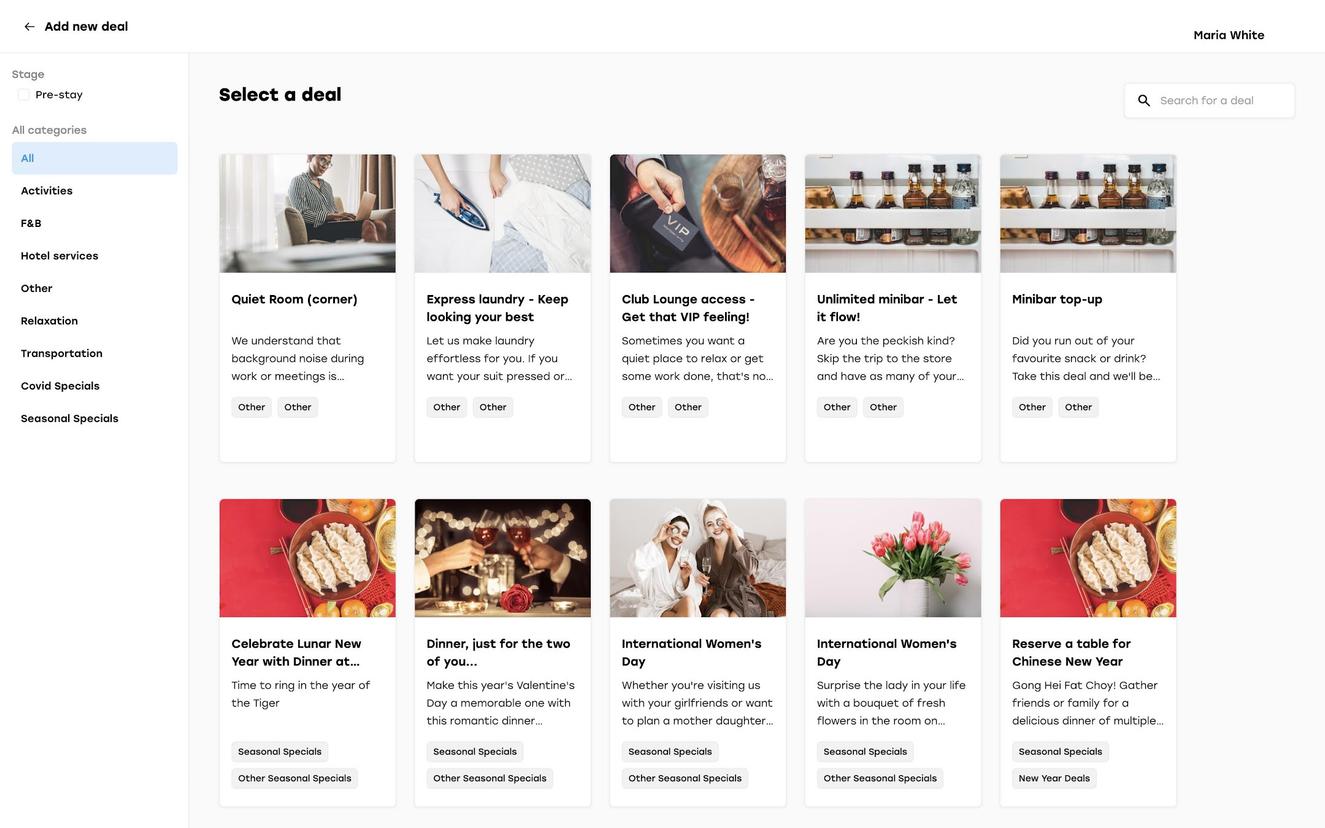 2. Cut back on plastic usage
Around 8 million pieces of plastic enter our oceans every day. The hotel industry is a major contributor, producing approximately 200 gallons of plastic waste per room each month.
Plastic management is an effective strategy for your hotel to lower its carbon footprint. Replace plastic straws with glass or metal ones and switch to reusable glass bottles. You can also get rid of small toiletry bottles and disposable cutlery.
Instead, use recyclable plastic items or reusable cutlery for your rooms. Place colour-coded segregation bins around the hotel and start separating waste. You can do the same for each room and encourage your guests to do so as well.

3. Preserve water
Your visitors control the amount of water they use in their rooms. However, you can educate them to think about how they might use water in a more sustainable way.
For example, place little signs or notes in bathrooms or near sinks to be mindful of water consumption. Remind people how much water they can save by turning off the tap while brushing teeth or soaping hands. You can also encourage them to take shorter showers.
To have more control over your guests' water consumption, you can install technologies suggested by Ally Dragozet, Founder of Sea Going Green:
Comfort Saver ⁠— an attachment to your shower hose that puts a certain percentage of air into the stream so your guests will use less water. It helps to reach 50% of water usage saving, 30% of energy-saving and can help save 25% on your annual water bill.

Hydrao Shower Head ⁠— a shower head attachment with LED lights indicating how much water one is using. It can help save up to $240 per hotel room per year.
4. Let your guests join you on your sustainability journey
Finally, as guests are the main consumers of water and energy resources at your hotel, it is important to involve them in your efforts. Use communication to explain to guests your hotel rules. For example, you can ask your guests to be mindful of water and energy use. Set up waste separation facilities throughout your hotel to encourage them to separate waste and induce more eco-conscious behaviour.
One of the ways to inspire guests to hop on your eco-friendly journey is to use upselling. Upselling goes beyond just selling room upgrades and spa treatments. It is also a great technique when it comes to crafting your brand image.
By presenting guests with a certain selection of "green" upselling deals, you can position your brand in the desired way. To simplify the process of tailoring and sending out upselling deals, consider using hotel upselling software like Oaky.
Oaky is a hyper-personalised upselling software designed specifically for hoteliers. Our Deal Library contains an abundance of creative upsells translated into 25 languages. Moreover, Oaky streamlines the upselling process by sending out pre-arrival personalised upsells at pre-defined days and times, boosting your ancillary revenue.

Chat with an upselling expert to learn more
Oaky will make it easy for you to roll out green upselling deals, suggest them to relevant guest segments and test what works best for your audience.
Start with the following deals:
No single-use plastic in the bathroom

Minibar restock upon request

Towels reuse in exchange for a perk

Sustainable transfer.
A few other ideas that have proven popular among our customers include:

Save the planet and get free breakfast - encouraging guests to skip daily housekeeping in exchange for some perk. It can be anything from offering free breakfast to free beer or a discount voucher.
Plant a tree for your stay - thanks to Oaky's partnership with Trees for All, your guests can donate to plant a tree. This is a great initiative that your guests can participate in to reduce their carbon footprint.
To good to go - let guests pick up remaining food from your restaurant for a reduced price after breakfast, lunch or dinner service.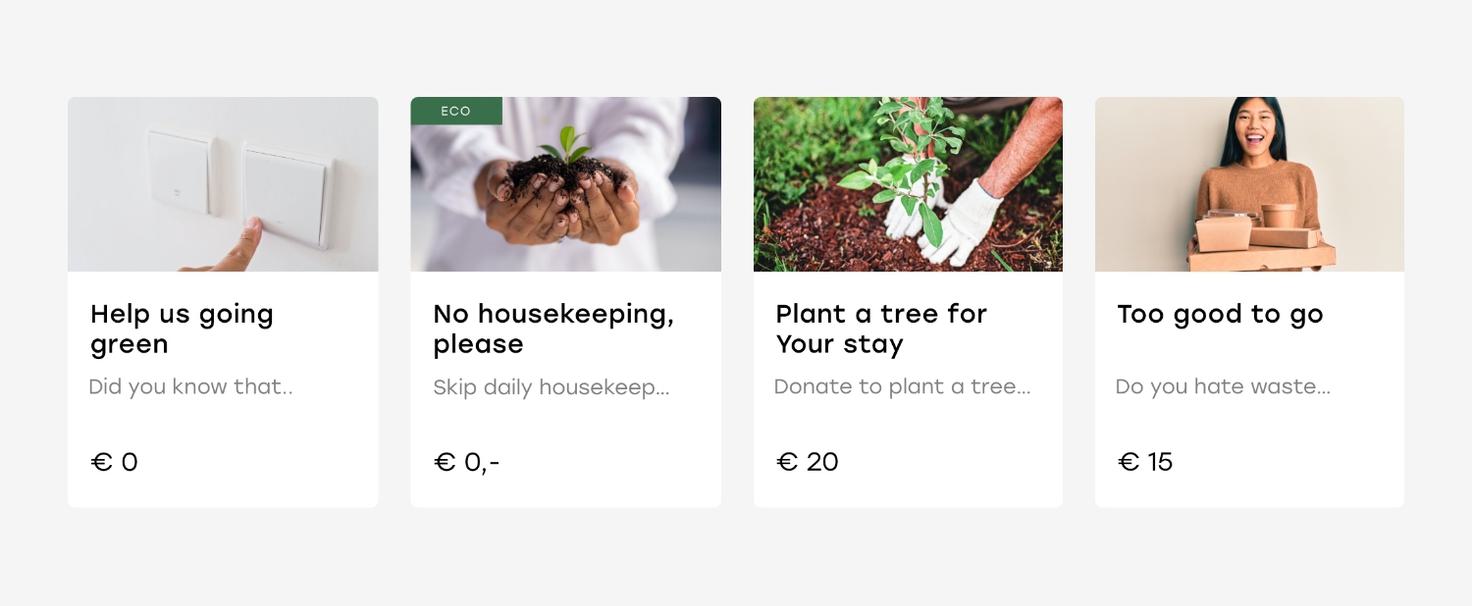 5. Reduce food waste
Consider eliminating meat options and providing more vegetarian and vegan dishes to your guests. Leaning more towards vegan options will help you reduce greenhouse gas emissions by 10% compared to vegetarian recipes and by 64% compared to recipes high in meat.
When you run a hotel and cater to a large group of people for events like parties and weddings, a certain amount of waste is unavoidable. However, it's good to know where excessive trash is collected across your hotel. This can help you devise a long-term strategy to reduce food waste. This will also help your hotel become more sustainable and cut down on costs in the long run.
Look at how much food your catering outlets waste on a weekly or monthly basis. To eliminate food waste, consider using apps such as Too Good to Go, Flashfood, and Olio. These companies will take in leftover food, unused bags and other surpluses from your hotel for sustainable causes.
6. Rethink transportation
Travellers keep arriving and leaving your hotel. This causes the majority of transport-related carbon emissions. Let your hotel do its bit by adopting sustainable mobility.
For example, you could switch your hotel's transportation to hybrid or electric vehicles (EVs). Provide e-bike and e-scooter rental options. Even though EVs are currently more expensive to buy than gas-powered vehicles, you can save $6,000 to $10,000 on fuel and the vehicles' maintenance.
Furthermore, you can install on-site charging stations for electric vehicles. These should be less expensive than public charging stations. It will also be a popular attraction with any EV-driving customers.
7. Support local producers and vendors
Include local producers and vendors in your supply chain. Not only will you be able to support the local community, but you will also significantly lower your negative impact on the environment.
Purchasing your product from a local food vendor decreases the distance your order needs to travel, lowering transportation-related carbon emissions.

8. Compost your waste
With almost 8% of greenhouse gas emissions coming from wasted food, composting it can help fight climate change. Food waste like banana and orange peels, scraps from vegetables, tea bags, coffee grounds, and certain leftover foods can be composted easily, and this compost can be used to enrich the soil in your flower bed or garden.
To start composting, find an ideal spot. A dry and shady area is perfect for composting. Then start building your compost pile by alternating green (food scraps, garden waste) and brown (dry leaves, newspaper, wood chippings) layers. Ensure that the topmost layer is brown to avoid attracting rodents. Cover the compost mix and keep it moist. You can also use a solution of sugar water, ammonia, and beer to help accelerate the breakdown.
9. Use non-toxic environmentally friendly cleaning products

Green cleaning products are not only less hazardous for the environment, but they are also better for individual health. Non-toxic cleaning products use natural ingredients and avoid harmful chemicals, making them safer for guests with allergies or other conditions. These products also have a low carbon footprint and don't contain substances that add to air and water pollution problems.
When buying non-toxic, environmentally friendly cleaning products, check whether they are biodegradable, phosphate-free, hypochlorite-free, and chlorine-free. Read through the ingredients list to see if they have any added dyes or other chemicals. To ensure that your hotel's cleaning products are as sustainable and green as possible, look for the ones that come in recyclable or bulk packaging.

Why should your hotel become more sustainable?
The hotel industry is one of the major contributors to the global environmental crisis. As a result, the need for hotels to become more sustainable is more important than ever. Here are a few reasons why your hotel should become sustainable:
1. Reducing the carbon footprint
Research shows that the hotel industry is responsible for 21% of all tourism-related impacts on the environment. Pollution and improper waste management by the hotel industry have had dire consequences on the environment and biodiversity. The hotel industry has contributed to climate change by emitting vast amounts of carbon dioxide and waste. It also consumes large quantities of energy and water.
As a result, hotels need to emphasise long-term growth that reduces the effects of pollution and waste.
2. Giving travellers what they are looking for
People have become more aware and increasingly concerned about the environment, especially after the pandemic.
According to a Booking.com report, 61% of travellers want to travel in a more sustainable way. 83% of tourists want to minimise their energy consumption, while 79% want to adopt more sustainable transport. The study further showed that 76% of travellers aim to reduce the water they use, and 69% would like to cut down on their vacation's carbon footprint.
Another study shows that 73% of tourists prefer to stay at hotels that have adopted sustainable practices over hotels that haven't. In fact, according to this white paper from Operto, hotel visitors are ready to spend an extra 75% per night for a sustainable hotel stay.
To meet your guest expectations, you can start making some changes right away, while others might require more planning and adjusting your established business strategies. As the first step, remove single-use items like plastic straws or offer more information online as opposed to printouts.
3. Saving on operational costs
In addition to having a positive effect on the environment, embracing sustainable practices can decrease your operational costs.
Cut down on single-use plastic such as plastic straws, disposable cups, or cutlery, which will also save you money. Instead, move to reusable or recyclable alternatives like bamboo straws. You'll save money on supplies and waste disposal after your first investment.
Applying energy- and water-saving practices will also help you lower consumption and save on your bills. For example, Soneva Jani Resort in the Maldives saves up to 30% on their energy bills thanks to switching to solar panels and a linear generator.
4. Preserving the environment means saving the hospitality industry
Everyone would agree that the main goal of travelling is to explore the world better. This is why preserving nature, biodiversity and the environment is in the best interest of every hotelier.
As the number of environmental problems is multiplying every year, the risk of natural disasters is increasing. This puts tourist sights and the entire tourism industry at risk. For example, ski resorts in the Alps are losing their snow, and the US coasts are under threat of flooding.
The quality of air, water and food is also affected by the carbon footprint emissions. To avoid devastating consequences for the environment and ensure people will still have a reason to travel, hospitality businesses should be at the forefront of adopting sustainable practices while educating guests to follow suit.
Final thoughts
Adopting and implementing sustainable strategies can help you reduce your carbon footprint and make your hotel greener. Moreover, with people becoming more concerned about climate change and the environment, by making sustainable choices, you can give your guests a wonderful stay at your hotel that aligns with their values and expectations.
To enhance your guests' experience even further, you can enlist Oaky's help and get access to automated upselling services. We can help you streamline upselling operations, customise services by targeting guest segments, build your brand, and increase your incremental revenue.