Introducing In-Stay Upselling: Enticing upsells & add-ons at your guests' fingertips - now during their stay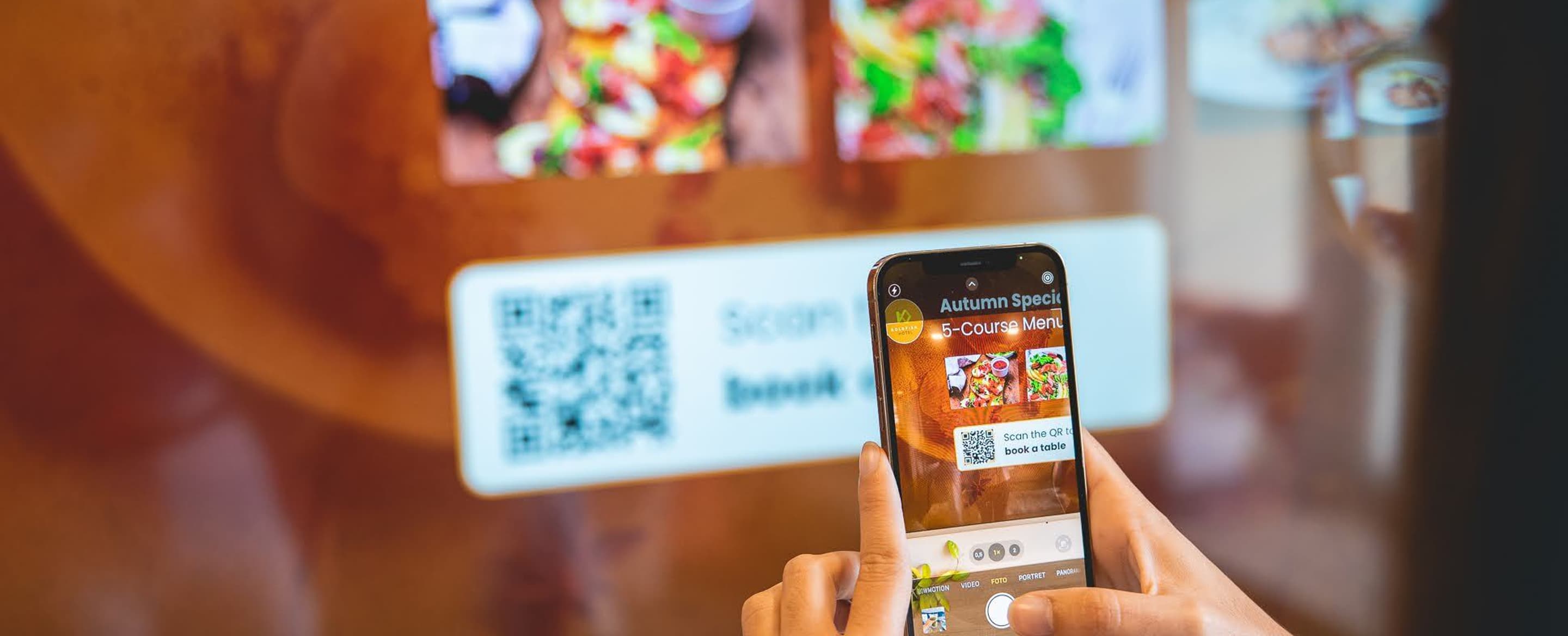 Is it possible to achieve more while doing less? It is now, thanks to the latest addition to Oaky's tool suite — the brand new automated In-stay Upselling functionality.
It allows guests to book services and add-ons throughout their stay by giving them continuous access to a selection of upselling deals.

Let's take a closer look at how it works and why it benefits both your hotel and your guests.
Claim your early bird discount today to use In-stay Upselling at a reduced rate till the end of 2022.
Try In-stay Upselling for yourself
How does automated In-stay Upselling work?
There are two ways you can use Oaky's new automated In-stay Upselling module.
Via email: Guests receive an email after check-in. When they click the link inside, they see a set of personalised deals they can browse and pick from throughout their stay.

Via a QR code: Generate this code via your Oaky dashboard and place it in your lobby, restaurants, rooms, elevators, etc. Guests can scan it anytime while they're in-house and access the public guest app view. Here, they can explore all the deals you've set up for in-stay upselling.
You can even integrate the generic URL behind the QR code into your Wi-Fi system's landing page, your TV's menu screen, your hotel app or anywhere you think it's relevant.
Once a guest books an offer via the QR code, they receive a one-time verification email at the email address they provided. This protects you as a hotelier from fake deal requests.
As soon as the deal has been booked, the front desk receives a notification and can inform the corresponding department about the service request. It's as easy as that!
Two things to keep in mind:
1. Room upgrades and on-arrival in-room services are not available via the In-stay Upselling module.

2. Regardless of the type of integration (one- or two-way) with your PMS, you might need to manually accept requests for certain add-ons. However, you can choose to promote only deals that don't require approval.
What are the benefits of Oaky's In-stay Upselling for your hotel?
As you can imagine, In-stay Upselling has several powerful benefits, both for your hotel and your guests.
Benefits for you as a hotelier
Reduce your team's workload: automated In-stay Upselling allows your staff to handle requests for add-ons faster and more effectively. Since they will no longer be tied up on the phone or the computer, they'll have more time to spend actively serving and delighting guests.

Improve guest communication and service: now that all in-stay upselling-related communication happens via Oaky, guests get quick responses to their requests. And since it'll also be easier to update your team about new bookings, they'll be able to provide their services without missing a beat.
"Now we never have to worry about missing a request anymore. Oaky helps us ensure that the operations teams know about each new guest request. For example, our breakfast team immediately gets an update about extra bookings so they can prepare in advance. At the same time, the front office gets a reminder to update the bill," says Melody Obias, the Cluster Reservations Manager at Radisson Blu Hotel, Dubai Waterfront.
Save time on creating deals with Oaky's Deal Library: This resource is jam-packed with ready-to-use upselling deal ideas for every taste or budget. Explore the library, pick the offers you want to use and implement them in just a few clicks.
Meet and surpass your guests' expectations: In today's digitised world, travellers expect more automated experiences. According to a survey by Skift and Oracle, over 60% of hospitality executives worldwide said that a fully contactless experience for all basic hotel transactions would be the most likely technology that the industry will adopt widely in the next three years.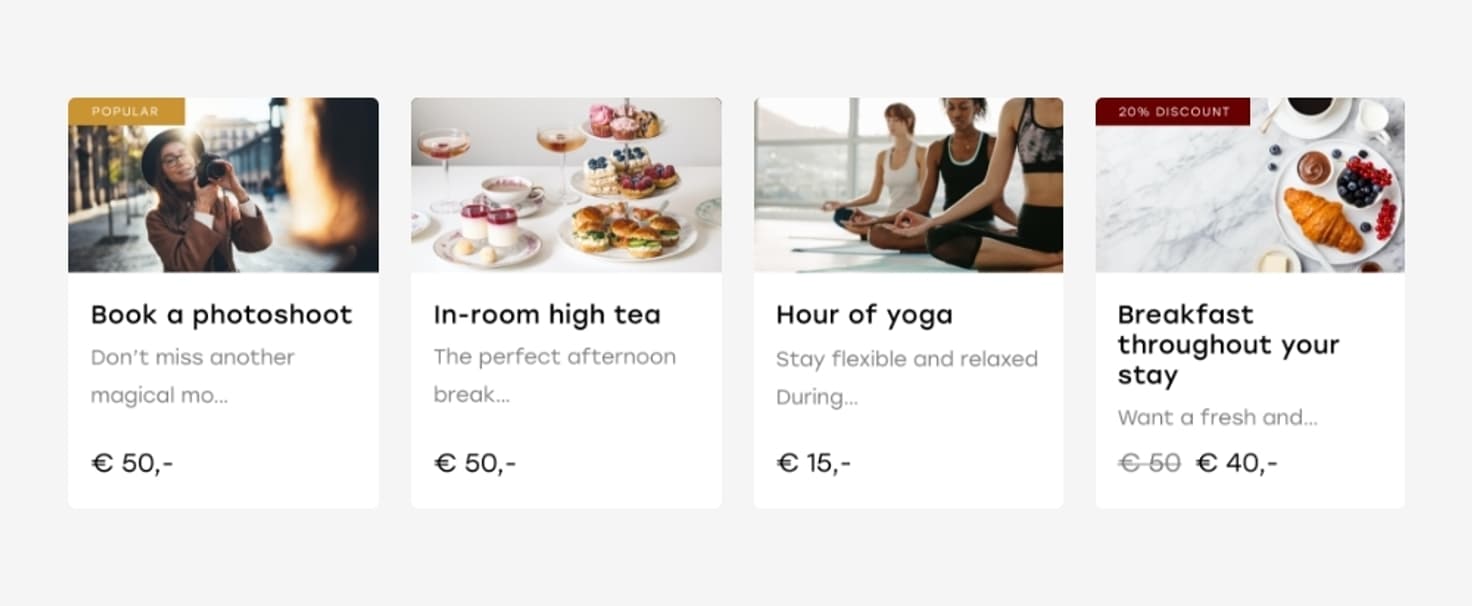 "We knew that the challenges with our internal communication negatively impacted the staff and the guest experience. Oaky's automated In-stay Upselling module simplified and streamlined communication around add-on requests. Now we never have to worry about missing a request anymore. Oaky helps us ensure that the operations teams know about each new guest request. For example, our breakfast team immediately gets an update about extra bookings so they can prepare in advance. At the same time, front office gets a reminder to update the bill," Melody elaborates.
Benefits for your guests
Ease and convenience: Guests no longer have to go to reception or pick up the phone to communicate their requests. Instead, they can explore and book your deals from their device whenever and wherever they want. That could mean booking in-room breakfast from bed or requesting a late check-out on the way to the hotel room from the club.

Personalisation: Now that travellers can book add-ons anytime, they have even more chances to tailor their stay to their needs. As a result, they're more likely to have the unforgettable experience they were hoping for.

Speed and automation: The process of browsing and booking all deals is contactless and automated. This means guests quickly see what's available and often get instant confirmation for their requests.
"Implementing the automated In-stay Upselling module has been a huge help to us because now every guest can discover and book our offers at their convenience, be it pre-arrival or while they're in-house. Thanks to that, we can create an even more personalised guest experience," says Samuel Deladrière, Head of Global Revenue at Martin's Hotels.
How to enable In-Stay Upselling for your hotel
If you're already using Oaky, simply reach out to your Account Manager to learn more about the functionality. If you want to try it, we'll help you get set up in a flash.
Not an Oaky customer yet? Book a demo and we'll walk you through what the platform can do for you.

Boost revenue through upselling
Discover what Oaky can do for you
How to maximise the effectiveness of in-stay upselling
Your in-stay upselling deals won't sell themselves. Use Oaky to proactively reach out to guests via email on the check-in day and get your offers in front of them. Remember, they can't book what they don't know about.
The same goes for QR codes. Highlight which offer a code links to and showcase its value through attractive images and enticing descriptions. Then place the QR codes in prominent locations where they're easy to see and travellers are most likely to book a certain deal.
For example, promoting the "Breakfast in bed" deal on the nightstand makes guests more likely to book than if you feature it in the elevator.
Find more tips on how to maximise in-stay upselling conversion by downloading our in-stay upselling checklist.