8 Best Hotel Revenue Management Tools for 2023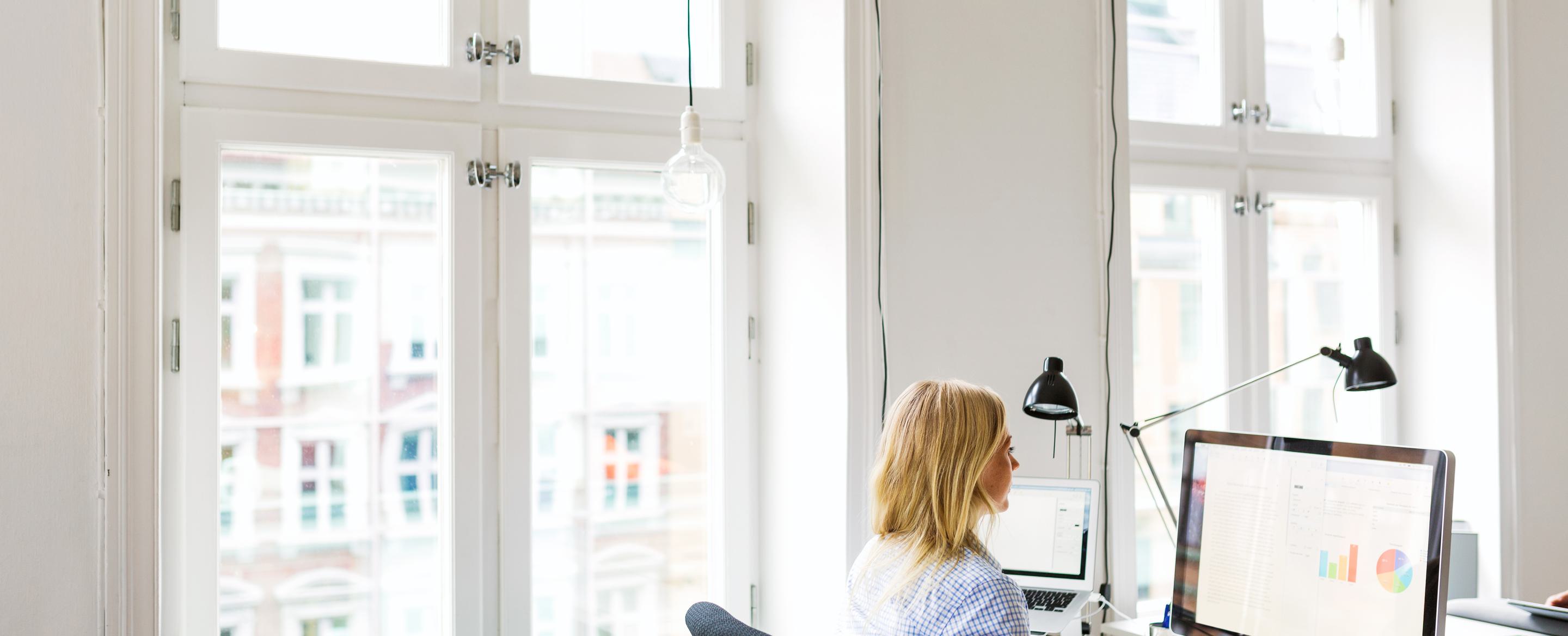 The hotel industry lost more than $46 billion in room revenue last year according to AHLA estimates. With recovery still predicted to take a while, it is becoming increasingly important for hotels to make better financial decisions to attract more guests and maximise revenue growth. The best way to do this? Through hotel revenue management tools.
Hotel revenue management software helps hoteliers automate their pricing strategies, taking the guesswork out of figuring the best rates. This converts an otherwise extremely inefficient process into an opportunity to drive more sales.
If you're looking for revenue management tools in hotels to help you optimise pricing decisions, you're in the right place. Read on to learn more about some of the best tools on the market!
What is hotel revenue management software?
Hotel revenue management software automates the use of analytics for hotels seeking to maximise revenue and profitability. It uses historical data, market data, and demand indicators to predict consumer behaviour and determine the right price for your hotel rooms. Revenue Management Software (RMS) is also known as a "yield management system" or "pricing engine."
An essential element of running a successful hotel business is selling the right services to the right customers at the right time for the right price. Revenue management tools in hotels automate data collection and analysis, allowing you to focus on creating the most effective revenue management strategy.
7 best revenue management solutions for hotels
Despite their obvious benefits, only 28% of hotels utilise RMS tools. In this article, we provide an overview of some of the best systems available on the market, including their features, pros and cons, and pricing.
1. Duetto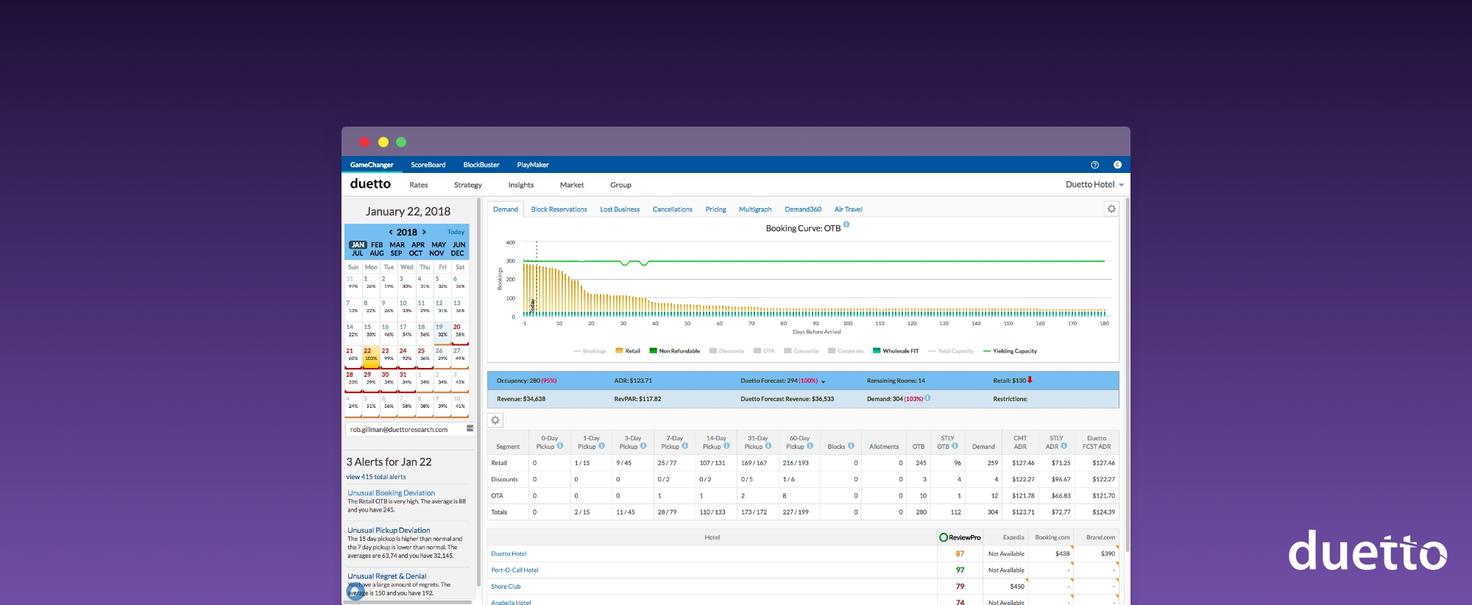 Duetto's dashboard
GameChanger by Duetto utilises more data than any other RMS on the market, helping you craft an effective revenue management strategy. The company is headquartered in San Francisco but has a strong global presence.
Duetto uses 'micro-segmentation' to give you real-time pricing information for every channel, room type, and segment. Its suite of smart analytics tools allows you to maximise revenue and profits from every booking. It is one of the best software solutions for precise data analysis since it can adjust for and predict even the most minor changes in the market.
Duetto is particularly well-suited for lifestyle and independent hotels, for example, NH Hotels, H-Hotels, citizenM, and Dusit Hotels. It was voted the '2022 best hotel software' by Hotel Tech Report.
Pros:
Easy to use

Excellent customer support

Easy to implement
Cons:
Lacking a mobile interface

No hypothetical 'what-if' predictions
Pricing: $10 per room per month.
2. IDeaS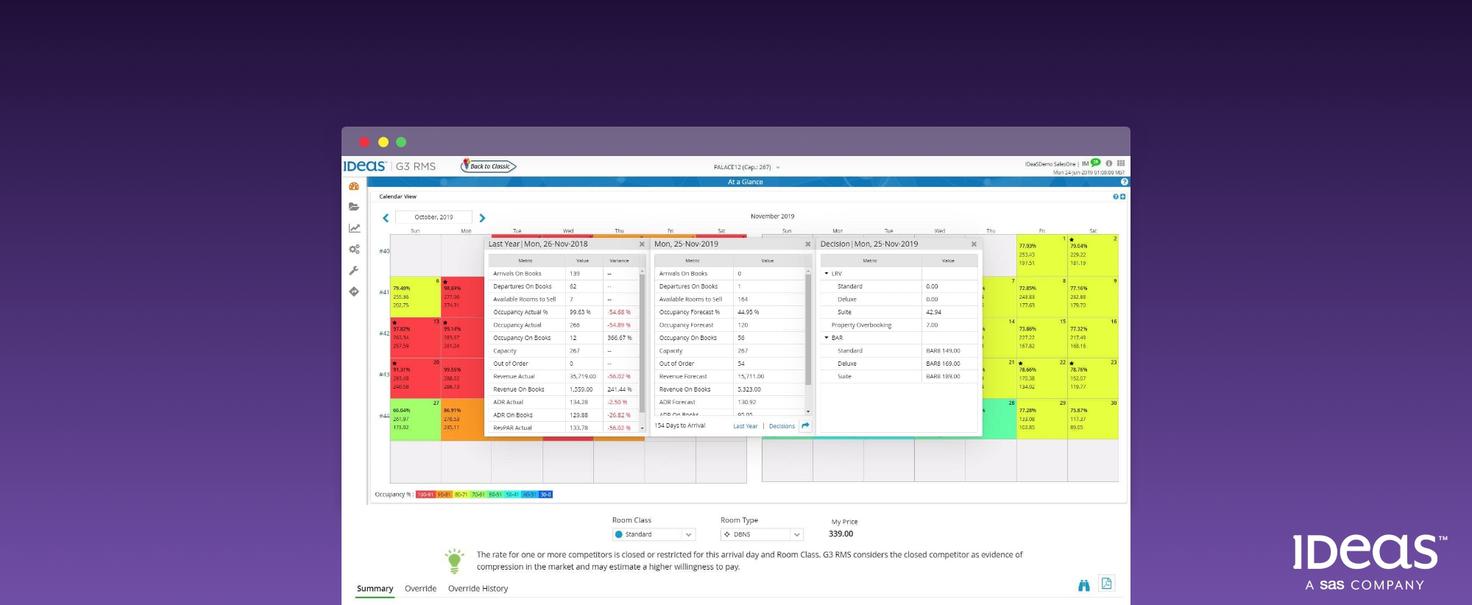 IDeaS' dashboard
IDeaS has an incredible reach and long-standing reputation helping 14,000 clients across 14 countries over the last 30 years. It has designed one of the most popular revenue management systems for the hospitality industry, which automates most processes and can predict various trends in the hospitality landscape. The company's adjustments and predictions are incredibly accurate.
Its algorithm accounts for competitors' influence and the demand profile of various products to yield the best pricing recommendations. It also sets restrictions on rates and overbooking to achieve maximum profitability. IdeaS is often chosen by bigger hotels within larger chains and groups such as Shangri-La Hotels, Accor Hotels, and Minor Hotels.
It was the runner-up in Hotel Tech Report's '2022 best hotel software.'
Pros:
Great user experience

Has an established reputation

Works with 18,000 clients in 145 countries
Cons:
Software may seem relatively complex at the start

Less affordable than other tools
Pricing: One-time purchase between $1,000 - $10,000 or monthly subscription of $10 per room.
3. Atomize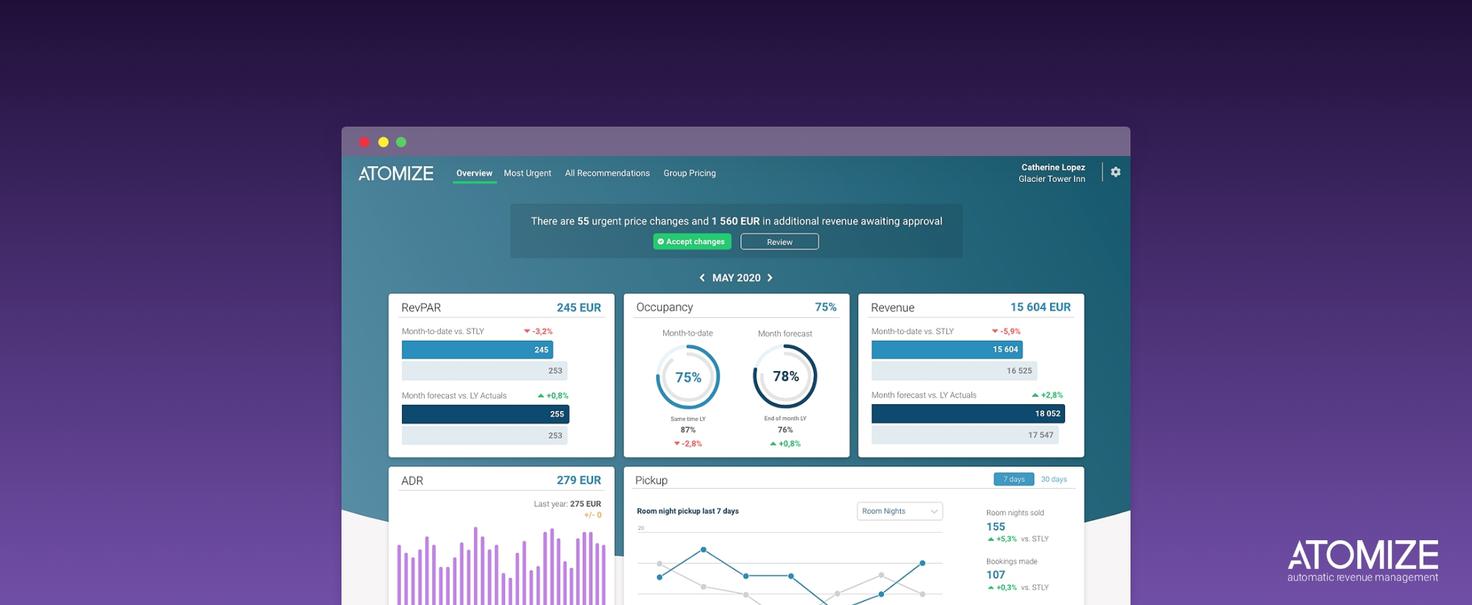 Atomize's dasboard
Atomize is a young, fast-growing, and innovative company in the RMS space. It is headquartered in Sweden and helps hotels of all sizes across over 40 countries set optimal prices for their rooms.
Atomize's abiding philosophy is the desire to "do more with less," having built a relatively lean RMS software. Their reputation of being innovators stems from Atomize being the first company to offer real-time price optimisation and ingest future demand data.
Despite being one of the newer revenue management systems on the market, they were voted third in Hotel Tech Report's '2022 best hotel software. Atomize is adopted by many hotels and hotel chains with the goal to automate a maximum of their Revenue Management Strategies, with the likes of Ligula Hospitality Group, Martin's Hotels, and JA Resorts & Hotels.
Pros:
Easy to use

Works across multiple properties

High user satisfaction
Cons:
Can't make long-term forecasts

Big focus on Automation - not the best fit for control-freaks
Pricing: Basic plan - $7 per room per month. Upgraded - $10 per room per month.
4. Pace Revenue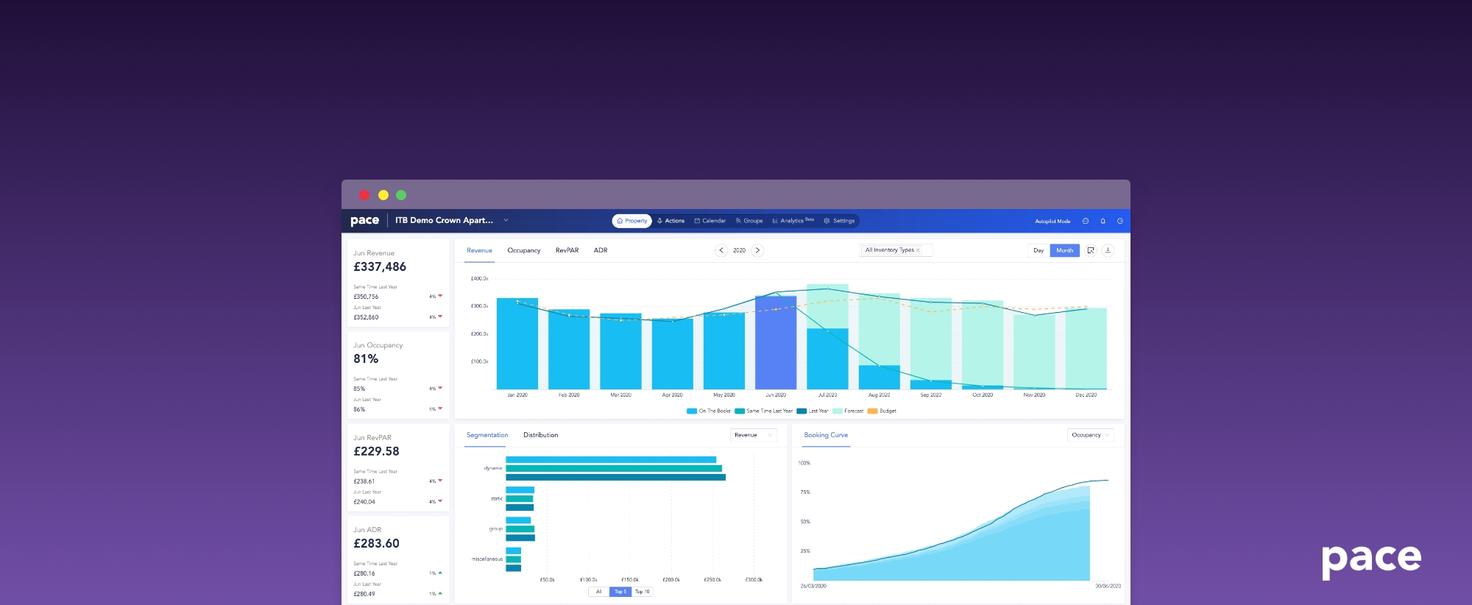 Pace provides world-class pricing analyses for various types of properties across the globe. It uses optimised, hourly price adjustments to maintain competitive prices for your hotel rooms. In addition, the company has a dedicated data science department that is constantly improving its machine learning algorithm.
One of Pace Revenue's key features is that it doesn't follow competitors. Instead, the company tries to lead the market's pricing by predicting bookings. It also uses segmentation to determine booking rates across rooms, days, and segments. Pace Revenue has gained great traction with innovative hotels like Machefert Hotels as well as hostel groups like a&o hostels.
Pros:
Great customer support

Easy to implement

An extensive track record of satisfied customers
Cons:
Cannot make long-term forecasts

The interface requires some learning curve
Pricing: $6 per room per month.

5. RoomPriceGenie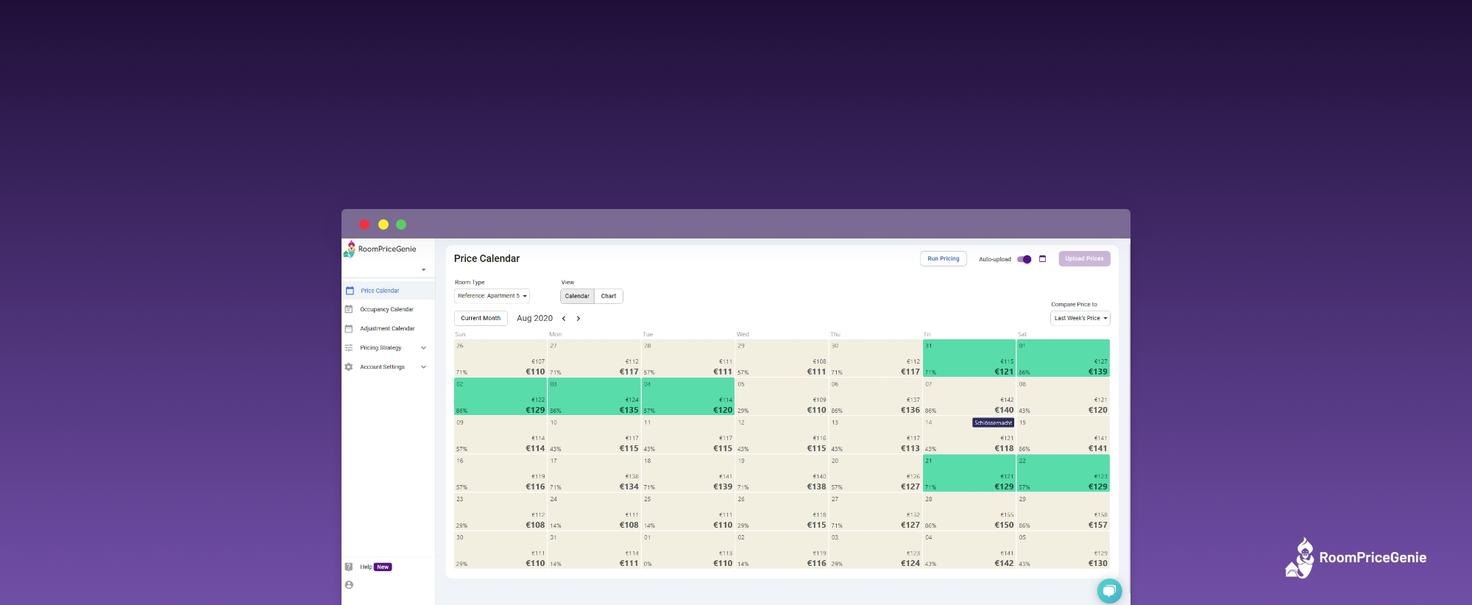 RoomPriceGenie's dashbaord
RoomPriceGenie is ideal for owners of smaller hotels seeking to compete with larger hotel chains through strategic pricing. RoomPriceGenie offers dynamic pricing that updates real-time multiple times a day. As the company is focused more on smaller properties, its customers are mostly independent hotels, hostels and serviced apartments looking to fully automate their pricing strategies, like the Salina Maris Spa, the Alexandra Hotel or Your Apartment Group.
Pros:
Comprehensive customer support

User-friendly interface

Easy to implement
Cons:
Full focus on automation, less advanced than other RMS

Has fewer PMS integrations than other RMSs
Pricing: Monthly subscription of $500 or $6 per room per month.

6. Beonprice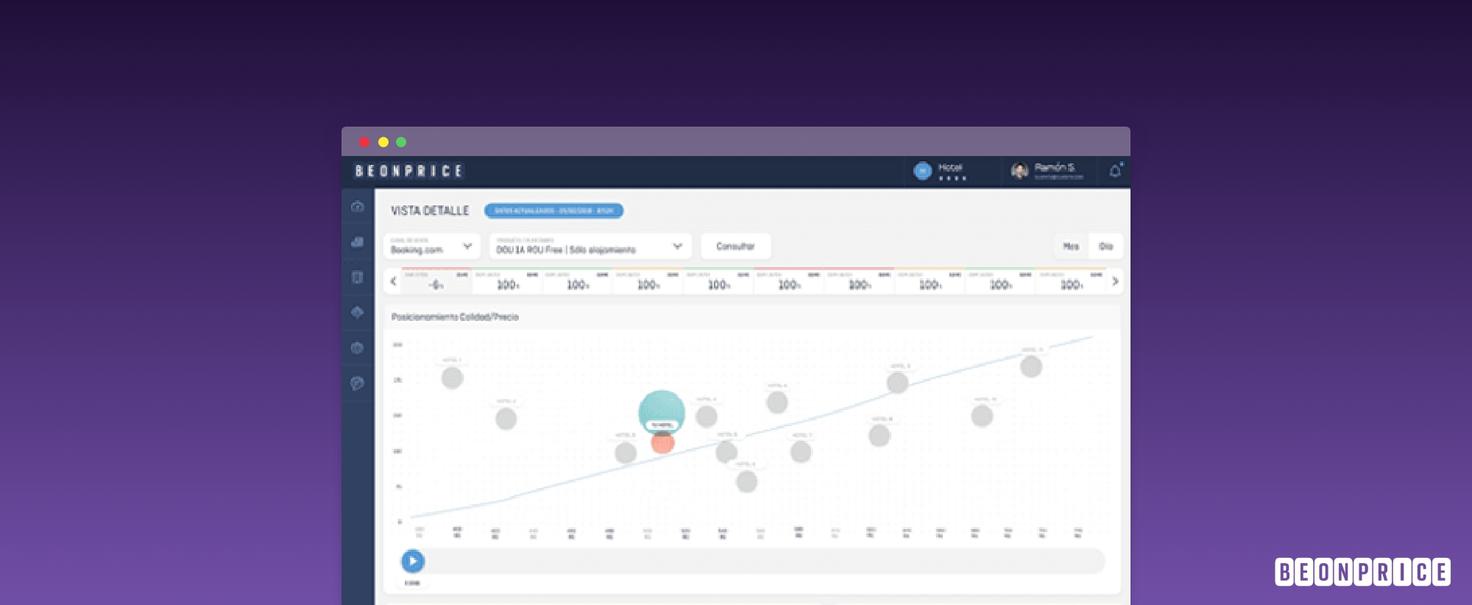 Beonprice, a Salamanca, Spain-based company, offers comprehensive RMS software that combines optimising RevPAR and your Hotel Quality Index (HQI). It is active in 30+ countries and counts various leading hotels such as Catalonia, Park Royal, and Dreamplace among its clients.
Beonprice has a unique offering because it compares your hotel's quality against competitors through the HQI. Its proprietary algorithm uses market data to help you better position your hotel based on its quality. Beonprice is largely used by hotels and resorts groups like Iberostar, RIU Hotels and PlayaSol Hotels.
Pros:
Excellent client support

Intuitive to use

Easy to analyse multiple data points at once
Cons:
Formatting of reports

Support is available only in Spanish and English
Pricing: Not disclosed.

7. D-EDGE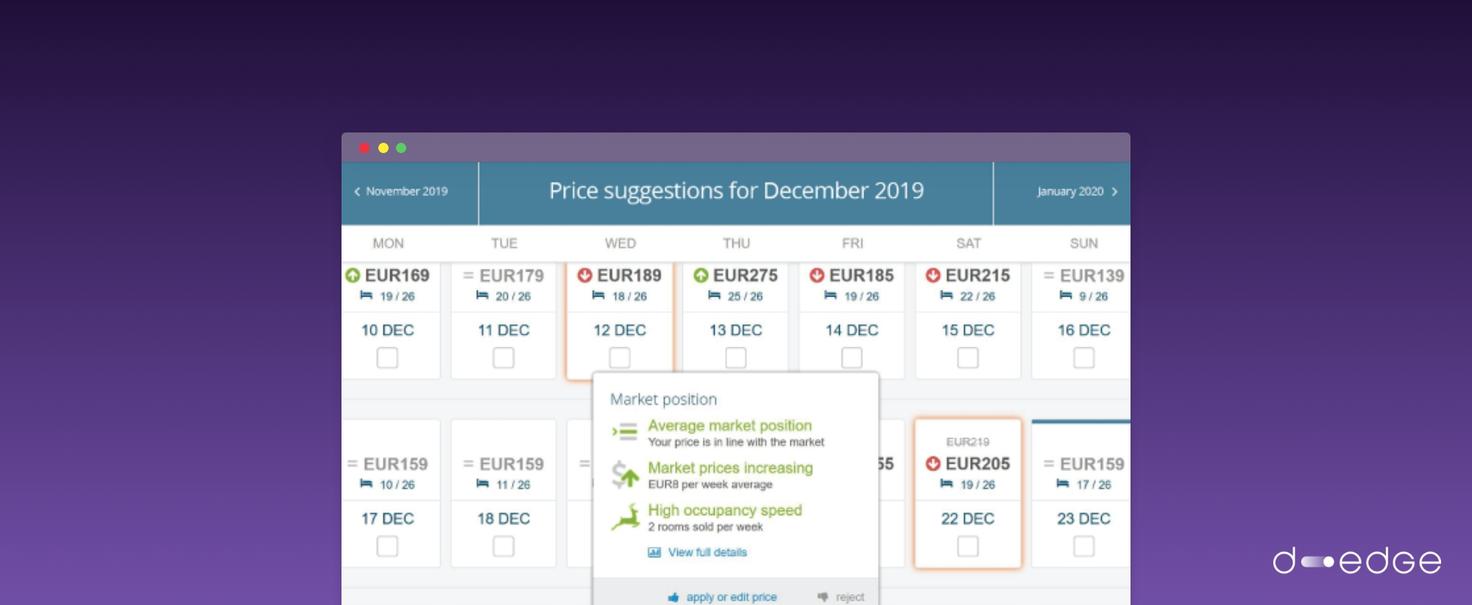 Next Rate by D-EDGE's dashboard
D-EDGE is the result of a merger between two of the biggest hotel technology companies- AVAILPRO and FASTBOOKING. The company supplements its technical expertise with creativity and marketing experience.
Next Rate by D-EDGE provides price recommendations based on your competition, market trends, upcoming events, and seasonality. The software is straightforward, requiring just one click to accept or modify pricing suggestions. They can then directly be applied through the software.
Pros:
Easy to use

Ability to receive real-time alerts for price changes

Ability to anticipate market changes

Can be integrated into a Property Management Software (PMS)
Cons:
Customer service isn't available 24/7

Difficult to sort bookings by departure date
Pricing: Not disclosed.

8. Makcorps Hotel Price API
Makcorps Price API is a hotel revenue management tool that helps hotels to get their competitor's real-time and historical pricing data. Using this data hoteliers can make & optimise their pricing decision more effectively.
Plus, this hotel rate shopping tool provides access to real-time & historical pricing information not only from 1 or 2 sources but from over 200+ hotels, hotel chains, and online travel agencies (OTAs).
By tracking niche websites and gaining access to competitors' data hotels can secure a competitive advantage by offering discounts and lower prices.
Pros:
Allows hotels to generate discounts and increase bookings by tracking prices from niche websites

Provides accurate and quality data

Additional features are available such as hotel reviews, amenities, budget filters, and currency filters
Cons:
Doesn't have booking features
What are the key features to look for when choosing the best RMS?
There are a few crucial characteristics you should keep in mind when deciding on which RMS best suits your specific needs. Here are some of these crucial features:
Forecasting functionality
A key component of revenue management is predicting supply and demand. Your RMS should be able to entirely and accurately forecast using data from multiple sources. It should also be flexible enough to update these predictions in real-time.
Your RMS should be able to observe and analyse your competitors' services and rates. This allows you to decide what pricing strategy to implement in order to attract more guests, make a profit, and stay ahead of the competition.
Dynamic price recommendations
The constantly evolving nature of the market calls for your RMS to be able to ingest new data quickly in order to provide dynamic recommendations. This includes leveraging data regarding occupancy and reservation rates across the market to help you quickly adjust prices.
The numerous benefits of RMS are pointless without intelligent reporting. Your RMS should create and share concise, informative reports that your business teams can use to develop actionable strategies. The reports should include market data, KPIs, and other valuable insights that you can easily share across teams.
Finally, you should be able to integrate your RMS into your mobile to improve its usability and accessibility across channels. This means having a simple, mobile-friendly interface that anyone can understand and use.
RMS + Oaky make a perfect match
As restrictions relax and the hospitality industry continues to recover, hotels are bound to see an increase in reservations. Now is the perfect time to implement an effective revenue management system in your hotel to ensure the best results possible.
Selling rooms at the right price is essential for your financial success, but so is upselling. Upselling is part of advanced revenue management and enables you to expand your profit-generation horizons by going beyond selling rooms. You can put your hotel's full potential to good use and be sure that all its facilities and amenities work to your advantage, enhancing your guests' experiences.
Just like the revenue management process, your upselling process can also be automated and simplified. For instance, you can try out Oaky, the #1 hotel upselling software, which can be used in combination with RMS. This way, you can get the best of both worlds!
Chat with an upselling professional to learn more about Oaky's capabilities and how it can help you achieve your business targets.
Learn how Oaky can help you achieve your business targets