PMS integration: Why two-way integrations are more effective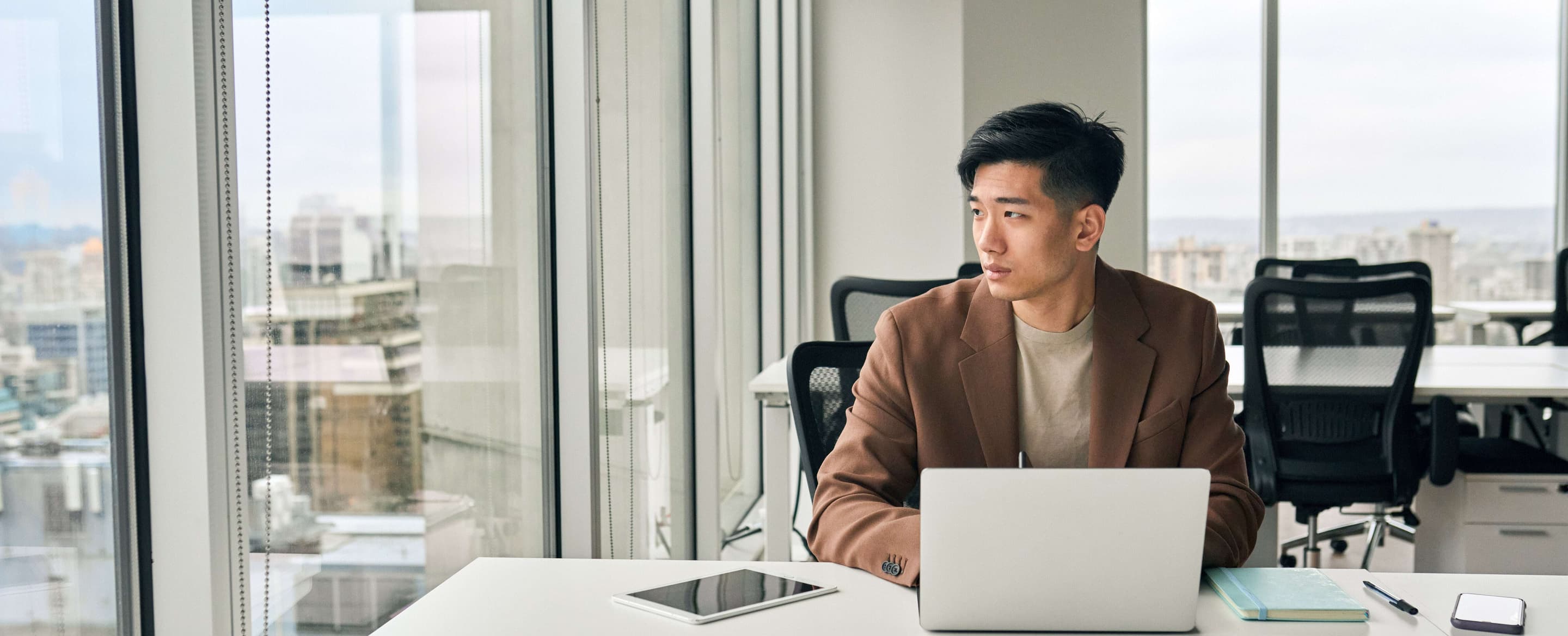 Relying on PMS integration has become a must for hotels that have various software solutions. From reservation data to mobile key details, the hospitality sector deals with vast amounts of information every single day.
You'll be surprised how many other systems, in addition to channel managers, can be integrated with hotel property management systems. Cloud technology has come a long way and can improve operational efficiency tremendously.
Here's a closer look at all the tools that can possibly be integrated with your hotel PMS as well as the benefits that two-way PMS integrations offer.
What is PMS integration?
Property management system (PMS) integration is when your PMS connects with other types of software solutions like your payment processing software and direct booking engine. By integrating all your software with your PMS, it becomes much easier to control various operational tasks.
What is the difference between one-way and two-way PMS integrations?
With two-way integration, a link gets built between the property management system and other hotel systems. Relevant data will then get transmitted in real time via this two-way connection. In other words, data will get sent to the channel manager, for example, and back again to the PMS.
On the other hand, if there's a one-way integration, this data exchange will only flow in one direction.
What are the types of PMS integration?
Hotel departments need various tools to run successfully. Luckily, different types of hotel tech can be integrated with a property management system. Here are seven examples of integrations that hotels can use to automate tasks.
1. Booking engine/channel manager
Channel managers help hotels to take care of online distribution by letting them connect with multiple online distribution channels as well as their direct booking website. Via the channel manager, hotels can also update inventory and rates in real time.
Integrating your PMS with third-party booking channels like online travel agents (OTAs) or a channel manager can help in two ways. Firstly, it will save time by giving you centralised control over your inventory, rates, and reservations.
When a reservation is made through a connected channel, it's automatically imported into your PMS. Availability is then adjusted across all channels, eliminating the need to update it manually on different sites.
Secondly, it helps maximise your revenue. You can easily modify inventory, rates, and reservations from your PMS to increase profitability more efficiently.
2. Room access/keyless access solution
Keyless access solutions use keypad locks that let guests open their hotel doors without having to use a physical key. Instead, guests will use a code or a mobile key on their smartphone.
Integrating your PMS with room access systems like electronic keycards makes the check-in process and access management much easier. Not only can keycards be encoded by means of the PMS, but they can also be managed. This frees up valuable time as front desk staff no longer need to enter information like the room number manually. At checkout, the keycard will also get deactivated automatically for improved security.
3. Revenue management system
A revenue management system (RMS) uses a combination of historical data, market data, and other indicators to forecast traveller behaviour and demand. With the help of this data, hotels can identify the right price for their hotel rooms and maximise profitability.
Two-way integration between your PMS and revenue management system allows you to make more accurate forecasts while at the same time improving inventory management and current pricing.
Room availability and current rates will get pushed from the PMS to the RMS so that it can improve nightly rate suggestions. Then, when a recommendation is approved, the PMS will receive the new data automatically, eliminating the need for any manual updates.

4. Payment processing network

In a nutshell, a payment processing network allows hotels to accept card payments.
Integrating your PMS with a payment gateway will simplify check-ins and check-outs at the front desk, as guests can now make payments via the website booking engine.
After the payment information is entered, it gets sent to the payment processing network automatically. As soon as the payment has gone through, the invoice gets updated automatically in the PMS to reflect the approved payment.
5. Hotel upselling software
Hotel upselling software is specifically designed to help you make the best use of all your hotel inventory, such as rooms, services, add-ons and extras. For example, hotel upselling software like Oaky helps you upsell throughout the entire guest journey — starting at the pre-stay stage to in-stay one, meaning you can present your services when your guests are already staying at your property.
By integrating two-way your upselling software with your PMS, your guests will see only the upgrades that are available during their stay. Then, if they choose to buy a service or request an upgrade, their reservation folio will be updated accordingly.
6. POS system
A point-of-sale system (or simply a POS system) is used to complete other transactions in person. In the case of a hotel, POS systems can be used by the front desk to manage room reservations or process payments at other on-site facilities like a restaurant or spa.
You can also integrate your PMS with your POS system. By integrating these two, extra charges can be added to reservations automatically.
The benefits are twofold. Human errors get reduced, and you can deliver your services more efficiently.
7. Smart room technology
From mood lights to temperature sensors, there are various types of smart room tech available that hotels rely on for safety and enhanced guest experience.
In addition to keycards, two-way PMS integration can also help with these other types of smart tech. You can, for instance, use it to control lights, air conditioning, and heating to ensure that these devices are switched off without delay after checkout.
Not only will this help your profit margins, but it can also support your strategies for sustainability by helping you to use less electricity.
What are the benefits of two-way integration?
Thanks to the key features of two-way integration, hotels can benefit in more ways than one. Here's how:
1. Real-time data synchronisation
All your rates and inventory will get updated in real time across different platforms. This makes it less challenging and risky to list your rooms on multiple platforms, as all the data will be accurate at any given time.
2. Streamlined operations and time-saving benefits
Without direct integration, front desk staff have to log in and out of various platforms and enter booking details manually. Then, if the information has to be adjusted again, these changes will also have to be updated manually.
Needless to say, this way of working is laborious. However, with two-way integration, all the time that staff had to spend with manual data entry can now be dedicated to other front office tasks like welcoming guests and responding to complaints.
3. Fewer errors and zero double-bookings
Not only does manual data entry take a lot longer, but it also becomes easier to make a mistake. For example, if you have to enter credit card numbers or room rates, one typo can have a huge impact on a hotel's revenue.
In addition to reducing financial errors, direct integration streamlines room inventory management. As soon as a room is booked, it will get updated accordingly across all platforms. This means that other guests won't be able to book that room to prevent double-bookings.
4. Enhanced guest experience
With this type of hotel technology, it's possible to deliver better service too. Guests will be served faster. Plus, as all the relevant data is always available, any guest enquiry can also be addressed on the spot.
You can also take it one step further and use it to offer a more personalised stay. For example, integrating your hotel property management system with smart tech solutions allow you to switch on the heating or air conditioning in advance to ensure that the room is at the right temperature upon check-in.

5. Increased revenue

The time-savings alone will already have a positive impact on revenue. Add to that the improved inventory control, and hotels can increase revenue even further. For example, whenever a room gets cancelled, it will become available on the connected channels immediately, ready to be rebooked at any given time.
The same goes for selling your extras via upselling software. By integrating two-way, you can make sure that your inventory and pricing are always up-to-date, which results in more sales and drives revenue.
6. Unified reporting and centralised control
Hotel departments no longer need to work in silos. With two-way integration, all departments will be informed at the same time about key events like when guests check in or check out, when the credit authorisation limit is reached, or upselling deals are bought.
Why is two-way integration essential when using a hotel upsell software solution?
One of the innovative ways that many hotels have embraced to generate more revenue is making use of hotel upsell software like Oaky. However, to unlock its full potential, it's important to set up a two-way integration between your upselling software and PMS.
This way, whenever a guest visits the guest landing page, Oaky will first check the availability in the PMS so that only the available guest services and room upgrades will be shown. This helps to manage expectations, leaving fewer guests disappointed and feeling as if they've missed out on a great deal.
Apart from this, there are other benefits that a two-way integration with your upselling tool and PMS can provide. These include reducing manual work for your staff, as guest requests and room upgrades are automatically approved and synced with your PMS on autopilot. Additionally, it leads to more revenue since your inventory is always up-to-date and ready to be sold to the next guest. For a deeper dive into the technicalities of one-way vs two-way integrations, see the infographic below.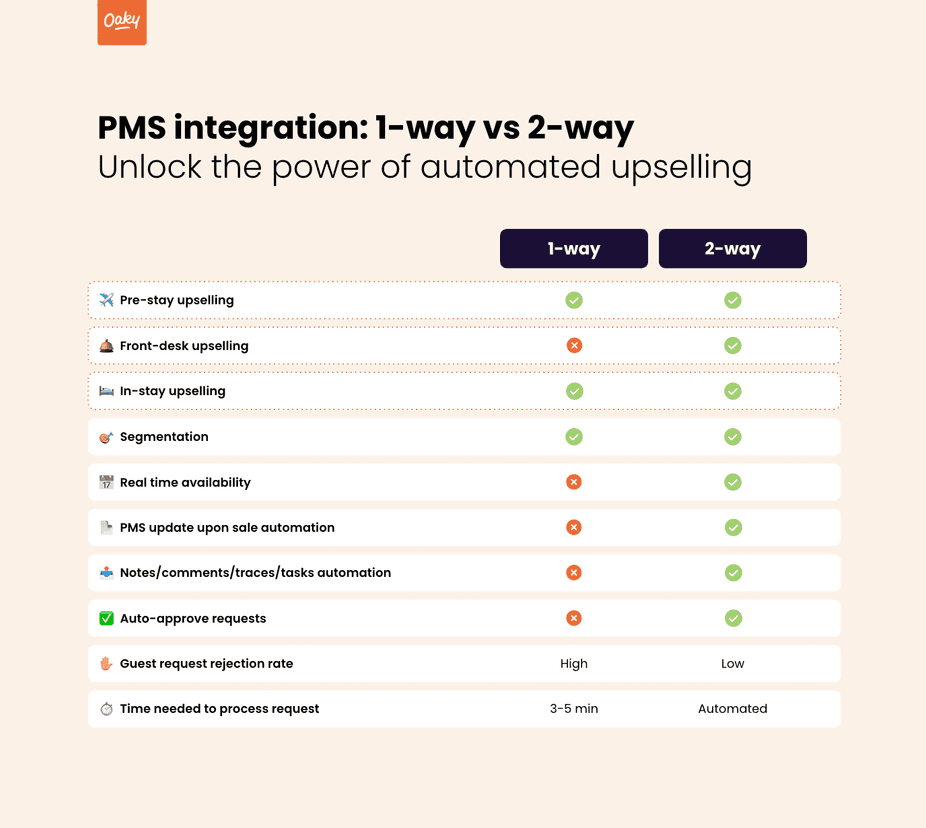 Then, if a guest chooses to purchase a room upgrade, the availability will be automatically updated as well, and Oaky will add the guest's request to their reservation folio. As such, there will be no need for front desk staff to switch between two hotel systems. In fact, it can save them up to 5.5 minutes per room upgrade, leaving them with more time for that what matters — serving guests.
Unlock your hotel's profit potential