Oaky & Infor: Unleash your upsell potential with a new 2-way integration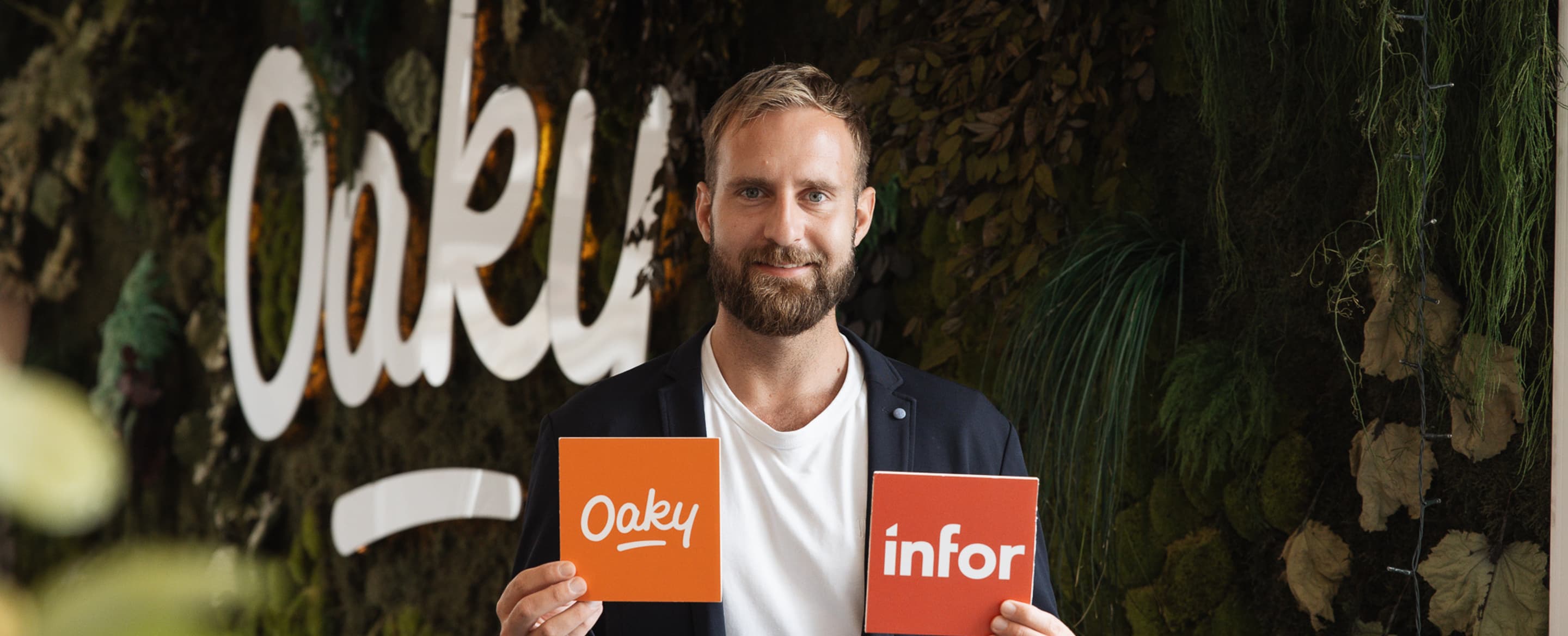 We're thrilled to announce that Oaky has joined forces with Infor, the leading hotel property management system trusted by over 20,000 customers worldwide, to help hoteliers automate upselling.
With a strong presence in the US as well as APAC and EMEA, Infor has shaped many ecosystems with advanced hotel tech solutions, enabling hoteliers to optimise various aspects of hotel management. And now, with the addition of Oaky's cutting-edge technology, the potential for even greater success in upselling is within reach for hotels using Infor HMS.

This partnership reinforces Oaky's focus on providing innovative upselling tools to hotel chains and large modern hotel groups, allowing them to automate their upselling strategies, save time, tackle staff shortages and drive more revenue from their entire hotel inventory.
In fact, luxury hotel chains such as APEX Hotels in the UK and Elite Hotels in Sweden already use the 2-way Oaky & Infor HMS integration to streamline upselling at their properties. Are you eager to unleash the full upselling potential at your hotel?
Discover the benefits of the new integration and see how it can take upselling to the next level at your hotel.
What are the benefits of the 2-way Oaky x Infor HMS integration?
To make upselling a success, many bits and pieces need to work together. However, if you do it manually, it's easier said than done.
With the 2-way integration, you can make the most out of your resources and uncover new revenue streams at your hotel in a streamlined and effortless way.

1. Boost revenue and TRevPAR
Full automation takes care of your upselling efforts and ensures the consistency of your operations. As a result, upselling never gets overlooked, no matter how busy your team is. This leads to increased financial gains, improving your revenue and, hence, TRevPAR by

Presenting segment-specific deals to your guests at the right moment of the guest journey.

Letting you upsell across the entire guest journey to maximise revenue opportunities (at pre-arrival, in-stay stages and at the front desk during check-in).

Allowing you to apply dynamic pricing on room upgrades and early check-in/late check-out deals.

Automating your upselling strategy (guest requests are approved automatically unless you choose otherwise), which makes the upselling process less time-consuming and more efficient.
2. Reduce manual work
Full automation also means that there's no back-and-forth for your team. In contrast to the manual process, you don't need to check the availability of a room upgrade/service in the PMS to approve your guest request.
The 2-way integration facilitates continuous data exchange, providing both systems with current information on room and service availability, enabling automated approval of requests.
It saves 6 minutes per request, which leads to a significant time savings of 7,000 working hours per hotel group.
Automation ensures that no request slips through the cracks. As soon as a guest request comes into the system, Oaky notifies the concerned department, and they can start the necessary preparations right away.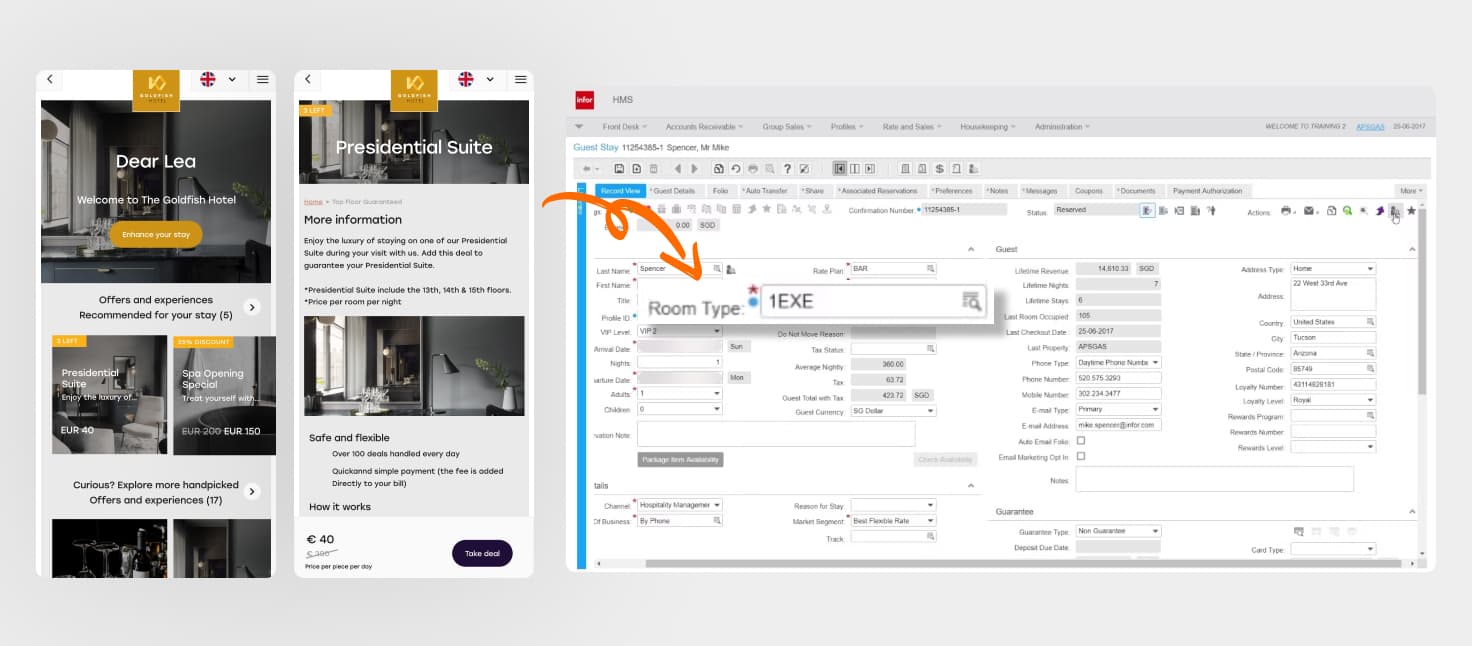 Upgrades and services purchased via Oaky sync back to Infor HMS
3. Elevate the guest experience
Instant request approvals and personalised upselling suggestions will help you shape a positive first impression and give guests a feeling of excellent service. Isn't it the perfect way to set your guests up for an enjoyable stay?
Given that modern consumers expect tailored services, ensuring the personalisation of room upgrades and upselling suggestions will improve your brand image.
Moreover, getting back to a guest with an instant room upgrade or service confirmation will help you build trust and demonstrate your focus on delivering guest-centric experiences. With the 2-way Oaky and Infor HMS integration, you will never have to worry about offering an unavailable service or room or rejecting a request due to the same reason.

How does the integration between Oaky and Infor HMS work?
Once you have set up the integration, you can start upselling with minimal to no effort. The 2-way integration between the two systems ensures seamless and automated upsell management across the entire guest journey. It eliminates manual work and reduces potential errors from manual updates of your PMS and upselling software.
Let's dive deeper to see how this integration works:

As soon as the 2-way Oaky & Infor HMS integration is enabled, you're all set up for successful upsells.

Pre-stay stage: Oaky sends personalised pre-arrival emails with room upgrades and personalised offers to all arriving guests.

In-stay stage: Oaky provides ongoing access to your add-ons and services during your guest' stay.

Front desk: Oaky provides real-time upsell suggestions to front desk agents based on the room upgrade and services availability, segmentation and dynamic pricing rules.
Once a room upgrade is booked, the room type is automatically updated in Infor HMS by Oaky. As the room availability is updated instantly, you can resell the room of a standard category to another prospective guest.
As soon as a guest books a supplement, it gets added automatically as a package to the guest profile.

Oaky also adds a comment if there's a booked package or service to make sure they get delivered to the guest.
Automated request approvals reduce the daunting repetitive tasks your team usually needs to carry out so that they can focus more on the things that matter, such as delighting your guests.
Are you keen to enable the integration and start harnessing the power of automated upselling? Book a chat with an upselling expert to see how Oaky can automate your upselling and help drive revenue all year round.
Unlock your upsell potential
About Infor
Infor is a worldwide leader in providing cloud-based property management software specifically tailored to the hospitality industry. It provides a comprehensive and integrated suite of tools to manage the entire hotel property, including room operations, sales and catering, spa and recreation, and more.
The system automates and streamlines various processes, including reservations, check-ins/outs, billing, and reporting, to help hotels increase efficiency and profitability. Infor also offers robust reporting and analytics capabilities, providing real-time insights into key performance metrics and enabling informed decision-making. With its flexible architecture and customisable features, Infor HMS can be tailored to meet the specific needs of different types of hotels and hospitality businesses.