Oaky makes Front Desk Upsell automation available for more 2-way PMS integrations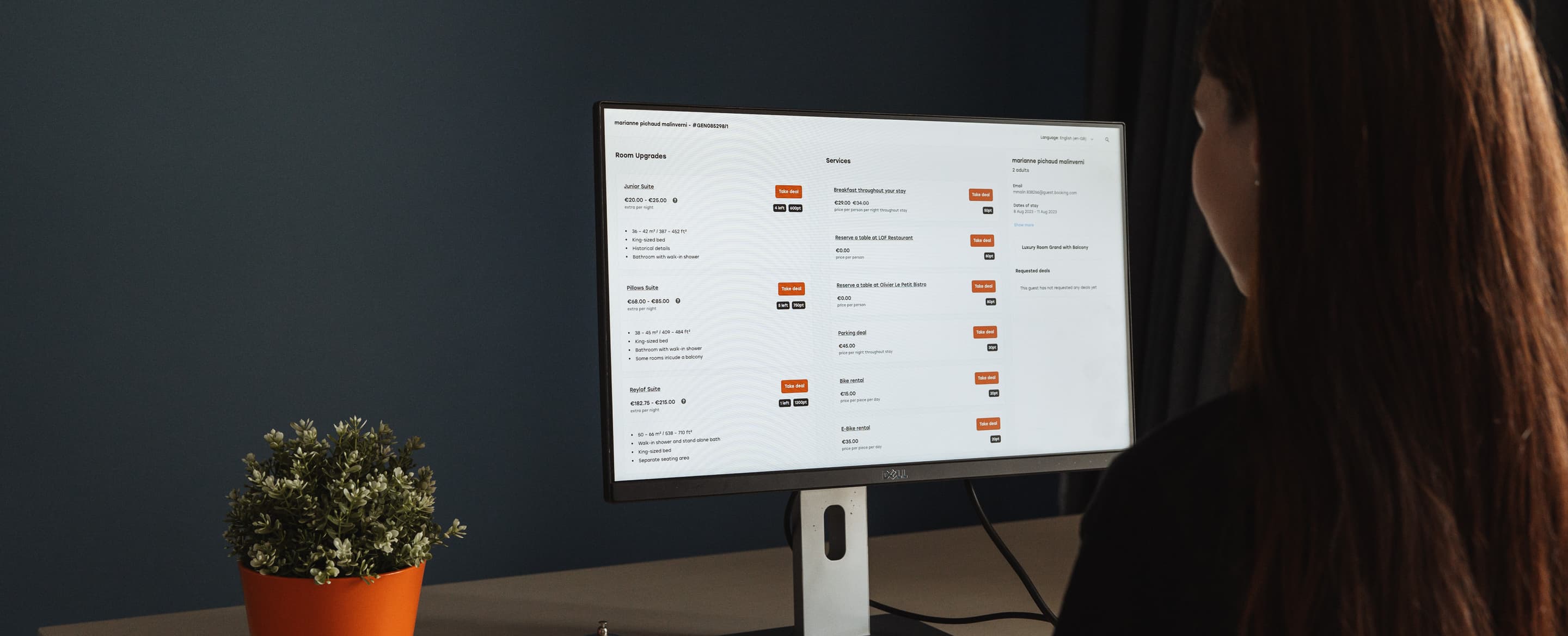 When done with the right tact and skill, front desk upselling has everyone's best interests at heart. Hotels can use it to drive more revenue and TRevPAR, personalise the guest experience and motivate staff.
The Oaky team is thrilled to roll out our revolutionary Front Desk Upsell (FDU) automation for more two-way PMS integrations to turn your front desk agents into upsell superheroes. In addition to Mews and OPERA Cloud customers who were among the first adopters of this functionality, hotels using Guestline, Infor, Protel, Shiji, Apaleo, Stayntouch and Cloudbeds now also have the possibility to maximise their upsell results at check-in with smart automation.
Here's a quick look at how it will benefit you and a real-life example of how it has helped one of our early adopters, Pillows Hotel Reylof. If we have to say so ourselves, so far the results are pretty amazing.
How does Front Desk Upsell automation empower your front desk agents?
Front Desk Upsell automation is a recommendation engine that lets agents sell the right deal to the right guest at the right price at check-in. By giving them the right tools to simplify their responsibilities, you can also look forward to higher staff retention.
All it takes are a few clicks. The front desk agent can search for a specific guest's reservation via Oaky's dashboard, where they'll be able to get access to upselling prompts and key information like the guest segment, room availability and current rates.
To increase the chances of conversion, upselling prompts are personalised for each guest segment. Thanks to the 2-way integration, once a room upgrade or special service/add-on has been purchased, it automatically appears in your PMS.

To align the team on your upselling goals and motivate them to forge their upselling skills, Front Desk Upsell automation allows you to offer upsell initiatives and commissions based on successful upsells.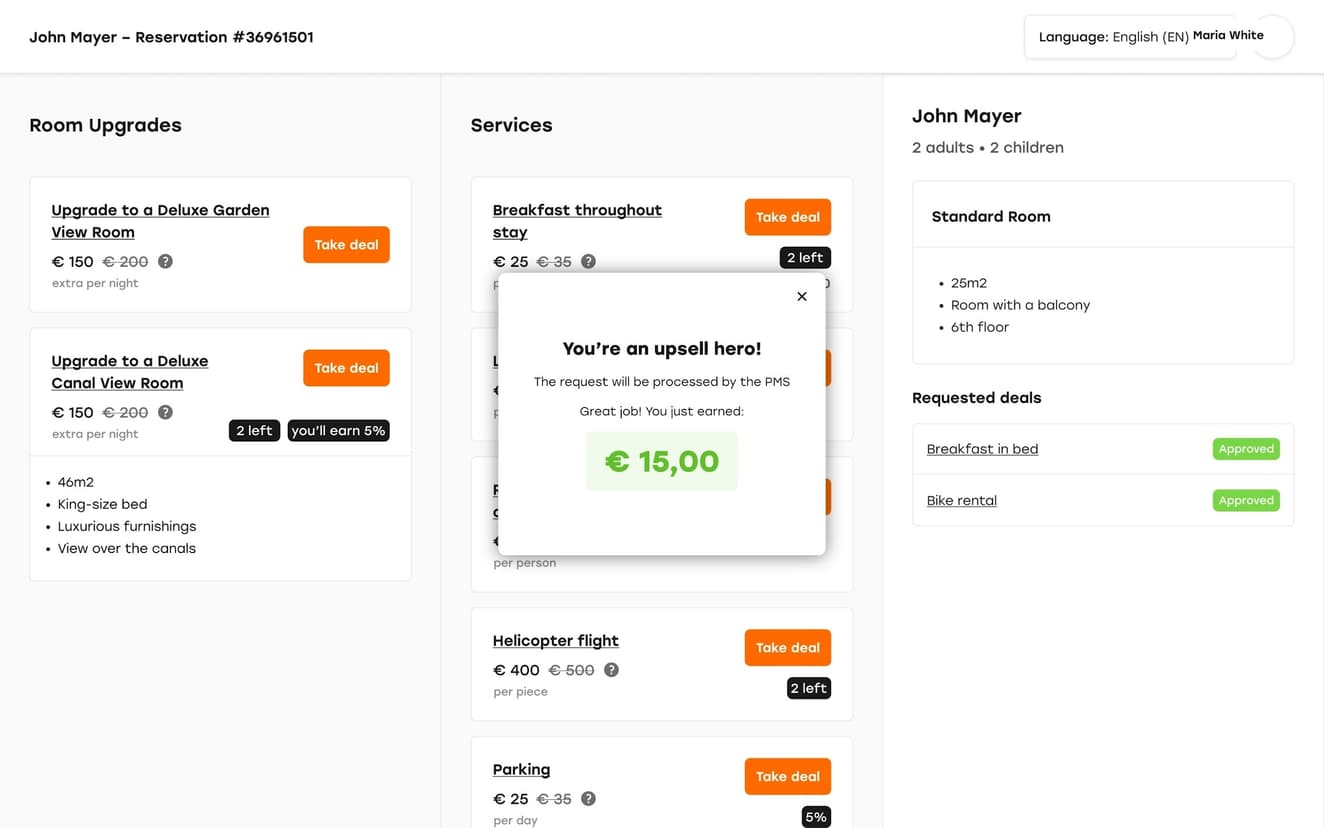 Agent-facing UI
You can set up your team goal and add an element of gamification and reward your agents with points. This will make the front desk staff feel more involved in the process and more enthusiastic to improve their results each month.
Your front desk staff won't be the only ones whose happiness improves. It can also elevate the guest experience through enhanced personalisation. This means that you can also look forward to more five-star reviews in addition to the extra revenue rolling in.
How Pillows Hotel Reylof improves its TRevPAR with Front Desk Upsell Automation powered by Oaky + Guestline
In addition to these qualitative results, like enhanced guest experience and happier staff, our new front desk solution has also been delivering impressive quantitative results. Just take the example of the success case of Pillows Hotel Reylof. It's a four-star boutique hotel in Ghent that forms part of the International Hotel Management Group (IHMG) that stuns its guest with beautiful interiors, culinary experiences and modern amenities.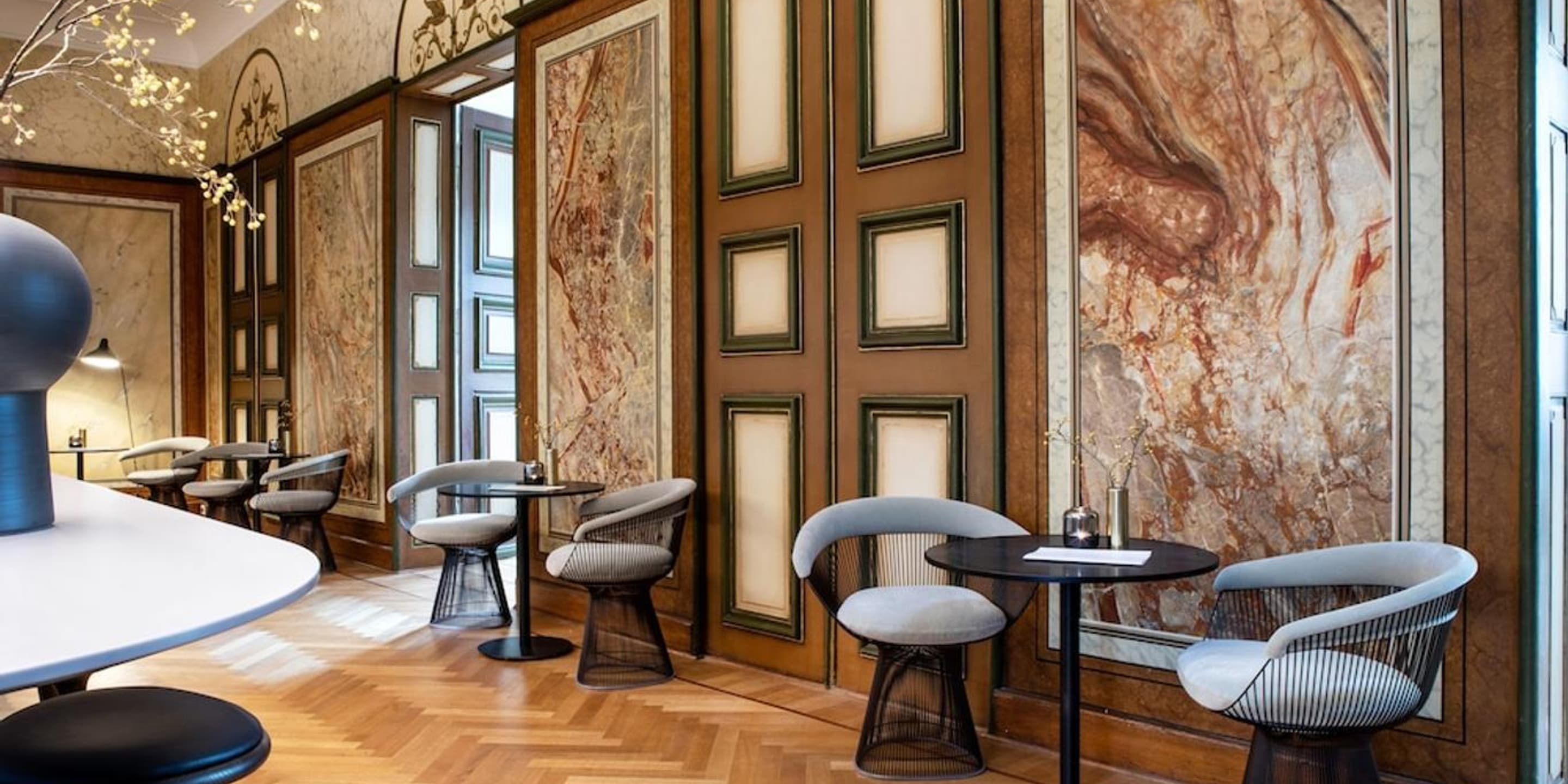 Pillows Hotel Reylof
By using Front Desk Upsell Automation powered by the Oaky and Guestline two-way integration, the hotel is seeing stunning results. They managed to achieve a 3% TRevPAR contribution (which translates into 178 EUR in additional revenue per room) and an upsell conversion rate of 23% in July. Much of this success is attributed to the tool's intuitiveness and ease of use.

Working with Oaky has been a delightful experience, as their platform is easy to use, loads fast, and has saved us a lot of time. We are grateful for their partnership and look forward to continued success together.
If you're already a customer leveraging pre-arrival upselling via a two-way integration with Mews, OPERA Cloud, Guestline, Infor, Protel, Shiji, Apaleo, Stayntouch, or Cloudbeds, FDU would be a powerful addition to your tech stack. Unlocking untapped revenue potential doesn't have to be a mystery with FDU and two-way integration.
To learn more about just how easy it can be to create another solid revenue stream, book a product walkthrough.

Seize upsell opportunities at check-in