Front Desk Upsell automation: Turn your front desk agents into upselling superheroes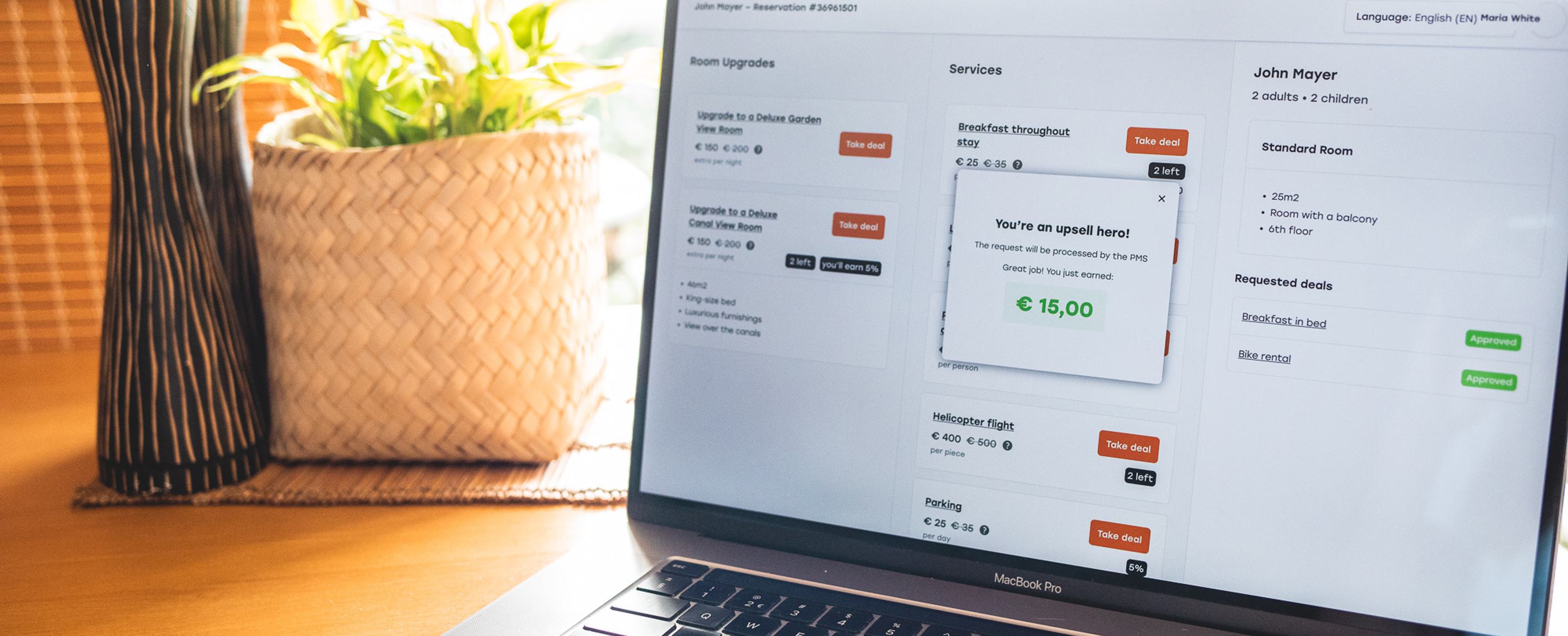 How many times have you tried to implement successful upselling strategies for your front desk but failed due to persistent staff turnover, lack of time or expertise? With Oaky's brand-new functionality, Front Desk Upsell automation, you can leave these problems behind for good.
We're thrilled to roll out a new robust addition to our Pre-Stay and In-Stay capabilities to empower you to effectively upsell throughout the entire guest journey and turn your front desk agents into upselling superstars.
Are you ready to step up your front desk upselling game by equipping your team with an easy-to-use tool? Let's explore how Oaky's Front Desk Upsell automation will revolutionise your upselling and boost your bottom line. Yes, let's make hospitality cool again.
Meet our new product: Front Desk Upsell automation
Oaky's Front Desk Upsell automation is a recommendation engine designed to turn your front desk agents into upselling superheroes, boost your revenue and keep your team motivated and happy.
With Front Desk Upsell automation enabled for your account, you can now enjoy enhanced automation within your existing integration. Thus, real-time upsell recommendations and prompts offered by the tool are based on your guest segments and dynamic pricing rules.
Front Desk Upsell automation: Three key benefits not to miss
1. Attract and retain talent
One of the major challenges that the hospitality industry has been experiencing in recent years is increased staff shortage and employee turnover. This particularly affects front desk departments as successful employees can be lured away by competitor hotels, leading to a drop in the quality of your guest service.
This is why retention programs and the right incentives, such as higher commissions, development opportunities or work-life balance benefits, are key to making your employees happy.
But how do you track the performance of each employee to identify those who go above and beyond to provide exceptional guest experiences and generate revenue for your hotel?

With Oaky's Front Desk Upsell functionality and its Gamification engine, you can monitor your front desk agents' upselling performance and identify top performers. It encourages your team to aim for better results, unlock new achievements and strive for the top of the leaderboard. By keeping your team engaged and providing the right incentives, you can create a positive work environment that continuously attracts new talent.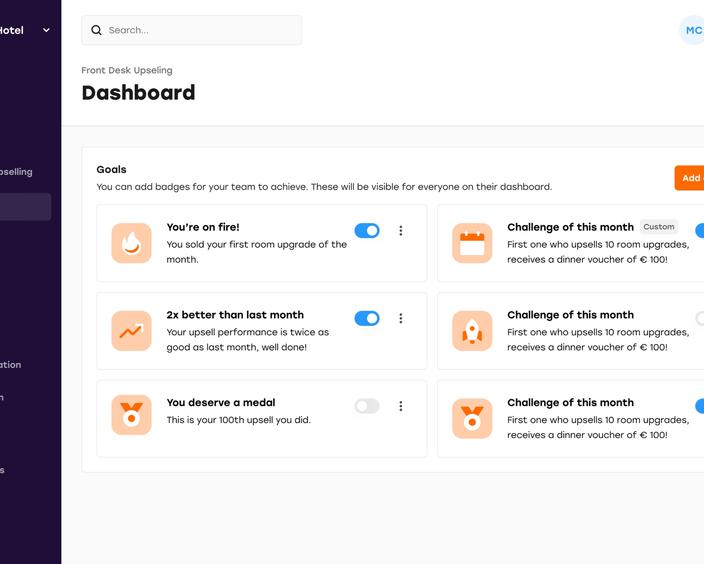 Agent-facing UI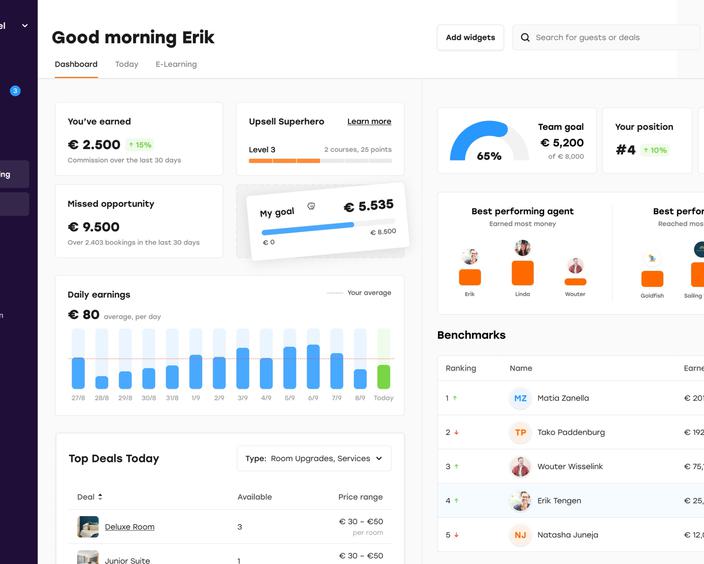 Gamification Managerial Level
2. Drive 3-9 times more revenue
Though pre-stay and in-stay upselling are essential for driving incremental revenue, front desk upselling appears even more effective. By automating the upselling process in the front office, you can substantially boost your RevPAR and TRevPAR without burdening your team with the additional workload.

Considering that pre-arrival upselling generates at least €64 on average in the form of additional spending per room (according to our 2022's data), upselling in the front office might multiply this figure by at least three times.
See Front Desk Upsell in action
3. Save time and boost productivity

Automation is well-known for its ability to save time, and Front Desk Upsell automation is no exception. With Oaky's solution, you can:
Have real-time access to an up-to-date list of available room upgrades/services, including pricing and other details that are crucial for completing fruitful upsells.

Upsell with just one click, as the upselling prompts are generated automatically without your involvement.

You don't have to update your PMS manually, as Oaky automatically pushes data about purchased room upgrades and services into your PMS.

Analyse your agents' and your hotel's performance within a group or chain with the Benchmarking feature (coming soon). It will eliminate the need for spreadsheets to keep track of upsells and calculate commission earnings manually, saving tons of precious time for you and your team.
How does Front Desk Upsell automation work?
With Front Desk Upsell automation, you can complete a successful upsell in just four steps.
1. Activate upgrades and services for the front desk
Not all upgrades and services are created equal. While some might be more successful when offered pre-arrival, others might be better suited for being sold during check-in. You can create a perfect setup of your room upgrades/services to be offered at the front desk only by moving the toggle on your Guest Application dashboard and deciding which deals you want to sell during check-in.
If you need inspiration on what to upsell, our versatile Deal Library can always come in handy.

2. Set commission-earning parameters
A front desk manager can decide if front desk agents will be earning commission on successful upsells and set the amount of this commission. Setting commissions is a common practice in sales roles, serving as a motivator for more productive sales.
Introducing commissions or other non-monetary incentives for your front desk team can provide the stimulus needed to encourage them to sell more, as this will directly impact their earnings and other benefits.
Once your commission rules are established, your team will be able to see how much they can earn by selling a particular room upgrade or service directly on their dashboard, as well as the price ranges within which these offerings can be sold. This helps them stay up-to-date with the latest rates, eliminating the need to switch between multiple systems to determine the correct pricing.
3. Suggest relevant deals based on the guest segment
Depending on who is standing in front of you, Oaky will give you instant prompts on what to upsell. This means that the tool will present you with a list of room upgrades/services your guest might be most interested in and, hence, likely to purchase.
Furthermore, you'll only see available deals, eliminating the need to switch between multiple systems to check if a certain room upgrade or deal is available for your guest. Dynamic pricing, which is automatically enabled within the dashboard, will ensure that your offerings are sold at the best rates without sacrificing profitability.
4. Set up a price negotiation range to provide more flexibility for your team
Front desk agents often struggle with determining the appropriate price point for an upsell and always need to align with their managers when offering a deal/service at a lower price. This might result in missed revenue opportunities and hinder front desk agents' success rates.
As with Oaky's Front Desk Upsell automation, you can establish a specific price range for your offerings, providing clear guidelines for your agents to follow.
By setting negotiation ranges, you give more freedom to your team and potentially incentivise them to aim for higher rewards, such as commission or points, depending on the gamification strategies you've implemented. This way, they are also not dependent on their manager's approval.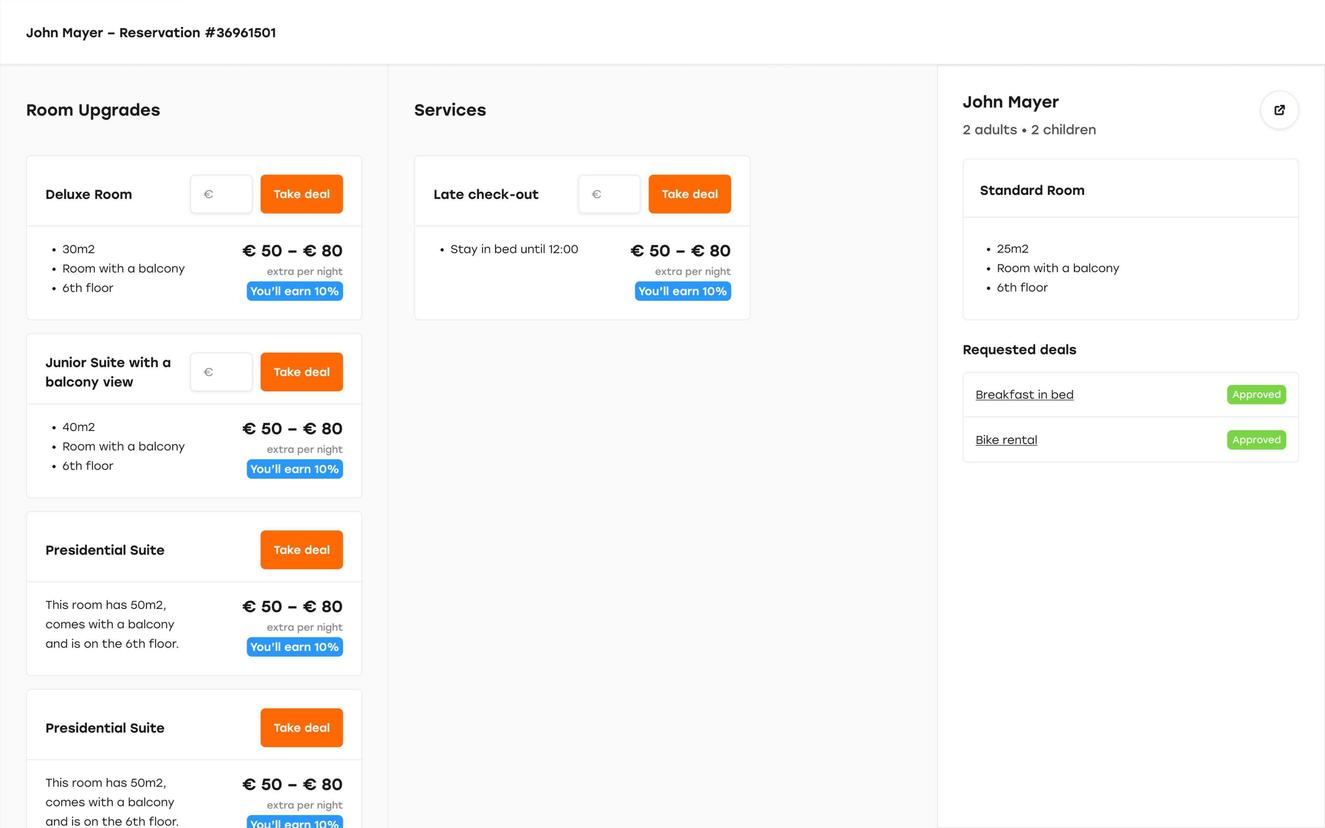 5. Enjoy full automation and sync with your PMS

As highlighted before, Oaky's automation features, such as Segmentation and Dynamic pricing, help cut down the manual work significantly. But Front Desk Upsell automation doesn't stop there.
Once your guest books a room upgrade/service, Oaky's Front Desk Upsell automation pushes the sale into your PMS and displays the earned commission or points right away. The automated updates to your PMS save you valuable time, as you no longer have to click through multiple tabs or input data manually.
How to enable Front Desk Upsell automation for your account
Front Desk Upsell automation is currently available for Mews and OPERA Cloud customers. If you're already an Oaky customer integrated two-way through Mews or OPERA Cloud, just get in touch with your account manager to activate the functionality for your account.
We'll be adding more PMSs soon, so make sure to join the waitlist if you haven't yet, so we can give your PMS an extra push!
Not an Oaky customer yet? Our upselling experts can help you research your hotel's potential for ancillary revenue and show you how to take advantage of these opportunities.

Chat with an upsell expert
Take your upselling to the next level: In-house Front Desk Upsell training for your hotel
If you want to take upselling in your front office to the next level and get up to speed with our new product in no time, you can sign up for our live workshops on front desk upsell culture and effective upselling.
With these workshops, you'll be able to establish a strong upselling culture, equip your front desk agents with the best upselling techniques and upselling psychology and, as a result, boost your upsell conversions and profit. Interested? Get in touch to get a quote.