Product update: What's new in Oaky? [Q2 2023]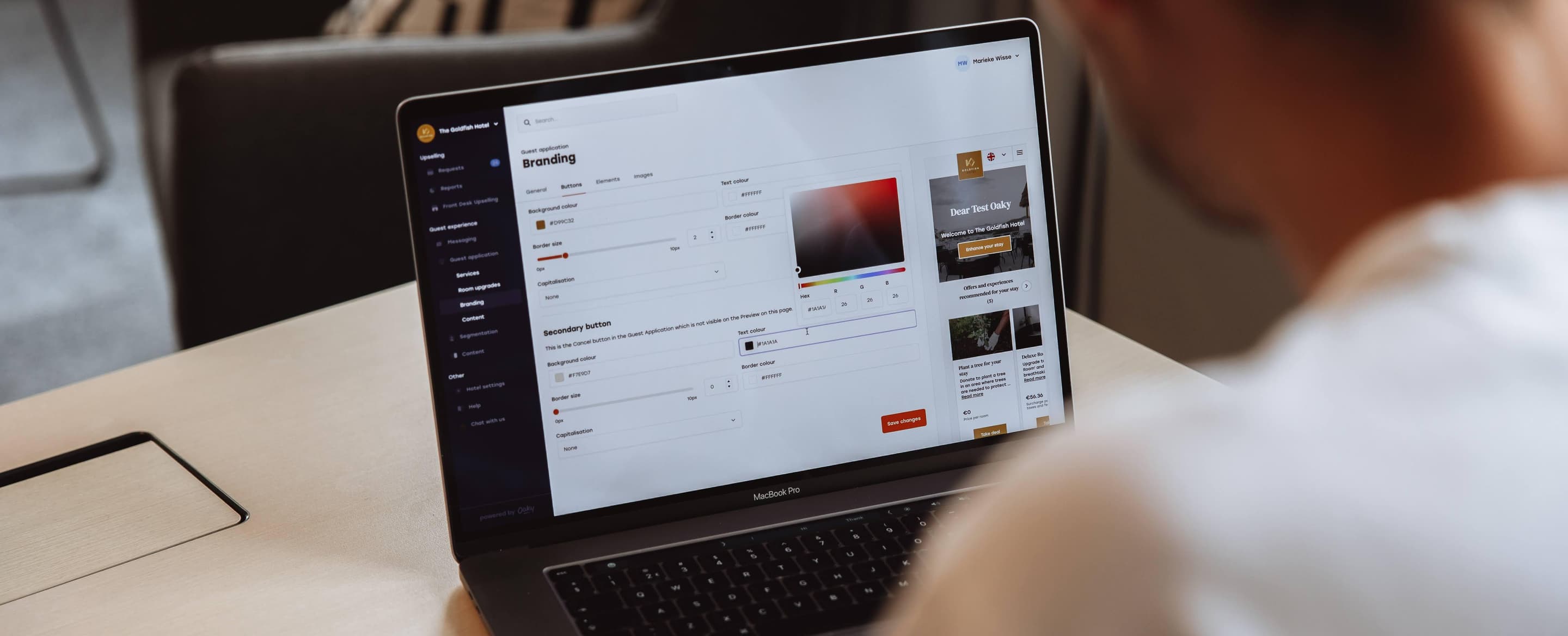 To empower you to upsell better, smarter and more effectively, we've released an array of enticing updates in the second quarter of 2023.
From our brand-new integration with the world's leading software provider of automated revenue management, IDeaS, to added branding options and recently released enhancements to our Front Desk Upsell product. Explore the new possibilities within Oaky, arming you with all the tools you need to become an upsell superhero.

Revenue management
Bringing revenue science to your upselling with the Oaky & IDeaS integration
The powerful duo of Oaky's upselling automation and IDeaS's revenue science is now available for every hotelier looking to make the most of their room inventory. This integration allows you to fine-tune the pricing precision of your room upgrades and deliver dynamically priced room-revenue-related deals to your guests, boosting the likelihood of successful upsells regardless of the season.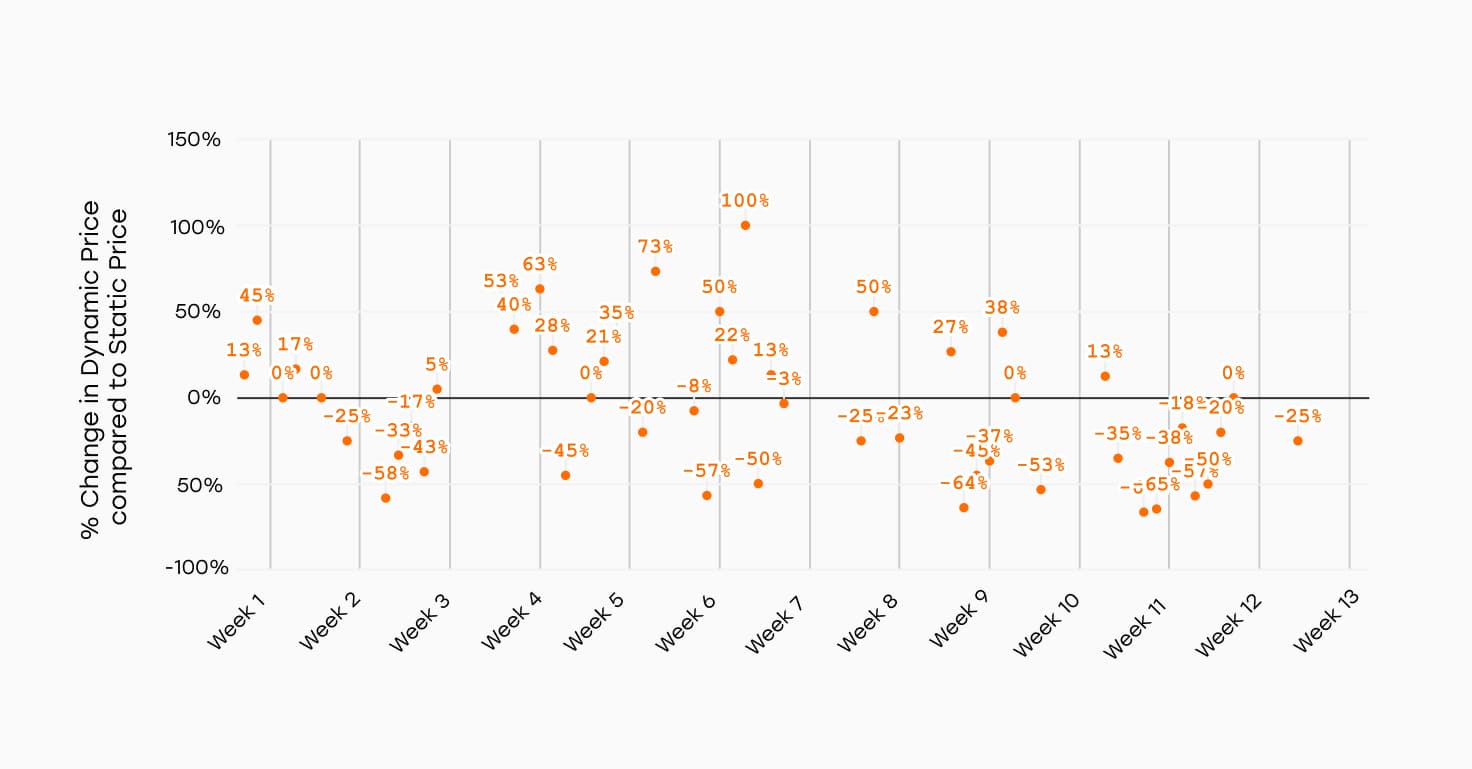 Dynamic pricing in action at a 4-star hotel in the Netherlands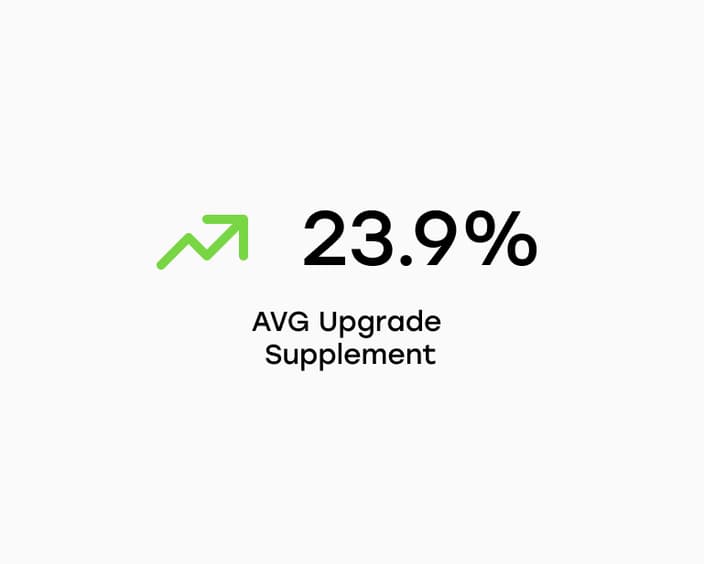 Results of a 4-star hotel in the Netherlands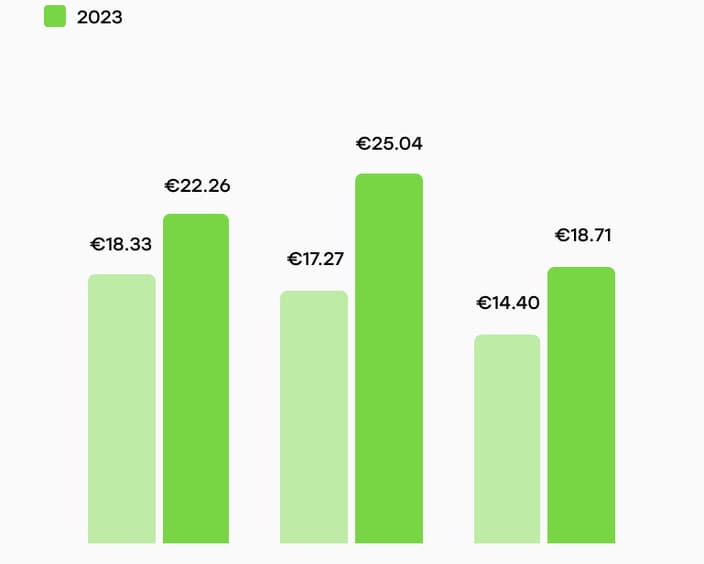 Static vs Dynamic pricing (4-star hotel in the Netherlands)
On high-demand days, the integration lets you maximise your earnings, while on low-demand days, your room upgrade rates are intelligently adjusted for higher conversions and increased revenue from upselling. Your best rooms have no chance to remain vacant with prices that appeal to your guests but also contribute to your bottom line.

Bring revenue science to your upselling
Refined personalisation of your dynamic room upgrade rates with the Oaky + RMS integrations
Gone are the days of using a one-size-fits-all approach to pricing, especially when catering to different guest segments.
Tailored pricing becomes even more crucial when you have a loyalty program and strive to offer exclusive deals to your loyal guests at dynamic, customised rates.
Thanks to the upgraded integration between Oaky and Duetto, this is now possible. The new feature is also available within our above-mentioned Oaky & IDeaS integration.
So how does it work? Instead of retrieving a single rate from your RMS, Oaky pulls multiple rates from the software, taking into account the specific guest segment. For instance, a business guest who is not part of your loyalty program will see a junior suite at the regular rate, while a loyal guest will have the opportunity to book it at a reduced special price.
You have the freedom to create multiple personalised dynamic rates for each guest segment, and Oaky will incorporate all of them to ensure your guests are exposed not only to tailored deals that meet their needs and preferences but also to bespoke pricing for room upgrades, Early check-in and Late check-out deals.
We've also improved our Export Report functionality. The updated version now offers more information and includes the details of all the transactions within a selected date range.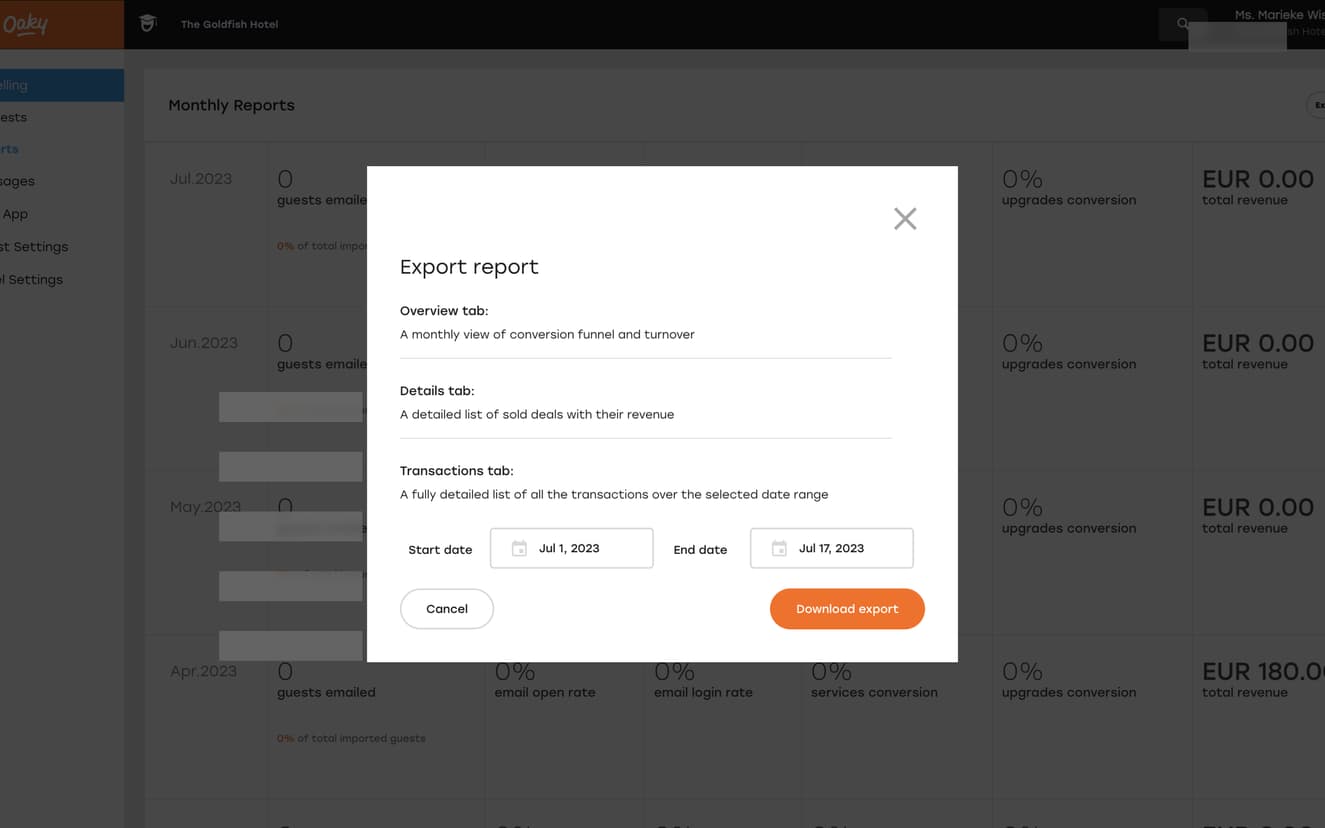 Front Desk Upselling
Front Desk Upsell (FDU) automation is now available for all two-way PMS integrations
With just two clicks, you can now kickstart your front desk upselling efforts. This functionality is now available for every 2-way integration. All you have to do is to navigate to your Oaky dashboard, access the Front Desk Upselling tab > click Launch > and search for the guest's name to view the list of upselling prompts right in front of you. Next to that, you will see the relevant information about your guest, as well as up-to-date deal and room upgrade pricing and the potential commission you can earn when selling a deal.
We're also proud to share the fantastic results our customers are generating with FDU. For instance, Pillows Grand Hotel Reylof has achieved the following results only in just 10 days of using FDU:
2.2% TRevPAR contribution (146,76 EUR in additional revenue per room)

23% upsell conversion rate (# upsells / # check-ins)

Increased efficiency as highlighted by their Front Office Managers: "It's easy to use, loads fast, and saves us a lot of time".
Would you like to expand your upselling opportunities and add FDU to your arsenal?

Unlock your front desk upselling potential
Keeping track of upselling results through FDU Reporting
We've released our very first FDU Reporting dashboard. With its user-friendly interface, you can monitor your overall front desk upselling performance while keeping track of the individual results of each front desk agent. It's also possible to add a team goal — more updates on this will follow soon!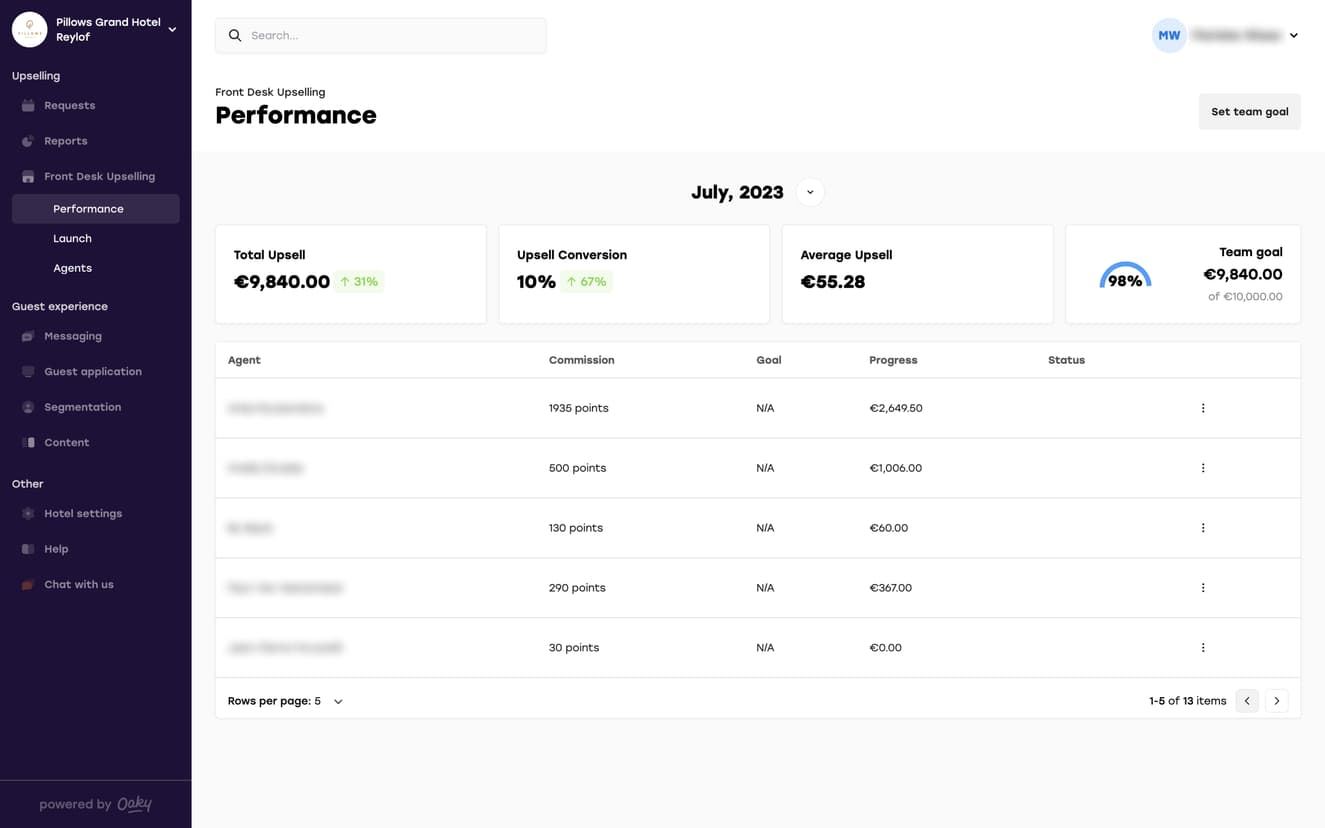 Branding:
We keep on polishing our branding capabilities within Oaky so you can provide a fully branded experience throughout the entire guest journey.
Since for many OTA guests, Oaky's pre-arrival emails serve as the initial touch point with your hotel brand, we've added a few elements to help highlight your brand. Now, you have the ability to:
Add and tweak the colour of the border of your call-to-action buttons
Change the capitalisation of letters
Showcase your branded favicon when opening your guest landing page (a small yet impactful element to create trust and boost your brand recognition).
Automation:
Making automated upselling available for Apaleo and Stayntouch customers
We've rolled out two new 2-way integrations with popular PMSs enabling more hoteliers to harness the power of automated upselling. Now, hotels using Apaleo or Stayntouch can take advantage of:
A deep integration for more streamlined upsells

Enhanced automation and real-time sync between the two systems

Improved personalisation of upselling deals and upgrades

Reduced manual work and time-saving benefits.
If you're ready to embrace more automation and would like to enable a 2-way integration for your account, get in touch with your assigned Oaky account manager. Not an Oaky customer yet? Get a product tour to see what Oaky can do for you.

Chat with an upselling expert
Upselling with your hotel chatbot made easy
Do you have a chatbot on your hotel's website? If so, we have great news for you! Oaky can now be embedded into your chatbot to let you seize upsell opportunities and get your offers in front of your guests the moment they engage with the chat on your hotel's website.
For example, if your guest is inquiring about late check-out or looking for parking, Oaky deal suggestions delivered through a chatbot will fulfil their needs in no time. Thus, you and your team can avoid lengthy conversations and emails, saving tons of time for your hotel and guests.
Our partner Asksuite has implemented the latest Oaky functionality directly into their chatbot, making them one of the pioneers in offering this feature. We're excited about this collaboration and can't wait to help more hoteliers unlock the power of seamless and smart upselling.
Other enhancements & improvements:
To provide you with a more comprehensive view of your guests' stays, we've enriched guest profiles in your Oaky. Now, you can access additional information about purchased deals, room upgrades, and other important details relating to your guest's stay.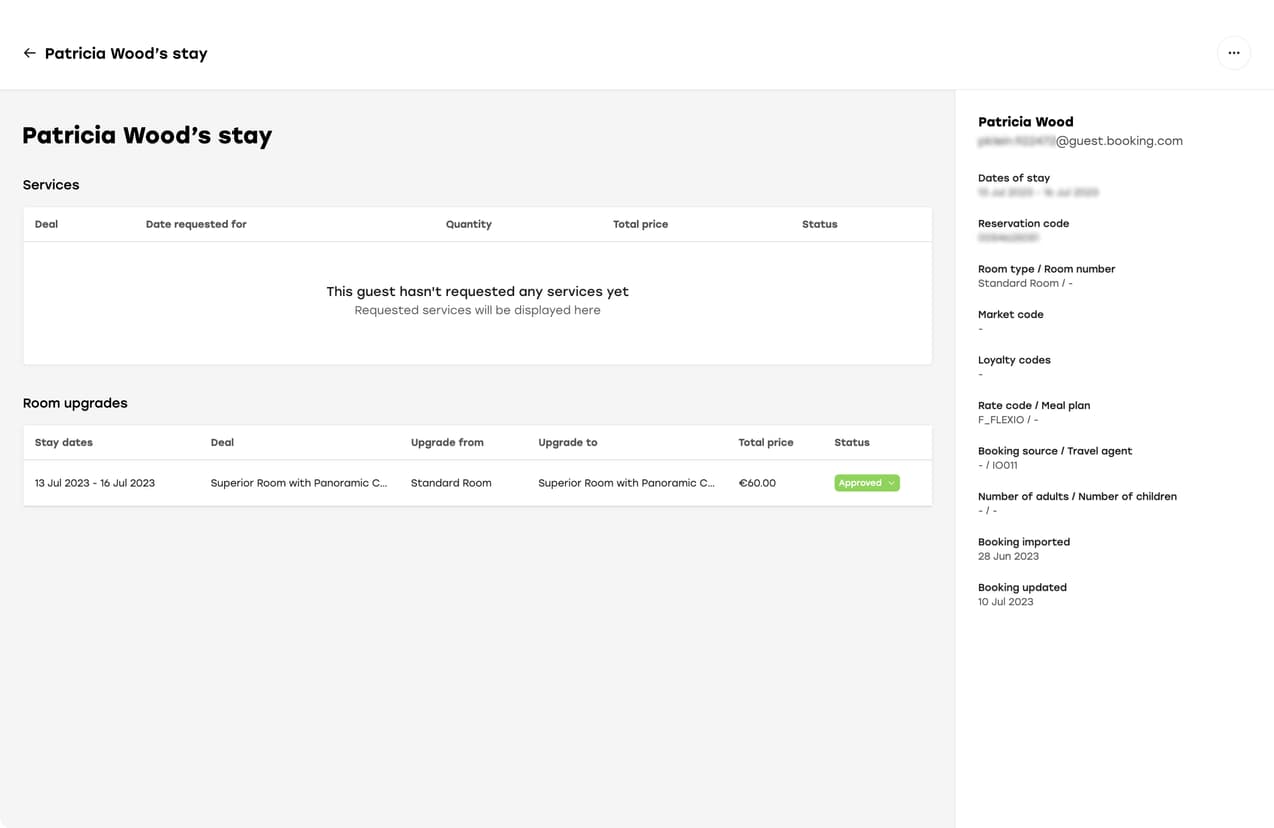 Want to stay updated on the latest Oaky news and advancements? Sign up for our newsletter to stay in the loop.