Oaky and IDeaS team up to bring revenue science to your upselling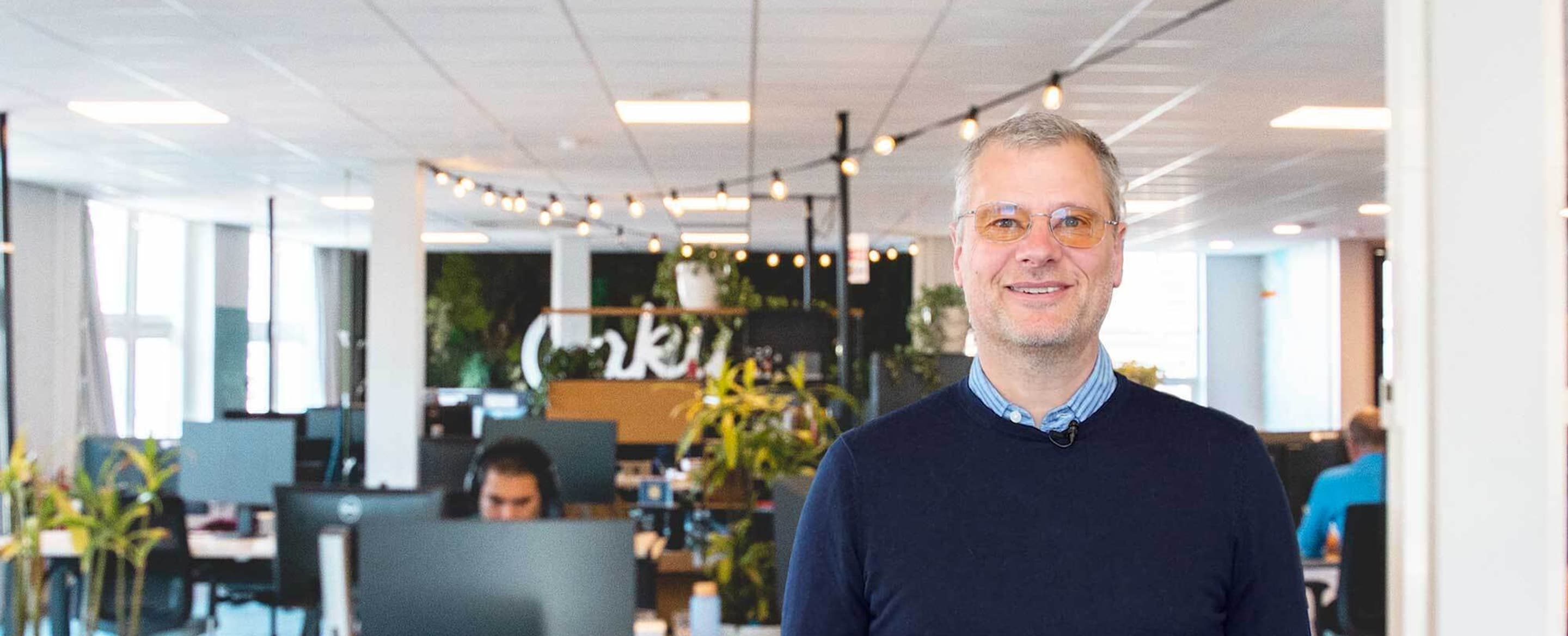 We're elated to announce our brand-new integration and the expansion of our partnership with IDeaS, the leading revenue management solution for hotels. This new foolproof integration will let you ramp up your ADR and RevPAR while saving you time and reducing the workload for your busy team. Continue reading to discover how!

How can you benefit from IDeaS and Oaky integration?
Oaky is on a mission to help hoteliers uncover untapped revenue opportunities through personalised and automated upselling. The integration with IDeaS reinforces the revenue-generating potential of upselling by enabling you to improve pricing precision for your room upgrades through dynamic pricing. Let's delve into the advantages this integration can unlock for you and your guests:
1. Boost upgrade revenue

Data-driven dynamic pricing is a tried and tested method of increasing revenue. By utilising this method for your room upgrades, you can set up your revenue management strategy for ultimate financial success. Our integration will enable you to apply the best possible rates, based on real-time market and demand fluctuations. The best part? You won't need to manually analyse mountains of data!
This means that you can avoid underpricing your offerings and, hence, leaving money on the table. Instead, you can ensure that your rates are both appealing to your guests and contribute to your profitability.
As per our data, dynamically priced room upgrade offerings can lead to a 35% increase in upgrade conversion rate and revenue without creating any extra work for your team.
Hotels that have implemented the integration already see tangible benefits of truly dynamic rates. No matter the season or day of the week, it helps you achieve desired outcomes more effectively:

High-demand days: The integration lets you maximise your revenue when your hotel is thriving with bookings, and you don't want to miss the opportunity to make the most out of soaring demand.

Low-demand days: It is also highly effective for slower times with less demand for certain room types. Powered by data analysis, your prices are adjusted for higher conversion rates and increased revenue from upselling. Why let your best rooms remain vacant when guests are willing to spend more?
2. Generate more returns with minimal effort
As the IDeaS algorithm does all the legwork for you by analysing crucial price-influencing factors and setting the most optimal room and room upgrade rates, you can just set it and forget it. This allows you to focus on other important aspects of your business, knowing that your pricing strategy is taken care of.
Moreover, Oaky ensures that your personalised and optimally priced room upgrades are presented to your guests at the right time of the guest journey. It all happens in a hands-off way, saving you and your team time and removing the hassle of revenue management and upselling processes.

3. Delight your guests by offering the best value for money
Dynamic pricing and personalisation are a perfect combination to increase your guest satisfaction. Since, with dynamic pricing, you can adjust your rates based on demand, season, and upcoming events in the area, you can offer better value to your guests.
This can result in lower prices during the off-peak season which can help guests get the best value for their stay (and boost your occupancy rate!). Personalisation and relevance of suggested room upgrades make guests feel more valued. For example, if a guest frequently stays in a certain room type, the hotel can offer them an upgrade at check-in.
On top of it, Oaky will display available room upgrades to guests depending on your PMS integration. If you're connected via two-way integration, you don't have to worry about outdated inventory or rejected room upgrades, as your inventory will be automatically updated in your Oaky as well.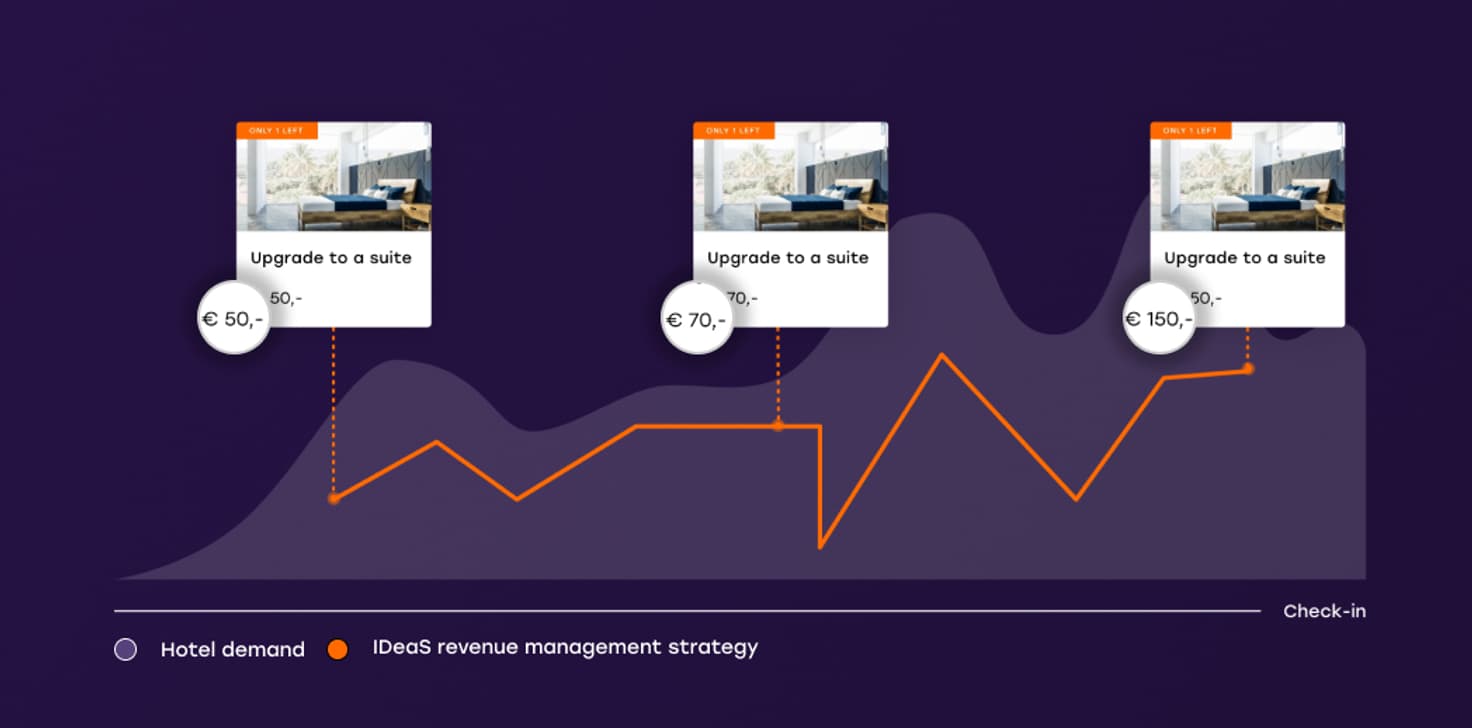 Oaky will add labels showing how many rooms of a specific category are left to a guest, so they can book their preferred rooms while they are still available. All of these contribute to a positive guest experience.
All in all, the Oaky & IDeaS integration creates a more seamless experience for guests, facilitating guest loyalty and repeat business in the future.

How does the Oaky & IDeaS integration work?
✔️ Decide which rate codes Oaky should pull from IDeaS.
✔️ Guests automatically receive room upgrade offers at the optimal price via Oaky.
✔️ Oaky pulls data from IDeaS every time the guest loads or refreshes the Oaky landing page.

With this integration, there're two ways how you can approach your room upgrade pricing management:
Align it with your revenue management strategy — By following this approach, Oaky will pull your best available rate (BAR) from IDeaS, meaning that your room upgrade rates will be based on the room rates that you apply when selling rooms.

Set up a unique strategy for your upselling — You can unlink your room upgrade rates from your regular dynamic room rates and come up with a completely new strategy for upselling, maximising your earnings.
How can I enable the integration?
Ready to take your guests' upselling experience to the next level and boost your revenue? Request this integration now!
All you need to do is reach out to your customer success manager and ask them to enable the integration. If you're new to Oaky and want to see it in action, book a demo with one of our upselling experts and discover how Oaky can help your business thrive.
We can't wait for you to go live with Oaky and share your success stories with us!
Learn more about the integration