Building a hotel revenue strategy with rate optimisation
Marieke Wisse •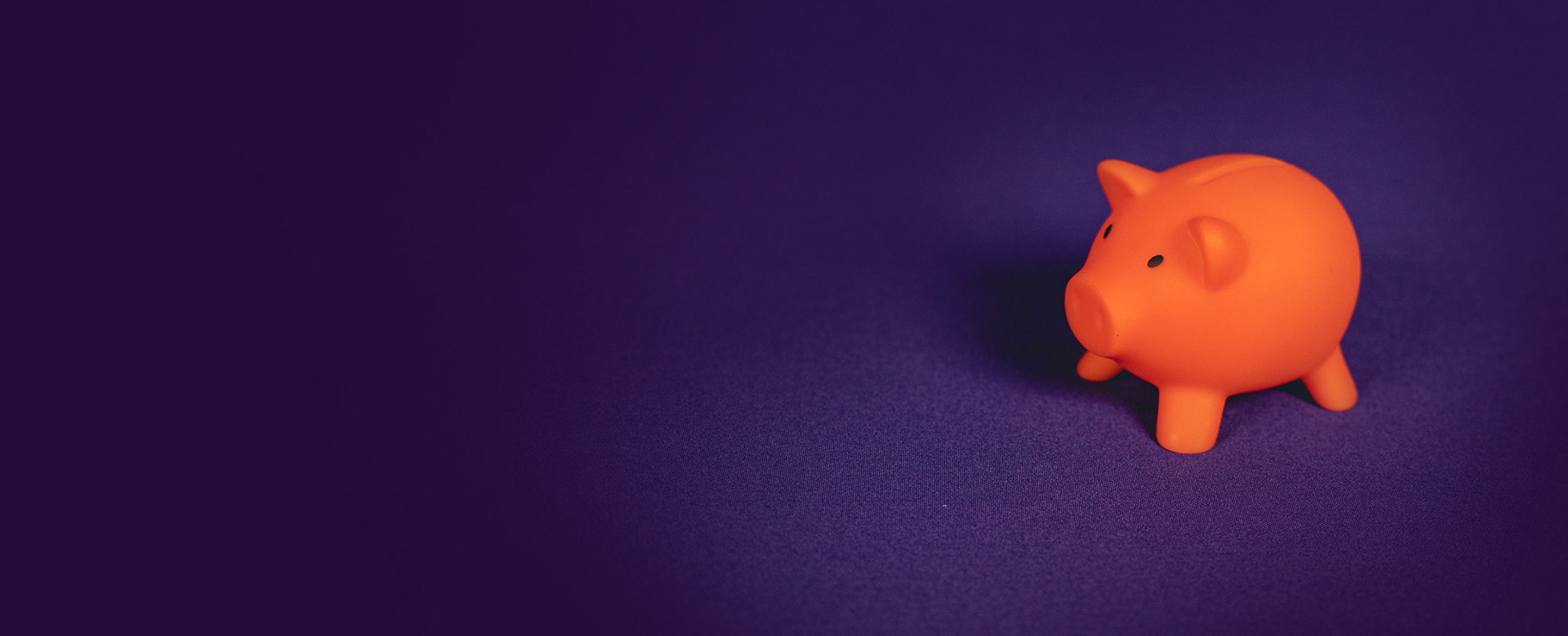 A strong revenue management strategy which allows you to secure market share and maximise average spend is the key to success in this time of slowly growing demand.
To help you create such a strategy for your hotel, the experts from Oaky, a pre-arrival upselling platform, and Atomize, an automated RMS, have put together an overview of what to consider, so you can take advantage of markets picking up from the very start.

First signs of recovery – get ready for demand to pick up again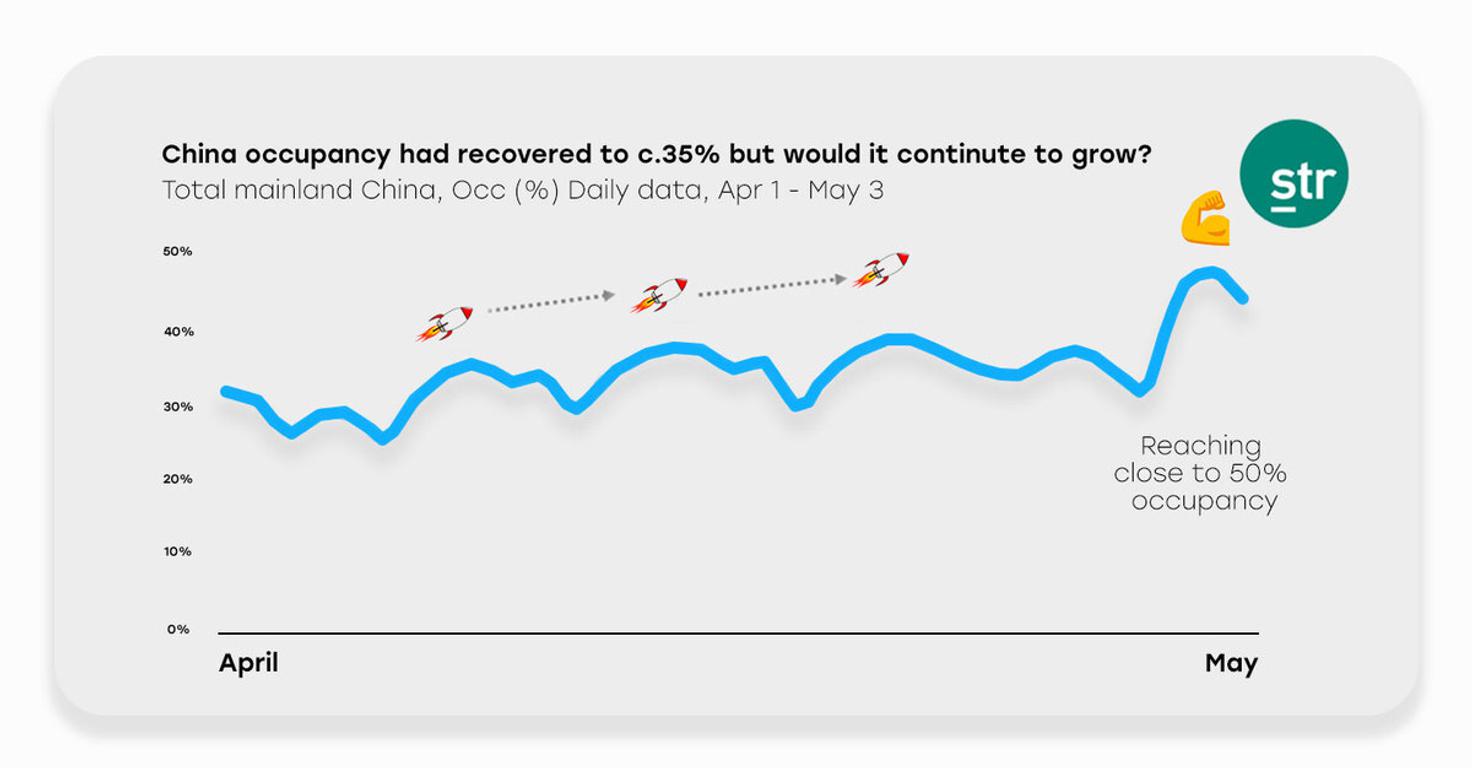 Now that travel restrictions are easing within countries around Europe, we can hope to see the same lift in demand and occupancy rates there too. However, with restrictions still in place on long-distance travel, many people will likely travel closer to home in the beginning, both to avoid perceived risks and hassle.
Overall, fewer restrictions and a desire to leave memories of the lockdown behind will result in a steady uptake in demand you need to get your property ready for.
Optimising your revenue strategy post COVID-19
Hotels were hard-hit during the crisis and the challenging times aren't over yet. As the trends outlined above show, demand will return slowly.
Now, the key is to make the most of the recovery period by capturing market share and maximising average spend at your property.
Boost bookings and revenue through rate optimization
The one thing you can be sure of, is that demand shifts will be even less predictable now than in the past because historical booking patterns have gone out the window.
This means that monitoring markets will be more important than ever, so you can stay in line with your competition and avoid outpricing yourself.
Start by staying on top of compset pricing and changes in demand during the recovery period. That allows you to always offer the optimal rates and secure bookings in a time when everyone is fighting for business.
Since this takes a lot of time, you may be wondering how to manage that, especially if you are working with a smaller team now.
The answer is to use an RMS (revenue management system) and leverage the latest in hotel technology to save time and get a competitive advantage.
Once you've implemented an RMS, you can easily:
Leverage data on compset rate changes and demand shifts in your market
Optimize prices 24/7/365, whenever demand changes
Save time and effort on market and competitor research
Sounds like quite the package, right?
To give you an idea of what you'd be working with, here's an example of an RMS dashboard complete with price change suggestions and key property data: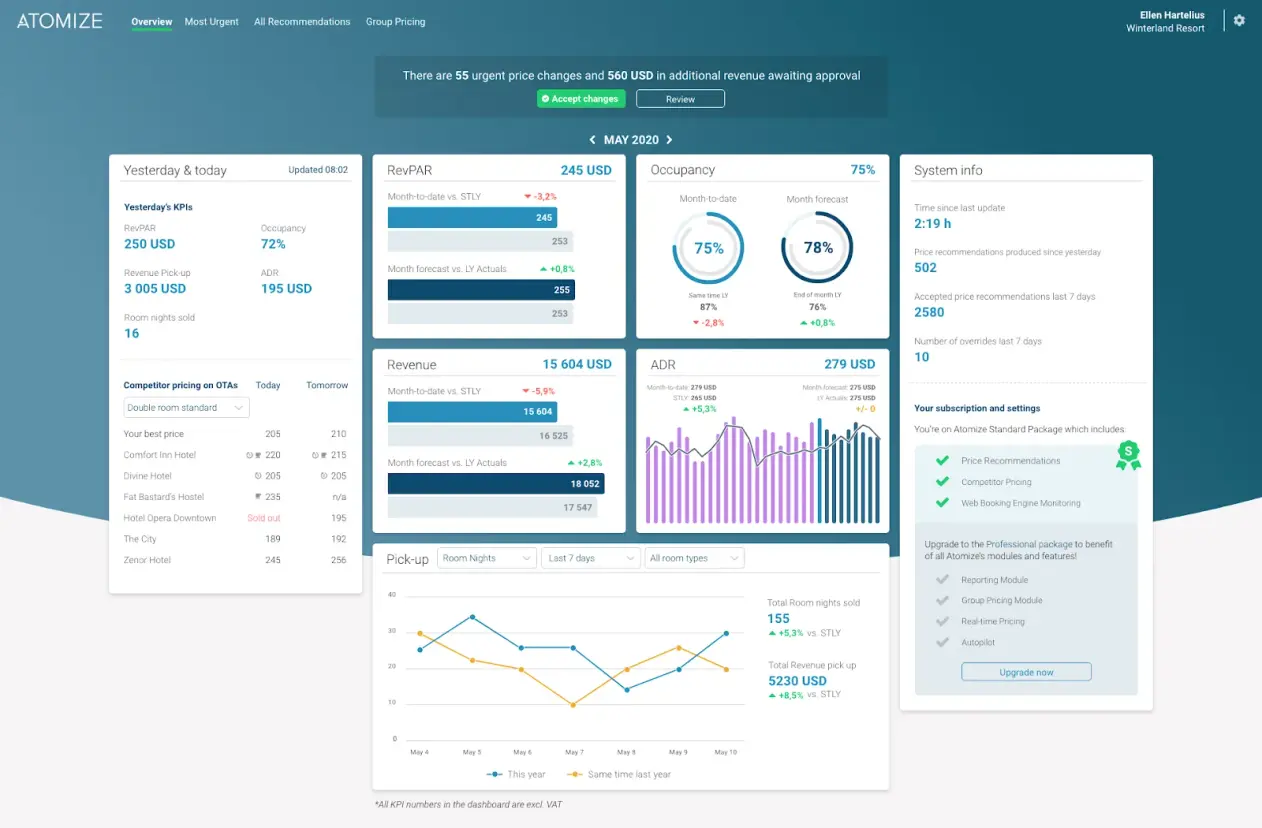 Atomize RMS' Dashboard
Once you have an RMS doing the legwork for you, you save hours of valuable time and are free to do what matters most right now: focus on developing an optimised revenue management strategy for the current situation.
That way you can avoid the pitfall of pointless discounting that sabotages your rates and follow a strategic, data-driven pricing approach instead.
Using an RMS like Atomize would be a great way to take it a step further and get ahead of the game. Its fully automatic pricing setting allows the system to update your rates for you whenever necessary to ensure you take advantage of even the smallest developments and secure more business at the best rates this market allows.
Some may question how well an automated RMS can perform during a time when historical data is not representative for predicting the future during the current unprecedented market conditions. This is why data collected during COVID-19 is flagged and will not be used as a foundation for long-term forecasts. Instead, Atomize believes that relying on live KPIs during this period is more important to respond to unpredicted and short-notice market changes during recovery.
It's key to be able to input tailored pricing strategy policies that correlate with your rate strategy to ensure the prices set by the system reflect your brand positioning. Relying on a real-time automated RMS will save you time and allow you to have all hands on deck 24/7 during this period.
Increase average spend and customer experience through upselling
Low demand will lead to lower-than-usual occupancy at your property. To maximise revenue and ensure your guests have the best time possible, use upselling and cross-selling techniques as part of your optimised post-crisis revenue strategy.
Why should you start upselling and cross-selling now?
Because:
To lift the average spend per guest
To give your guests the opportunity to tailor their 'revenge travel' with personalised deals and offers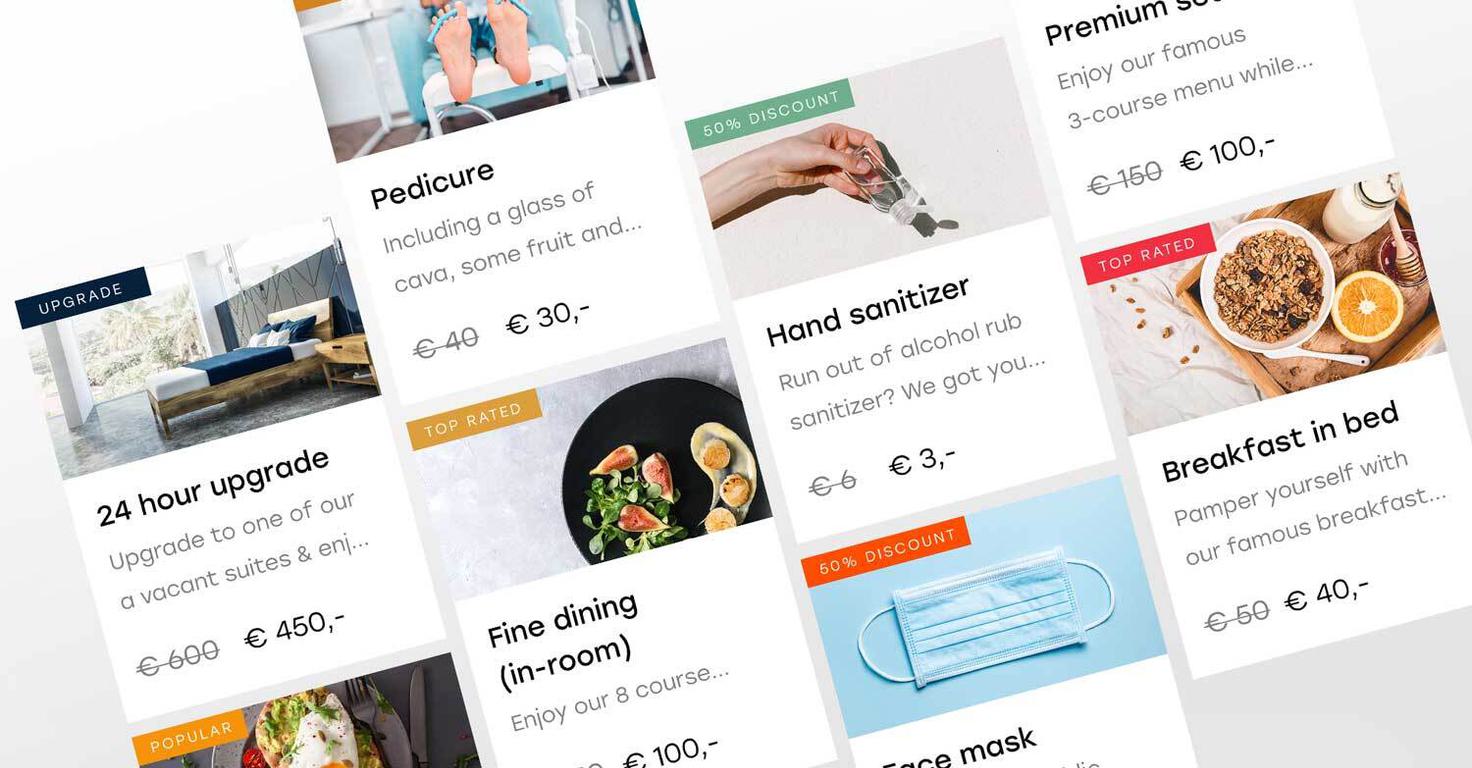 Promoting extras to guests during check-in is a good start. For example, you can offer a room in a higher category or suggest your new in-room dining package which offers better value than a spur of the moment order.
This approach will get you some results, but it will cost your team a lot of time for a low ROI. Also, the new demand for contactless check-in takes away the opportunity to upsell in person when guests arrive.
Upselling via an automated upselling platform like Oaky is a much more effective and efficient way to upsell and promote services, special offers and unique deals. Now, instead of having to pitch to your guests during check-in and putting them on the spot, you can let the system send out pre-arrival emails automatically, give people a chance to decide which offers they want to book and allow staff enough time to prepare everything a guest requested.
Apart from saving you time and energy, using an upselling system has a few other important benefits including:
Boosting ancillary revenue by promoting in-house F&B offers and other on-site services
Reaching all guests (booking direct and via OTAs) with personalized, ideally timed pre-arrival emails
Using segmentation to promote targeted offers and increase conversions
Letting guests create a tailored stay on their terms
Tracking and optimising your upselling revenue
Bring all this together and you'll see how automated upselling is not a pushy sales technique but the ideal way to make sure your guests have a fantastic stay and generate ancillary revenue at the same time.
See how using an automated RMS and a modern upselling platform complement each other? The RMS helps you set rates that attract guests and upselling lets you maximise revenue from every booking all while boosting guest satisfaction.
No wonder these two elements play a big part in an optimised revenue management strategy, right?
To help you form the appropriate strategy for your property, the teams at Oaky, the industry's top pre-arrival upselling platform, and Atomize, the world's first fully automated RMS, have put together a comprehensive Revenue Optimization Guide for you, for free.
Head over here to get your copy now and find out how to take your hotel through these rough times with the least stress and the best results possible.
eBook
Revenue Optimisation Guide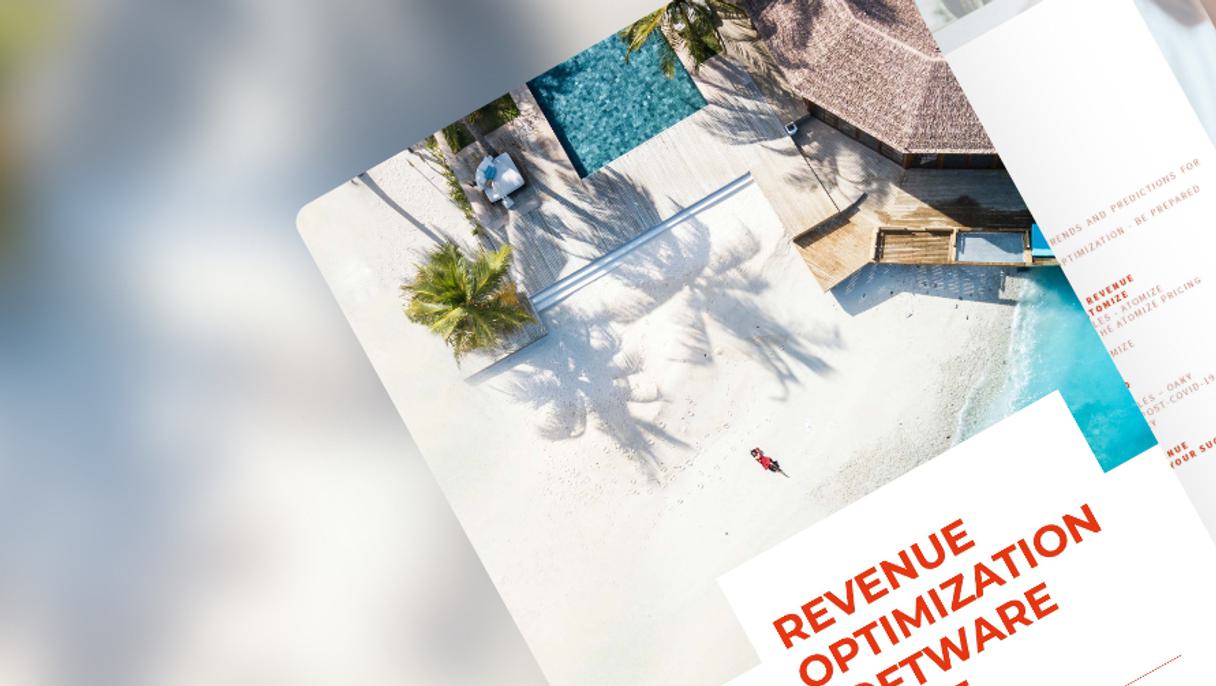 Revenue Optimisation Guide