5 ways to optimise your room upgrade strategy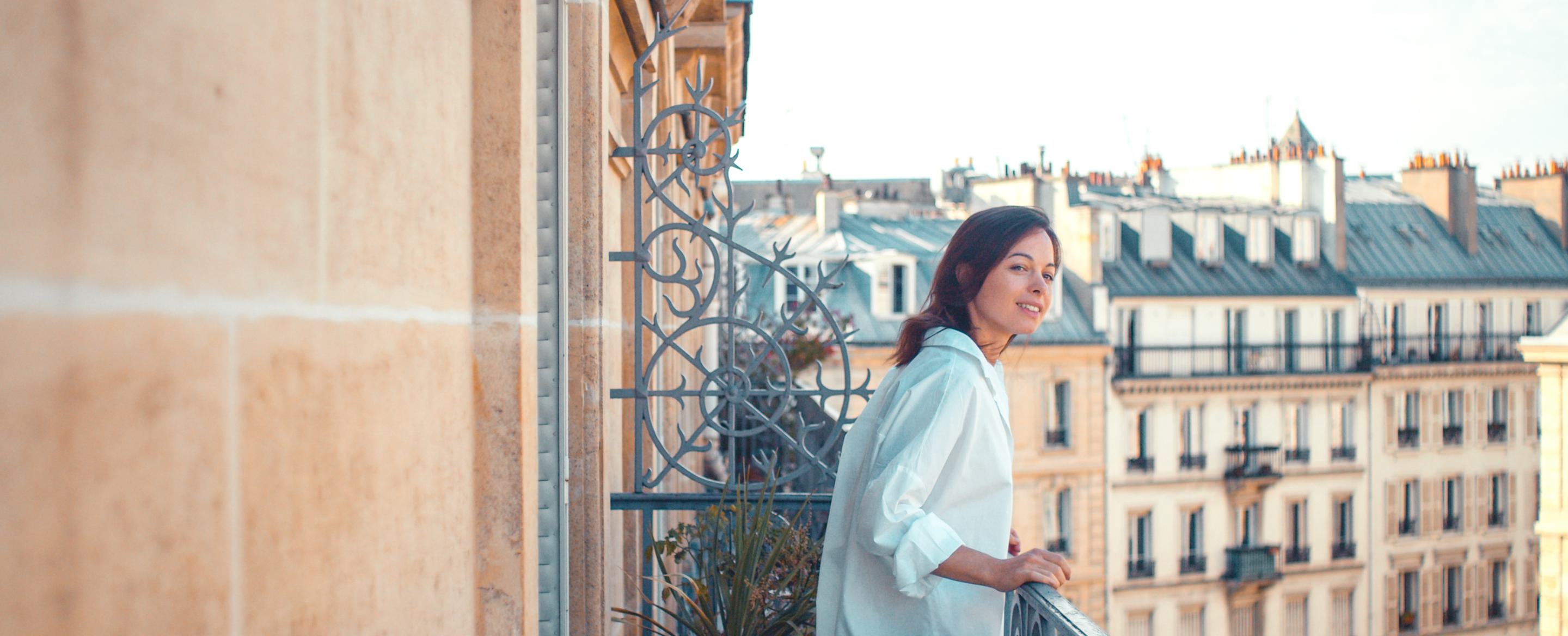 Take the manual work out of optimising the upselling of your room upgrades and focus on perfecting your communication.
Spreadsheet
Calculator: missed revenue from free upgrades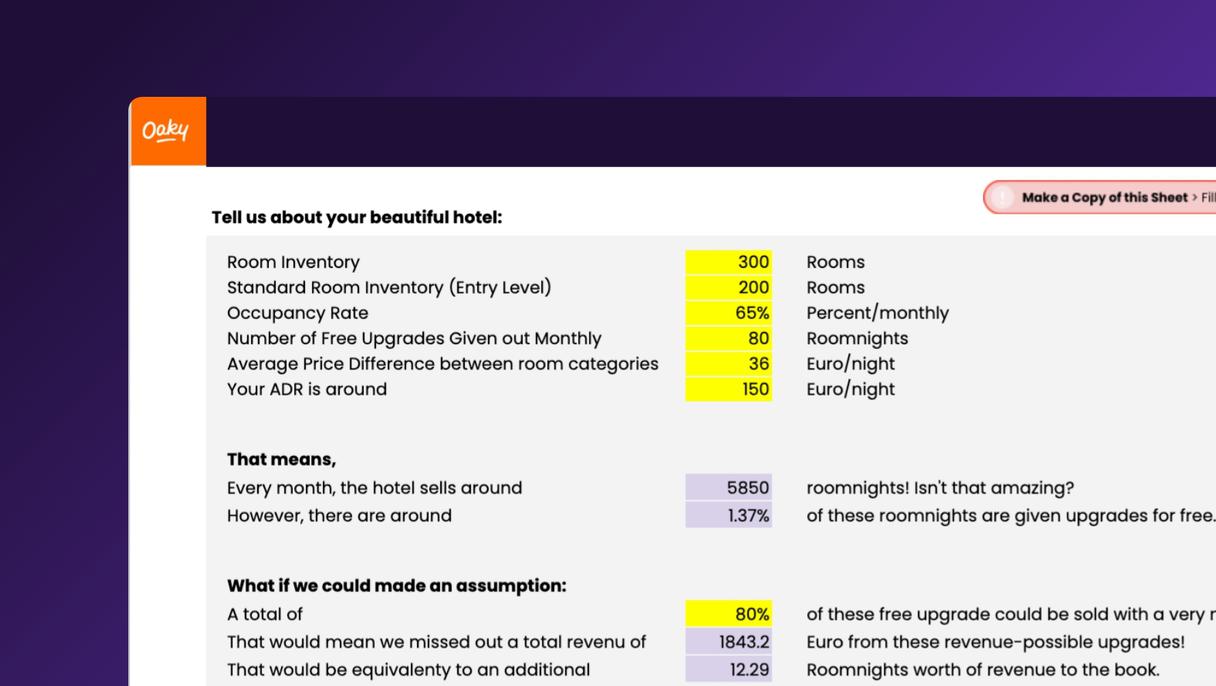 Calculator: missed revenue from free upgrades
Room upgrades have always been an important part of a well-rounded upselling programme, but now you can spend less time manually adjusting your supplement rates and more time optimising your room upgrade conversions! Read on for 5 ways to get the most out your room upgrades in general, including with our exciting new feature.
1. Dynamic pricing for room upgrades
You are likely already using dynamic pricing for rooms. Now it's time to apply that same model to upselling room upgrades to guests. The beautiful things is, it doesn't actually require any manual work!
There's proof in the pudding. The Park Plaza Westminster Bridge piloted this new feature and saw a 17% increase in spend per upgraded night and a 20% increase in total upsell revenue. Think about what that must have done for their ADR (average daily rate) and their RevPAR (revenue per available room)!
A high-level overview of how dynamic pricing for room upgrades works with the Oaky and OTA Insight integration
2. Offer creative room categories you can upsell
If your hotel 'only' uses common categories such as 'standard', 'superior', 'junior suite' etc. it might be time to mix things up a bit. Give yourself more chances to upsell with creative room categories.
You can do this without huge renovations or investment but by offering a few additional perks and amenities in existing room categories. Some examples to get you going:
The 'Remote Work Room' - a room with a spacious comfortable workspace, unlimited coffee and tea refills for the in-room machine, a daily healthy snack pack plus anything else to make working remotely easier and more convenient.
The 'Cinephile Room' - a room/suite with a home theatre set-up. Here guests can enjoy the latest blockbusters on a large screen in the privacy and comfort of their hotel. Of course, popcorn, nachos or other movie snacks can be included too.
The 'Spa Room' - a room decked out with some of your spa's top products instead of the usual amenities, a healthy snack served at the guest's convenience and an in-room treatment.
3. Differentiate rooms depending on their features
Guests have different needs and preferences that you can address in your upsells. If you have several rooms in one category with slightly different features, leverage this for upgrade options. Look at your rooms through the eyes of your various guest profiles and imagine scenarios they might encounter. You are probably already catering to these needs, but highlighting them could make all the difference between a decision made or abandoned. Classic examples of features you can upsell:
High/low floor rooms
Varying views (city, lake, mountains…)
Connecting vs. not connecting rooms
The Park Regis Business Bay Hotel Dubai has mastered this. Check out how they offer three upgrade options for their deluxe rooms below.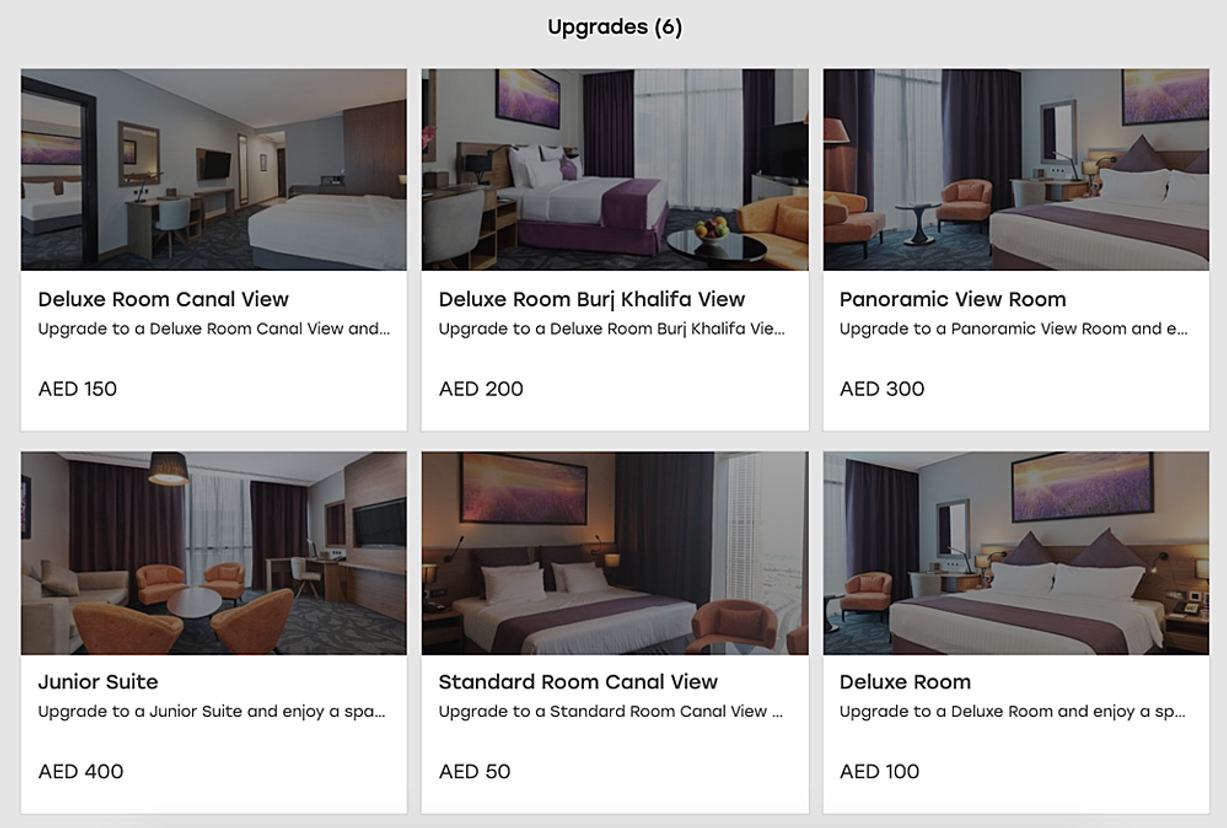 Upgrades of The Park Regis Business Bay Hotel Dubai
Guests have new priorities post-lockdown.
Your guest's holiday or business trip represents a precious break from the drudgery of lockdown or work from home life experienced by many these days. Because of this, your guests will likely appreciate certain attributes of a room more than ever before. Take advantage of these new trends and upsell rooms with:
Outside space like a balcony or terrace
Extra space to work
Space for children to play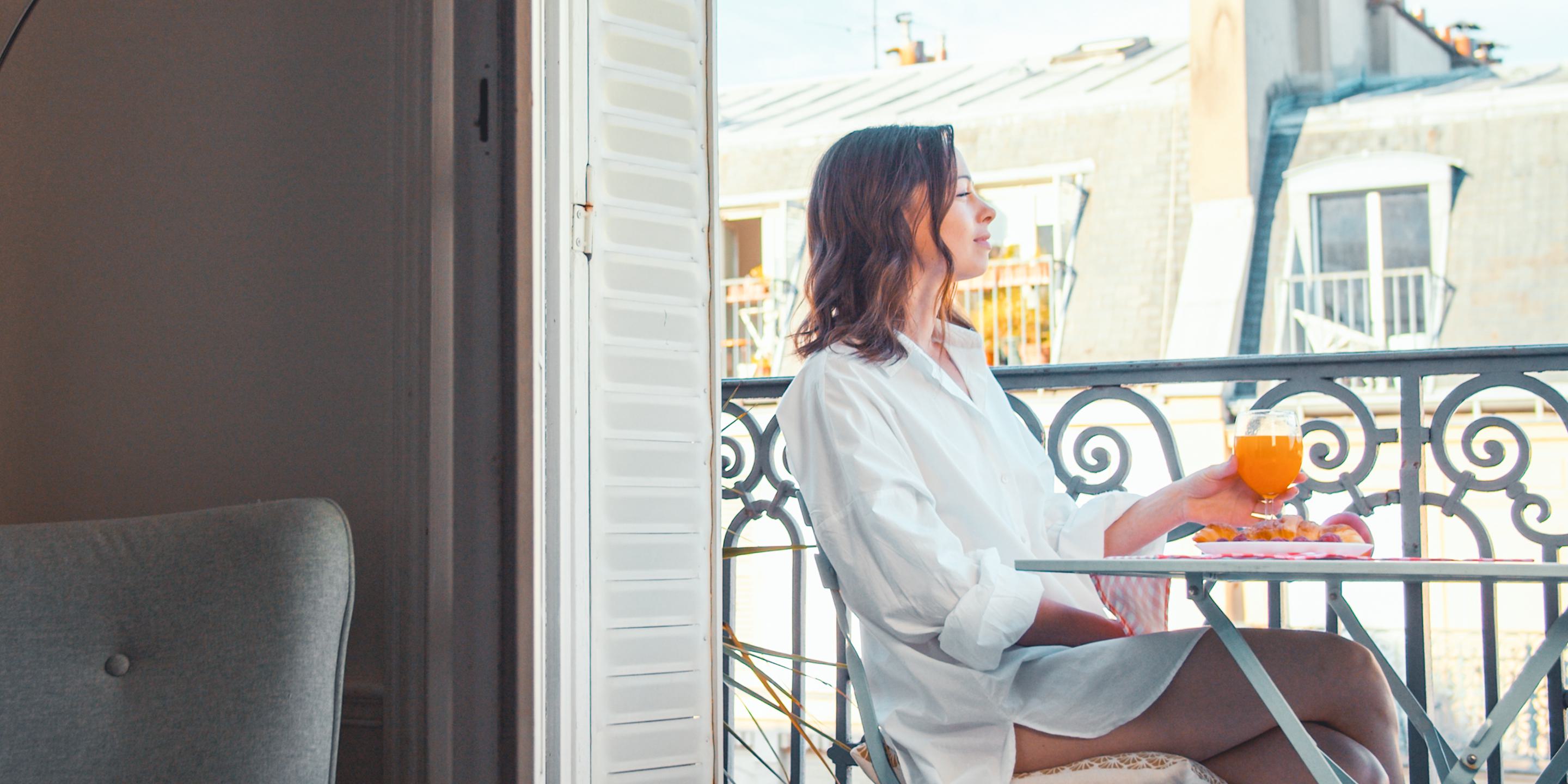 4. Make your offer near impossible to refuse
Even the best upgrade won't sell itself. Follow the four points below to ensure your offers captivate and convince your guests.
Emphasise specific advantages of the upgrade and key attributes of the room
Spell out how the upgrade provides value and what makes it a good deal
Use descriptions to take the guest on an emotional journey. Conjure idyllic situations, excite them, and trigger their imagination.
Put the problem your upgrade solves in the title. For example: "Need more space? Upgrade to our deluxe room!"
One of our partners upsells their most exclusive suites using descriptive phrases like:
"Bask in the breathtaking and unbeatable panoramic view". A statement that evokes emotion and the guest's visual imagination – highlighting that this suite is the best the hotel has to offer.
"An ideal upgrade for guests who value space and sophistication, yet want a warm and relaxing place to unwind in". A statement that reminds guests of what a stay at an exclusive hotel should feel like.
"The room also boasts a whirlpool bath in a spacious bathroom among other amenities that will help you to relax". A mention of amenities to help the guests picture the room and the situations in which they'll make use of them.
"Tip: Order a bottle of bubbles and flowers in the room to make your stay extra romantic". An upsell to round off the upsell and add a theatrical finish to the emotional journey.
Eye on Ramada Jumeirah Hotel
The Ramada Jumeirah Hotel in Dubai encourages guests to upgrade to the deluxe suite with the following text.
"The Deluxe Suite is perfect for the discerning traveller who is looking for an extravagance of space for their friends or family. The 65 m² room offers you a guest room with its own bathroom that spoils you with a bathtub and a rain shower and all other modern amenities that you will need to have a peaceful and relaxing stay in Dubai.Tip: Most guests also opt for the Dinner or Spa package along with this upgrade."
What this text does well:
It outlines exactly who this upgrade is for (the discerning traveller)
Details highlight the key benefit (extra space)
The final tip employs nudge theory by emphasising social norms. Guests are more likely to opt in for something if they know others in a similar situation have too.
5. Showcase your rooms from all angles
Multiply opportunities for upselling and let's-book-it moments by featuring several images in your room upgrade offers. Having several photos of each room upgrade on your Oaky or wherever you display upgrade options gives guests knowledge they can trust.
Especially if you're adopting an attribute-based selling approach, nothing will emphasise the selling points of a room more than a professional, well-lit image!
Research shows that attractive, emotion-provoking room views should be prioritised in your image gallery, followed by simple, uncluttered images of the room itself.
Another study concluded that at least four room images plus one bathroom image is optimal in convincing guests to book or upgrade a room.
Good lighting and room presentation is essential. See this Image Gallery Checklist for some handy tips on setting up your shots.
How have these upselling examples and creative upselling techniques inspired you?
Reach out to us now and let us know, or hit us with your toughest questions about creative ways to inspire your hotel guests. We're always happy to help!