Maximising total revenue with a hyper-personalised guest upsell journey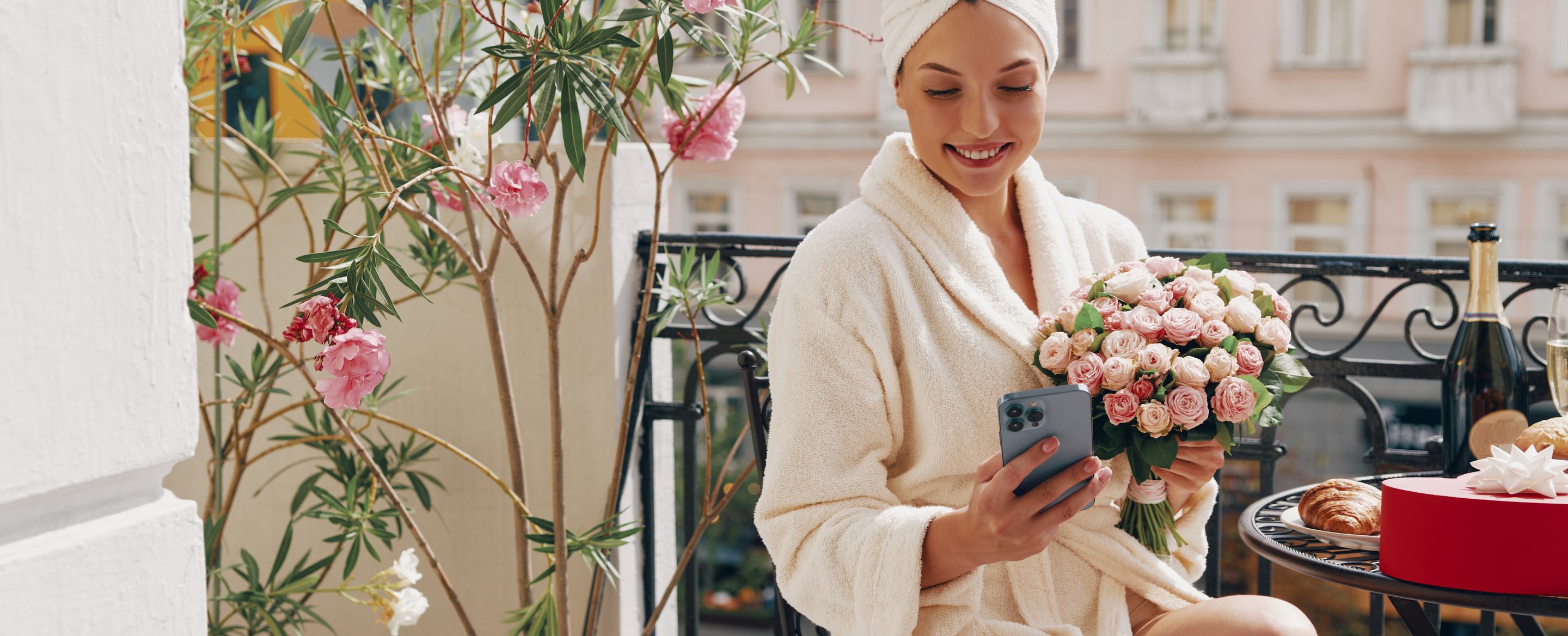 Hoteliers all around the world are becoming more focused on total revenue. While that's good, hotels won't be able to optimise their total revenue per available room (TRevPAR) unless they find a way to let their guests buy what they need from the hotel.
We need to fix this now.
Every day we don't, Oaky data shows that we're losing out on up to 15% of guests who would've wanted to enhance their stay but couldn't. What's more, by not fixing it, between 3% and 5% of TRevPAR is also lost.
The good news is that there's a straightforward solution: creating a hyper-personalised guest upselling journey.
The art of upselling - Being relevant without being intrusive
Traditionally, the act of upselling has carried a negative connotation, often associated with a mere pursuit of profit.
However, hotel upselling has shifted dramatically. It has evolved into a sophisticated approach to enhance the guest experience. When done right, it can seamlessly extend the offline experience at the property to the online digital journey.
This way, hotels can create more exceptional moments that visitors can enjoy during their stay. The result — a more holistic and immersive journey.
The essence of upselling, though, lies in its finesse. To be successful, you need to provide valuable offerings without encroaching upon the guest's experience.
Step 1: Right deal, right guest
At its core, upselling demands an understanding of the guests' desires and needs. It calls for an exploration of what truly resonates with them.
For any hotel, regardless of guest segmentation, identifying these fundamental needs is paramount.
This marks the initial step in the art of upselling – acknowledging and addressing the inherent desires of guests mixed with what your hotel wants to offer, of course.
The latter here is important - what your hotel wants to offer. The most successful hotels bring together the department leads of Rooms, F&B, Housekeeping, Revenue Management, and Operations to brainstorm what to offer and to whom.
As such, upselling is not only about addressing the needs of the guest - but also a way for hotels to differentiate as a means to attract new segments.
Pere Estela, Global Ancillary Director at Iberostar, explains in the podcast Lowkey by Oaky:
"We first look at how we want to position our properties, and then design ancillary services to match the needs of guest segments that we want to attract".
Every individual traveller, regardless of their segment, has certain needs during their stay. Transportation, dining options, and personalised experiences are just three examples.
That said, it doesn't stop there.
Diversity thrives within hotel segments. Each segment has distinctive preferences and priorities.
For example, business travellers have distinct needs like transportation, meeting facilities, and onsite laundry. Leisure seekers, on the other hand, seek other things. It will be less practical and more orientated towards pampering themselves.
Loyalty program members, different booking channels, length of stay, family trips, or romantic couple getaways – all these factors contribute to a complex matrix of guest needs.
It's this intricate web that makes upselling so interesting. Plus, when a hotel nails it, that hotel truly stands out from the competition, setting itself up to enjoy significant gains in incremental revenue.
Step 2: Right deal, right guest, right price
After you've matched the needs of your target segments with what your hotel has and wants to offer, we move to the actual offering.
Human beings have an attention span shorter than that of a goldfish, so you want to ensure that your offering is succinct and to the point. You want to grab the guest's attention and create a buying decision all within 8 seconds.
Essential in doing that is having a great price. From the guest's perspective, the price must make sense.
How do you get that right? The best practice is to align your pricing with your revenue management strategy. Set up personalised prices on a per-segment basis, e.g. per rate code, and have them dynamically follow your revenue management strategy. This way, if your demand goes up - your prices will increase, and conversely, during low demand, your prices will drop.
The strategy of dynamically pricing room upgrades and deals like early check-in and late check-out works wonders, yielding 35% more revenue compared to static pricing.
Another exciting and widely underutilised opportunity is behavioural pricing (check out this book). Adults make 35,000 decisions every day. Because it's not possible to make so many decisions using the active brain, we subconsciously make many decisions on autopilot. This makes us susceptible to delicate tricks like decoy effect or anchoring - two strategies that have been used by marketers to sway decision-making for decades.
Cultural differences also play a role in pricing perception. Price endings with '9', or so-called threshold prices, appear much more frequently in low-context cultures such as Germany, Scandinavia, and America. On the other hand, price endings of '0' predominate in high-context cultures such as China, Africa, and Arab countries.
Step 3: Right deal, right guest, right price, right moment
Opportunities to personalise upselling surface at multiple touchpoints: during booking, pre-arrival, check-in, and throughout the stay. Each juncture demands an astute understanding of when and how to present offerings, drawing from industry best practices and tailored strategies.
Offering the right deal at the right touchpoint, at the right time of day and even on the right channel (offline at the front desk, online by email, SMS, WhatsApp, etc.) all play a big role in maximising conversion rates.
Making things more complex, hotel guests in the UAE prefer WhatsApp, and Chinese travellers - WeChat, while the majority of US and European travellers still convert well using E-mail.
Here lies the crux of meaningful upselling. It requires a delicate balance between relevance and unobtrusiveness.
When you strike this right balance, the common misconception that upselling can be considered as spamming your guests isn't an issue. Instead, it will be viewed as the hotel adding value.
Therefore, the key is not a singular instance of upselling. It should rather be approached as a continual integration throughout the customer journey.
The role of AI in hyper-personalisation
While all of this may seem challenging, in the era of (generative) AI, there are many use cases that will help hotels deliver on hyper-personalisation:
Content can be created and translated using generative AI.
Segmented upselling on a group basis can become automated segmentation of one.
AI can generate personalised offers based on historically successful upsells, learn, and get better for every upsell.
In summary
The paradigm of upselling has matured into an intricate dance between guest desires and strategic offerings. This synergy forms the bedrock of an enriched guest experience, fostering memorable moments that add a sense of value.
Successful upselling occurs discreetly. Each offer should seamlessly enhance the guest's experience. By proactively addressing their needs, it transforms into a facilitator of convenience and satisfaction.
Convenience for hotels, too. It can save two to three hours daily from mundane tasks through automation. This frees up resources for more impactful work.
In a future where it's key that personalisation meets discretion, the art of upselling emerges as a strategic tool with profound implications. It elevates guest satisfaction and loyalty while, at the same time, turning missed opportunities into new revenue streams.