Segmentation: the first step to a personalised guest experience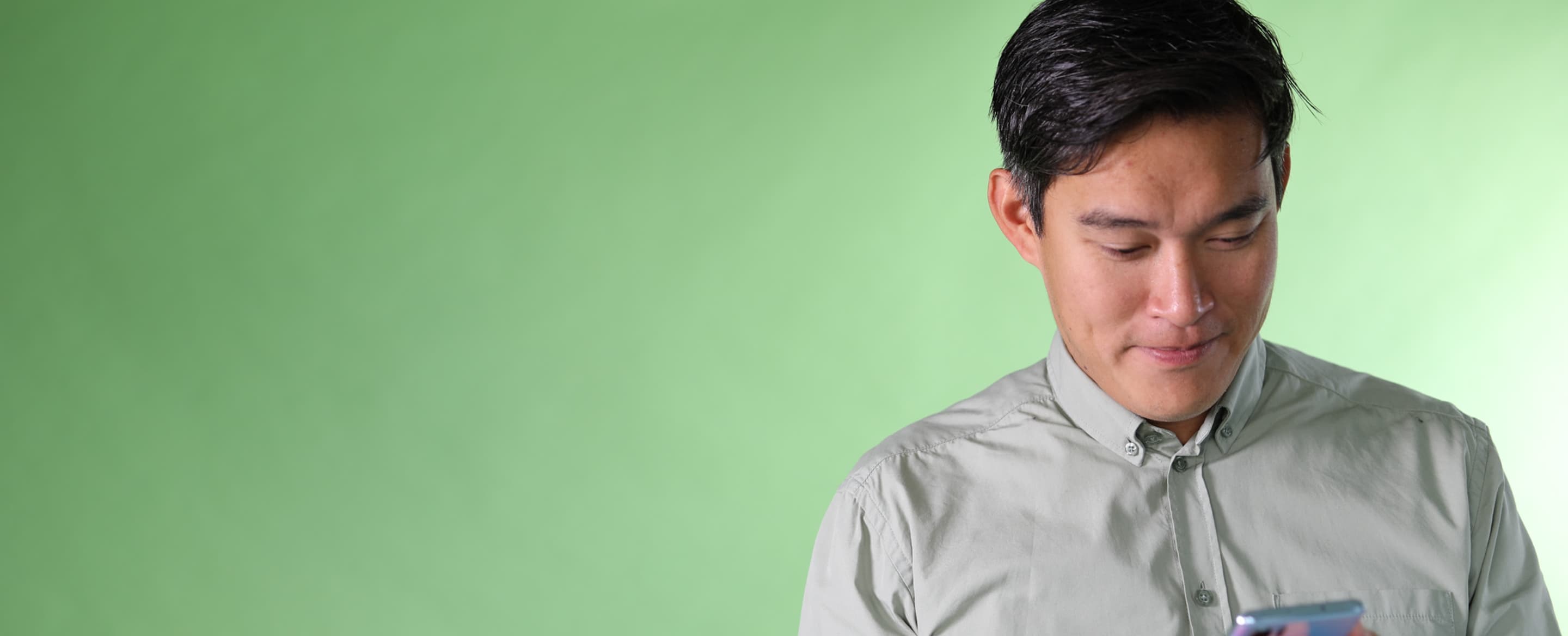 In this article, we'll look at how hotels can use segmentation to categorise guests depending on how and when they booked, how long they are staying and whether they are travelling alone or with a partner.
Segmentation: one hotel, many guests, countless possibilities
A set of well-defined guest segment gives hotels several ways to capitalize on the different types of guests a hotel attracts, by making it easier for them to send the right offer to the right guest. For example, if you keep sending business guests irrelevant leisure offers or couples' packages to a single person, they might feel undervalued or unappreciated. To avoid such a faux-pas and make sure hotels send only relevant offers, they should strongly consider segmenting their guests.
Why hotel segmentation is critical for your revenue strategy? Understanding your guests' background and their reason for booking gives you an idea of their needs and what they might be looking for during their stay with you. In short, it helps you identify guests' behaviour and consumption trends. This opens up the unique chance for a hotel to propose additional services and discount offers highly relevant to their guests. That way they can make their stay a memorable experience all while the hotel can generate incremental revenue through the increased conversion of upselling offers – we see this as a win-win situation.
Individualized offers have another advantage: they show guests that their needs have been considered by you and will most certainly make them feel appreciated. And since your guests can customize their stay exactly the way they want to, they'll have a more memorable, enjoyable experience, be more likely to come back and spread positive word of mouth.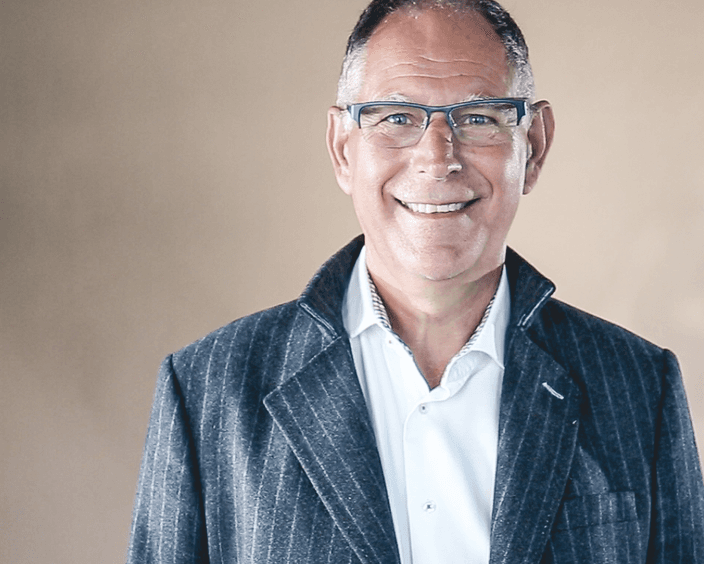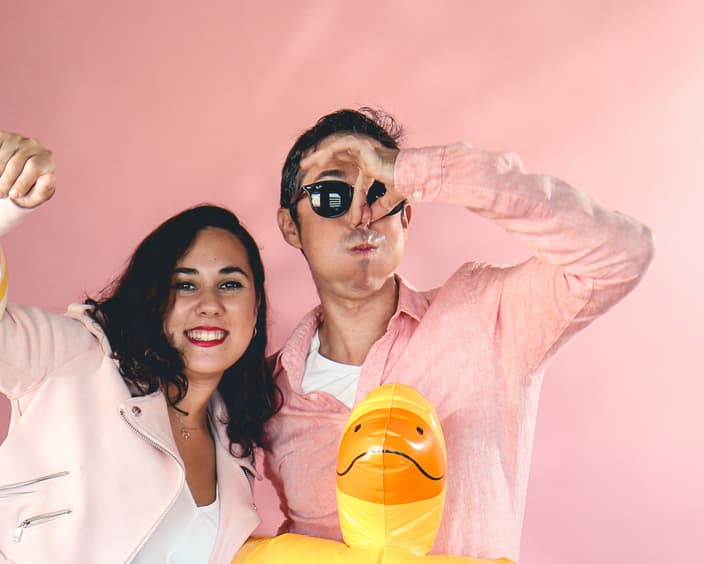 Ideas for refining basic segments
Most hoteliers are familiar with basic segments such as group vs. individual travellers, online vs. direct, business vs. leisure (or even Bleisure) or contracted vs. non-contracted rates. But it doesn't stop there – hotels can further break down these segments if they see different behaviours represented within them.
Here are some ideas for how you can further divide basic hotel guest segments:
Check-in day (weekday vs. weekend): for weekenders your special brunch deal might be interesting. Guests staying during the week might be keener on an offer for a fancy dinner which could help fill up your restaurant on slow days.
Length of stay (short vs. long): the longer guests stay, the more time they have to test the hotel's facilities and the more likely they'd grab a combination package which could include airport transfers, meals, spa treatments and entertainment.
Single guests vs. couples: Send couples to 7th heaven with a romantic package or offer solo stays fun social activities to join.
Travelling with or without children: guests with kids might jump on the chance of a hassle-free airport transfer or child-friendly meals
Country of origin: Guests from some countries are known to book with a long lead time or to spend more money. Offer them exclusive services or special packages for added revenue.
Booking source (OTAs vs. direct bookings): if guests from a certain OTA usually fall into a particular segment, they are easier to target while direct bookers can be rewarded with extra advantages and discounts.
How Oaky helps hoteliers win the hotel guest segmentation game
Sending targeted offers to the right guests at the right time manually and keeping track of the correspondence can be time-consuming, something a front office or a revenue manager should not be spending time on.
Oaky's powerful segmentation feature enables you to create varied segment groups and send tailored offers to each of them automatically. This helps Oaky's customers solve some of the above-mentioned challenges in an innovative, effective way and deliver relevant offers to their guests.
To get started with segmentation, set up your guest segments in Oaky's dashboard based on the following categories:
Guest personal details (Gender and Number of Guests)
Date and timing (Check-in Day)
Reservation details (Length of Stay, Returning Guests, Travel Agent, Booking Source, Reservation Type, Hotel Room Type)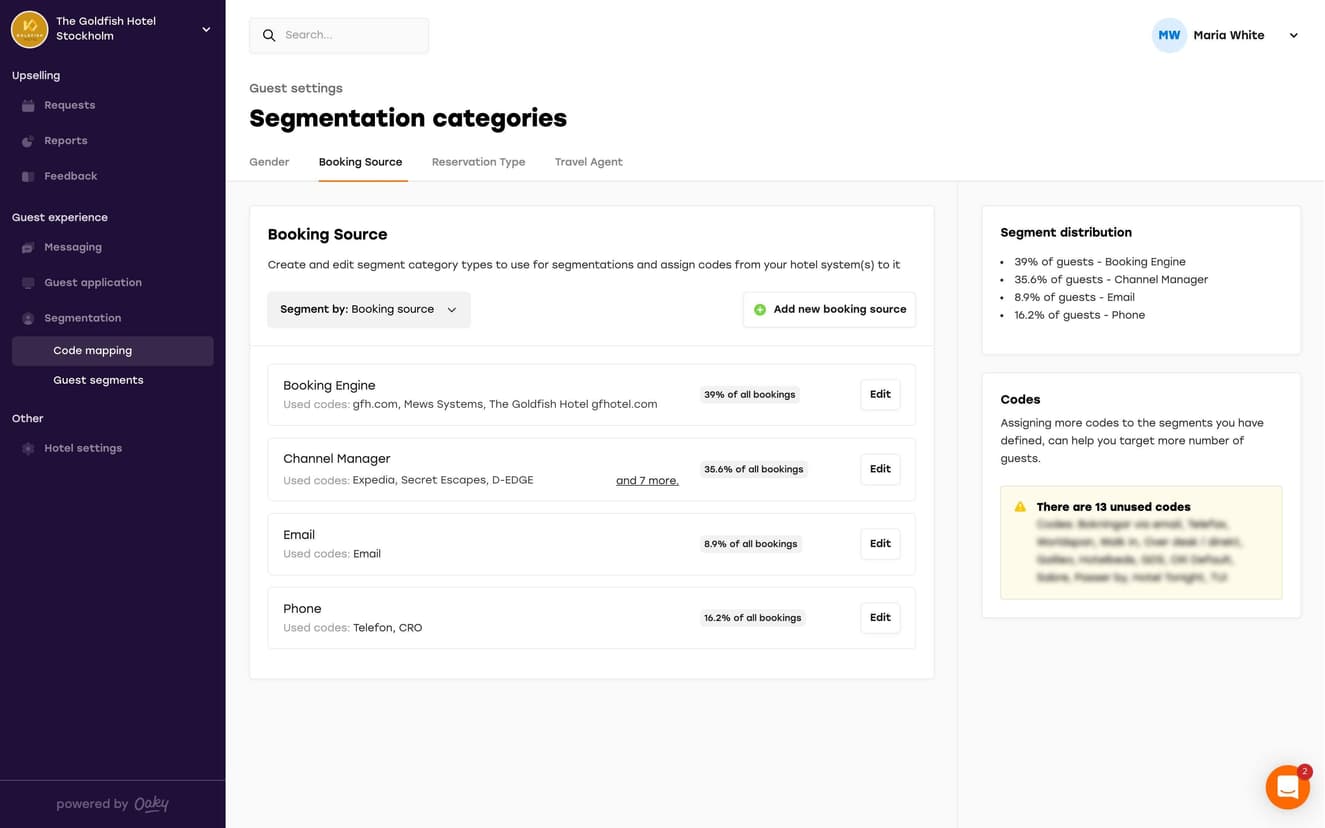 The great news is that you can add an unlimited number of segments and track the coverage of each specific segment. This means you can get clear-cut data on the types of guests you cater to and refine your upselling deals even further.
For example, Apex Hotels use segmentation to send personalised pre-arrival messages to their business guests and offer custom services that make their stay smoother and more enjoyable. Hotel van Heeckeren sends different deals to singles and couples, so they each have appropriate offers to choose from. We could go on and on with examples, but you've probably understood our idea by now.
The results of this personalisation effort are higher conversion rates and boosted ancillary revenues for hotels and, of course, happy guests who appreciate the tailored service and share the experience with friends and colleagues.
So, if you are curious to know how you can target that single traveller checking in on Monday and staying for only one day, reach out to us for a free, personalised demo of Oaky today!