Oaky x OXI: Less manual work and higher revenue with the 2-way integration for OPERA On-premise users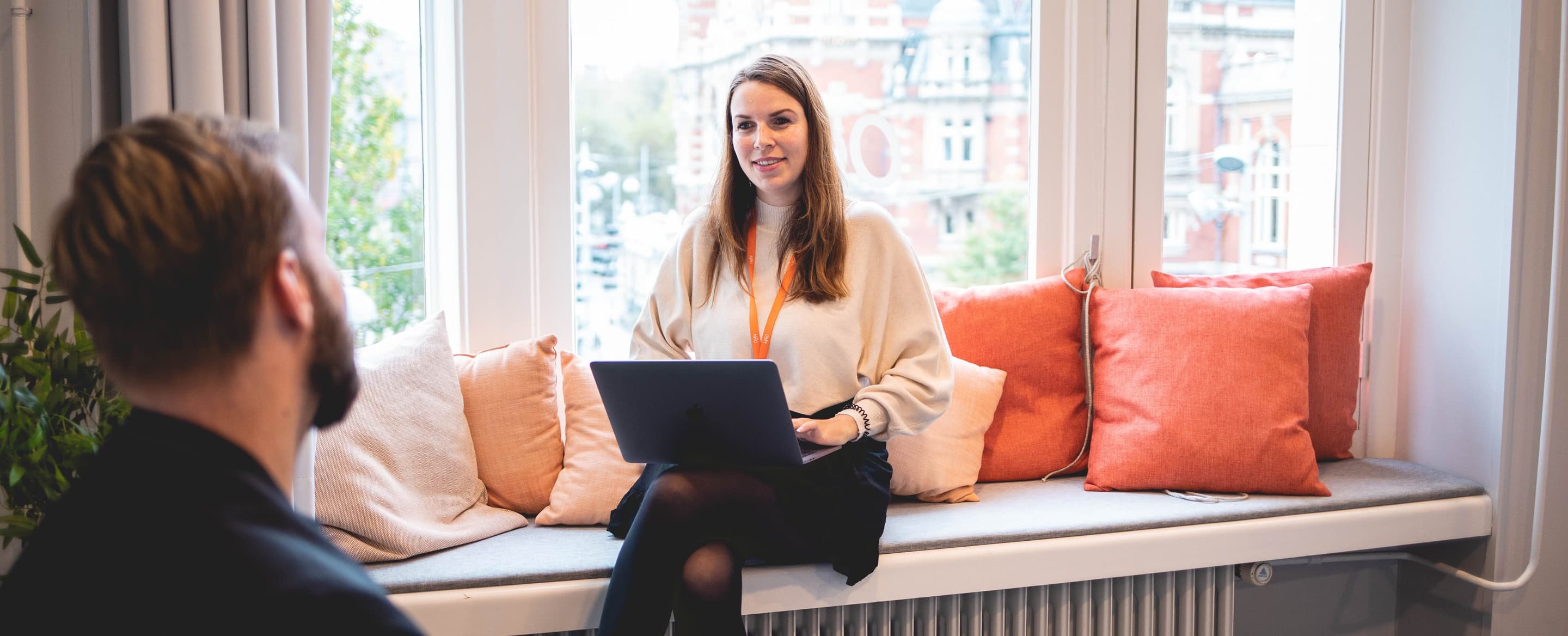 Oaky's main focus is to help our customers improve their TRevPAR. Providing the best connectivity between your PMS and Oaky is one of the most crucial components to achieve this. Therefore, we've added another integration that will ensure a seamless data flow between your PMS and the Oaky upselling engine.
If you're a user of Oracle OPERA On-premise, you can now take advantage of the two-way integration with Oaky made possible through Oracle Hospitality OPERA Exchange Interface (OXI). With the two-way integration with OXI, not only will you streamline your upsells, but you will also boost your upsell revenue and guest satisfaction. For instance, one of our customers who have already enabled the two-way connection between Oaky and OXI has seen an uplift of 15% in upsell revenue and saves 6 minutes per guest request daily.
Read on to discover the advantages of the latest integration and find out how you can enable the integration for your account.

What is Oracle Hospitality OPERA Exchange Interface (OXI)?
Before we jump into the benefits of the two-way integration between Oaky and OXI, let's first take a closer look at Oracle OXI. Oracle Hospitality OPERA Exchange Interface (OXI) is a real-time API that serves as a gateway between your OPERA On-premise PMS and Oaky, enabling a fast and secure data exchange between the two systems.

The data flows in two directions, meaning that Oaky pulls data from your PMS and pushes it back to keep your room availability and reservations up to date without you having to approve room upgrades and service requests manually. Full automation does the legwork for you while decreasing the risk of manual error. You don't have to switch between two systems to update your availability, reservations and booked deals as the integration does this for you.
How does the new integration work?
Thanks to the two-way integration, you can enjoy full automation and get rid of repetitive and tedious tasks such as updating your hotel's availability or manually approving incoming guest requests.
Here is how the integration works in a nutshell:

Oaky imports all the data about future reservations from your PMS to send personalised pre-arrival upselling deals to your guests.

Oaky sends personalised pre-arrival emails with your upselling offers to your guests.

Once a guest books a room upgrade, the room type changes automatically in OPERA. Oaky also adds the supplement for the room upgrade. Moreover, as your inventory gets updated automatically, you can resell the room of a regular type to another guest.

Once a guest books a service, the corresponding package is added to the reservation in the PMS. Oaky also adds a trace to the package booked so that the concerned department could take care of the request.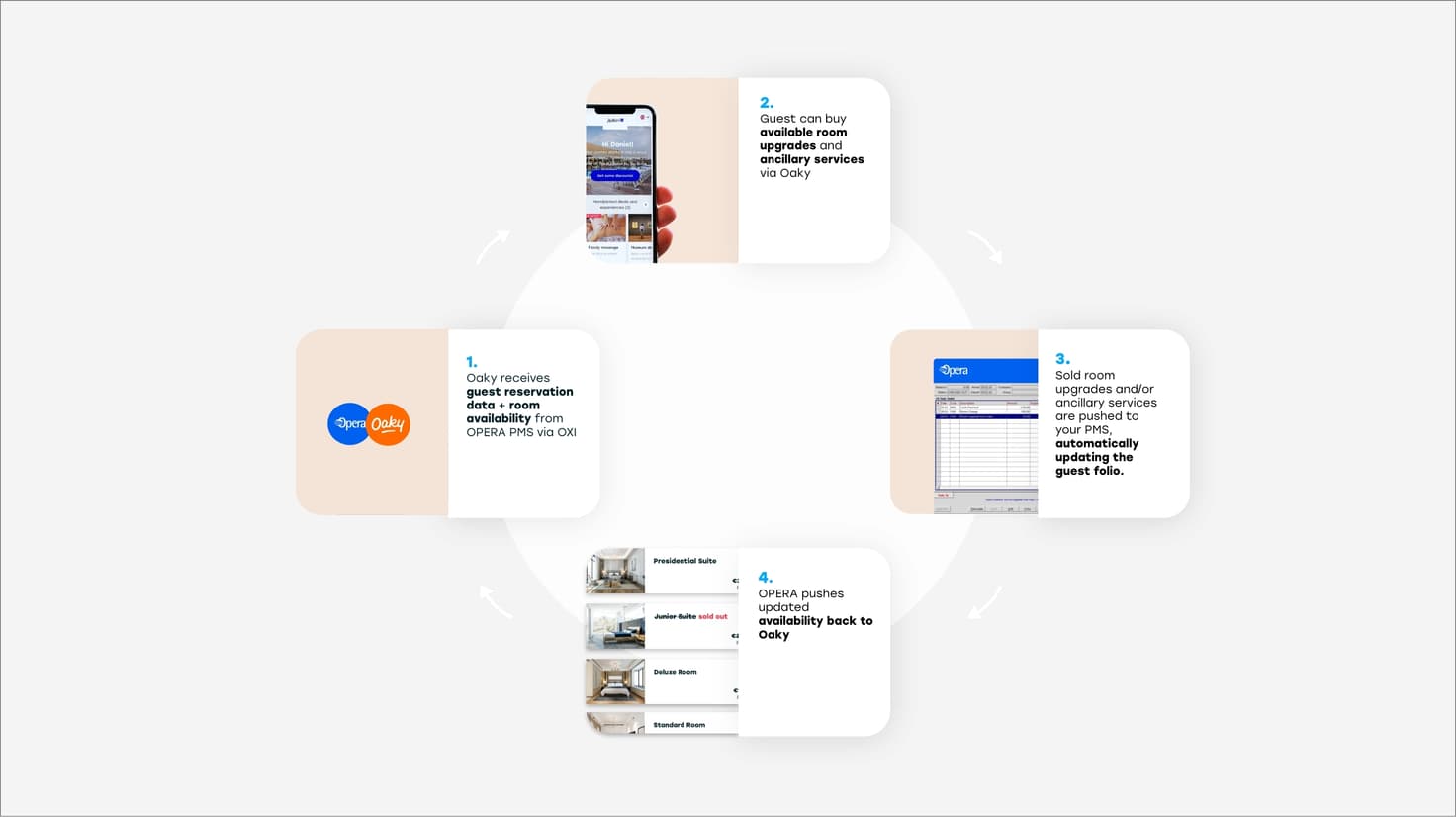 What are the benefits of the two-way integration via OXI?
If you're still on the fence about using the two-way integration between Oaky and OXI, here are a few great benefits not to overlook:
1. Stop leaving money on the table
How much money are you losing every month by letting guest requests slip through the cracks?
Missed and rejected requests and the inability to keep inventory up to date inevitably lead to lost revenue opportunities. Manual switching between your PMS and Oaky also doesn't add to the efficiency and profitability of your upselling efforts.
The two-way integration between Oaky and OXI solves these issues by:

Presenting only available offers to your guests. This decreases the risk of human error and rejected requests and, consequently, lost revenue.

Giving you the opportunity to apply dynamic pricing to your room upgrades. With dynamic pricing on, you can yield over a 45% increase in guest spend per upgraded night.

Automating your upselling process, making it less time-consuming and more efficient.
As Oaky pulls the data about all your future reservations, it means that every guest automatically receives a personalised pre-arrival email with your upselling deals at the best time pre-arrival. In combination with Oaky's Segmentation and dynamic pricing, it can work wonders for your upsell revenue. As per our data, customers who have enabled the two-way integration can generate up to 15% more in upsell revenues.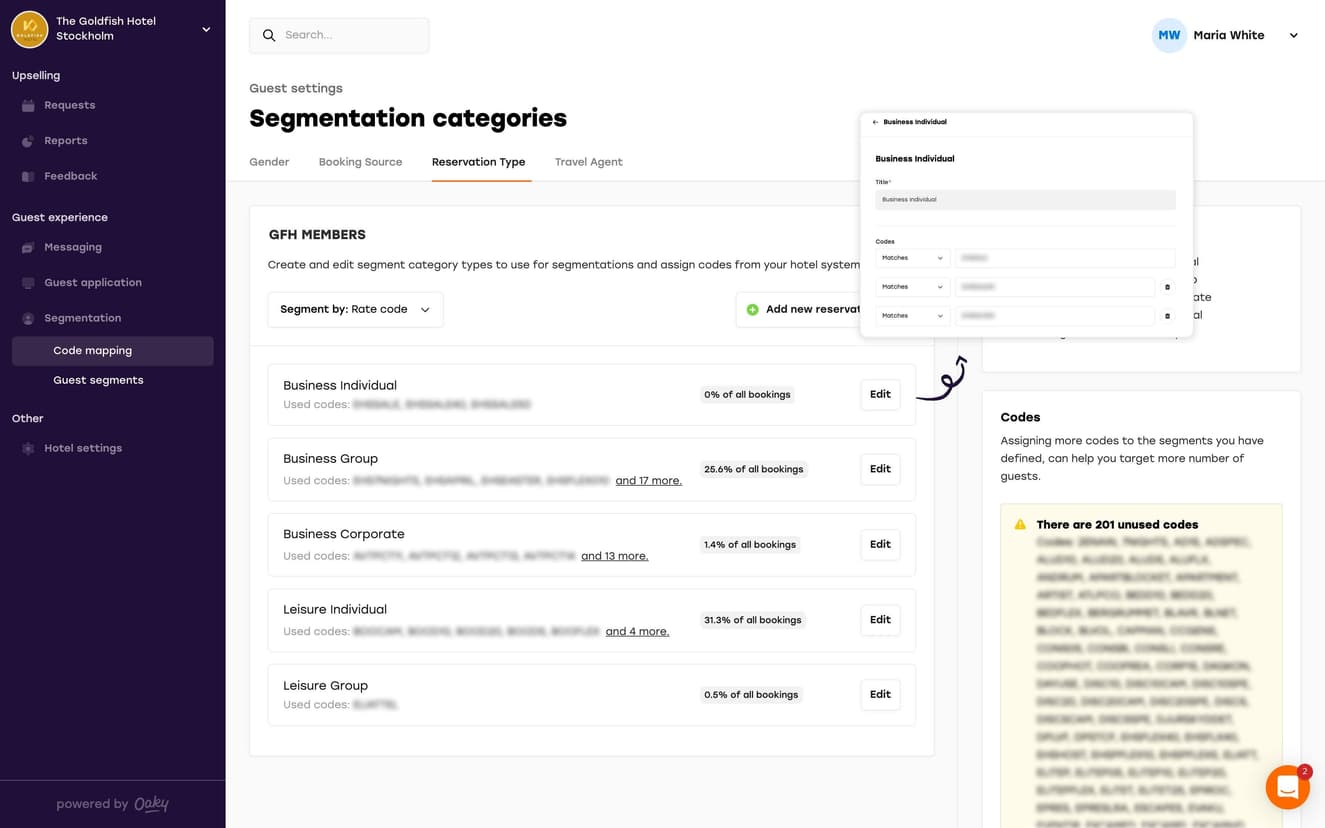 2. Reduce manual work

Whether it is a room upgrade or a service request, they can all be approved without your team's involvement. Your team doesn't have to spend the whole day keeping an eye on the dashboard waiting for requests to arrive. What's more, you don't have to juggle two systems (your PMS and Oaky) to update reservations if any guest requests come in. Requested supplements are automatically added with a trace and a comment to notify the concerned department. This also prevents human error and eliminates repetitive tasks.
As you can see, the two-way integration with OXI turns upselling into a hassle-free process across the board. In fact, thanks to automated request processing, your team can save 6 minutes per request. This way, they can dedicate this time to more crucial aspects of your hotel business.
3. Prevent guest dissatisfaction
Satisfied and delighted guests are key to your glowing reviews and your hotel's overall success. It goes without saying how important it is to ensure that your guests are always happy and willing to share only positive feedback about their stay.
As pre-arrival communication is one of the first touchpoints between you and your guests, it is essential to make it flawless. If you fail to approve guest requests in a timely manner or even have to reject them because your inventory is not up-to-date, it could result in guest disappointment or even complaints.
With two-way integration with OXI, only available room upgrades and services will be displayed to your guests. What's more, by receiving an immediate request approval, your guests will know that their request is being taken care of.
This will ensure a positive first impression of your customer service and set your guests up for an enjoyable stay.

How can I enable the integration?
First of all, keep in mind that the new two-way integration is available only for users of OPERA On-premise for version 5.5 and higher.
To get connected to Oaky via OXI, here are the steps that you need to follow:

Order the Oaky OXI license from your Oracle Sales Representative.

Confirm whether you prefer Oracle or Oaky to do the OXI setup.

Get in touch with us once you have a reply from your Oracle reseller to finalise the process on Oaky's end.
Would you like to learn more about the two-way integration via OXI? Drop us a line, and we'll get in touch with you.