Oaky and Duetto team up to automate room upgrade pricing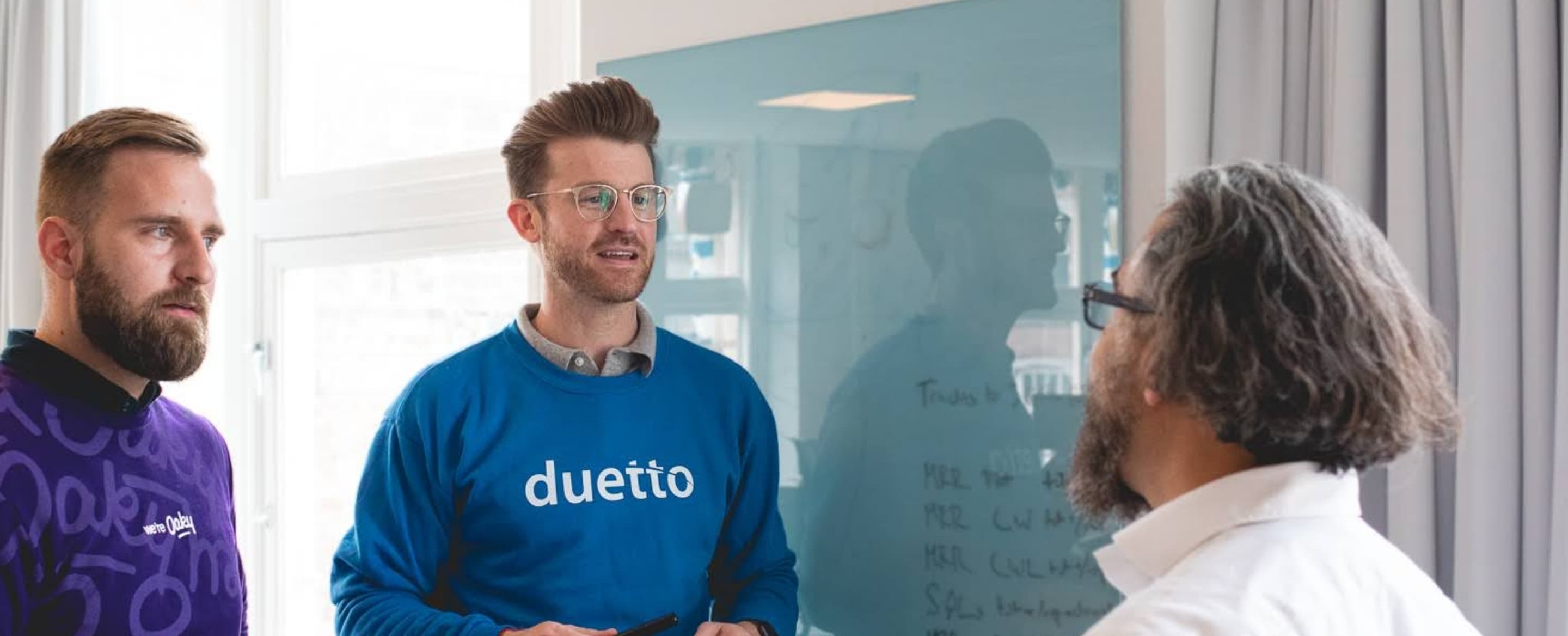 Imagine you could always stay on top of the slightest market fluctuations and adjust your room upgrade pricing accordingly. With such a dynamic approach, you'd continuously be offering the optimal value for money. Since 70% of travellers cite this as critical to their decision-making, your paid upgrades would immediately become more attractive.
Now, this idea of dynamic upgrade pricing is becoming a reality. Oaky is thrilled to be partnering with Duetto to supercharge upselling precision and profits for hotels. We like to call it a dynamic co-innovation. This integration will help your property yield an uplift of over 45% in guest spend per upgraded night with automated dynamic pricing through Duetto.
Read on to discover more about dynamic pricing and see how your hotel can benefit from this integration.

Introducing our partner Duetto
Duetto offers a wide variety of cloud-based applications that address some of the major challenges hoteliers face today. Their goal is simple ⁠— to use innovative technology to simplify hospitality revenue decisions. To achieve this, their solutions provide real-time dynamic data and actionable overviews of pricing and demand. Access to these insights allows revenue managers to work smarter and increase efficiency, toplines, and profitability.
Founded in 2012, Duetto has become one of the most effective and trusted revenue management software providers. Today, they support over 4,000 hotel, casino, and resort properties in more than 60 countries. In January 2022, Duetto won the HotelTechAward for Best Revenue Management System.
Given that background, you can imagine how excited the Oaky team is to work closely with such an amazing partner.

How does the Oaky and Duetto integration supercharge your earnings?
The new integration allows Oaky to price room upgrades dynamically and automatically adjust rates to current demand. This flexible approach to upgrade pricing can increase upsell revenue at your hotel by up to one third.
Here's how the integration between Duetto and Oaky makes this happen:

You gain full control over your rates by enabling Open pricing to adjust your BAR (Best Available Rate). With Duetto's Open pricing, you can get as granular as you like and price different room types independently of each other, based on demand, guest segment or channel, rather than a predefined amount.

Duetto supplies live room availability data and dynamic rates for all room types to Oaky

Oaky uses this data to calculate the upgrade supplement for all room types in real-time

Guests automatically receive offers for available room upgrades at the optimal price via Oaky

Once a traveller books an upgrade, Duetto updates room availability for future upgrade offers.
Very few hoteliers have a personalised upselling strategy, and even fewer hoteliers are selling dynamically priced room upgrades and ancillary services. The combination of Duetto and Oaky working together gives hoteliers greater options for optimising room revenue in an automated way that is fast, efficient, and seamless.
What are the benefits of the Oaky and Duetto integration?
Oaky is an excellent solution for hoteliers who want to both grow their topline and refine the guest experience. Sending travellers personalised offers allows them to customise their stay. At the same time, you can generate extra revenue for your hotel. The integration between Oaky and Duetto takes this process to the next level.
What does that mean for your property and your guests? Let's look at the advantages this brand-new partnership brings for hotels and travellers alike.

Benefits for hotels
Eliminate manual upselling activities. Oaky automatically presents optimised room upgrade deals to each guest based on Duetto's live data. This saves your team time because they no longer have to make manual adjustments.

Create your own upsell pricing strategy. The integration allows you to make your room upgrade rates hyper-dynamic based on your overall pricing strategy or even set up a completely new strategy specifically designed for your upsell rates management.

Boost upgrade revenue. Dynamic rates yield over a 45% increase in guest spend per upgraded night without creating any extra work for your staff.
Benefits for guests
Reduce upgrade denials. Having a request for a paid upgrade rejected can be frustrating for guests. From now on, guests will experience a smoother process because the system displays only available room types.
Avoid guests missing out. When only a few rooms remain available, guests see a message showing how many are left. This encourages them to quickly book their preferred room category while they still can. As a result, they won't be surprised and disappointed when it sells out.
Every hotelier that adopts a revenue management strategy understands the impact of dynamic pricing on room revenue. Together with Duetto, we can extend the dynamic pricing strategy to upsell and deliver an automated solution that drives more incremental revenue without any extra work.
How can I take advantage of this integration?
Test this integration now, if you're ready to improve your guests' upselling experience and drive more revenue.
How? Simply reach out to your customer success manager and ask them to enable the integration. If you haven't tried Oaky yet but are curious to see it in action, book a demo with one of our upselling experts to see how Oaky can help your business grow.
We're looking forward to this going live at your hotel and hearing about your amazing results!