5 paths to unique upselling for happier guests
Marieke Wisse •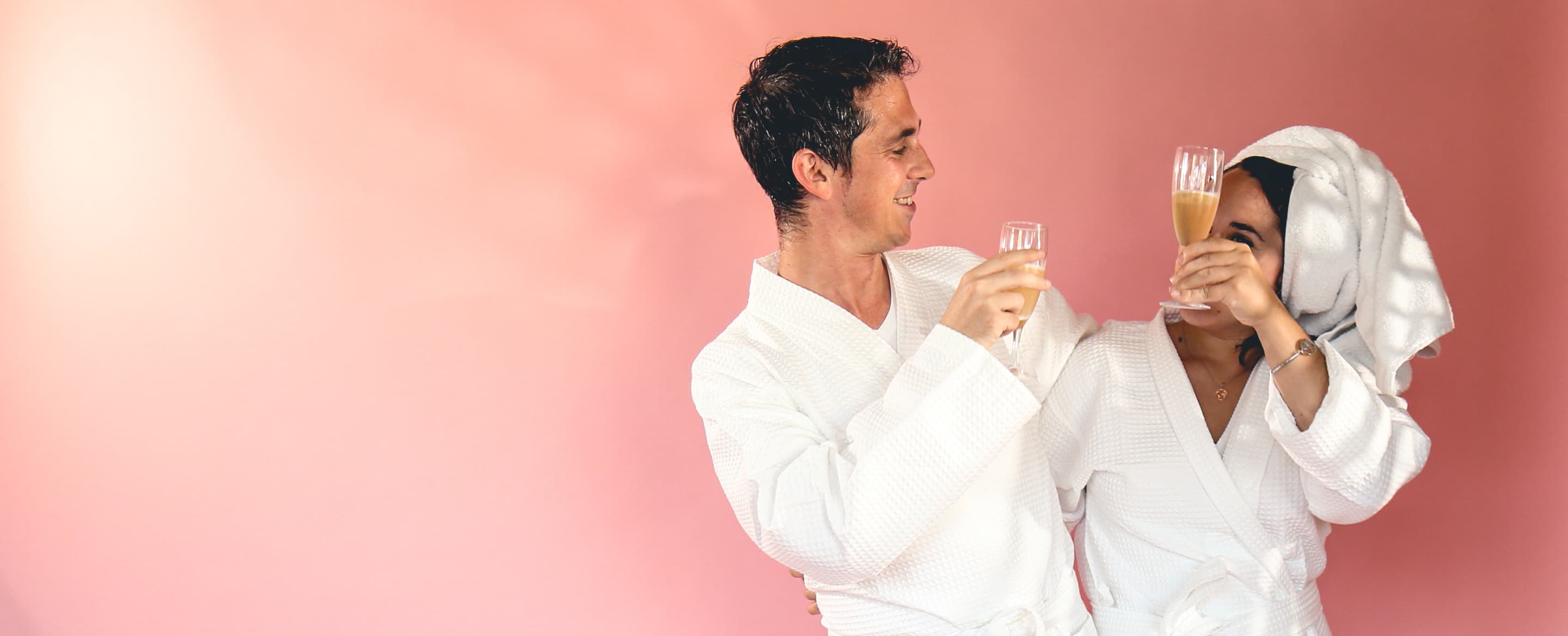 Paid room upgrades, breakfast add-ons or airport transfers are the most commonly offered upsells at hotels across the world and for good reason. There's always someone that will need deals like this, which offer convenience and comfort and answer frequent needs.
Upsells that respond to common requests are a great place to start with upselling and will very likely produce results. But why stop there? You can get as creative as you like with your upsell offering, and create fun, memorable and engaging upsells that will do more than satisfy – they'll bring delight!
If you aren't sure how to get more creative with upselling, you've come to the right place.
In this post, we give inspiration for creative deals and demonstrate how to come up with more creative deals yourself. We also showcase some of the most creative upsells we've seen from our current customer base at Oaky, which will be sure to entertain!
Why you need creative upsell deals
If you're upselling on arrival, a paid upgrade or an F&B add-on is the most obvious offer you'll make. After all, it's hard to go wrong with suggesting a higher room category or a breakfast.
If you're working with an automated upselling platform, however, you have the chance to offer your guests several interesting deals to choose from. We've observed that eight to twelve deals across various categories is an optimal number. This gives guests a wide enough selection without overwhelming them.
A few of these deals can be traditional offers for travellers who want to add simple comforts to their stay. The rest of your guests will be delighted by unexpected opportunities to upgrade their stay.
Use upselling as a chance to offer unique experiences that will enrich their stay and make it unforgettable. Guests will want to treat themselves and especially once restrictions ease and revenge travel picks up.
How to get creative with your upselling deals
The good news is you don't have to reinvent the wheel to get started. Instead, use what you already have at your hotel. Maybe all you need to do is combine or present them differently.
Not sure where to start? We've gone through our data and outlined five best practices and upselling examples of creative deals to help you make your special offers a success.
1. Start with unbundling existing services and attributes
Look at all the services and amenities you offer. How could you break those down and offer them separately?
Think of your rooms for example. Do guests often ask for a specific view? Or do they prefer a higher floor? Maybe some of your suites have a special feature (e.g. a jacuzzi in the bathroom) that you could offer at a premium.
Brainstorm everything that's special or desirable about your rooms. Soon you'll have a long list of interesting attributes you can promote. This approach allows guests to pick the features they value and pay a little extra for what they really want.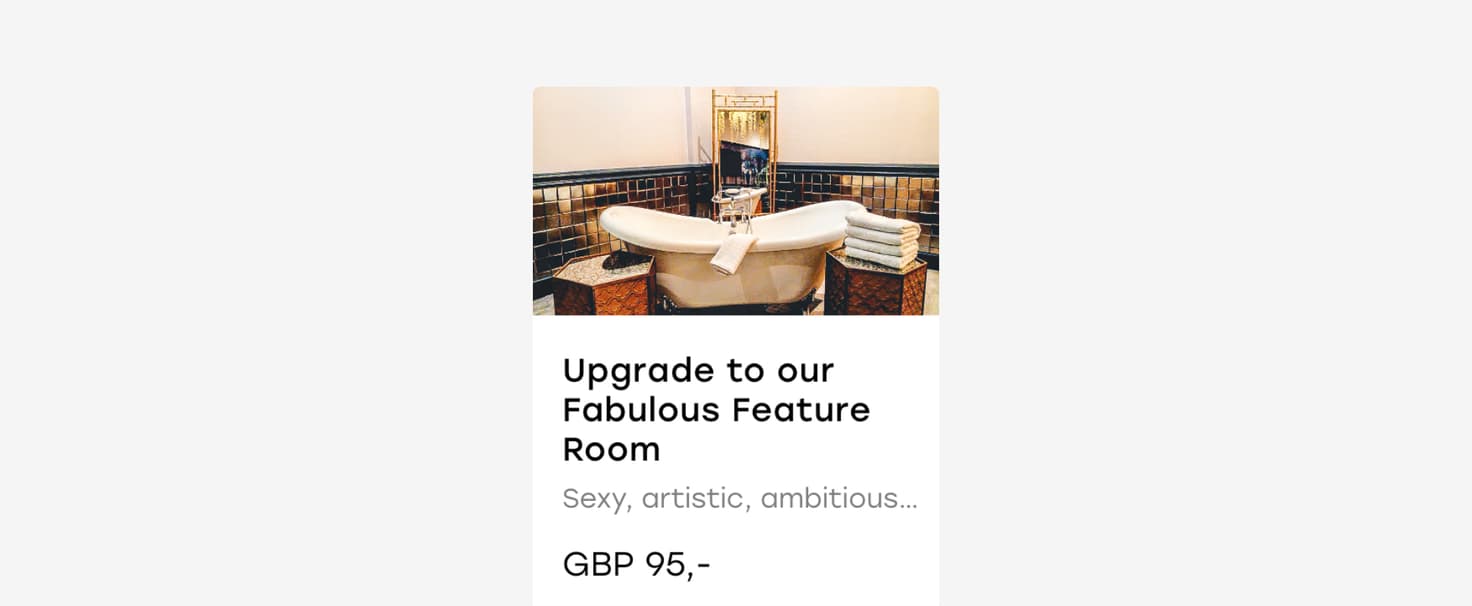 The Shrigley Hall Hotel promotes its Fabulous Feature Room in a way that creates curiosity among its guests. Although it's a "simple" room upsell, this one does great because of the way it's presented. What are the fabulous features? Book it to find out!
2. Get support from all teams
The benefits of upselling reach far beyond what rooms can provide. Bring all departments on board to come up with ideas that span your entire property.
Food and beverage upsells are some obvious choices. This department brings you countless ways to put together interesting deals. Try taking the standard dinner reservation and turning it into a candlelight dinner on the beach, or offer an afternoon in the pastry kitchen where guests can learn how to make macaroons.
As for your other departments, consider how you can create more rounded experiences with the spa services you're already. Beyond a simple in-room treatment, you can try offering a combo deal with a healthy dinner or one-day smoothie detox.
In terms of recreation, you might offer an option to rent gym equipment in the room or to get a sun lounger brought to the balcony. Even better - maybe your concierge has the gift of the gab and unparalleled knowledge of your city. This was certainly true for the Pulitzer Amsterdam.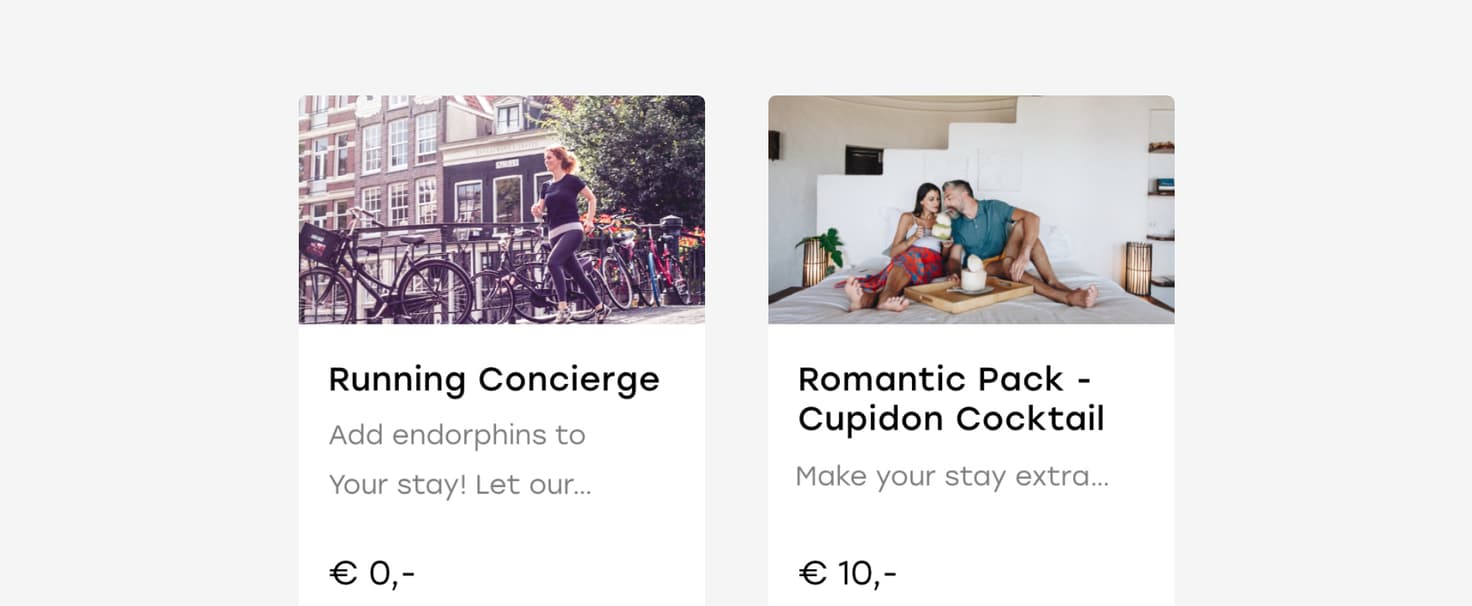 At the Pulitzer Amsterdam, they take their guests' wellbeing very seriously, offering a morning run with their concierge who guides runners on a seven-kilometre round in Amsterdam. This is guaranteed to stick in a traveller's memory because it's unique and gives them a memorable local experience.
The Hotel de la Source - Spa-Francorchamps offers a romantic package so guests can add a special experience to their stay. As you can see in the description, the hotel gives important details about the inclusions (romantic decoration and cocktails) and hints at a mystery gift. This creates curiosity since guests will only find out what this is if they book.
3. Create an experience
Travellers want to enjoy their time with you and create memorable moments. Use your deals to create an experience and opportunities for higher conversions. Cleverly combine pre-existing offers to avoid going to extraordinary lengths to prepare new ones, while saving on costs. Sometimes a simple service, game or add-on can be enough to delight your guests.
The key here is to know your audience and what they would enjoy most. This depends on your target market, their demographic and their reason for travelling. Families might enjoy an offer of providing a stuffed animal for their toddler, while couples may like a romantic turndown service.
Browse the creative upselling ideas below for inspiration!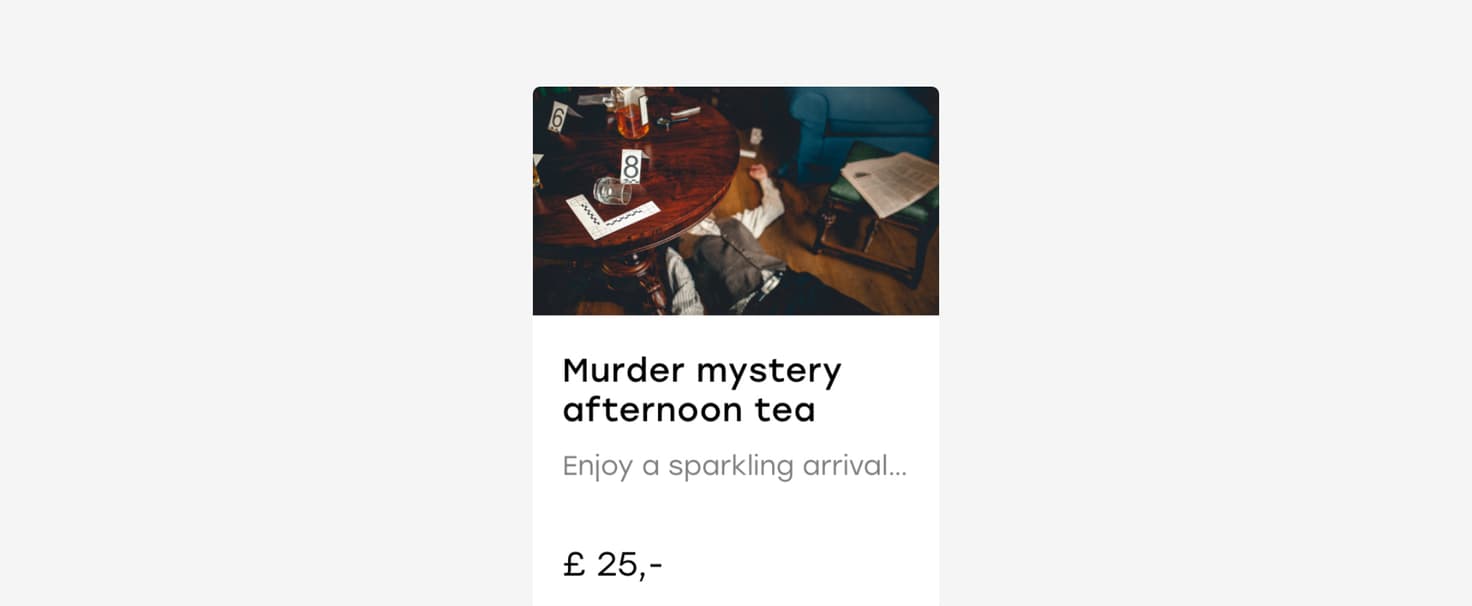 Have you ever played real-life Clue? Neither had most of the guests at Lumley Castle. That changed once their team created a murder mystery afternoon tea. Now guests can sip on bubbly and nibble on snacks while they crack an exciting case.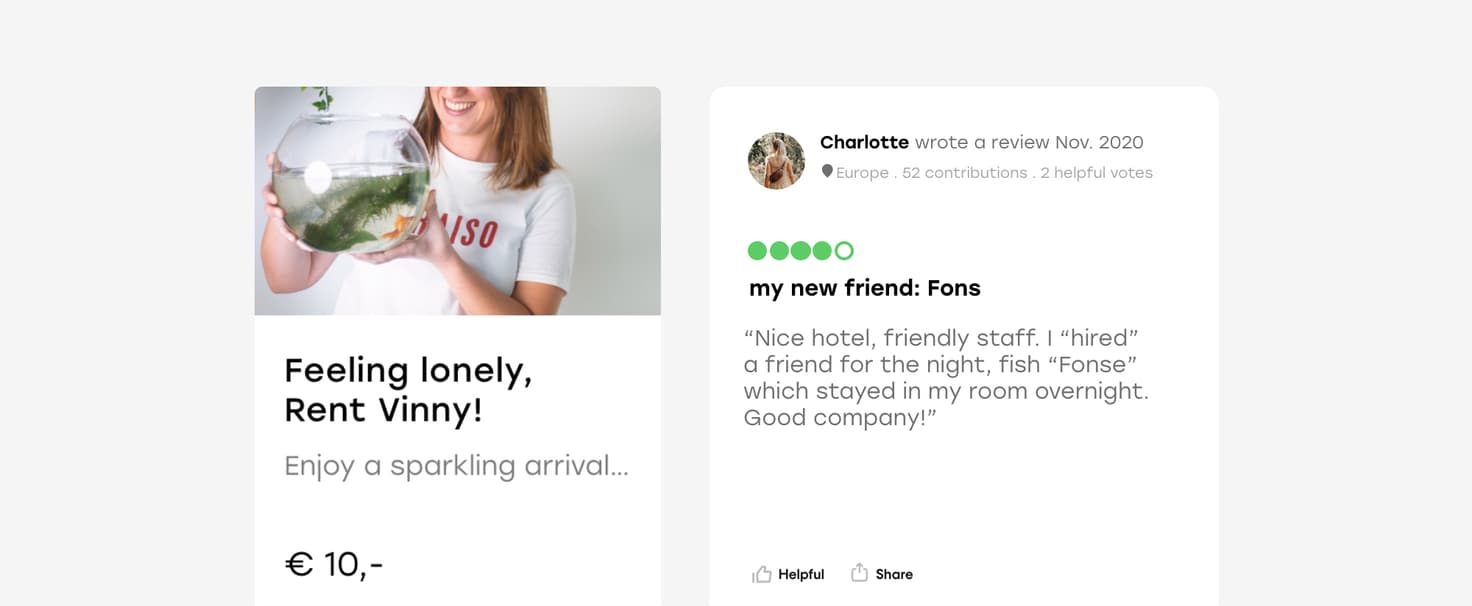 Hotel Charleroi Airport in Gosselies offers something a bit eccentric but unique. Guests who feel lonely can rent a goldfish to keep them company during their stay. Proceeds from the deal go to a local charity. This deal does well because guests love both the quirky idea and that they can support a non-profit.
4. Collaborate with local partners
Many guests love a truly local experience. Help them plan their trip accordingly. Your concierge will already be familiar with the ideal day trips your area has to offer. Use upselling to make these experiences even more accessible to your guests.
Reach out to local tour operators, guides or event organisers to explore some unexpected ways to work together. They could potentially offer a special experience or outing while your hotel provides the picnic basket to go with it.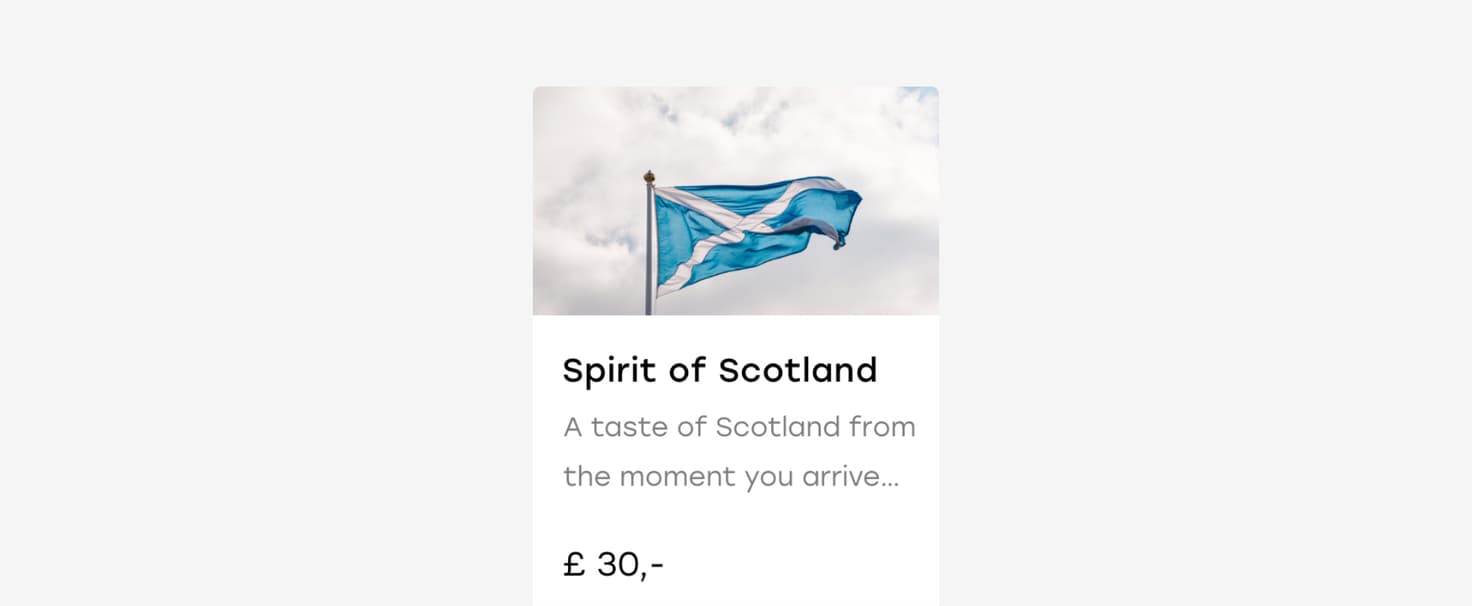 The Carlton George Hotel has found the best way to combine an F&B offer with a local experience. Their Spirit of Scotland package includes a welcome basket full of Scottish treats guests must try during a trip to the region. And let's be honest, which curious food could say 'no' to haggis crisps?
5. Make your offers timely and relevant
Look at what's going on around you. Can you create a deal around a local event or trend? Consider developing a special offer for football fans whenever there's a big game happening in town. Greener travel is also on many people's minds right now and is a good way to empower guests that appreciate environmentally-friendly options. Even the current regulations and restrictions around Covid-19 could inspire interesting ideas.
Again, it's important to know your guests and what they're interested in. You may need to try a few different options before you find what works best for your target audience. Check out these examples of clever upselling techniques for some inspiration.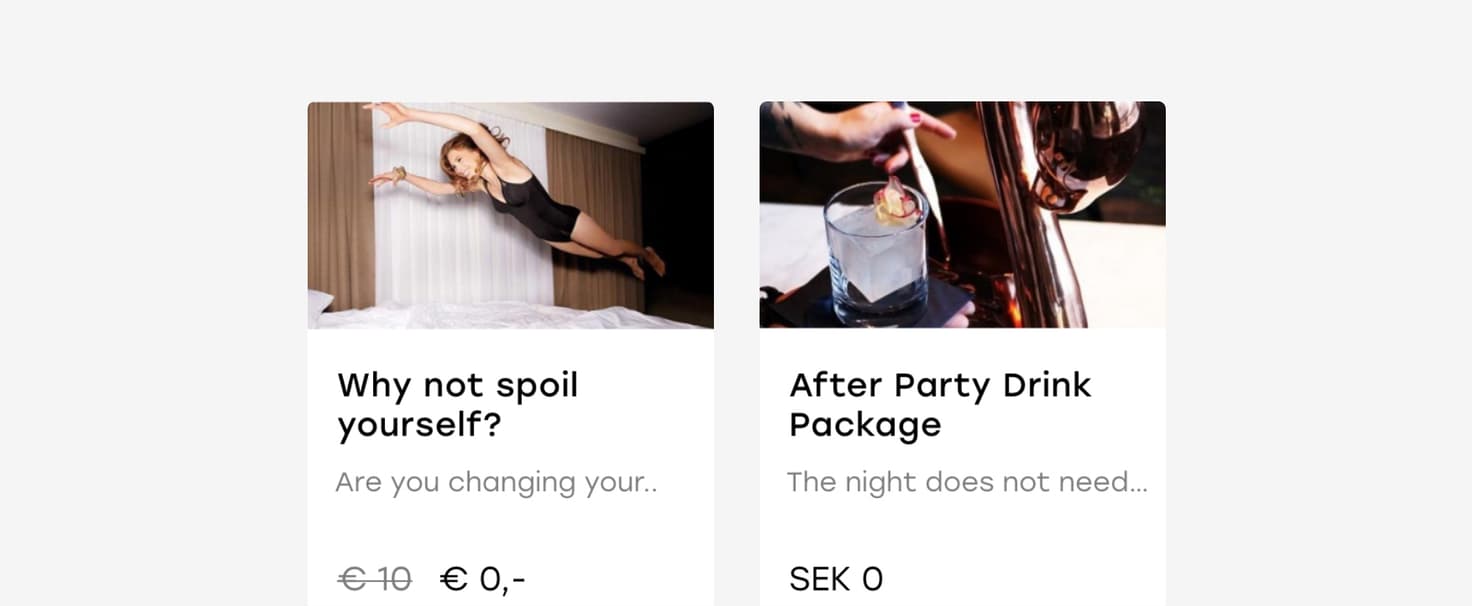 This hotel in Sweden offers guests an after-party drinks package for their room, so they don't have to cut their fun short. As you can imagine, this is popular deal among pandemic-weary travellers.
The Citiez Hotel in Amsterdam has found a clever way to cut its housekeeping costs and water use. They offer their guests a choice between the traditional daily room cleaning service and a welcome package full of yummy treats. It's a popular deal because it gives guests more control over their stay and it offers extra value.
If you'd like to browse more ideas, check out our Deal Library, which is filled with creative, optimised and easy-to-implement upsells. It includes seasonal and holiday-related ideas, so you'll always have something to turn to at every time of year. We recently added a host of Easter offers… have a look!
Are you ready to get creative with your upselling deals? Once you have some ideas, drop us a note. We'd love to hear what you come up with.