Availability management
Extract full revenue potential from each guest by automatically excluding or including deals based on the timing and duration of their stay.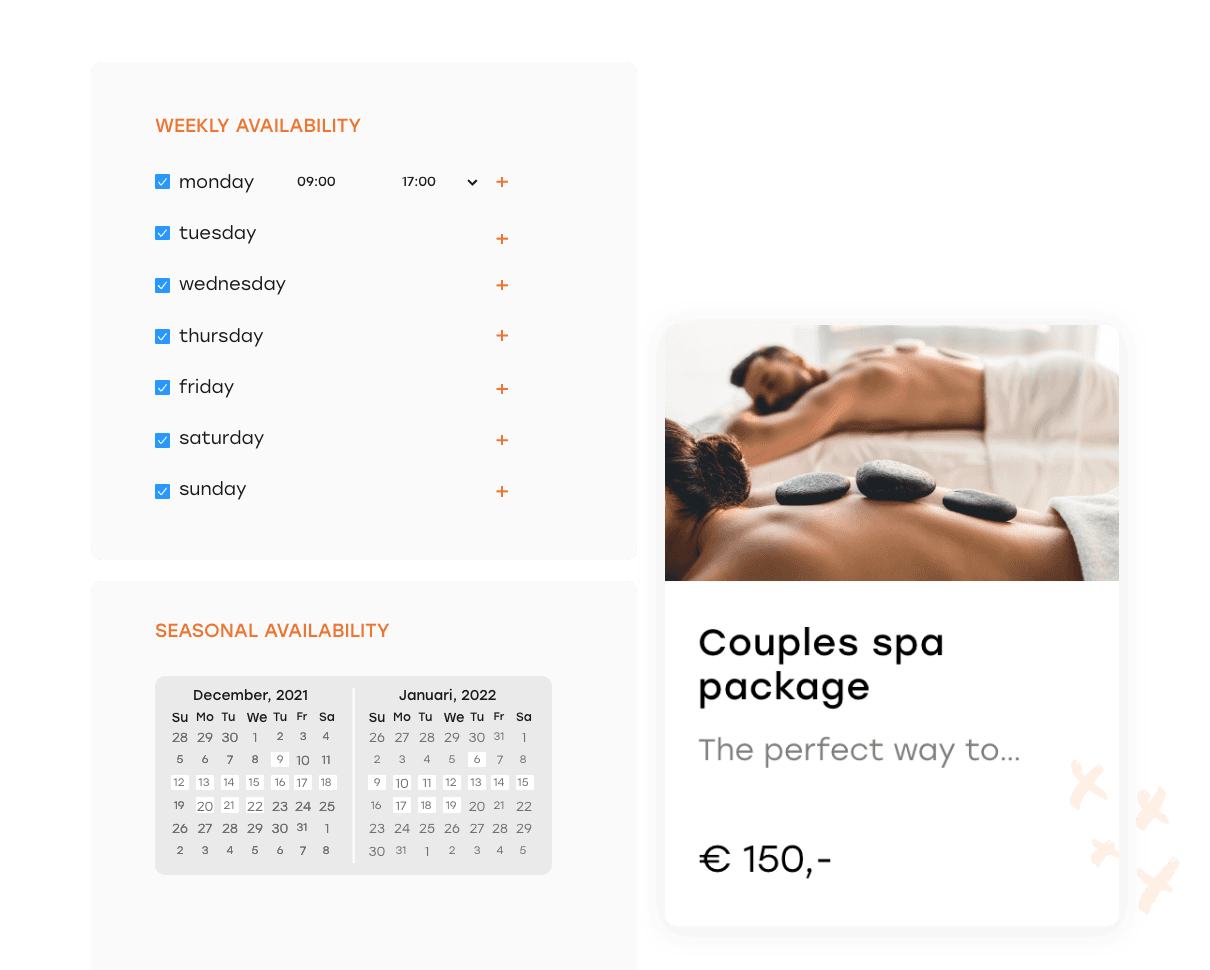 Benefits
Generate more interest

Promote special add-ons specific to seasons, events and times of the week, such as offering a Sunday Champagne Breakfast between 09:00 and 11:00.

Fill gaps to optimise revenue

Create deals that are only offered during certain times, such as higher prices for a restaurant reservation at prime time, and lower prices for a lunch buffet.

Steer guest behaviour

Encourage guests to visit facilities like F&B or wellness during less busy periods, for example by offering spa discounts from Tuesday to Thursday between 13:00 and 17:00.

Ensure lead time

Set deal lead times to ensure that your operations team has enough time to prepare and deliver the service to the guest, such as by setting a 3 day lead time for a birthday cake deal.
How it works
Set availability for deals on the days of the week or times of the year to ensure deals are only offered when they are available.
Block specific dates to ensure deals are not offered, when for instance, an event will take place that disrupts regular routine.
Adjust the lead time for deals by setting a deadline for the deal to be shown. A deal that requires more preparation, for instance, can be set to only show up to a week before check-in.
In a nutshell
With weekly availability, hoteliers can ensure that guests arriving at certain times of the week will only see deals available on the days they are staying. Seasonal availability makes it possible to set certain deals to show only at certain times of the year.
Ready to get started?
Explore Oaky for yourself or contact our sales team to give you a tour of the product. We're sure we can help you out.