Oaky X ReviewPro: The Integration that Permits Upselling via Guest Messaging
Marieke Wisse •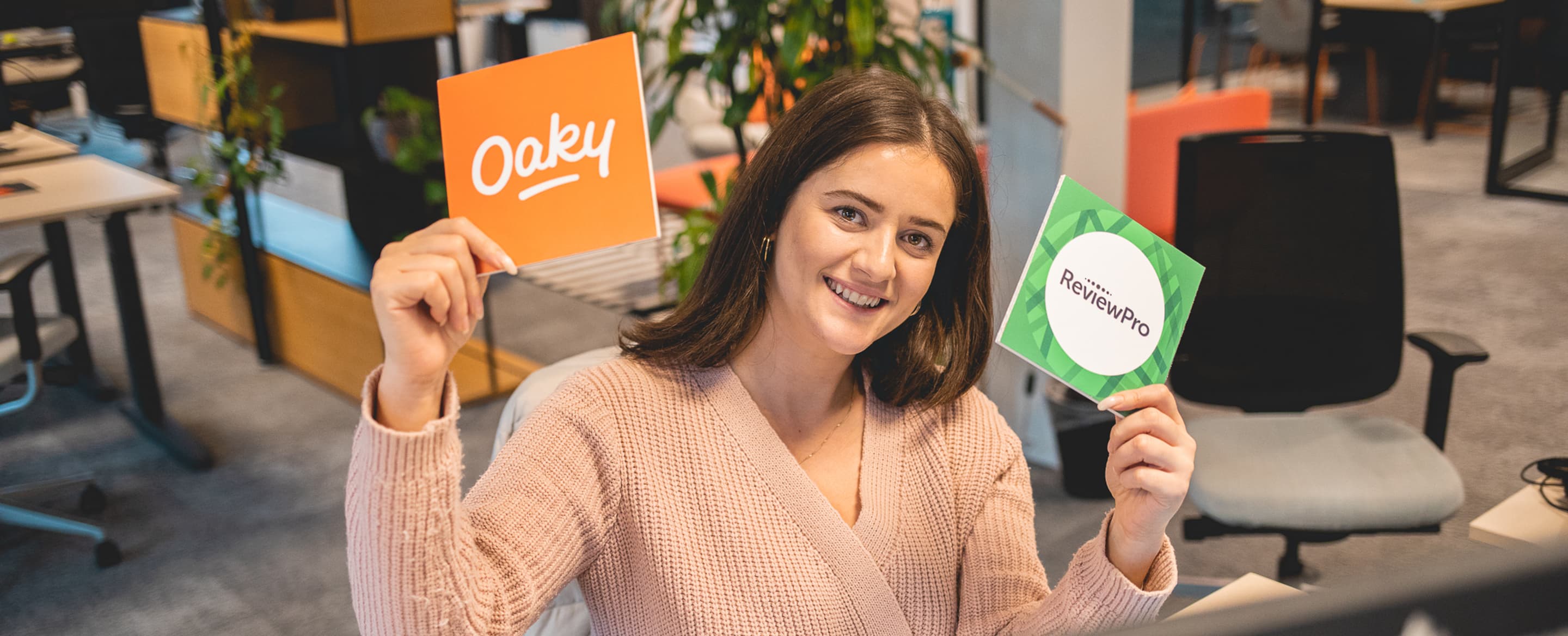 We've partnered with guest feedback tool ReviewPro! This brand new integration allows hoteliers to generate more revenue opportunities, streamline operations and offer more options to their guests.
How the Oaky X ReviewPro Integration works
In short, the integration allows hoteliers who use ReviewPro's Guest Experience Automation (GEA)™ solution to send out automated messages that include Oaky upsell deals. This covers a variety of channels such as email, SMS, WhatsApp. Guests using this chat function will receive relevant offers that they can book to personalise their stay.
As soon as a traveller requests such an add-on, the right team member receives a notification immediately and gets to work on fulfilling the guest's wish. No more time is lost between booking, confirmation and processing of upsell offers. Nothing can fall through the cracks anymore either, since all communication happens in a single platform.

Benefits of the ReviewPro and Oaky Integration for hoteliers and guests
This integration tackles several pain points for both guests and hoteliers. They include the risk of overcommunication, inefficient operations, the need to stay on top of various different tech platforms and missed opportunities for revenue.
Here's how the new integration solves these challenges:
Consolidated messaging
Combining outreach into a single message from a single platform means your guests receive less superfluous communication from the hotel and are able to give proper attention to your message.
Automated alerts for streamlined follow-up
Notifications go directly to responsible staff to ensure your guests' needs are met without delays.
Less tool switching, more time for real work
Administrative stress is reduced by keeping all upsell and chatbot related communication in one place. Your staff can rely on just one tool to keep tabs on all remote guest requests.
Automatically generated incremental revenue opportunities
Catch, nurture and act on all opportunities for incremental revenue immediately. The integration's unique combination of automated upselling, customer service and delegation allows for what is probably some of the easiest revenue generation yet!
Measured impact of upselling
Directly assess the impact of upselling on guest happiness using ReviewPro's feedback tool.
Put simply, the Oaky ReviewPro integration allows you to turn opportunities for incremental revenue into operational excellence. How? Now, your team can efficiently respond to your guests' needs all while monitoring customer perception of your automated processes. As a result, you maximise your ROI on your investment in ReviewPro and Oaky.
'We have always loved ReviewPro's intelligent approach to guest feedback and communication and consider them innovation leaders in the hotel tech world. This integration brings about a wealth of benefits for both guests and hoteliers and, in a nutshell, simplifies messaging and processes to allow for top tier upselling and customer care." Erik Tengen, Oaky co-founder

'As hoteliers keep digitizing their operations, we understand the growing need for hotel tech providers to integrate their different software solutions. This offers a rich and seamless experience to both hoteliers and their guests. By integrating with a partner like Oaky, who has been helping hoteliers with upsell strategies, we saw an opportunity for hoteliers to align revenue management and operational excellence, both key in current times.'