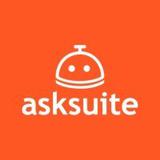 Oaky + Asksuite
Let your chatbot do upselling for you
Benefits
Turn your chatbot into an upselling companion

Upsell in real-time via the Asksuite chatbot on your hotel's website.

Increase the efficiency of your team

Reduce the number of emails, phone calls and messages. Your guests can book deals and add-ons directly from the chatbot.

Level up communication

Avoid lengthy conversations and save your guests time and effort.

Turn FAQs into incremental revenue

Offer actionable ways to respond to your guests' requests. Seize upselling opportunities & fulfil your guest needs before they start seeking alternatives for parking, dining, activities and more, elsewhere.

Enhance the guest experience

Proactively offer guests relevant services and add-ons that will help elevate their stay.

Save costs

Automate both your response and upselling efforts to make your live chat self-sufficient.
Unlock your full upsell potential