Let your chatbot upsell with Oaky Quicktext
Marieke Wisse •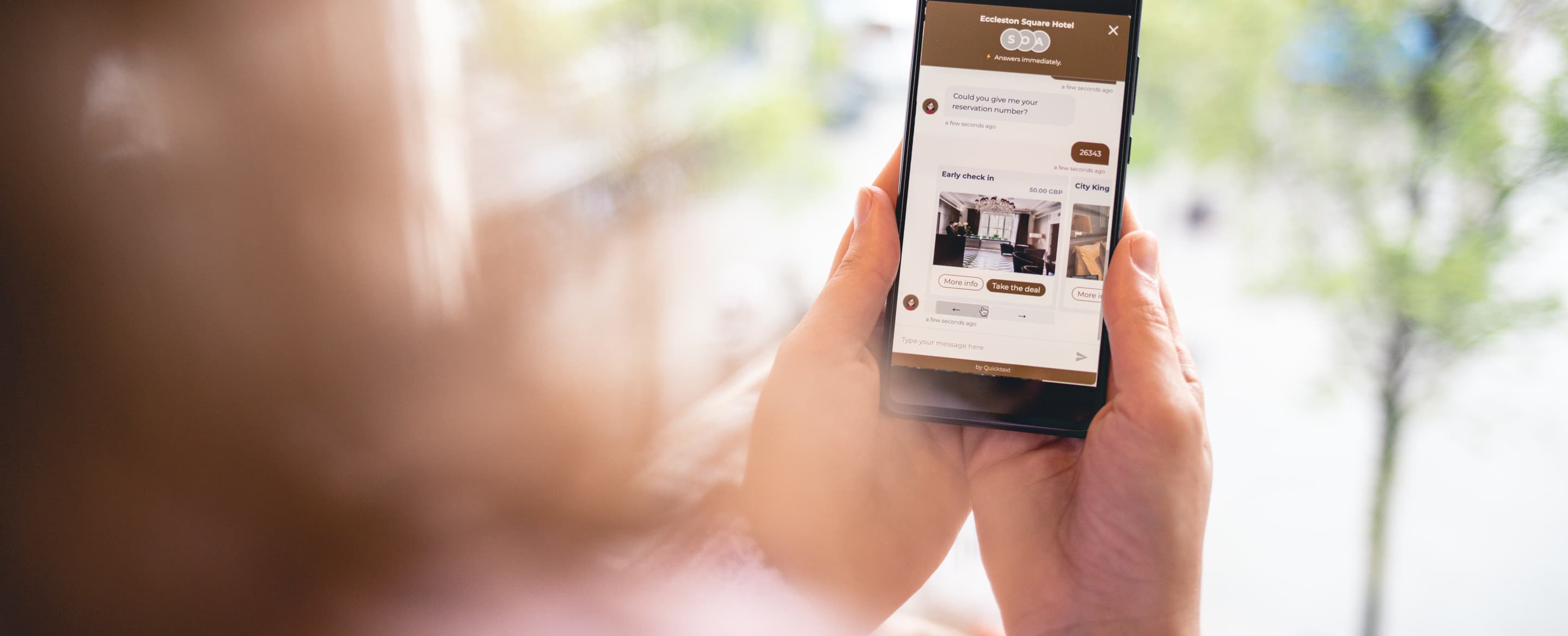 Currently this integration works only with a set of Oaky deals, including: 'Room upgrades', 'Early check-in/ late check out' and 'Airport transfer'.
Automatically upsell requested services with Oaky Quicktext integration
At Oaky we have also been sitting on exciting news for some time – we've integrated with AI chatbot Quicktext to meet hotel needs in a completely new way. In this climate, contact-free communication options are more important than ever before.
Using the Oaky Quicktext integration, hoteliers can meet guest needs quickly and easily while abiding by safety regulations and minimising manual work. Read on to find out just how important chatbots are becoming to efficient customer support, and how you can hit two birds with one stone by upselling services and room upgrades via your chatbot.
Why Oaky and Quicktext makes sense
25% of customers' conversations via Quicktext's chatbot are requests for extra services such as airport transfers, early check-ins or room upgrades. Integrating Oaky with Quicktext means that these very things can be confirmed and arranged automatically.
On its own, the Quicktext chatbot would email the request to a hotel staff member to manually process, creating unplanned work for the staff member and potentially sitting unanswered for hours on end.
Oaky's easy-to-use service booking system appears within the Quicktext chat, whether on one's site, Facebook or Whatsapp. This means that 25% of requests will be arranged without the need for staff attention.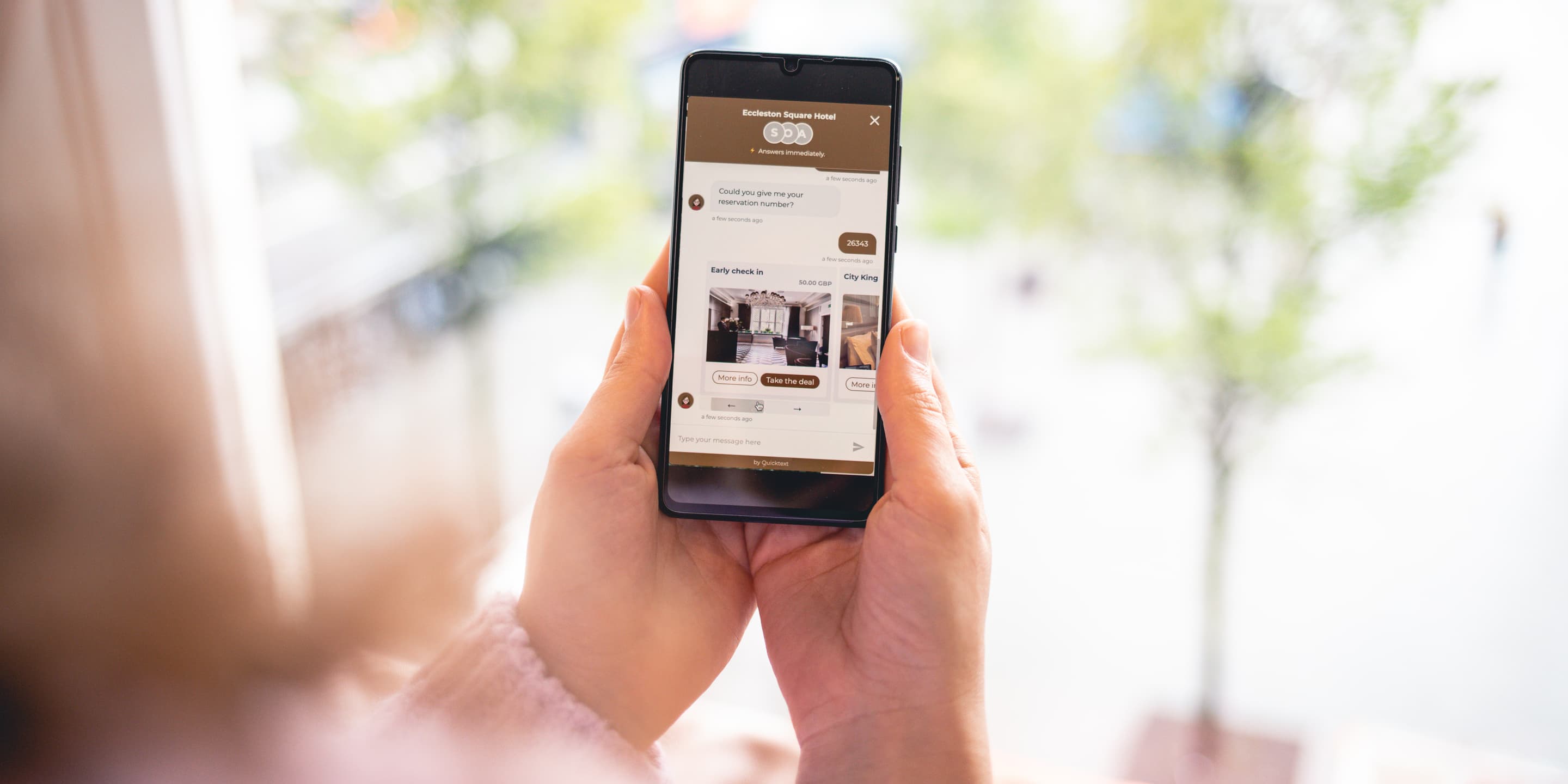 Chatbots have been around for some time now, but huge advances are being made by innovators like Quicktext, a company working to enhance the chatbot experience for us all.
Consumer habits are reflecting a growing adoption of chatbots across 18 to 34-year-olds, largely attributed to the efficiency of swiftly provided answers. We predict that, as these bots grow smarter and a new generation of travelers take flight, the all-seeing, all-knowing chatbot will become even more entrenched into hotel communications.
In the meantime, we need to keep on our toes to ensure we are constantly adapting and placing solutions where people can reach them best. Our Quicktext integration allows us to offer our deals within the chat, as solutions to frequently asked questions.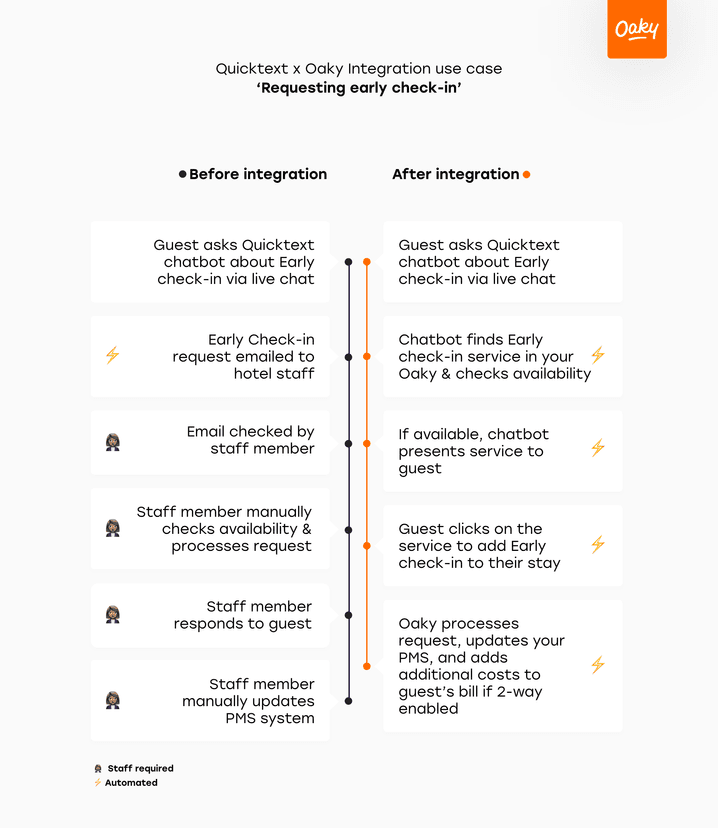 How you can get Oaky working with your Quicktext chatbot
If you're already a Quicktext client and have signed on with Oaky, follow the simple steps below to use the integration at your hotel.
Contact your Quicktext sales manager and ask them to enable the connection for your property.
Oaky and Quicktext will open the connection and invite you to set up your backend.
Time to get creative! Or take some inspiration from our Covid-ready suggestions. Add services to your Oaky that highlight your USP and show that you are mindful of the current situation.
Go live and start driving incremental revenue.
Quicktext helps hotels increase their direct bookings and improve customer satisfaction. It works by centralizing the main instant messaging channels that hotels and guests can use to communicate such as live chat, WhatsApp and Facebook messenger. The frequent interactions such as book a room or what is the time of check-in, I need an airport transfer, etc…are instantly handled by Quicktext chatbot. Quicktext chatbot helps hotels improve operational efficiency and increase online direct revenues by 11% on average.