Oaky Explores: Instant hotel ROI
Marieke Wisse •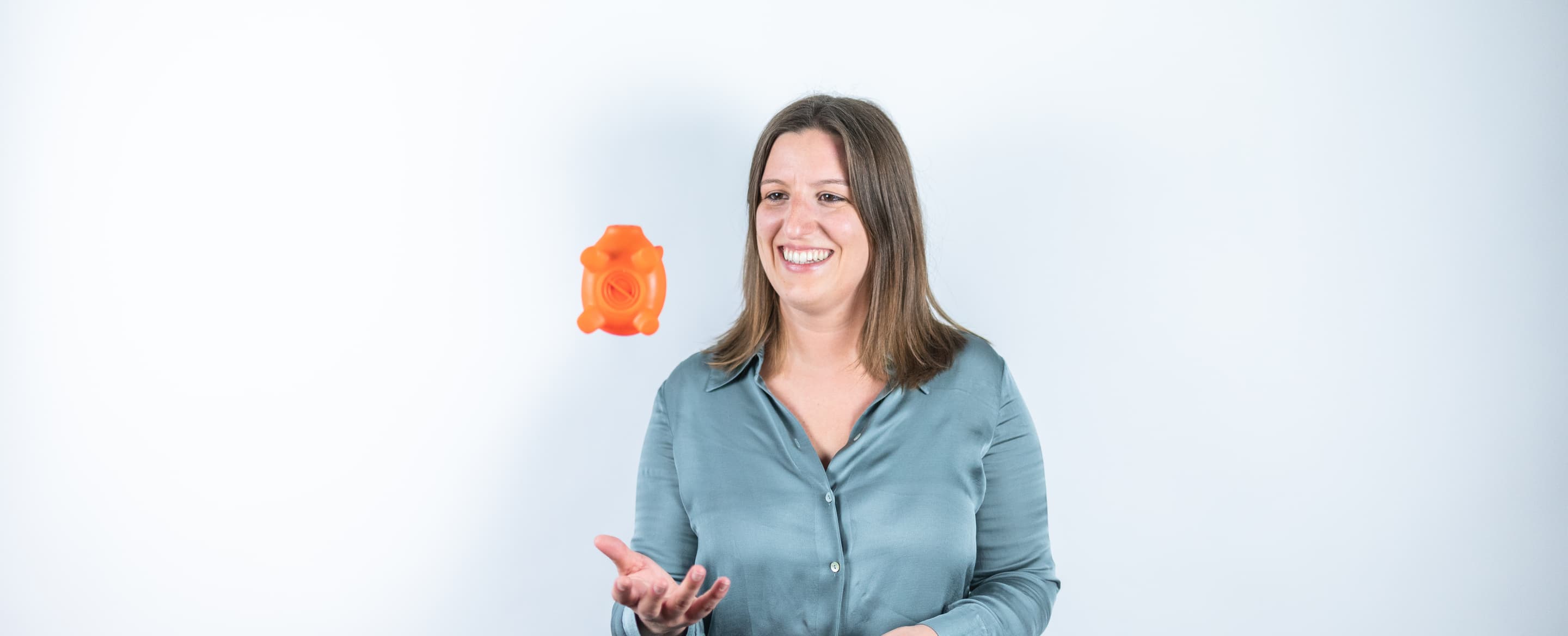 Welcome to the first article of our Oaky Explores series, which expands on data-based discoveries about hotel revenue, upselling and guest experience. In this piece, our Head of Customer Success, Saahil Karkera, explores how hotels can generate revenue now, with a focus on real data pulled from the Oaky customer base. Read on to learn just how quickly you can begin generating hotel ROI.
When we buy a product or start using a service, we expect it to work and deliver promised results as early and quickly as possible. In the SaaS world, we call this metric Time to Value. Time to Value (TTV) is the amount of time it takes a new customer to realise a product's value. In simple terms, it's the first aha! moment for a customer, when the product they've adopted does what it promised to do.
In Oaky's case, the promise we make is to generate incremental revenue for hotels. Along with our data engineer Diego Favoretto, I set out to find exactly what Oaky's TTV was for our customers. At what point does our value become proven to our customers? What we found was astonishing – and well worth a read!
We've all used apps or services where we've waited ages before seeing any benefits or return on investment – of time, money or effort! Due to the nature of their offerings, very few products can deliver immediate results from the moment they're switched on. Based on day-to-day feedback from customers, I had an inkling that Oaky was different. So together with Diego, I dove into Oaky data from the past three years to determine just how quickly our customers generate ROI after switching on Oaky. What we discovered was fascinating.
Over the last three years (2018 - 2020):
An average of 70% generated revenue on the day of going live
An average of 16% generated revenue between day 1 and 5
An average of 14% generated revenue after 5 days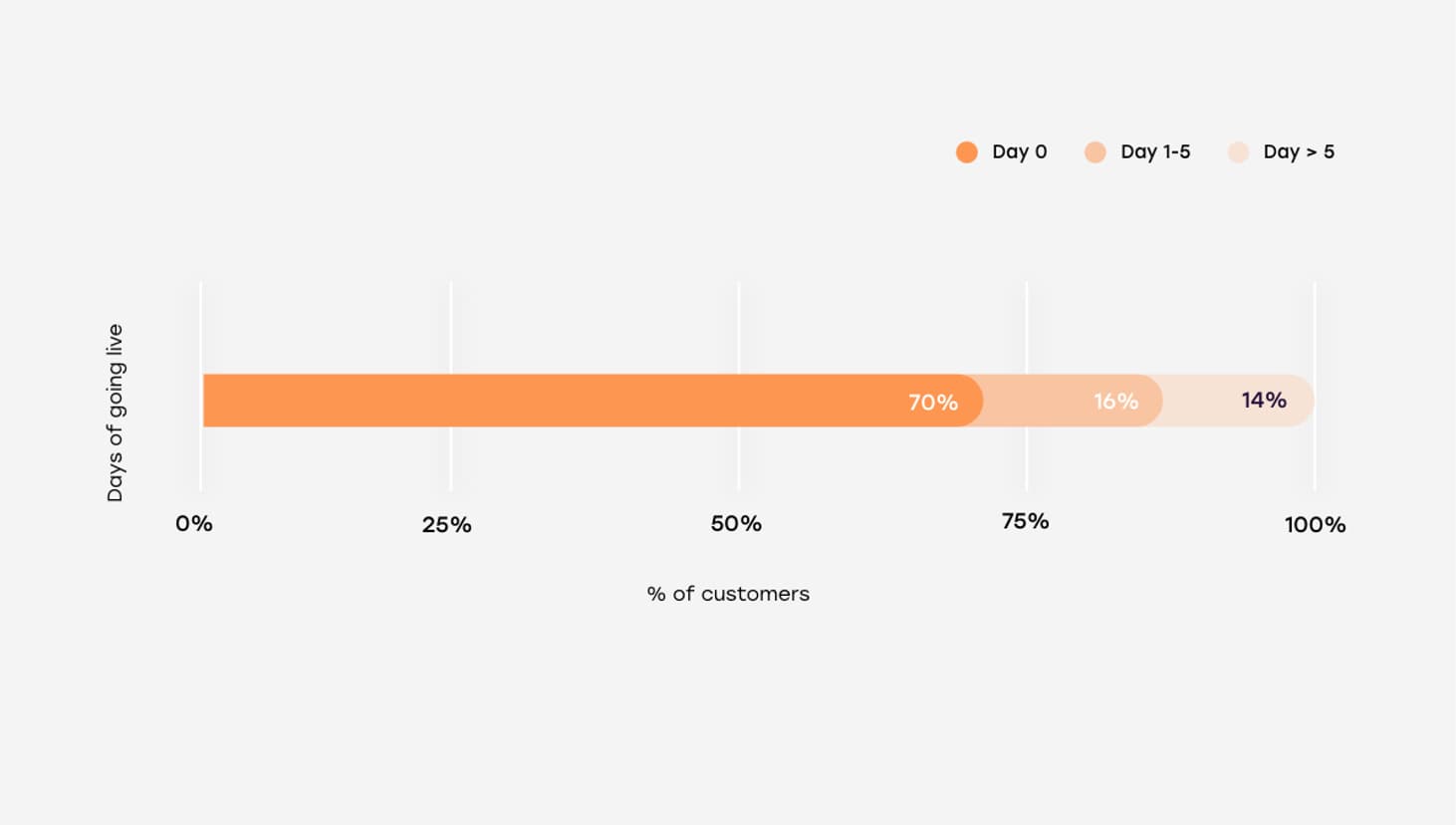 Customers generating revenues vs day going live
We dove deeper into the data to see how this performance differed during pre-pandemic and pandemic periods.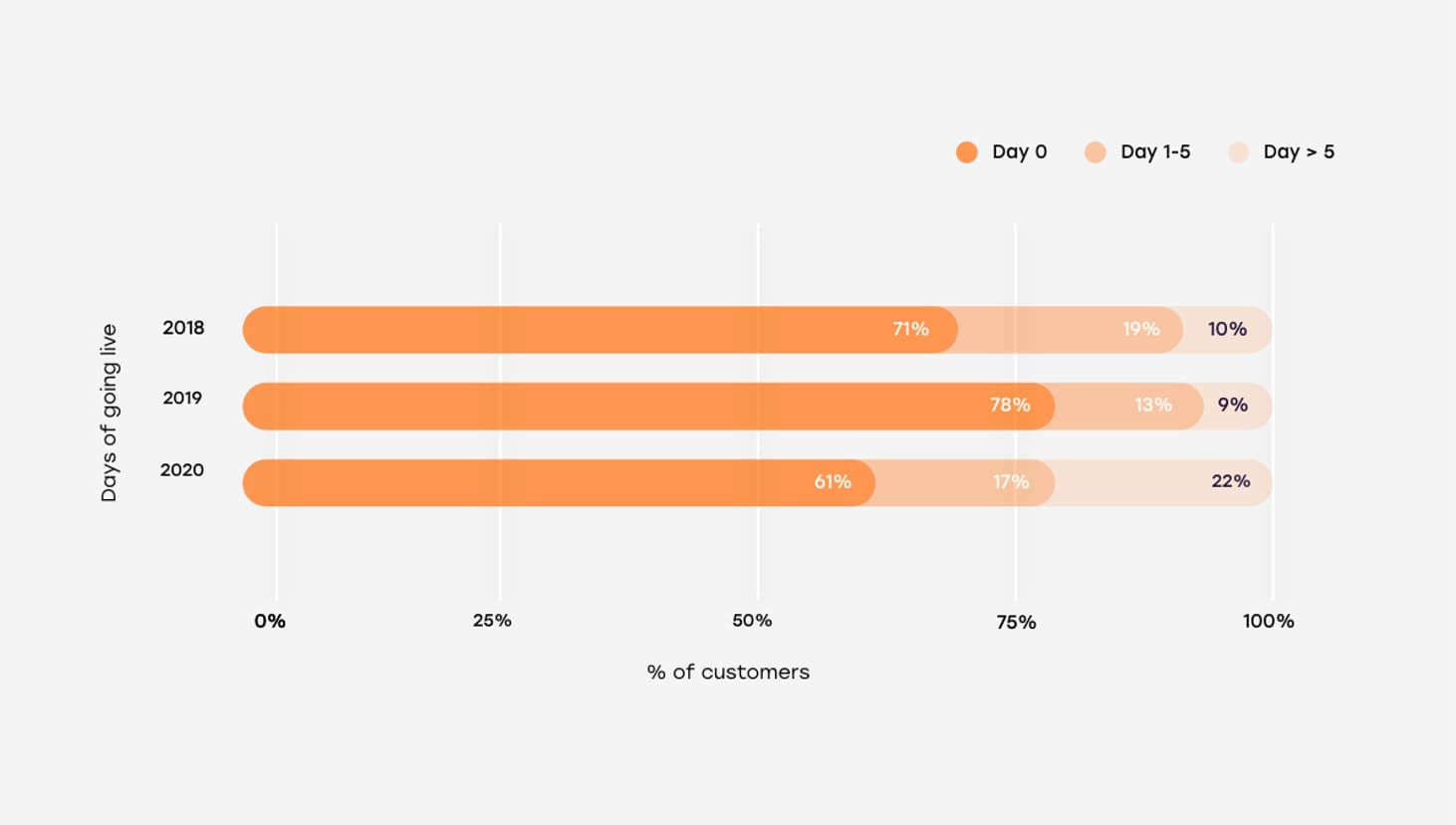 Customers generating revenues vs day going live during pre-pandemic and pandemic periods
Even during the pandemic, 60% of our customers generated revenue the same day they went live! This spoke volumes about the effectiveness of our product in generating revenue, even at times when the travel industry is heavily affected. We thought this finding was all the more poignant in a period where every bit of revenue matters.
But wait, there's more... While we were pleased to see how frequently our customers earned revenue on their day of going live, what we found out next was even more telling. For the last 3 years, around 80% of customers who earned same-day revenue actually generated it within the first two hours of going live with Oaky. Those are some pretty quick results, if we do say so ourselves!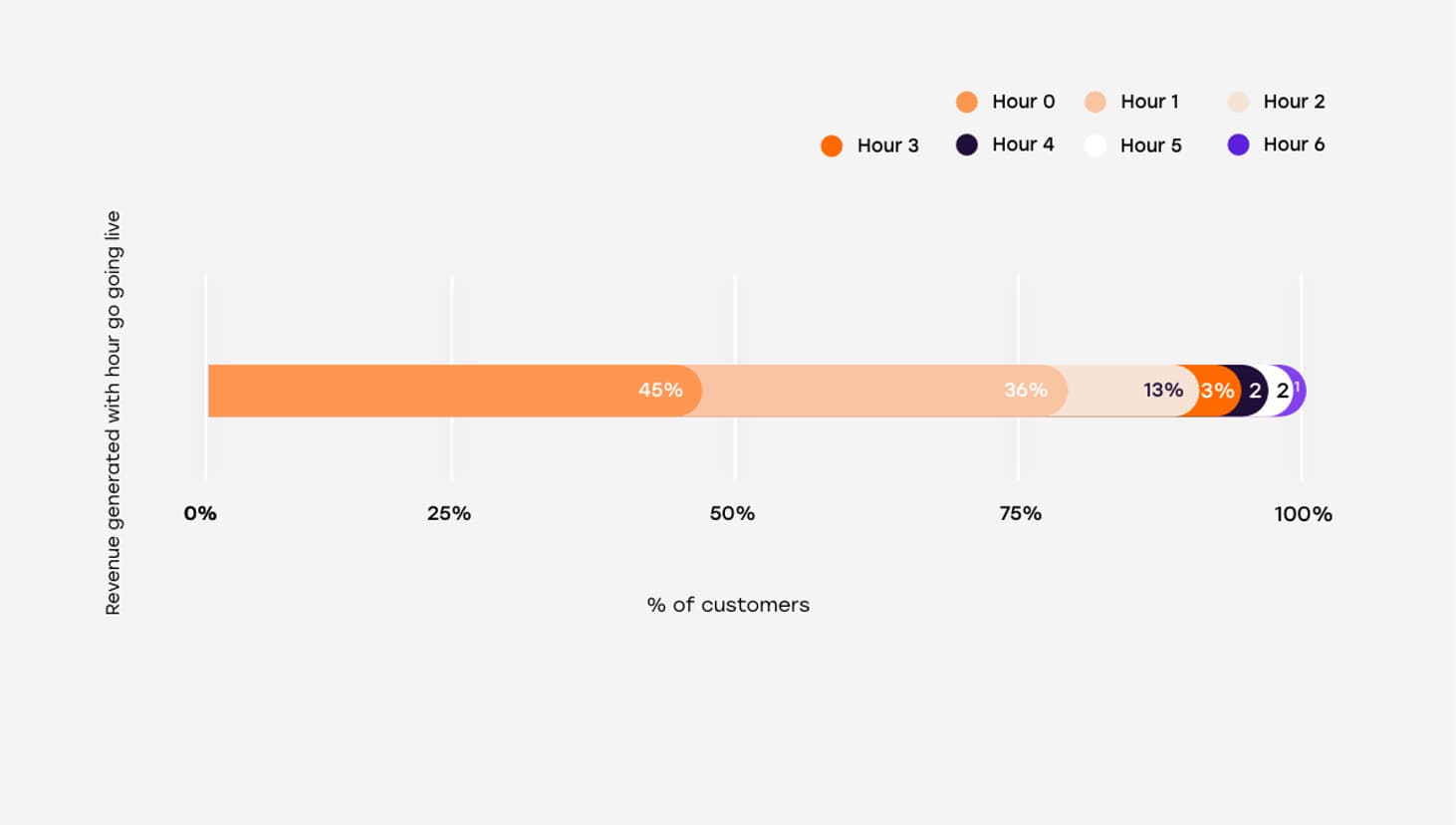 3 yr avg. % customers live on day 1 vs hour of revenue generated
If you're curious to know how these figures stack up during the pandemic, we were too!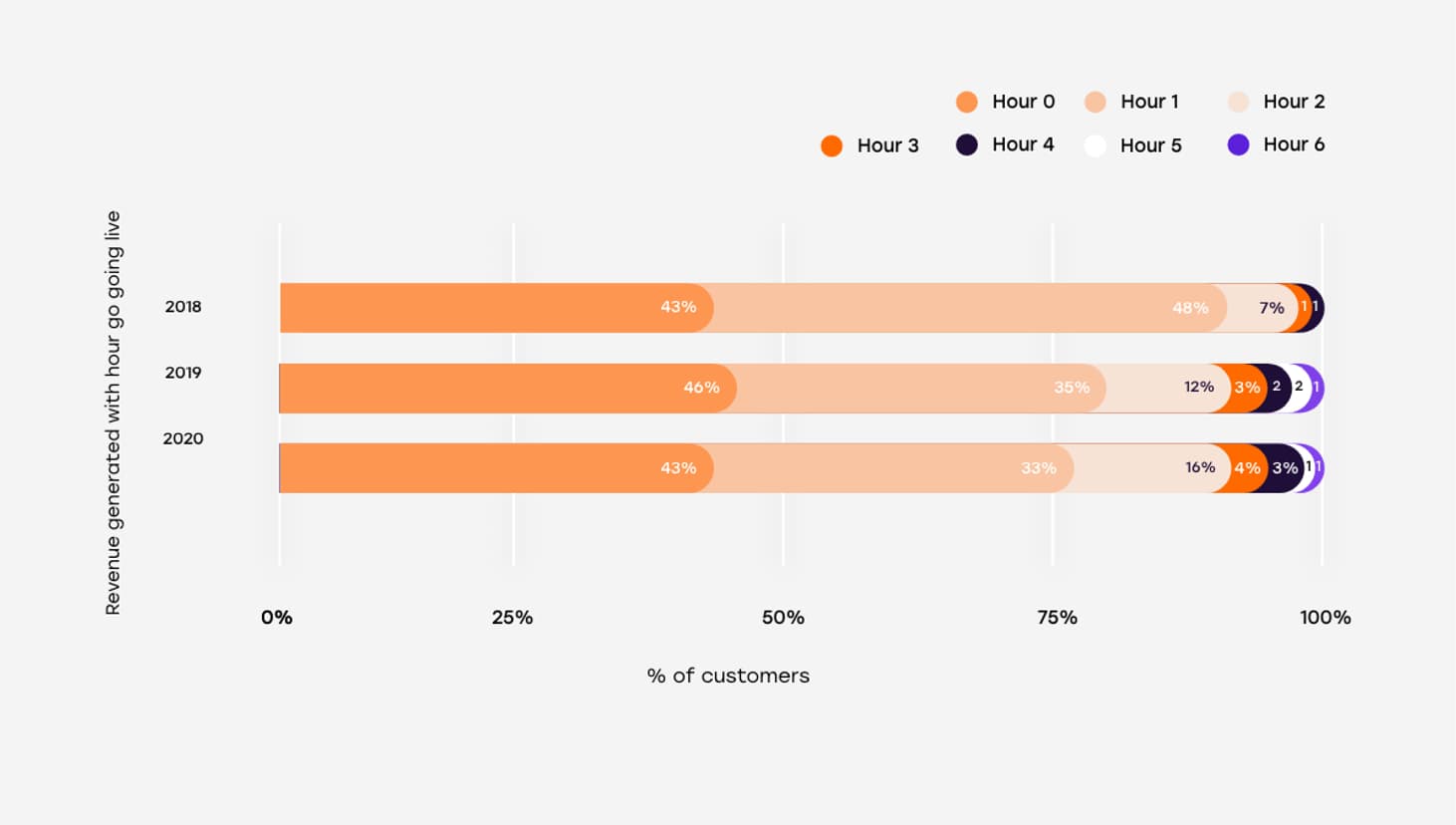 3 yr avg. % customers live on day 1 vs hour of revenue generated during pre-pandemic and pandemic periods
During the pandemic, 76% of our same-day revenue customers still generated revenue within the first two hours of going live. Of course we've always known our product delivers on its promise – but even we were pleasantly surprised at this. What this yearly breakdown also showed was that Oaky consistently drives ROI from the moment it is enabled, so we can safely rule out beginner's luck.
Switch on Oaky to generate revenue
If you're a numbers person that relies on empirical evidence and data-backed methods, using Oaky to generate hotel revenue right now is a route you should consider. Even during a low travel period, we're proud that Oaky consistently delivers on its promise of driving much needed incremental revenue for our customers.
If you haven't yet switched on your Oaky, our onboarding team is eager to help you go live. Not yet a customer? Book a demo with one of our sales team members and get the ball rolling towards instant ROI for your hotel.