Front office Covid strategy: Reimagining your operations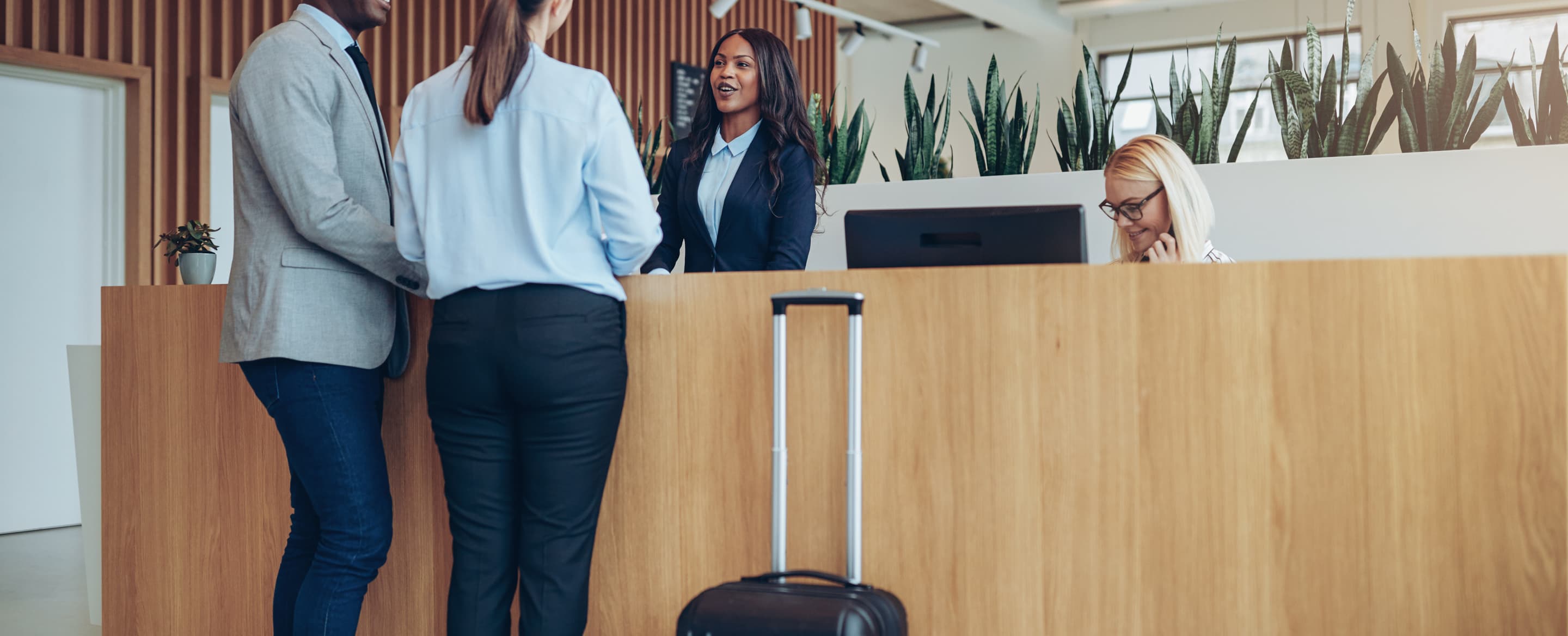 While technology is an obvious solution to retaining efficient front office service, don't underestimate the power of guest autonomy. Sometimes a less hands-on approach is the easiest and safest option. Consider this front office Covid strategy as a way to keep guests happy while creating a safe environment.
As you look at how to change some of your front office procedures, always look for creative ways you can bring together safety, social distancing and personal engagement.
Since this may sound hard at first, we spoke to Arian Roehrle, General Manager at Seehotel Schlierseer Hof & President at AICR International to collect the following tips to help you find a solution for your property.
Adapt front office services
Today, new restrictions make it difficult to provide the same services to guests as before the pandemic. However, there are ways to change things up and still provide the same level of service, albeit in a slightly different way.
Check-in and check-out. Implement online check-in and check-out to give guests the option to skip the reception if they want to. Registration forms are also available digitally now and can be filled by the guest before they arrive. This will save your team time they can invest in other forms of guest interaction, training, or keeping up with new hygiene measures. When a guest does check in and out at the front desk, wipe down the counter, credit card reader and pens after every use.

Porter service. Have porters disinfect their trolleys regularly and offer guests the option to have their bags disinfected too. Keep the number of people entering a guest room to a minimum by offering to leave the luggage in front of the room and ringing the bell to announce its arrival.

Valet parking. Ensure the safety of your valets and guests by disinfecting the car before and after parking it. Of course, guests need to agree before staff use sanitising products in the vehicle.
Make more services optional. In the past it may have been a given to park a guest's car or take their bags on arrival. With people being more careful about direct and indirect physical contact, it's important to offer them a choice of which services they want and how they would like them carried out.
See digitisation as a tool that can help you add value for your guests, rather than a way to replace staff and human interaction.
If you remove repetitive tasks from their workload, your staff's lives will become easier and they'll have more time and energy to focus on genuinely connecting with guests. Make your operations more efficient by streamlining as many processes as you can.
Make your website a direct communication channel: Add a live chat feature to your website, so guests can get quick answers while they research. Consider using a chatbot to answer repeat questions at all times of the day and night.


Implement a messaging platform for guests: The trend towards digital communication with guests already started before Covid. As more people want to avoid contact with the front desk these days, this trend will be magnified. Set up a direct messaging platform to communicate with guests before, during and after their stay to accommodate this demand. Use this tech solution to streamline your guest communication, respond to questions, requests and complaints quickly and effectively and to generate more reviews through post-departure messages.
Generate revenue through pre-arrival upselling: With fewer guests wanting to check in at reception, the front desk loses out on the opportunity to upsell on arrival. Implement a pre-arrival upselling platform like Oaky to promote your property's unique offers, let guests customise their stay and drive ancillary revenue for your property.

Kick off pre-arrival upselling with Oaky
Modernise internal communication: Now that you've made guest communication quicker and more efficient, do the same for your internal communication. Leverage new tech solutions to cut back on time spent in meetings, ensure messages go to the right departments and complete action items promptly. On top of helping you save time and reduce direct contact between staff, this will boost guest satisfaction because your response time will be shorter.


Offer online restaurant reservations: Restaurant capacities are limited in many regions, so guests want to book ahead to secure a spot. Allow them to do this online with a tool where they can choose their desired date, time and even the table they want.


Provide digital services and amenities: Newspapers at breakfast, a hotel's A-Z guide in the room… guests want them but they're yet another thing that should be cleaned after every use. Save yourself this hassle by digitising these amenities. Offer online access to popular newspapers, magazines and your hotel guide via your app or a dedicated online platform. This not only saves time on cleaning and reduces waste, it also does away with the hassle of replacing a single page in the room service menu in every single room simply because you had to update a few dishes.
Shift your focus to experiences
Experiences are why we travel, so naturally, you want to make it worth your guest's while. Let's look at a few ways you can provide memorable and satisfying experiences even during these difficult times.
Localise experiences and offers: There has been a growing interest in local experiences and this trend has only gotten stronger since Covid came onto the scene. Show your guests a new side of your city or region with locally inspired menus, activities like guided hikes and runs, or events featuring regional artists. This offers an opportunity to engage and to upsell services for ancillary revenue.

Find new ways to interact with guests: For hotel staff, face masks can make it harder to connect with guests since they can't even exchange a smile. That doesn't have to stop you though… If your local rules allow you to remove your mask in an F&B venue, why not check your guests in at your bar or in your lounge? That way everyone can sit down and handle formalities in a relaxed atmosphere. Guest relations staff can do the same and join guests at the breakfast table for a few minutes to check on them and see if they need something. Always ask guests if they are comfortable with this, of course.
Seize the opportunity of changing demand: Whether it's the demand for more local experiences or the desire for more authentic engagement, the guests' changing demands are a great opportunity for you to try something new. Guests are currently very understanding of the fact that hotels are undergoing changes and are also open to a different stay experience. So feel free to get creative and break with outdated traditions and processes you've been wanting to overhaul for a long time.
Now it's your turn!
Let these ideas inspire you to create an amazing front office experience for your guests and make the most of your returning demand. Download the full Front Office Ebook below.